U.S. Antique Shows is the producer of some of the most prestigious antique events in the world. Presenting the most well-respected vintage and antique purveyors from across the globe. The show serves the unique needs of the entire antique community by showcasing a wide range of antiques, jewellery, watches, art, furniture and home décor.
It was indeed a moment of pride for me to be officially invited to cover, The Original Miami Beach Antique Show; from 20th to 23rd January 2022 on my social media channels! With great enthusiasm and excitement, I was ready to attend my first event of the year 2022, the #OMBAS22 in the Miami Beach Convention Center.

The Original Miami Beach Antique Show presents more than 600+ recognized dealers from over 30 countries for four days. Attendees can explore the show floor and discover everything from jewellery, watches, and handbags to artwork, furniture, home décor and much more. Below are glimpses of my discoveries from the show.
DAY 1 at U.S. Antique Shows.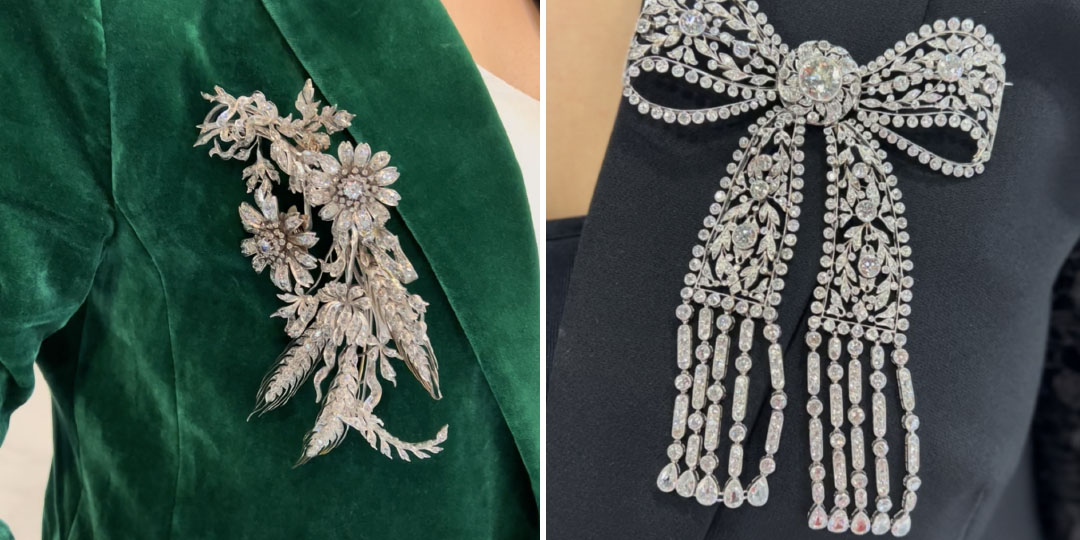 I kickstarted my day 1 with some slight showers in the beautiful city of Miami. My first discovery was a Victoria Era stomacher, also known as 'Devant De Corsage' worn on the centre panel of the bodice of a dress in the 18th and 19th centuries that became large, eye-catching pieces of jewellery to be worn with formal court robes or ball gowns from Eric Originals; and another an Edwardian era bow set in Platinum and old mine cut diamonds by my dear friend at Paul Fisher, Inc. Admiring the jewels from different Jewellery era took me through a ride of Evolution of Jewellery.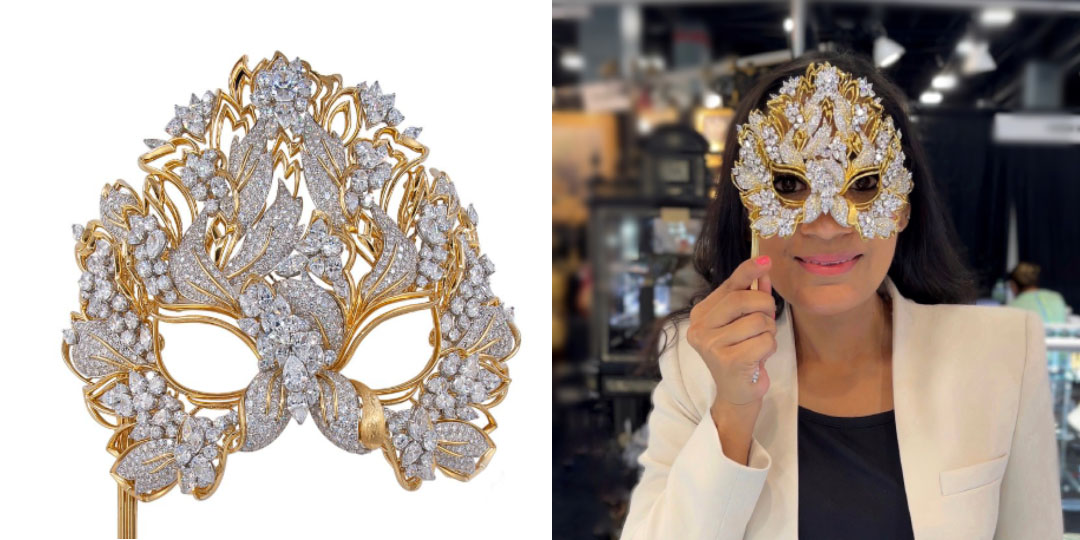 Scanning through amazing pieces of art, I was delighted to come across a mask worn by Elizabeth Taylor in 1993 at an amfAR charity event by Yafa Signed Jewels booth. This mask also reappeared in 2009 at the Antwerp Diamond Museum's "Diamond Divas" exhibition to celebrate famous jewellery loving women!
Masks were often worn as a piece of jewellery to up one's style quotient at social events.
What an interesting piece of jewellery? Don't you agree?
DAY 2 at U.S. Antique Shows.
Video Credit: The Diamond Talk.
My quest for finding something unique drew me towards an enamel box. As I investigated further I discovered that it wasn't an ordinary enamel box but an ETUI 1760; a small ornamental case for holding needles, cosmetics, and other such articles. Not surprisingly the enamel is of a pharmacy.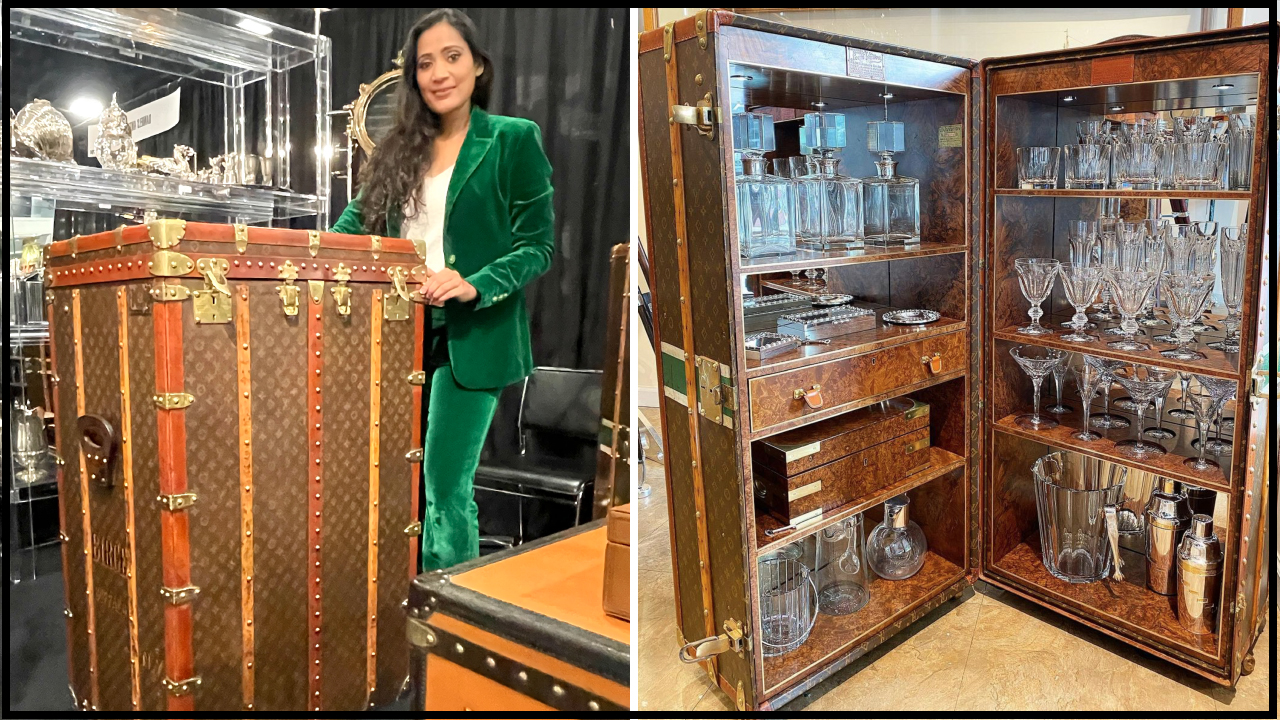 Vintage accessories have a great appeal; for they are not just useful but stylish as well!! A case in point being the exclusive one-of-a-kind Louis Vuitton 1930 Trunk featured above seen at Daniels Antiques. The story goes; the trunk was commissioned to Birge Buffalo, one of the most affluent families in Buffalo, New York, to store wallpapers; which was the Birges' business in the early 1990s. Also featured above is an early 20th century Louis Vuitton trunk that transforms into a luxury minibar; the complete set includes high-end names such as Christian Dior, Baccarat and Napier. Something out of the box. Isn't it?
Video Credit: The Diamond Talk.
Another discovery on Day 2 was The Golden Egg and Singing Bird Basket is a one-of-a-kind musical automation, a work of art and awe-inspiring artistry. The 18 K gold egg-laden with flower enamel and diamond scrolls, conceals a tiny diamond-encrusted songbird. With a push of a button, the bird rises from within the egg, pivots, flaps its wings and tail, and sings a song. In terms of both ingenuity and artistry, this musical egg is beyond description. This object d' art is inspired in part by the mechanical complexity of the 19th-century Swiss atomata, as well as the opulence of the Faberge egg. It is nature, mechanics, creativity and art – all rolled into one.
Truly an artistic musical basket!
DAY 3 at U.S. Antique Shows.
Video Credit: The Diamond Talk.
It was a pleasure to witness this magnificent Victoria Era Tiara commissioned by Settapassi, a renowned Italian jeweller to the royal family, at Zebrak London Monaco booth. The tiara is made with appx 50cts of the finest cut diamonds!! Definitely a cut above the rest!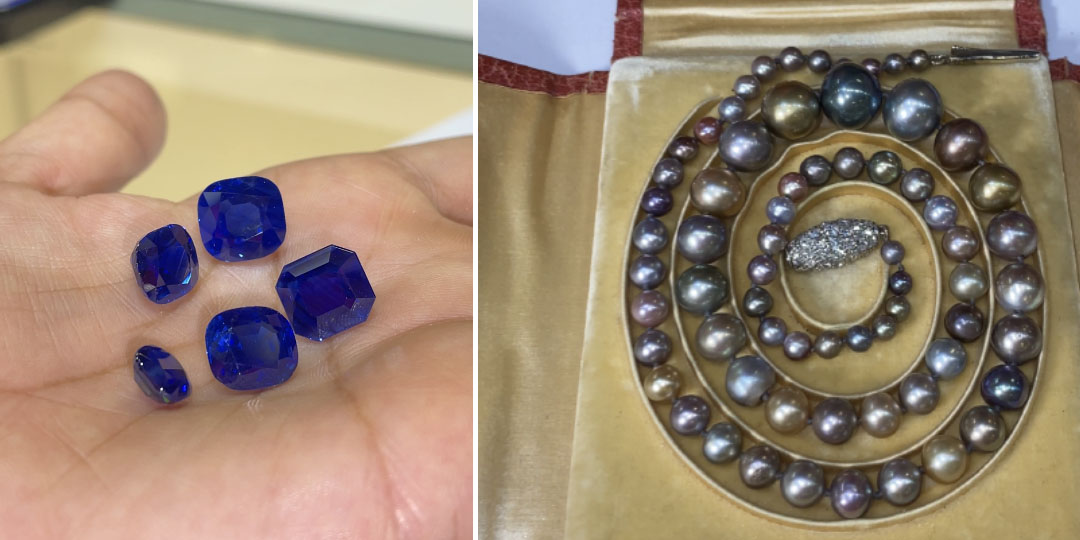 I discovered 2 of the rarest gemstones by Horovitz & Totah. A strand of rare multicoloured Natural Pearl and Kashmir Sapphire gemstones.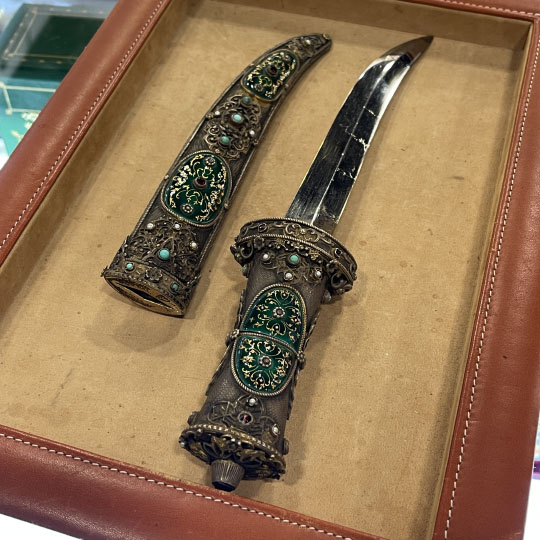 Apart from showcasing exquisite jewellery, I focused on sharing unique pieces which are rare to find. One such find was an Antique Austrian Hungarian dagger which was used as a Letter Opener. The speciality of this dagger is the detailing, which is great work of art, crafted in garnet, pearls and turquoise. Isn't it fabulous? It took me back to yore. What about you? Let me know your thoughts in the comments section.
DAY 4 at U.S. Antique Shows.
Video Credit: The Diamond Talk.
I wrapped my visit to the show with a spectacular State Sword of Maharaja Jagatjit Singh of Kapurthala (1872-1949), North India, circa 1900. Enameled and set with diamonds, the lion-headed pommel is set with ruby eyes and one side of the hilt set with a raised and moulded crest of Kapurthala and the other side with the words 'Kapurthala State" set in diamonds!
The Indian Maharajas truly had a magnificent collection!
And lastly here's a brief glimpse of my visit to the U.S. Antique Show #OMBAS22 and I look forward to #OMBAS23!
Video Credit: The Diamond Talk.