My series on 'The Crown Jewels of Persia' evoked a great response, so I am tempted to take you back to Persia. This time we will witness the jewels of Soraya, Esfandiary-Bakhtiari, the queen consort of Iran, who was the second wife of Shah Mohammad Reza Pahlavi.
Princess Soraya received numerous jewellery as gifts from Shah; but, sadly all her exquisite pieces were auctioned after her death.


In my article, I play an ode to her as I take you through the life of the princess briefly and also showcase her stylish collection from a bygone era.
A Love Story that is catalysed by jewellery!

Soraya was introduced to Shah Mohammed Reza Pahlavi in 1948 who was immediately smitten by her and proposed her with 22.37 cts emerald cut diamond with two tapering baguette diamonds set horizontally onto the platinum band made by Harry Winston.
Following the engagement; Princess fell unwell for several weeks and to make his lady love feel better Shah Mohammed Reza Pahlavi showered her with enormous jewels and gifts, one such gift was this stunning three cabochon rubies and diamonds, depicting birds perched on a yellow gold branch with a sapphire flower brooch.
The extraordinary wedding gown!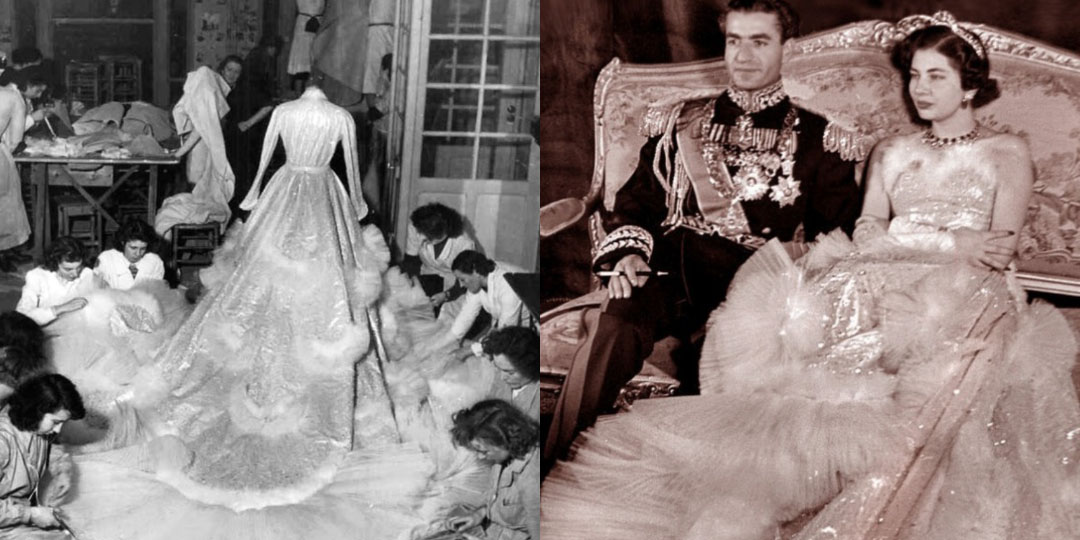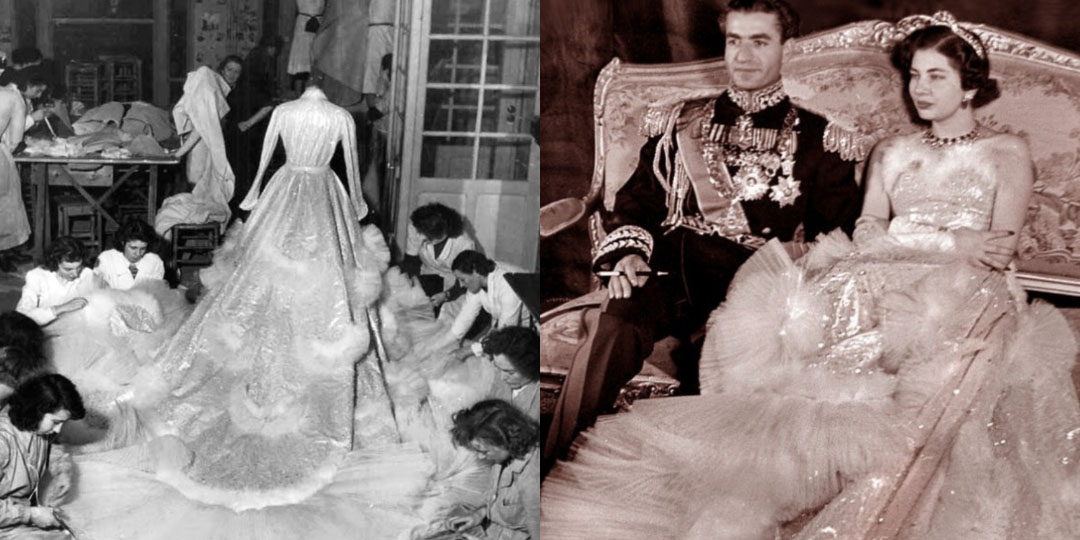 It is every woman's dream to look like the most beautiful woman on her wedding day and Princess Soraya was no different. Christian Dior was commissioned to make the wedding gown for the princess. The gown befitting a princess of her stature was made of 37 yards of silver lame studded with pearls, 6000 diamond pieces and 20,000 marabou feathers.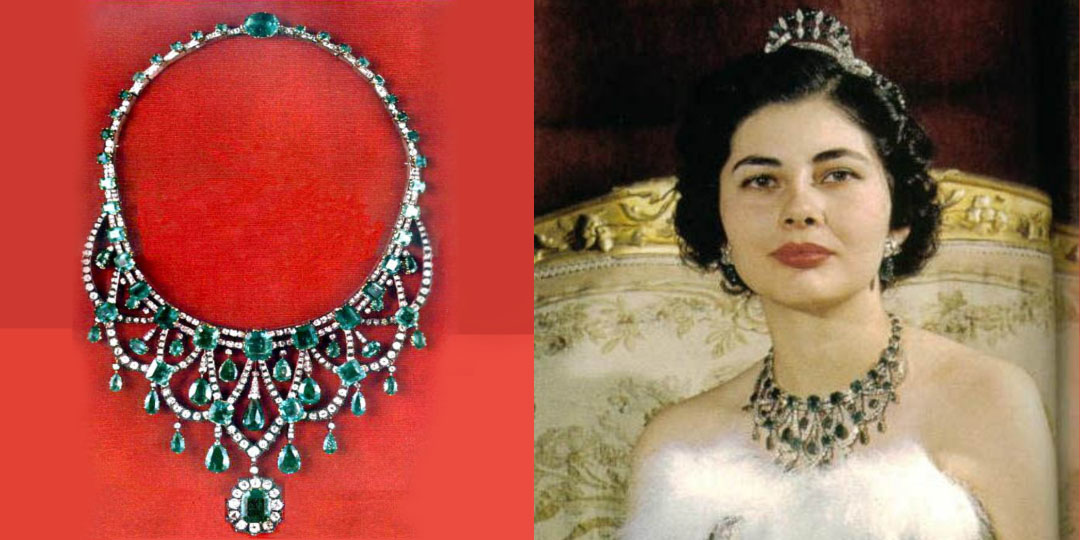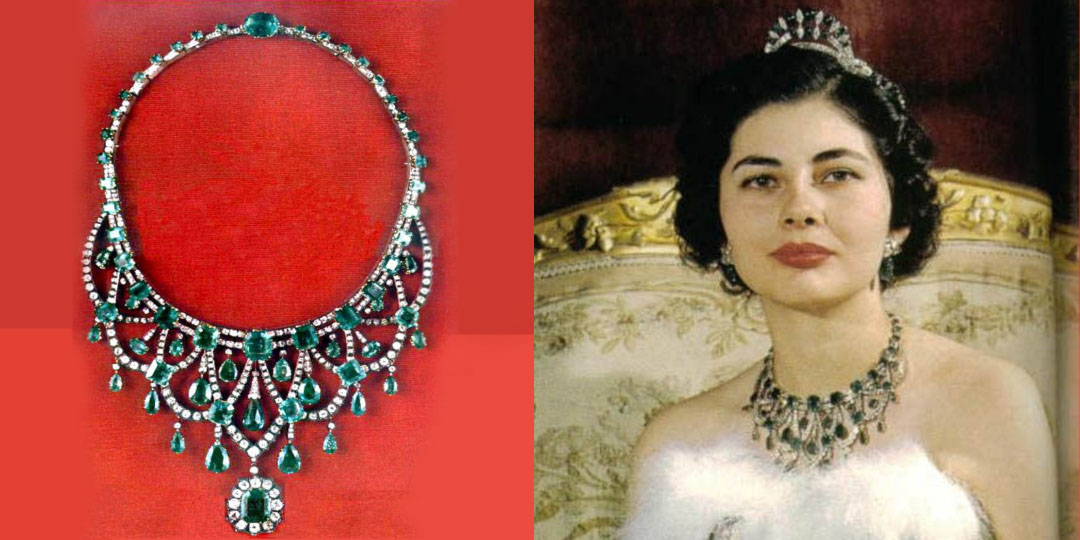 The gown was so heavy that Princess Soraya, who had just recovered from an illness, was unable to bear the weight of it; to rescue his love; Shah ordered the petticoats and the train be cut from the gown to lighten her load. Princess Soraya glowed on her wedding day in emerald and diamond parure jewellery from the Crown Jewels.
Princess Soraya's role as the Queen of Iran.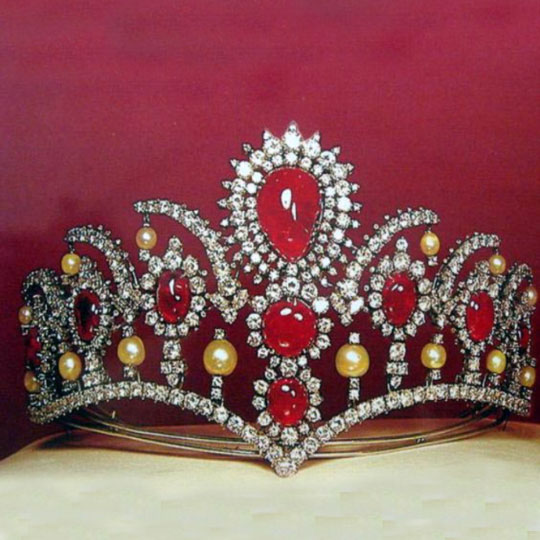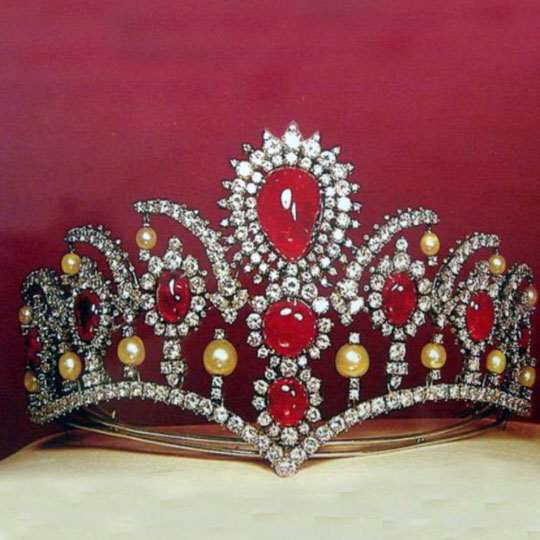 After her marriage to Shah Mohammed Reza Pahlavi, Princess Soraya became the Queen of Iran and headed the family charity. She took interest in the development and welfare of Iran and often visit orphanages and hospitals. Philanthropic work aside, Queen Soraya's collection of jewellery grew larger and more exquisite.
The Queen of Iran; Medal of Honor


The Empress of Iran, Soraya was honoured with the 'Order of Haft Paykar', an all-female order of the former Imperial State of Iran. The name of the order, also called "Order of the Pleiades", refers to the Pleiades, a star cluster. The Order includes two medals; suspended on a blue and white sash; it features a gold-tone, metal openwork design highlighted by white enamel touching. A blue-enamel centre mounting displays the constellation "Pleiades" in seven diamond chips. It is believed that in Persian culture, the number 7 is sacred and holds great significance as it commemorates the 7 stages of evolution and excellence.
Let me know in the comment if the number 7 holds significance in your culture as well. And if yes, how?
Queen Soraya's Bvlgari collection!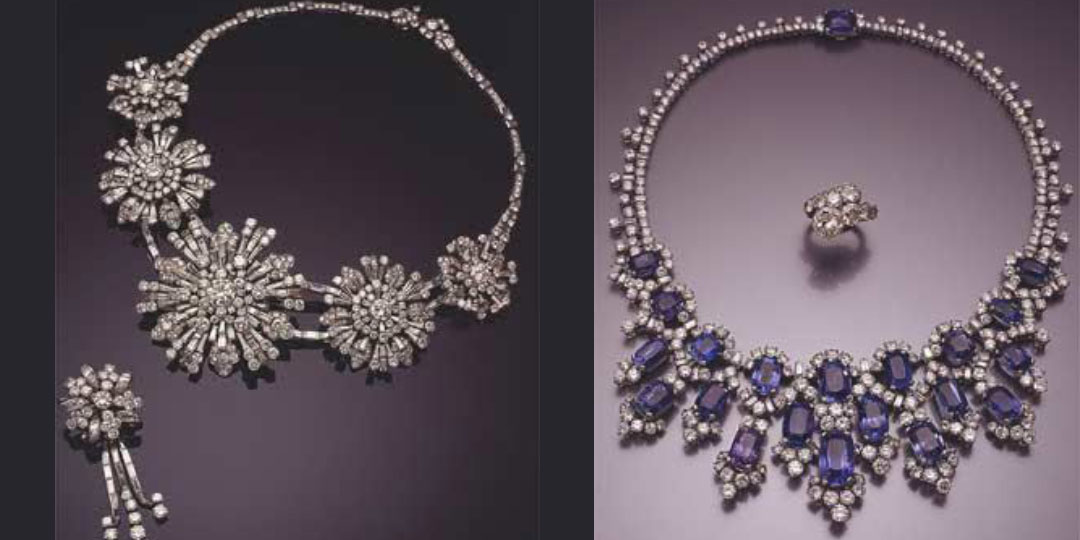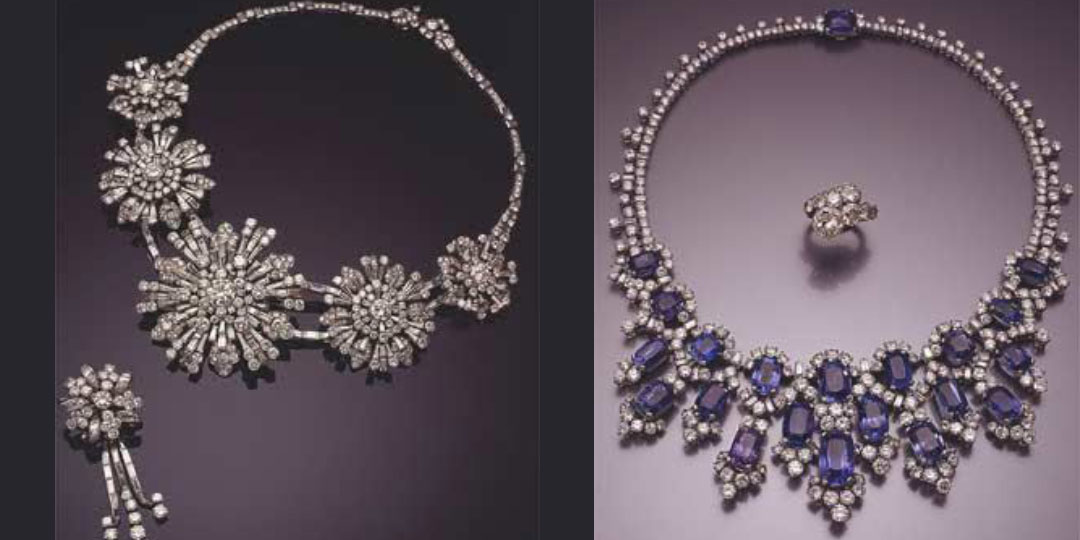 As Queen Soraya continued to reign over Iran, her collection of jewellery also grew. Exquisite pieces of jewellery got added one by one to her collection as she received gifts in the form of jewellery. Have a look at some of her Bvlgari jewels from Queen Soraya's collection. Featured above is the blue sapphire necklace and Princess Soraya's Royal Bvlgari 18-karat gold necklace and diamond.
Let me know which one you liked the best in the comments section?
The "heir" raising tale.
The initial months of marriage were picture perfect, straight from a fairy tale. But when Soraya and Shah decided to have a child and couldn't, it spelled doom for their relationship causing their split. Following the divorce, Princess Soraya returned to Europe and went back to her jet-setting social lifestyle; attending gala operas in Paris, parties in Marbella and St.Moritz.


Featured above are some of Princess Soraya's exclusive gold box's, bags and clutches which enhanced her style quotient. Image 3 is a mid-20 century Indian gold, diamond, ruby, emerald and cultured pearl set box that was auctioned at Bonhams. The underside is engraved with a presentation inscription; "To Her Majesty the Empress Soraya of Iran from Begum Iksander Mirza."


The gracious Princess made a dramatic entrance at all the gatherings with her statement jewellery pieces. Sadly after the love of her life passed away Princess Soraya's grief could be visible in her eyes, and she became known as the "Princess with sad eyes". After her death, Princess Soraya's estate, belongings and jewellery were sold at an auction in Paris. Featured above are the most expensive shoes in the world; Roger Vivier kitten heel made for Princess Soraya in topaz and silver threads along with a Harry Winston diamond necklace.
Her life story was translated into an Italian film, Soraya. Thus ended the life story of the gorgeous Princess! Stay tuned for my next article on another royal jewel.