Renu Choudhary
Founder And Editor-In-Chief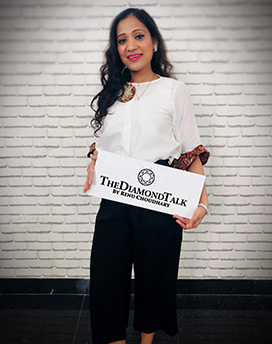 THEDIAMONDTALK is the brainchild of Renu Choudhary, a GIA certified diamond enthusiast, known for her love for loose diamonds and fine jewellery. Her passion stems from her early exposure to precious stones and jewellery design through her family, which has been a part of the industry for 4 generations. Growing up she often frequented her ancestral city of Jaipur, where she was strongly influenced by its rich heritage of exceptional gems and exquisite craftsmanship that remain a significant part of their traditions and lifestyle
To hone her interest further, she completed her jewellery designing course from the Indian Institute Of Gems & Jewellery(IIGJ); thereafter working with Inter Gold (India) Private Limited as a jewellery designer and as a member of the sales & marketing team. Certain that diamonds were her calling, she then pursued the Diamond Graduate Program from GIA (New York ) to enhance her technical knowledge and expertise. Over 10 years, Renu has worked with leading diamond manufacturing companies in India such as Rosy Blue (India) Pvt. Ltd. and Hari Krishna Exports Pvt Ltd. She has successfully navigated a male-oriented industry and continues to strive to create opportunities for women with her motto, "Women Empowering Women."
"Diamonds speak louder than words"
The journey of her social media handle,THEDIAMONDTALK, began with Renu's burning passion to promote the Indian Gems and Jewellery industry on a wider international platform. She is keen to better educate people on various manufacturing techniques, bespoke craftsmanships and market trends of diamonds and fine jewellery, in order to help them make better investment decisions for themselves. Renu's secret to success lies in grasping every opportunity that comes her way with good intentions and faith. Her principles in life are to always encourage people to achieve their dreams, keep working hard and always strive to be a better person than you were yesterday, because your competition is only with yourself.
THEDIAMONDTALK ON INSTAGRAM
The access_token provided is invalid.