"Remember your dreams and fight for them" – Paulo Coelho.
Well, one of my dreams was to view the Christie's collections, and it was a surreal experience to be invited by Christie's New York, to view their Maharajas & Mughal Magnificence. Thank you, Rahul Kadakia, for giving me this opportunity.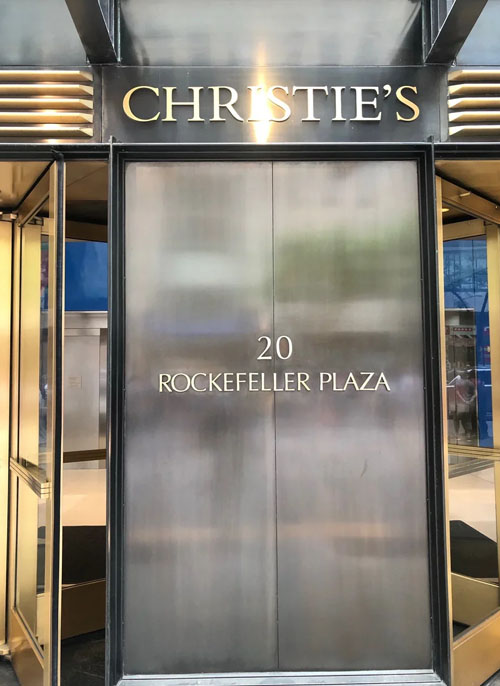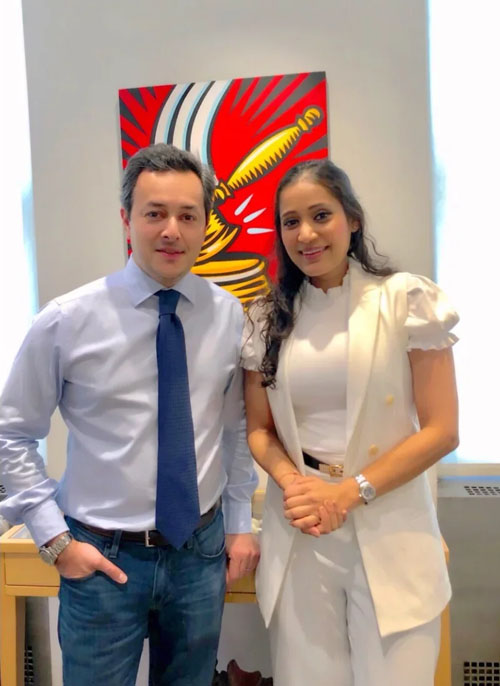 Maharajas & Mughal Magnificence tells the story of a continuous tradition of patronage from the Mughal Empire to present day, with provenance including the royal and noble families of India.
These objects are offered from The Al Thani Collection. It was A FEAST TO MY EYES to learn and behold the European-Indian hybrid designs and 20th-Century creations by leading Jewellery houses in my eyes forever.
Rahul Kadakia, international jewellery head of Christie's quotes, the 400 lots form "the most valuable and precious collections of jewellery and Mughal objects to ever come to auction, the sale will also auction India-inspired creations and crossover pieces by international jewellers like Cartier. No other auction in the past 50 years has offered so many exceptional Golconda diamonds (from the famed region presided over by the Nizam of Hyderabad, where the Koh-i-Noor was mined) and bejewelled objects that belonged to numerous royal families."
So hold your breath as I'm going to take you through a few breathtaking collections!
Mughals and The Maharajas Portraits: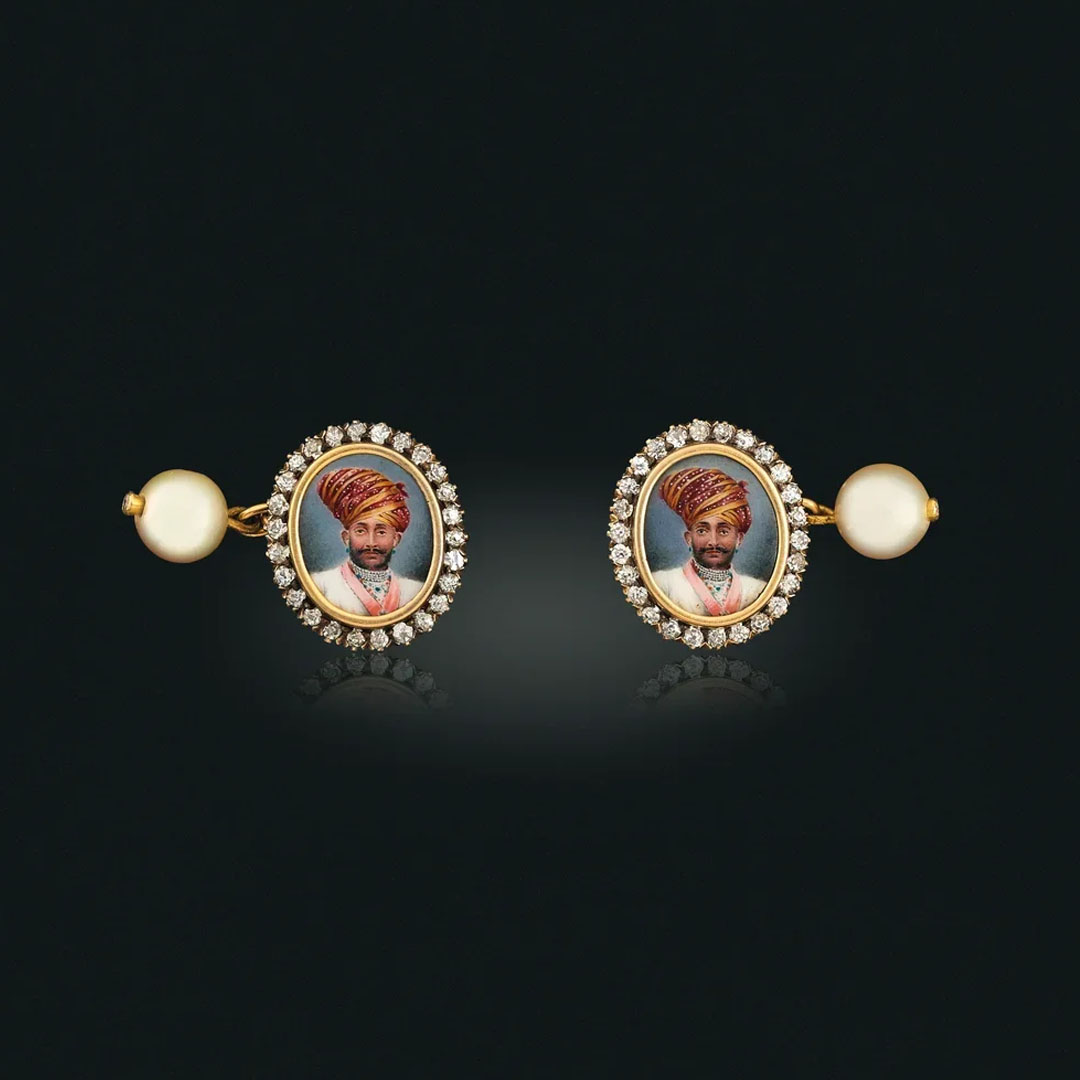 A pair of antique enamel, Diamond and Pearl cufflinks
Oval-shaped enamel plaques depicting Maharaja Vibhaji II Ranmalji, Jam Sahib of Nawanagar,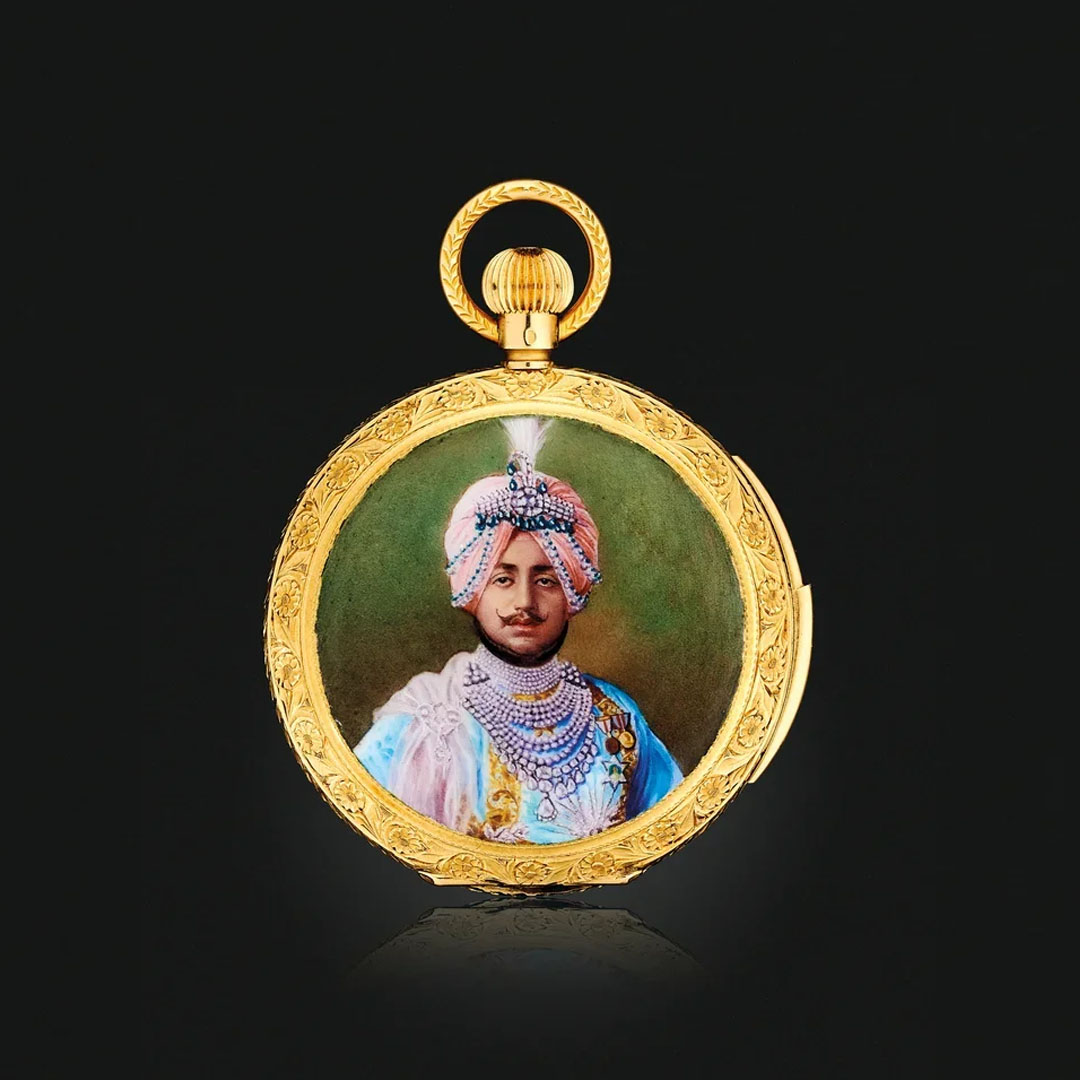 An Enamel and Gold hunting case minute repeating Pocket Watch
Champlevé enamel portrait depicting Maharaja Bhupinder Singh of Patiala
Maharajas & Mughal Magnificence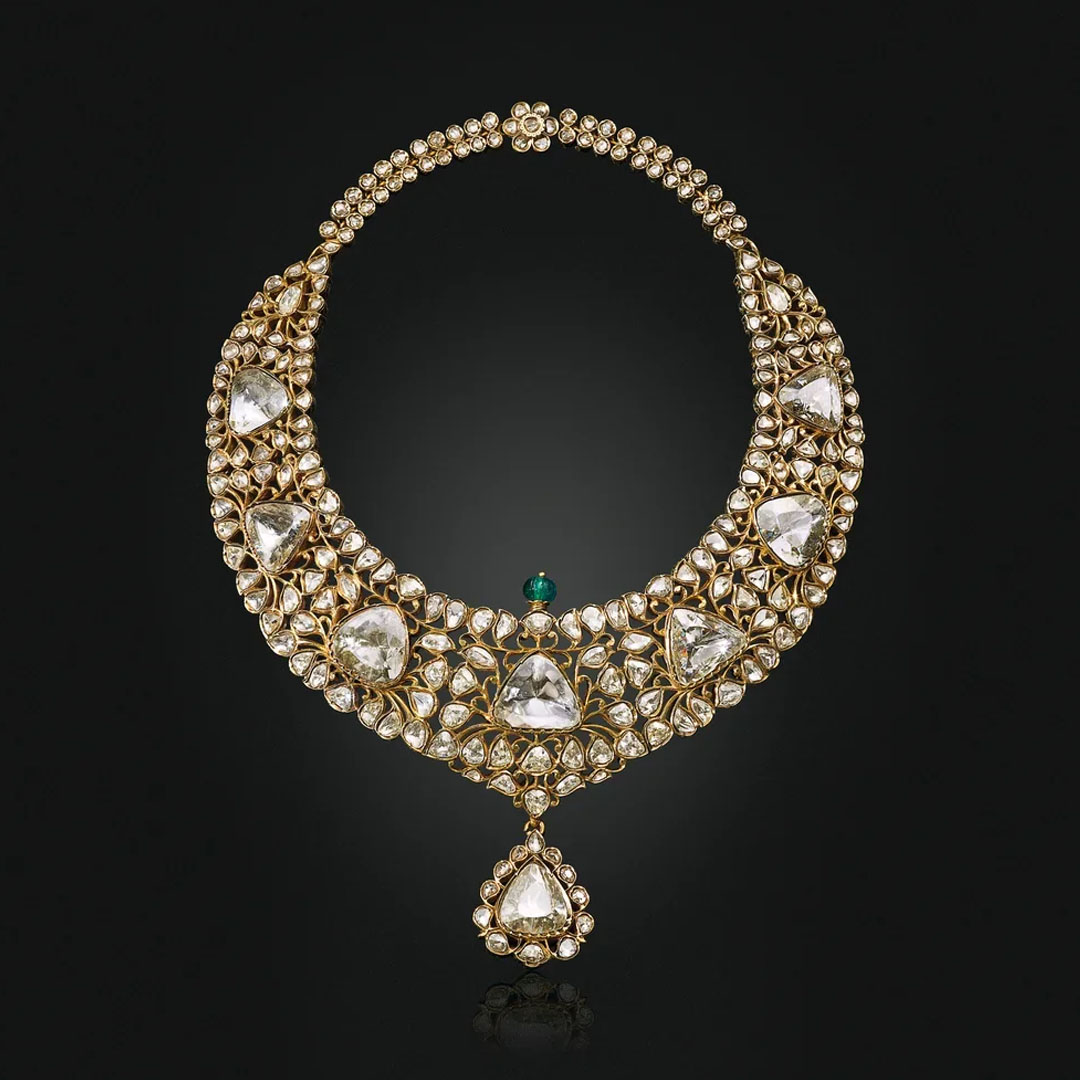 'THE NIZAM OF HYDERABAD NECKLACE'
An Antique Diamond, Emerald and Enamel Necklace
A mid to late 19th-century necklace, made with Triangular-shaped table-cut diamonds along with variously-shaped faceted and rose-cut diamonds, carved emerald bead, green enamel, foil, gold, engraved on the reverse with the foliate motif.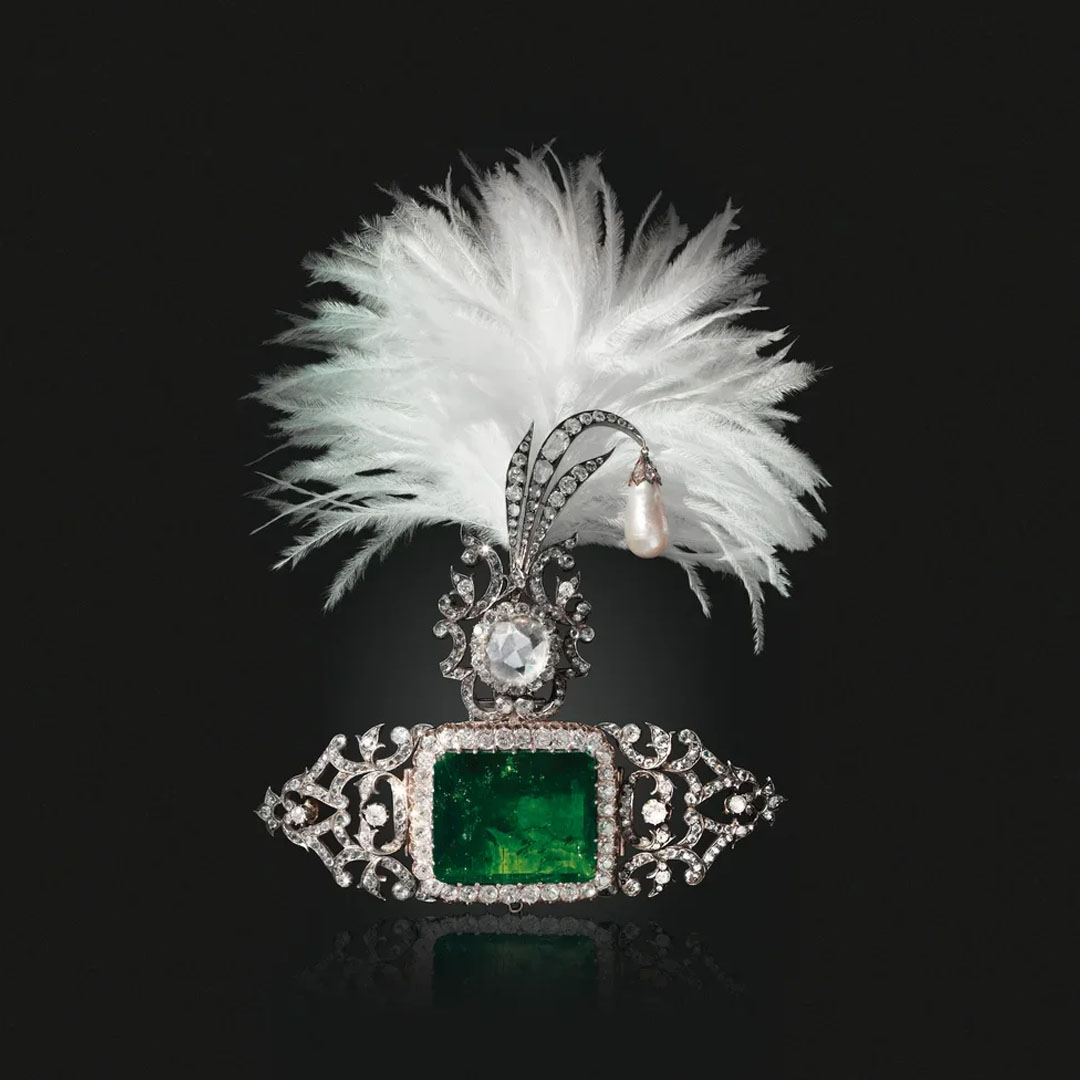 AN ANTIQUE EMERALD, DIAMOND AND PEARL SARPECH, LATER ADAPTED BY CARTIER
The turban ornament set with a cushion mixed-cut emerald, oval-shaped old-cut diamond, rose and old-cut diamonds, pearl drop, silver-topped gold, fitted with plume holder, top element is detachable, lower section may be worn as a bazuband (armband), circa 1890, with later added brooch fitting by Cartier, Paris, 2012.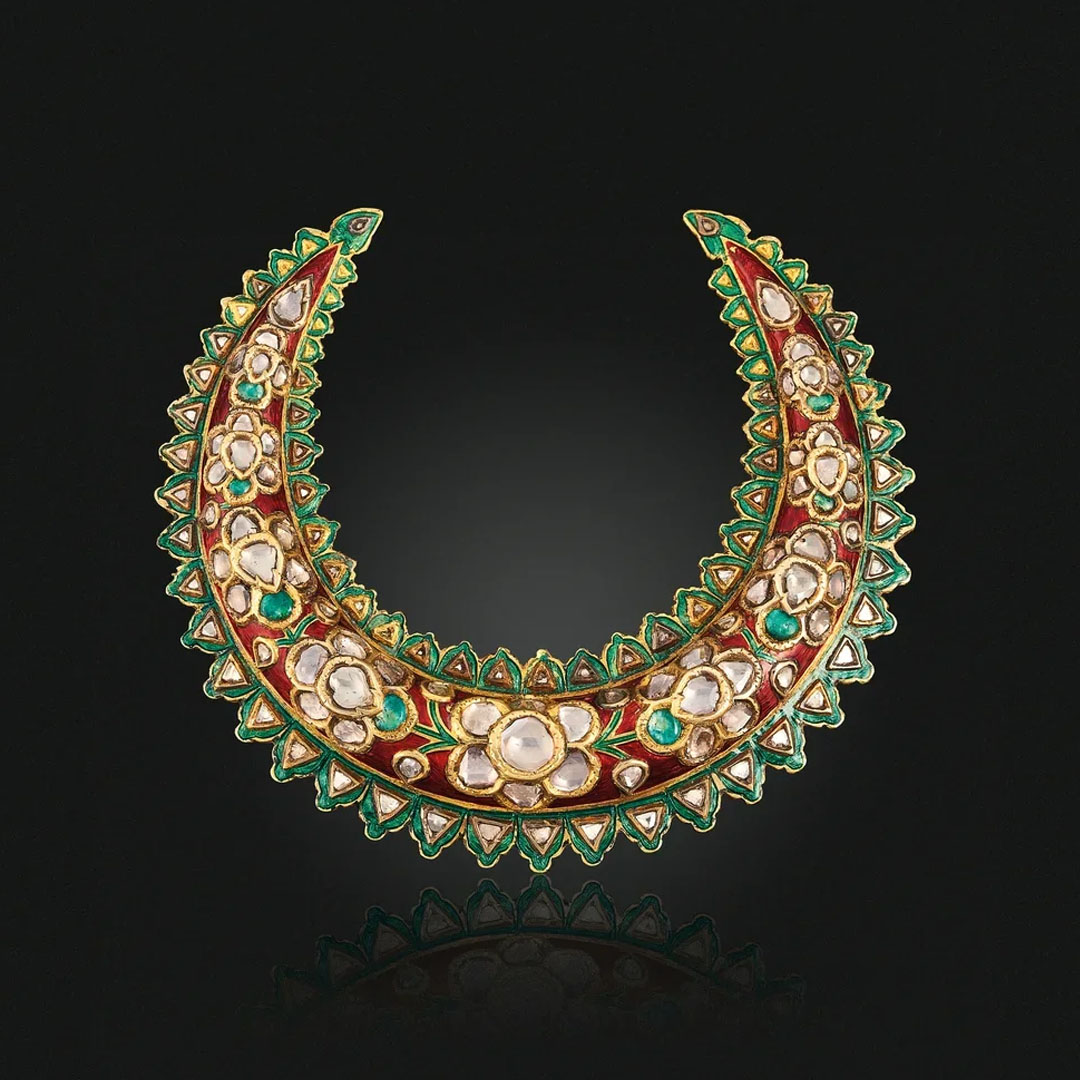 AN ANTIQUE DIAMOND, EMERALD AND ENAMEL CRESCENT PENDANT
Circular, pear and triangular-shaped faceted diamonds, circular cabochon emeralds, red and green enamel, gold on a lac core,
18th-century pendant.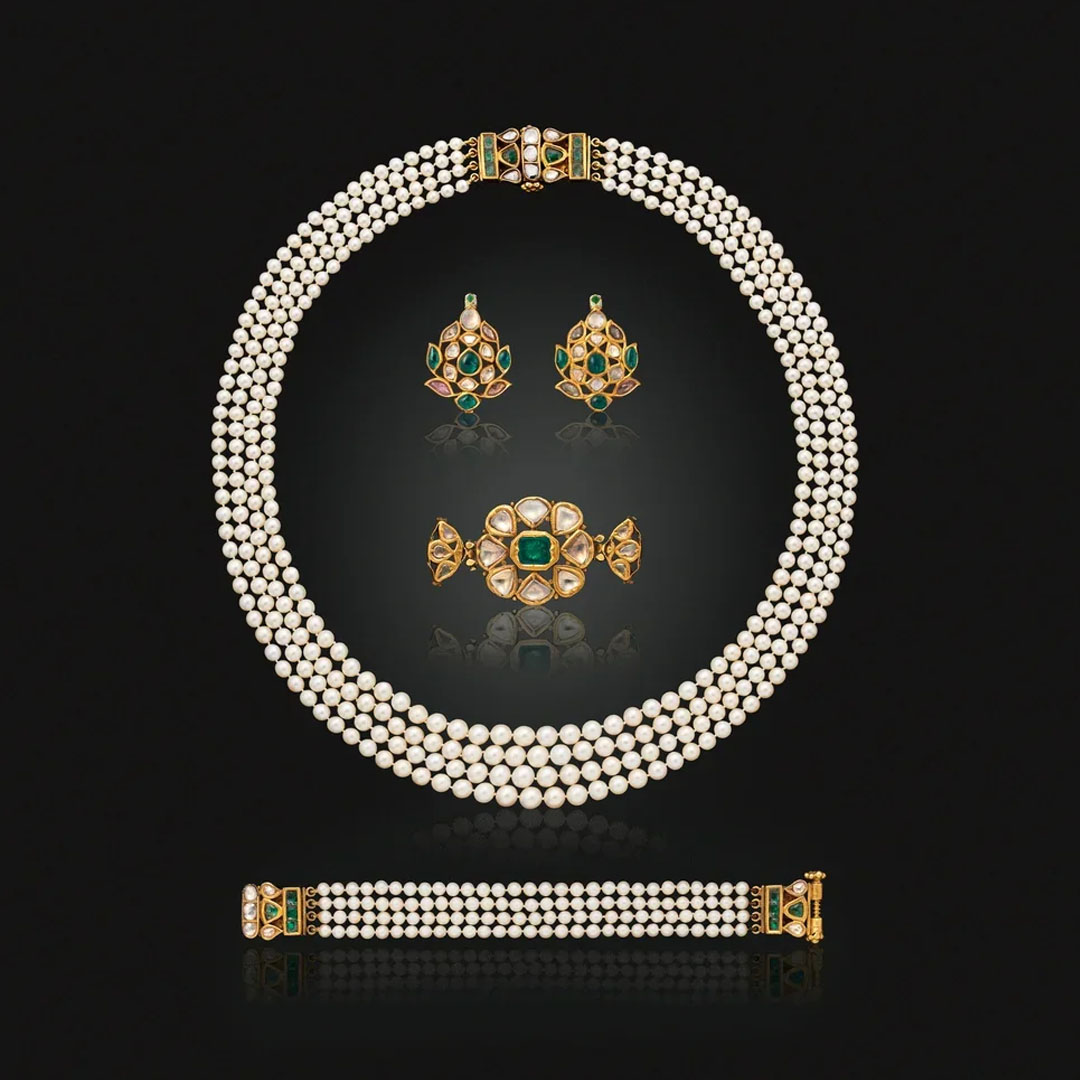 A SUITE OF ANTIQUE PEARL, DIAMOND AND EMERALD JEWELRY
A piece of 19th-century jewellery, comprising a four-strand necklace, four-strand bracelet, a pair of pendants and a pendant, pearls, variously-shaped table-cut diamonds, variously-shaped cabochon emeralds, rectangular-cut emerald, green, red and white enamel, foil and gold.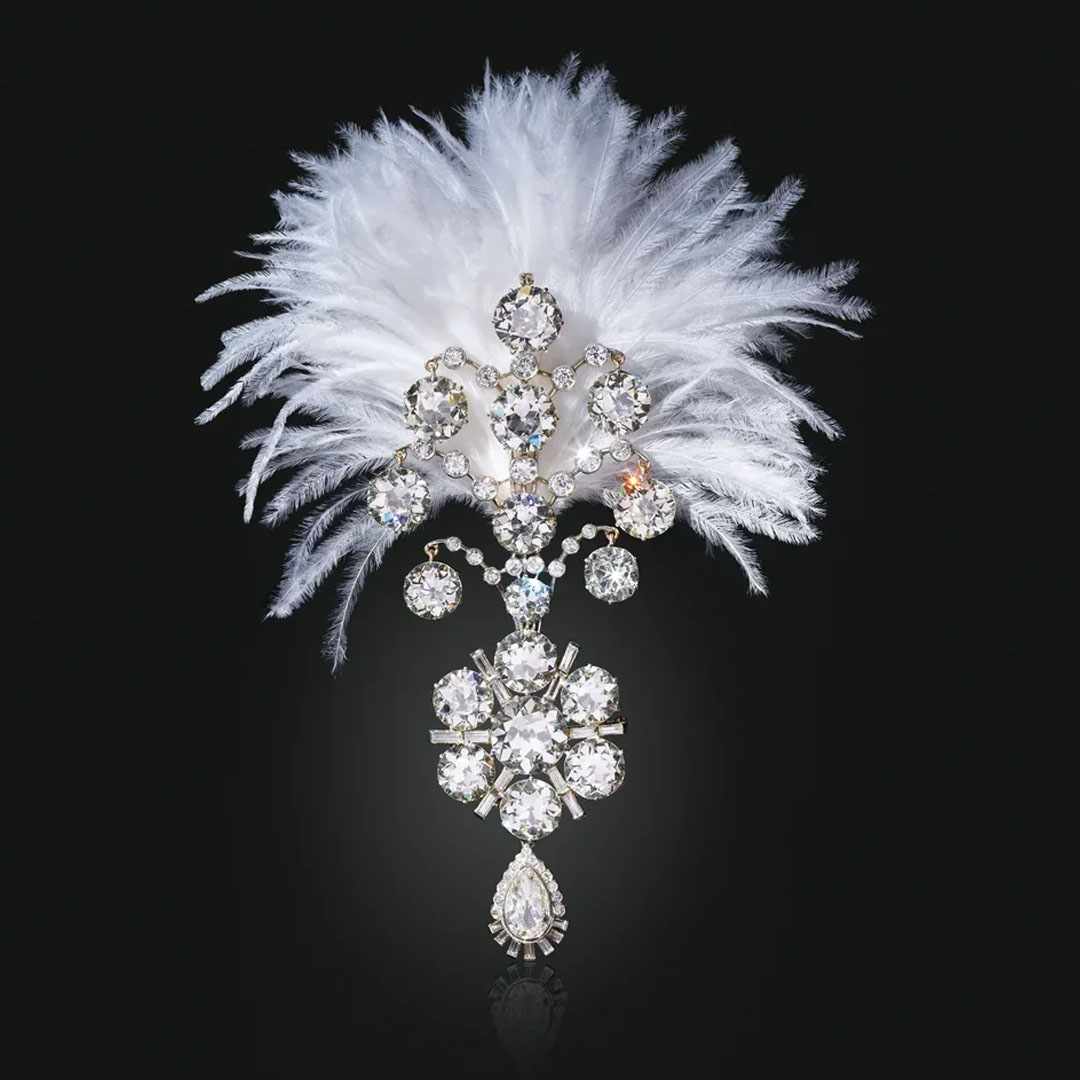 A BELLE ÉPOQUE DIAMOND JIGHA
The turban ornament set with old, baguette and pear-shaped diamonds, white gold, fitted with plume holder on the reverse, lower portion detachable and may be worn as a brooch, 5 ¾ ins., 1907 and remodeled circa 1935
Famous Golconda Diamonds!
There were 38 diamond mines in India, 23 were located in the Golconda region of Andhra Pradesh. Golconda is known as Diamond Capital of India, most of the world famous diamonds are from Golconda, No other auction in the past 50 years has offered so many exceptional Golconda diamonds.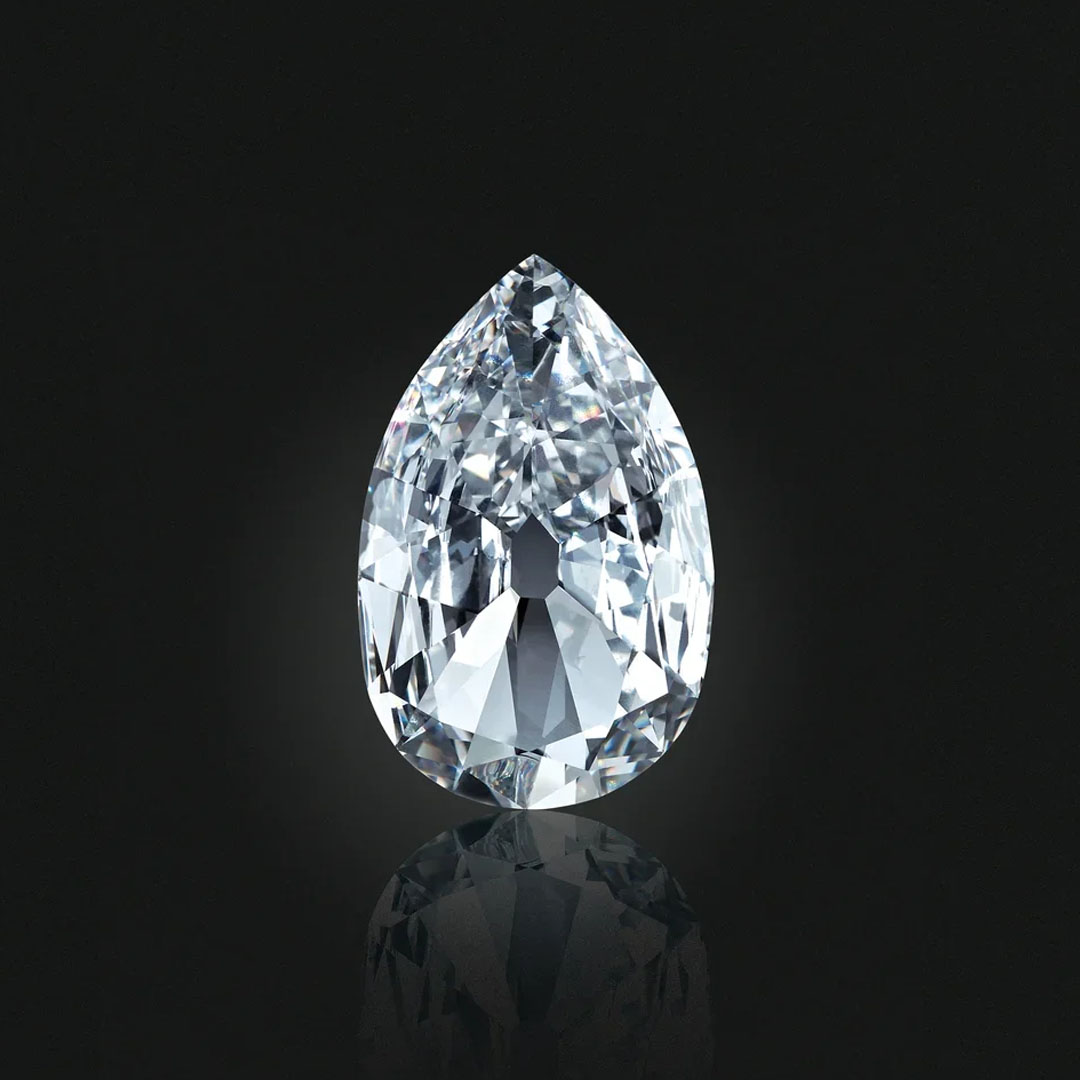 THE ARCOT II'
Pear brilliant-cut diamond of 17.21 cts, D colour, Internally Flawless clarity, Type IIa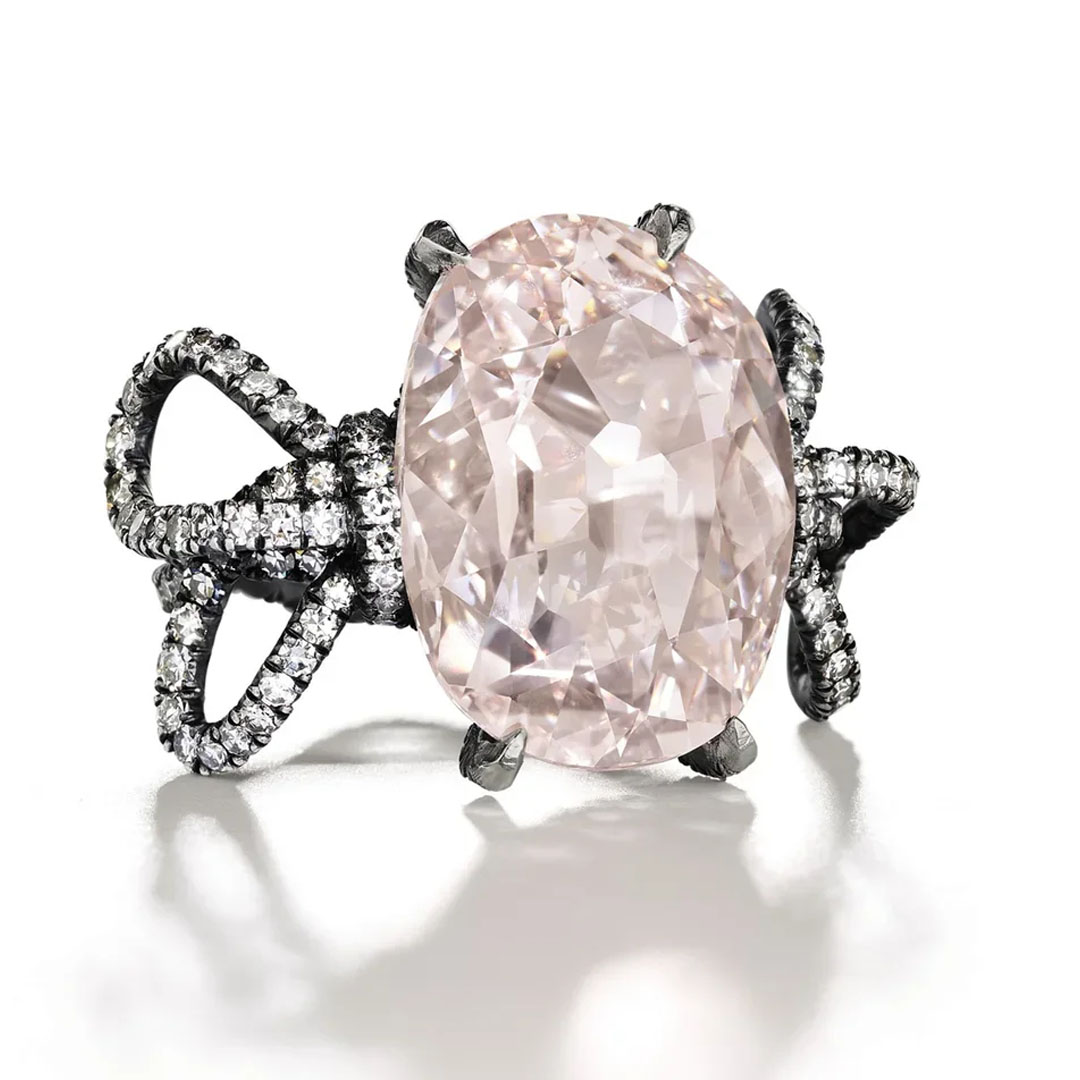 'THE PINK GOLCONDA DIAMOND'
A Colored Diamond and Diamond Ring, Jar
Oval brilliant-cut light pink diamond of 10.46 carats, single-cut diamonds, blackened gold, signed JAR, Paris, in a JAR case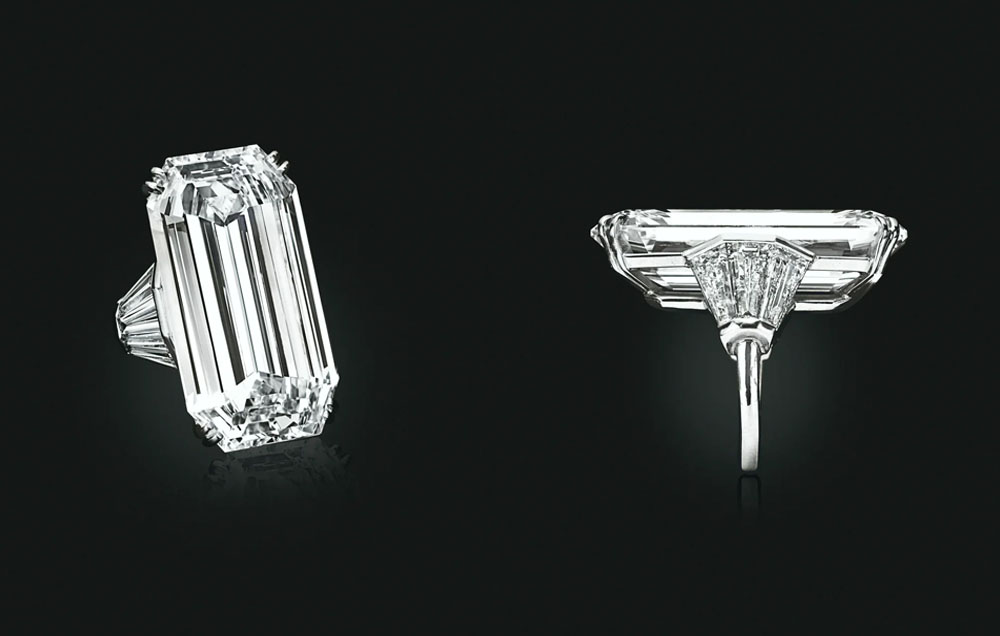 'MIRROR OF PARADISE'
A Diamond Ring
Rectangular-cut diamond of 52.58 carats D colour, Internally Flawless, tapered baguette-cut diamonds, platinum Ring.
Al Thani collection jewellery is a skilfull combination of Indian styles with European
Art Deco influences of Mughal-era.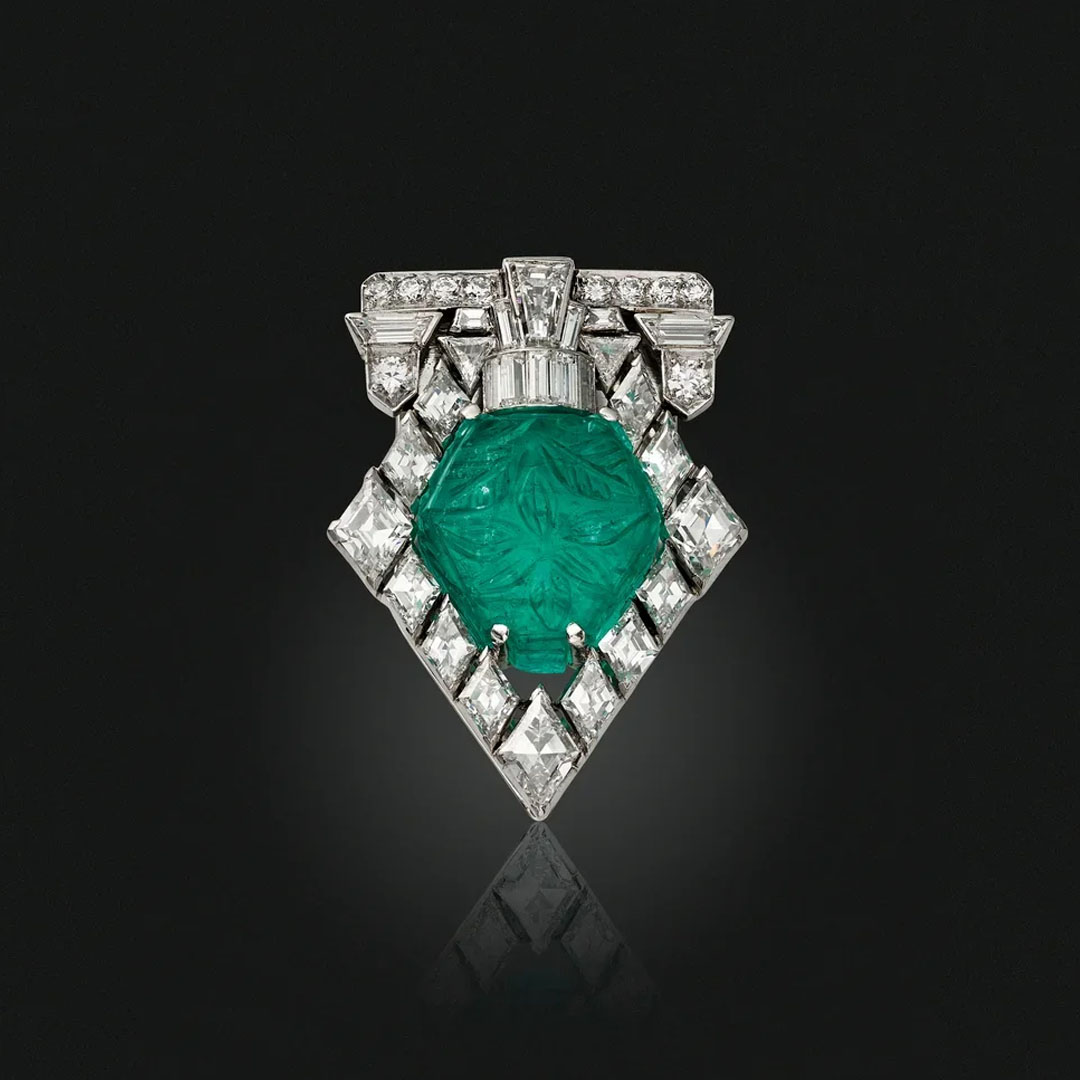 AN ART DECO CARVED EMERALD AND DIAMOND CLIP-BROOCH, TIFFANY & CO.
Hexagonal-shaped carved emerald, old, baguette, trapezoid, triangular and lozenge-shaped diamonds, platinum, circa 1925, signed Tiffany & Co.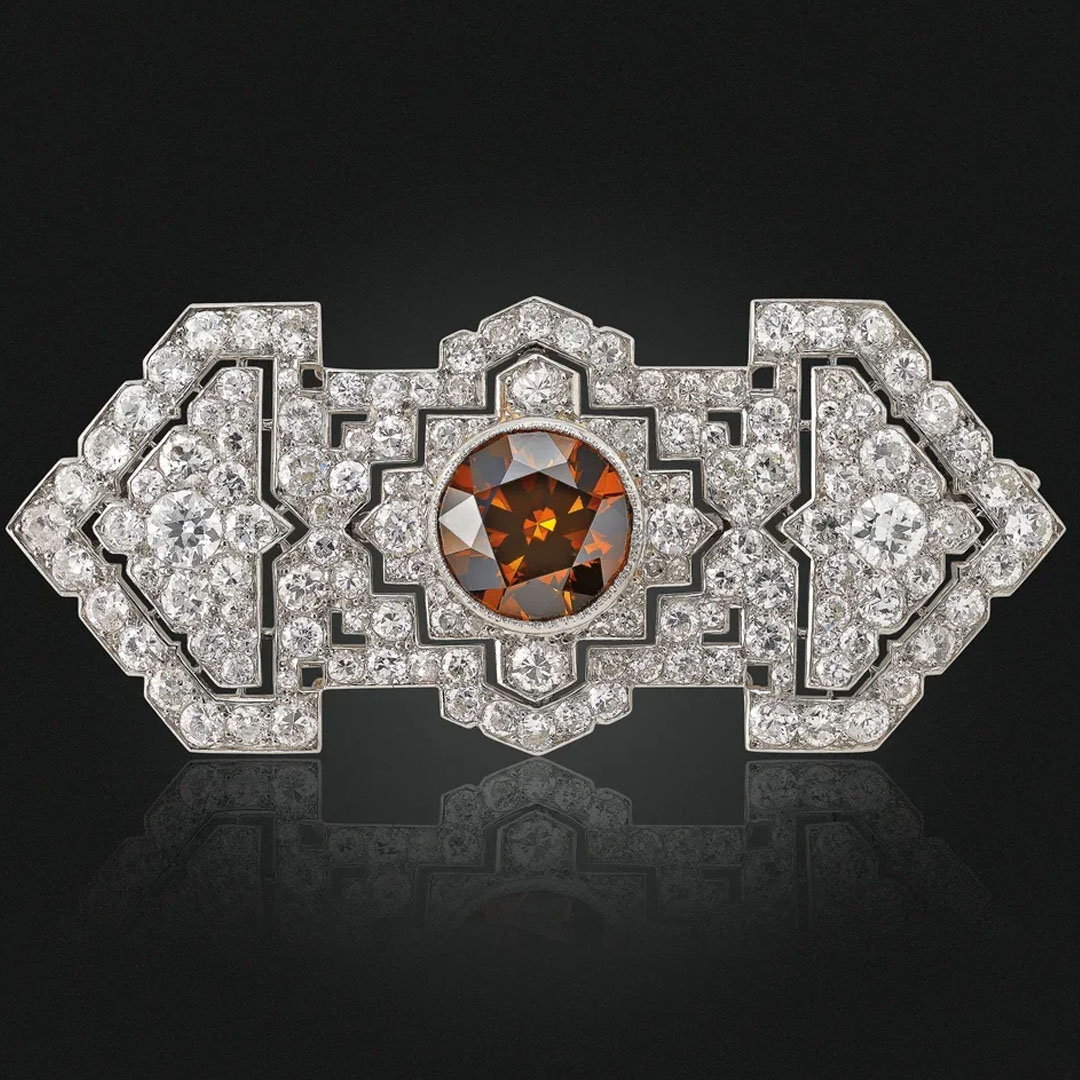 AN ART DECO DIAMOND AND COLORED DIAMOND BROOCH, CARTIER
Orange-brown circular old-cut diamond, old-cut diamonds, platinum and 18k white gold (French marks), circa 1920, signed Cartier, Paris, workshop mark (Henri Lavabre)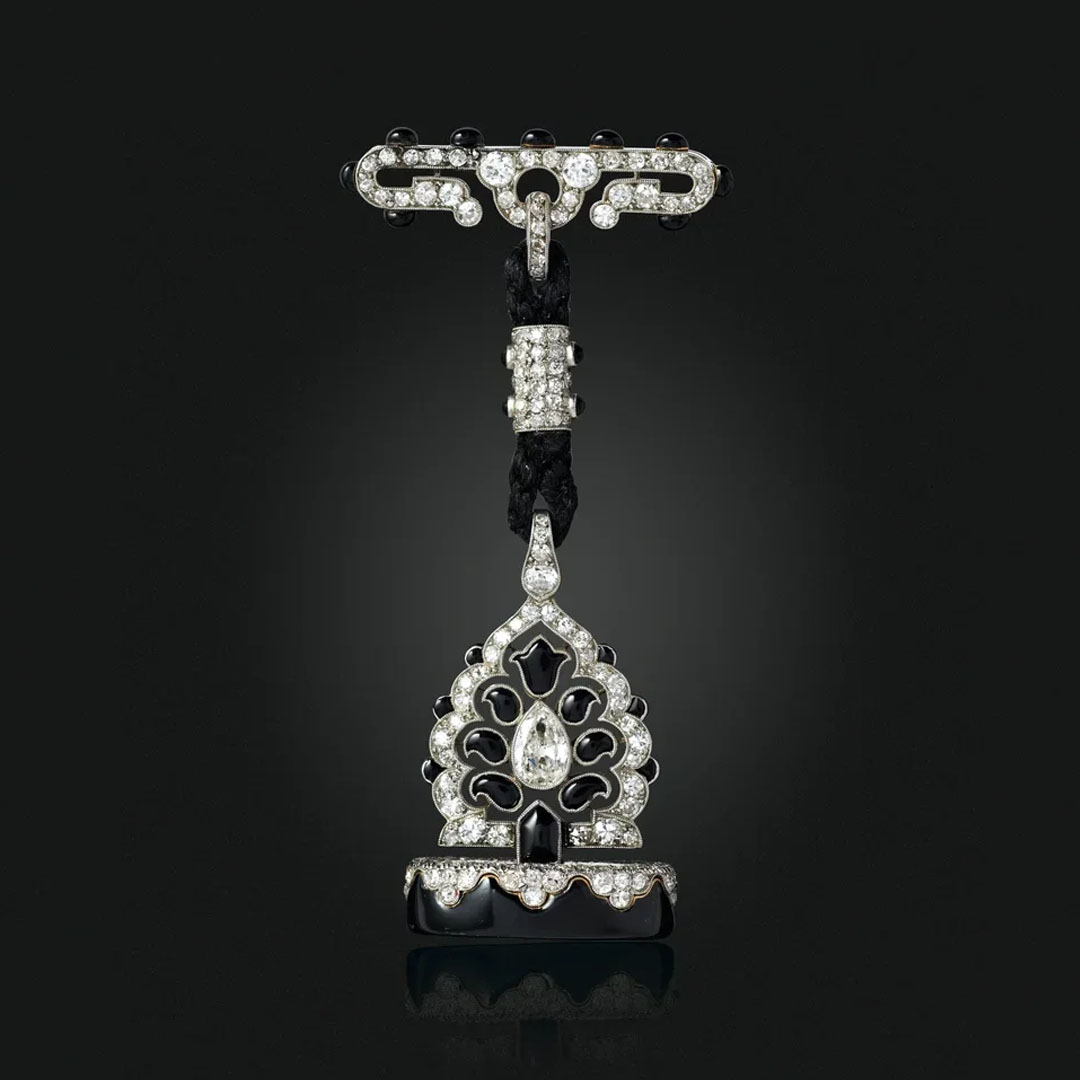 AN ART DECO DIAMOND, ONYX AND ENAMEL LAPEL WATCH
Pear, single and old-cut diamonds, onyx, white and black enamel, black silk cord, restrung at a later date, platinum and gold (French marks), manual movement, circa 1925, movement by Agassiz & Compagnie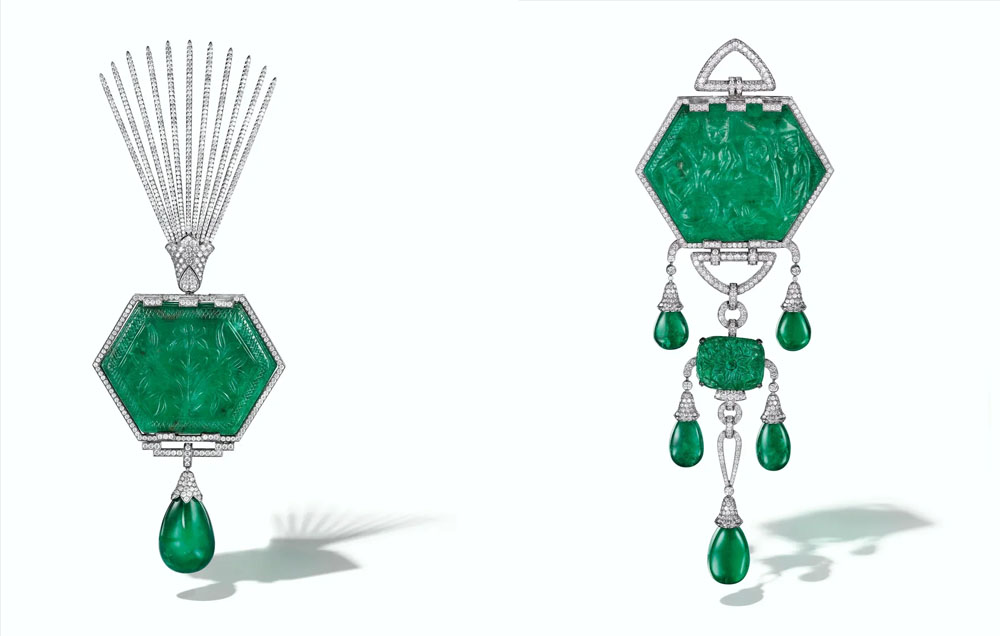 A CARVED EMERALD WITH TWO INTERCHANGEABLE EMERALD AND DIAMOND MOUNTINGS, CARTIER
Interchangeable brooch set with a hexagonal carved emerald of 380.98 carats, reversible with one side depicting Lord Rama, his wife Sita and their loyal servant, the monkey god Hanuman, the reverse depicting a poppy blossom, circular-cut diamonds, platinum
Gemstones from the Mughal Era Period.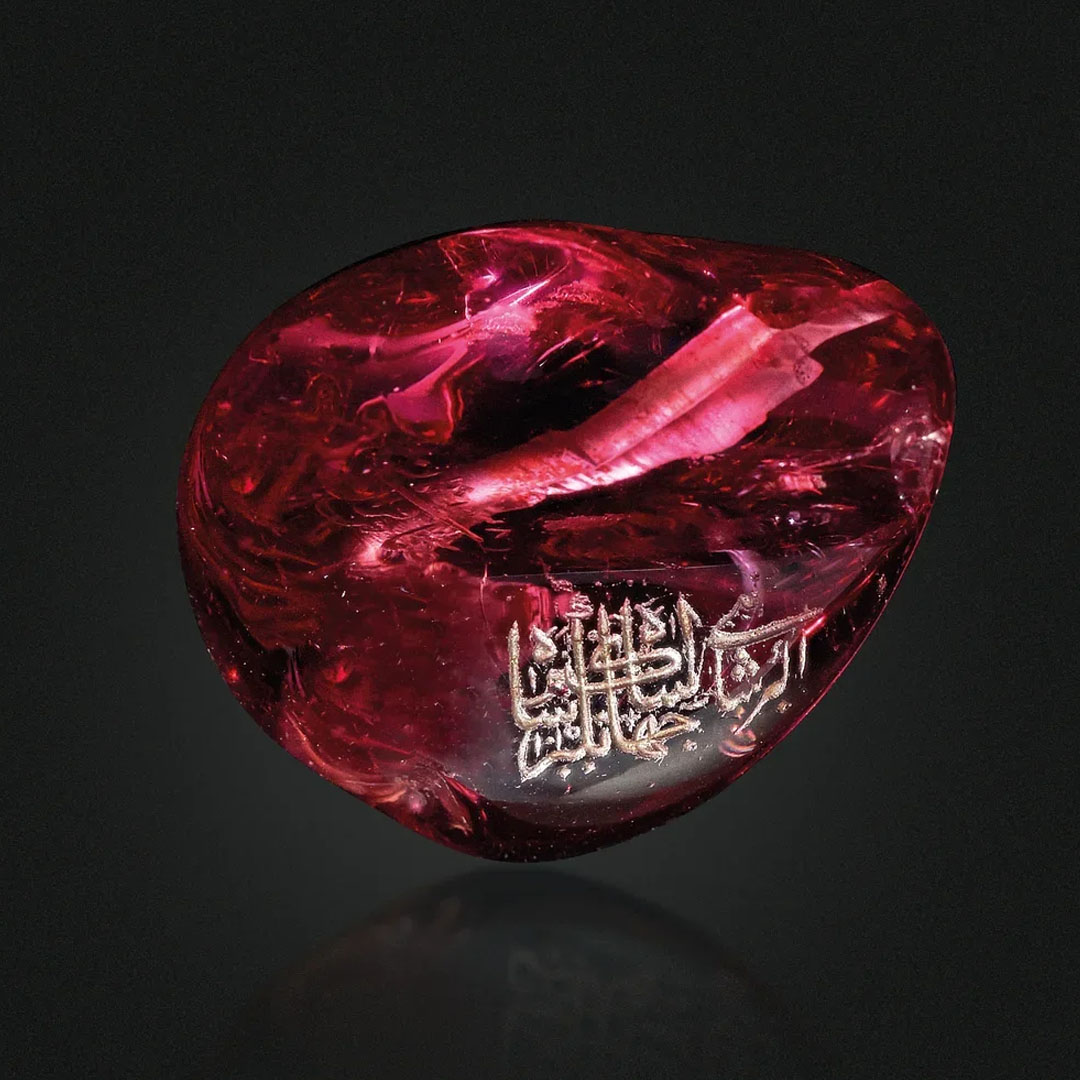 AN IMPERIAL SPINEL BEAD
Tumbled spinel bead of 24.26 carats, dated 1607 and 1628-29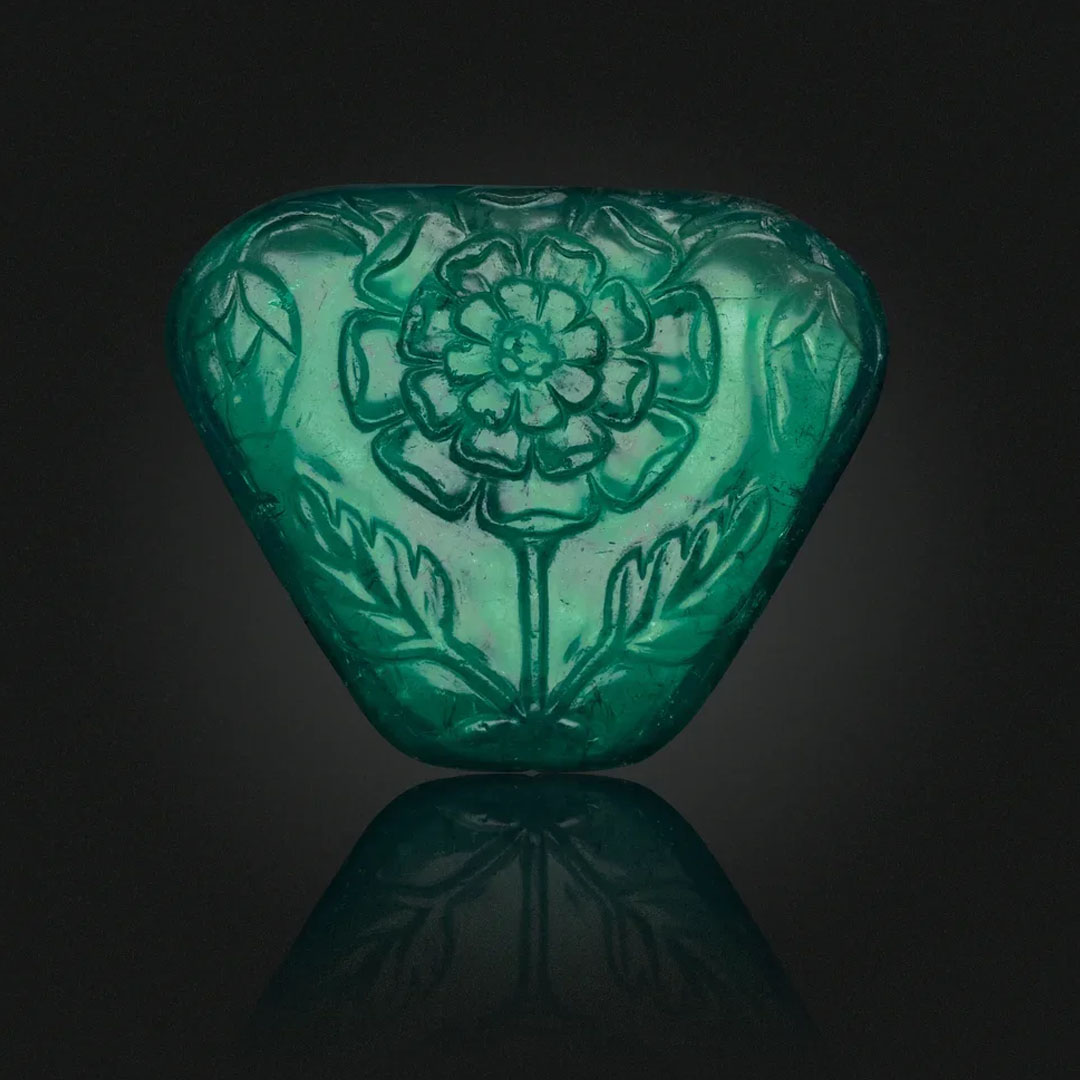 A CARVED EMERALD
Trapezoidal-shaped tabular carved emerald of 26.70 carats, 23.48 x 28.46 x 5.24 mm, mid to late 17th century
AGL, 2019, report no. 1100342: 26.70 carats, Colombia, insignificant clarity enhancement, traditional type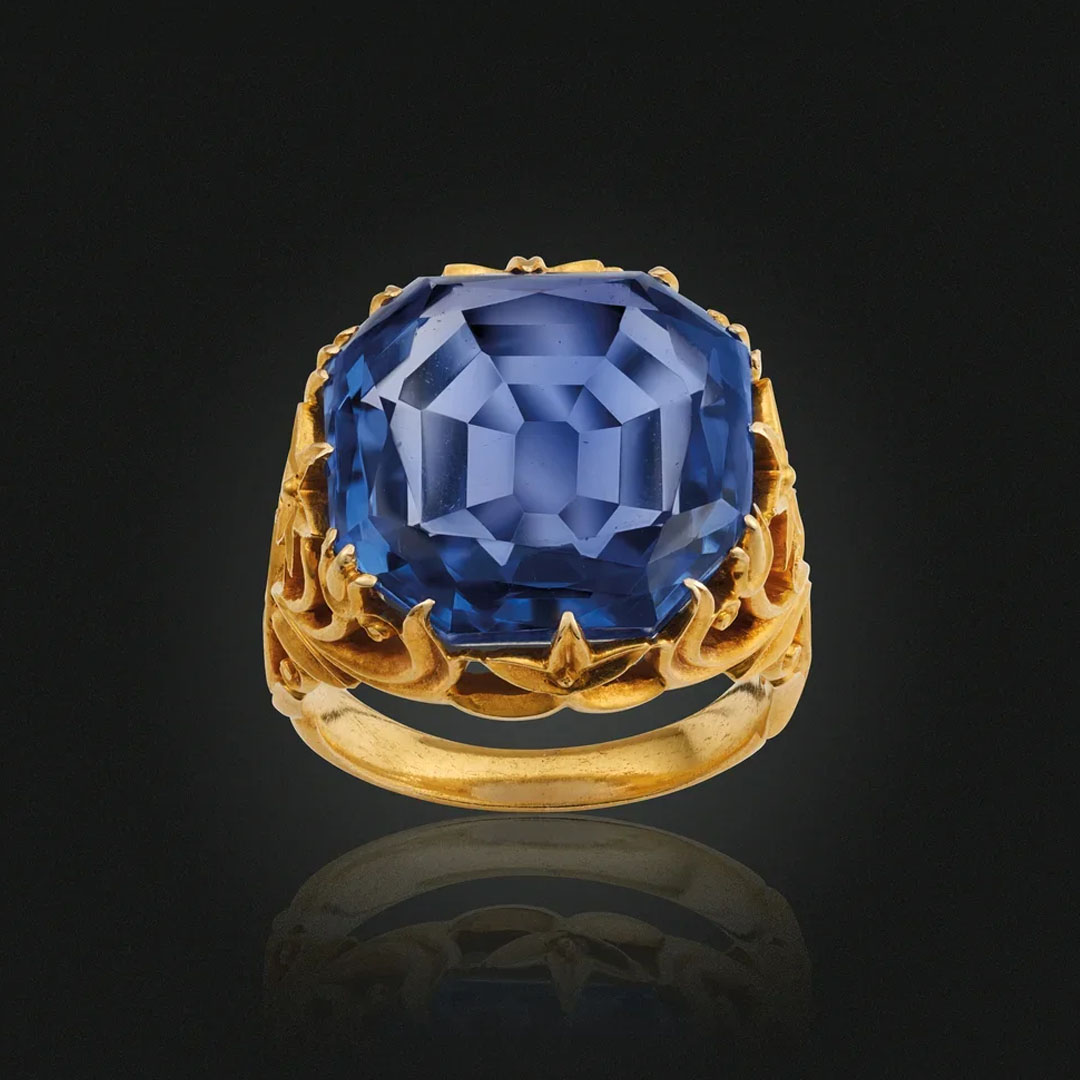 AN ANTIQUE SAPPHIRE AND GOLD RING
Octagonal modified mixed-cut sapphire, gold, ring size 5 ½, early 20th century, no gemological evidence of heat or clarity enhancement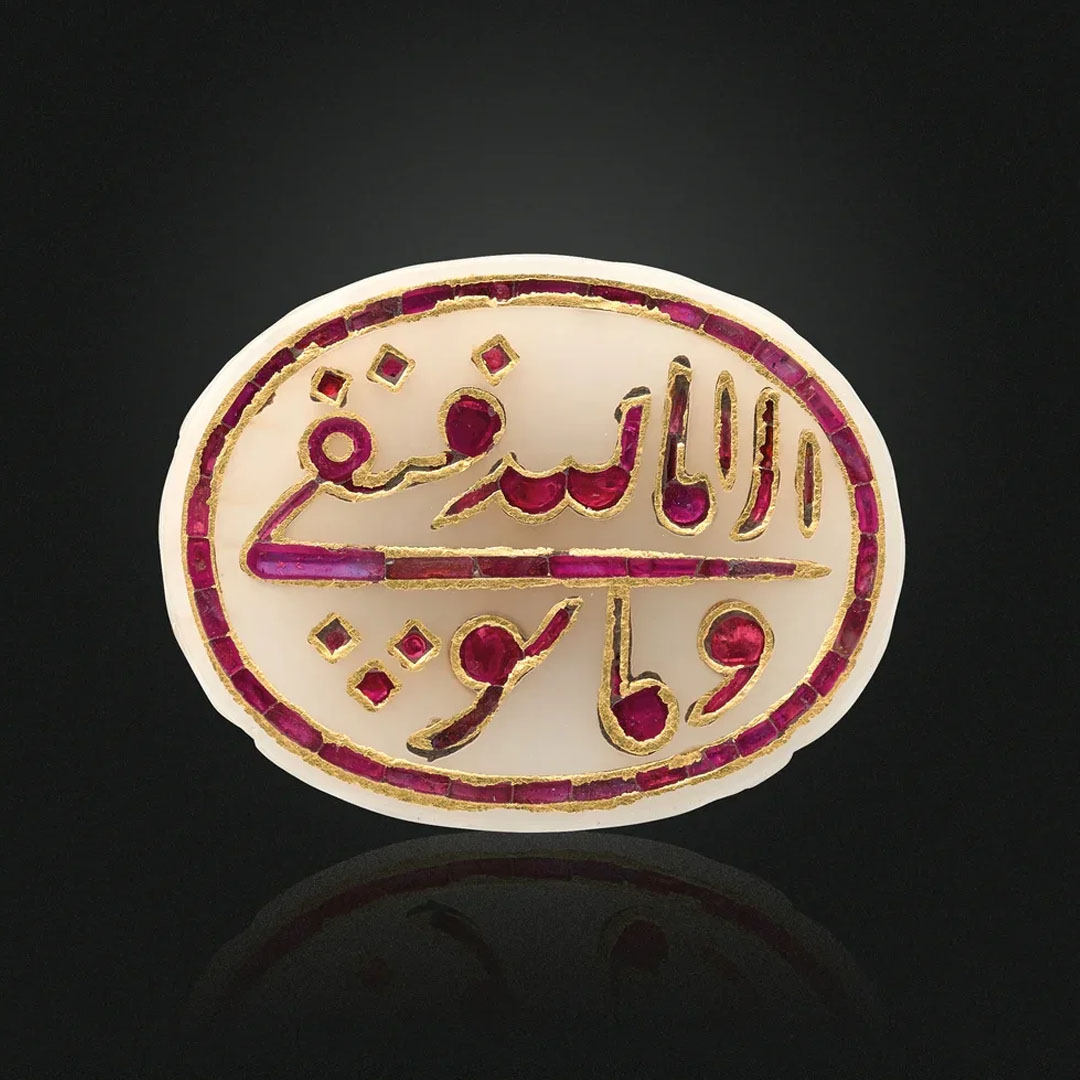 AN OVAL GEM SET JADE AMULET
INDIA, 17TH/18TH CENTURY
Arabic inscription set with rubies, the reverse decorated with a four petal emerald flower with a central diamond
Royal Objects
. Mughal weapons significantly evolved during the ruling periods of Babur, Akbar, Aurangzeb and Tipu Sultan. During its conquests throughout the centuries, the military of the Mughal Empire used a variety of weapons including swords, daggers, bows and arrows.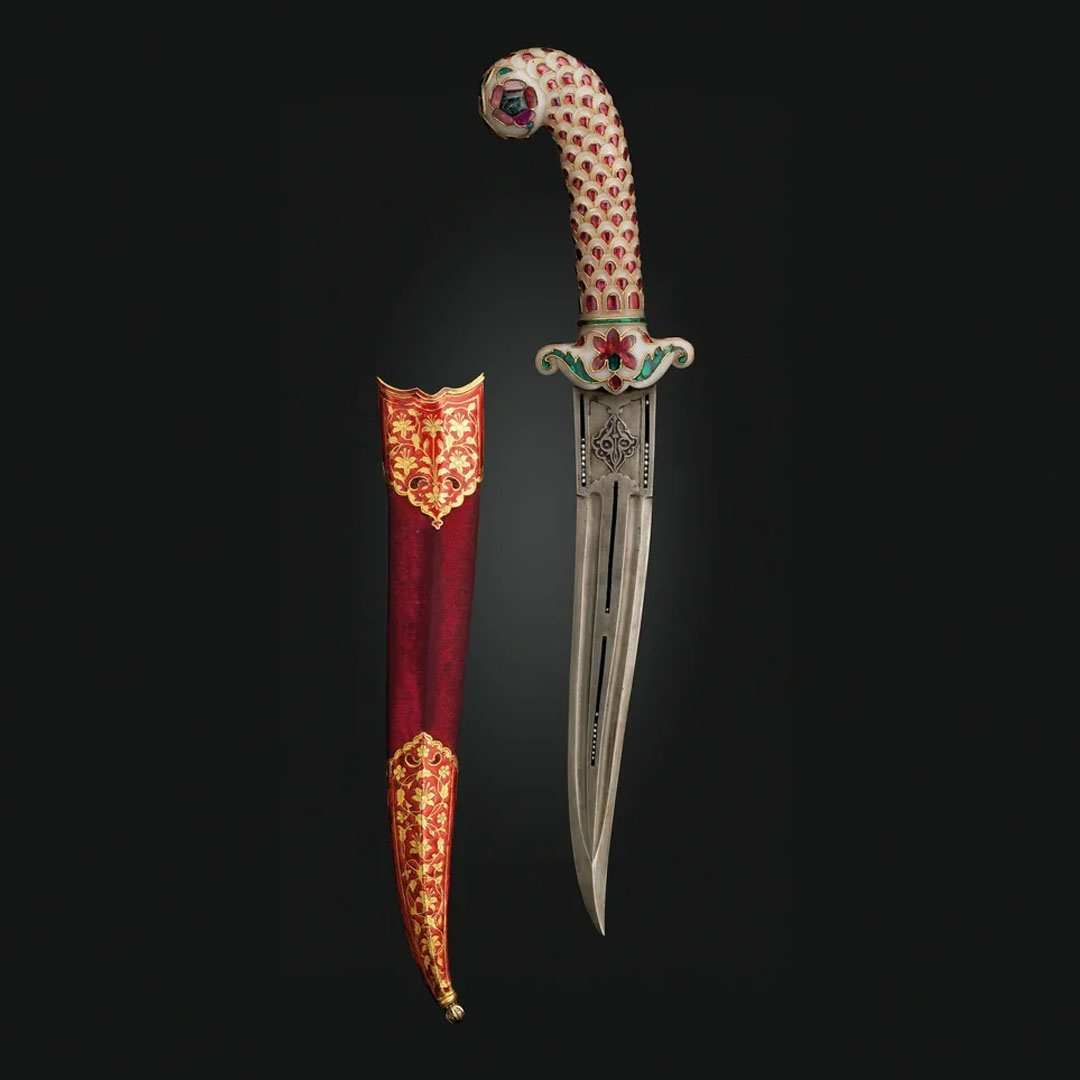 A GEM SET JADE-HILTED DAGGER (KHANJAR) WITH SCABBARD
NORTH INDIA OR DECCAN, 1700-1725
THE HILT OF THE STATE SWORD OF MAHARAJA JAGATJIT SINGH OF KAPURTHALA (1872-1949)
NORTH INDIA, CIRCA 1900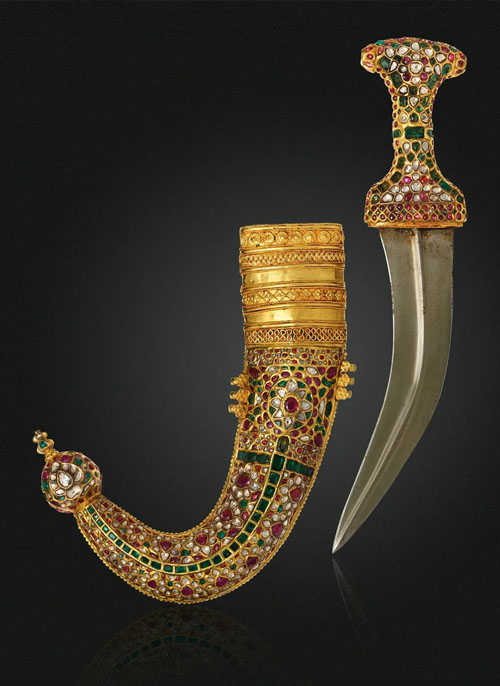 A GEM SET GOLD-MOUNTED DAGGER (JAMBIYYA) AND SCABBARD
YEMEN AND INDIA, LATE 19TH CENTURY
Set with diamonds, rubies and emeralds, watered-steel blade, the reverse only decorated with a small number of rubies and emeralds
12 ½ ins. (31.8 cm.) long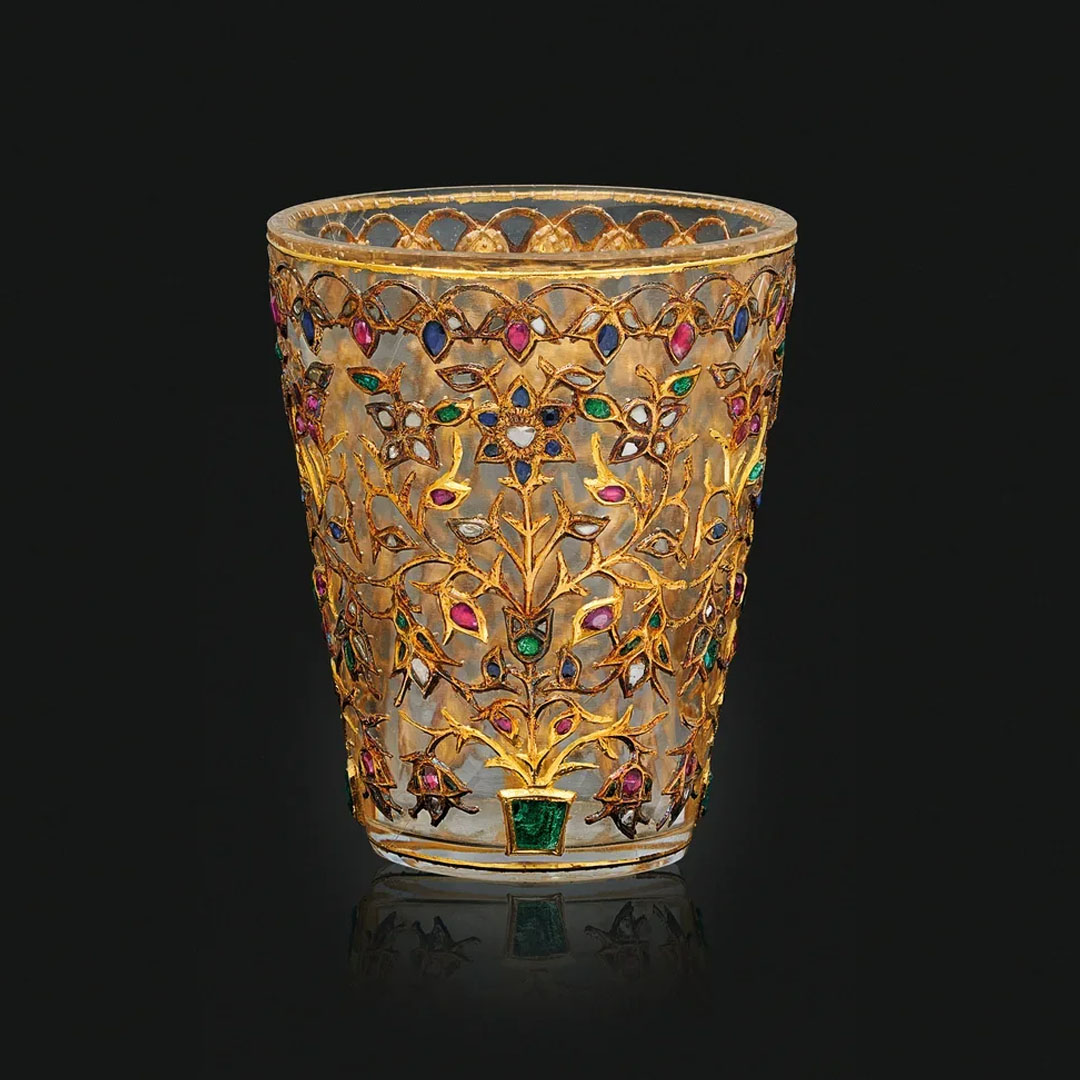 A GEM SET ROCK CRYSTAL BEAKER
INDIA, SECOND HALF 19TH CENTURY
Carved from a single piece of crystal, set with diamonds, rubies, emeralds, and sapphires in gold kundan, inscribed with a Persian couplet on the base
3 ins. (7.7 cm.) high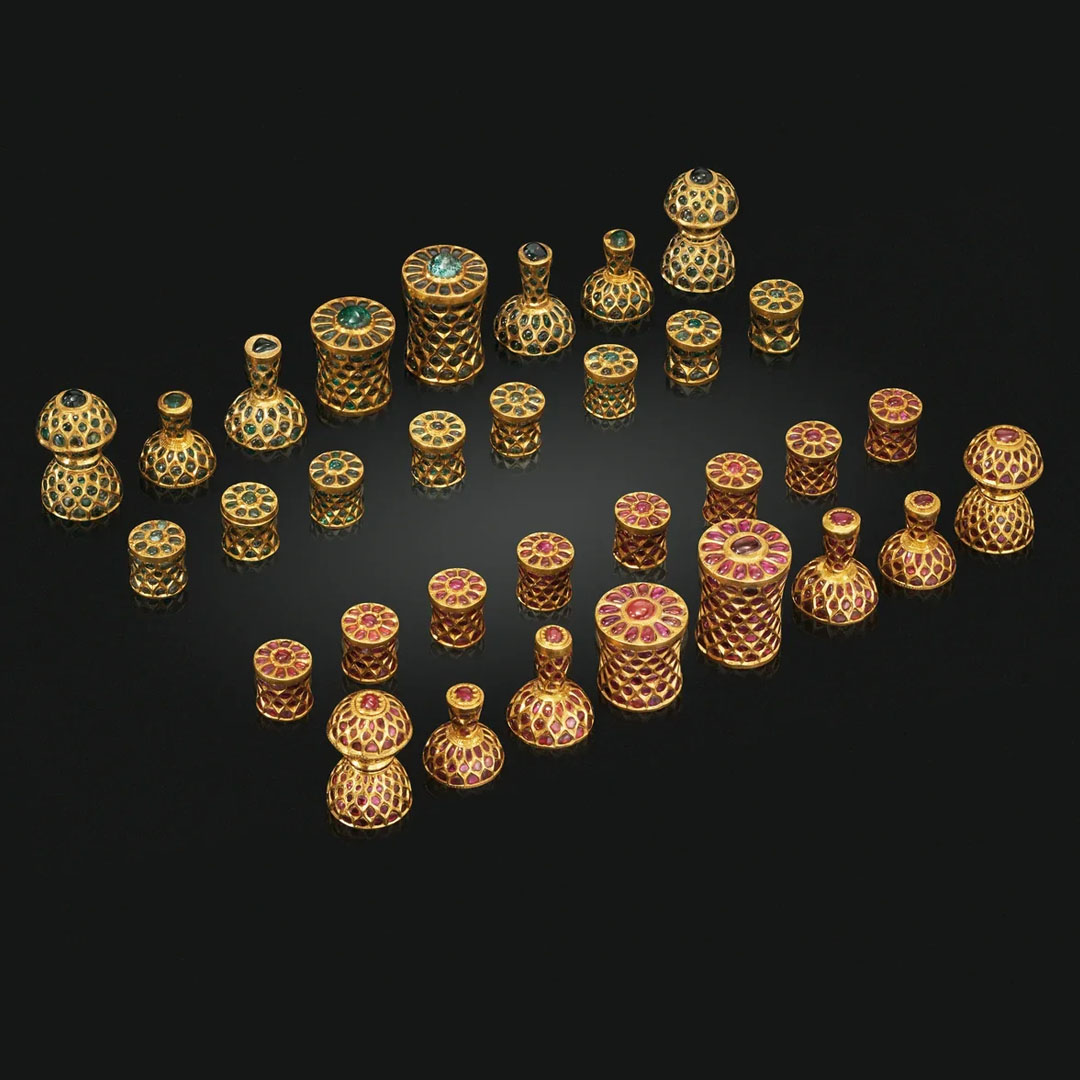 A GEM SET GOLD CHESS SET
PROBABLY SOUTH INDIA, CIRCA 1775-1825
Thirty-two pieces, set with rubies and emeralds, the base of each piece in plain gold with undeciphered South Indian script
Highest piece 1 7/8 ins. (4.7 cm.) high; smallest piece 7/8 in. (2.1 cm.) high
The Mughal patrons were surely great admirers of precious jewels and believed in perfection. Without a doubt, the Jewellery in the Mughal tradition was an integral aspect of articulating authority.
It was a great experience to view the spectacular jewels!