The Maharajas of Indore were great connoisseurs of art, cars and jewellery that was estimated to be worth 40 million dollars. So, come aboard with me and let's virtually travel to Indore and admire the jewels worth a million dollars of the Holkar dynasty and know inspiring tales about The Maharajas of Indore.

Image credit: Public Domain.
Image 1: HH Yashwant Rao Holkar I; 1799-1807.
Image 2: Coat Of Arm.
Image 3:Rajwada Holkar Palace.
Indore State also known as Holkar State was ruled by the Holkar dynasty founded by Malhar Rao in 1721. Malhar Rao was titled "Holkar Maharaja" by his people and that's how the dynasty got this name and even today the names "Holkar" and "Indore" are synonyms.


Image credit: Victoria and Albert Museum.
HH Tukoji Rao Holkar II; Holkar 11; with the sword.
The brave Maharajas of Holkar fought many battles during their reign; one of the most important battles in the book of history is the "Battle of Mahidpur." After their defeat, a peace treaty of Mandsaur was signed in 1818; thereafter the State of Holkar was incorporated into the British Raj as a princely state of the Central India Agency and the capital was shifted from Bhanpura to Indore. Featured above is a bejewelled sword ca.1800; embellished with 276 diamonds, 378 rubies and 38 emeralds that was taken from the Maharaja along with their other treasury's.
Let's witness the historical jewels of the Holkars:
Indore Pears.
The most famous, historic and legendary diamonds that belonged to the Holkars were the Indore Pears.

HH Maharaja Tukoji Rao III; Holkar 13 a great jewellery collector purchased more than 1200 pieces during his reign and one of the most magnificent pieces of jewellery purchased by him was the incredible pear-shaped diamonds of 46.95-carat & 46.70-carat known as Indoor Pears during his visit to Chaumet salon Paris in 1913.

Joseph Chaumet was one of the favourite jewellers of the Holkars, presented multiple designs options of the Indoor Pears.
The Indore Pears was later redesigned by Mauboussin. The story goes that a close friendship between HH Yashwant Rao Holkar II and Jean Goulet a member of the Mauboussin in the 1930s led to the French jewelry house becoming an official jeweller of the Holkars. Jean Goulet was then invited to Indore by HH Yashwant Rao Holkar II to view the family treasure and was commissioned to make important jewellery reflecting the modern time.

Featured above is the modified version of the Indore Pears by Mauboussin. The diamonds were redesigned to a long necklace with baguette diamonds chain, two emerald cut diamonds, a large octagonal emerald and the two Indore Pears were framed along with a pear-cut diamond. A portrait of Maharani Sanyogita Bai Holkar, dressed in an evening gown and wearing the Mauboussin designed Indore Pears necklace was made by Bernard Boutet de Monvel in 1934. The Maison also designed a turban ornament with the famous Indore Pears and emeralds, gouache on lead for the Maharaja of Indore in 1935.

In 1946 HH Yashwant Rao Holkar II; Holkar 14 sold the diamonds to Harry Winston, who recut them to 44.62 and 44.18 carats. Harry Winston designed a baguette-cut diamond necklace suspending the Indore Pears. The necklace was sold and repurchased by Harry Winston. Currently, the Indore Pears are a part of the private collection of Arab jeweller Robert Mouawad set as a pair of pendant earrings.
The new modified diamonds were featured in the 'Court of Jewels' exhibition along with the other precious gems and jewels acquired by Harry Winston. The model is seen wearing the Indore Pears on either side of her dress.
Although these diamonds are not a part of the Indian royal family anymore, the opulence and the legacy of Maharaja of the Indore will always be remembered with its name!
Maharanis of Holkar
Before we move ahead and witness more jewels of the Holkars, let's know the women of the family; after all the success of a man needs the relentless support of a woman in his life.
Maharani Ahilya Bai Holkar:

She is regarded as one of the finest female rulers in Indian history and the Warrior Queen of Indore who succeeded her father in law Malhar Rao Holkar and took over the affairs of the Holkars dynasty 1767 -1795. A woman of great courage, wisdom and fine leadership; she led the army into many battles. Apart from being a brave queen, Ahilyabai Holkar encouraged artisans from Malwa and Surat to design 9 yards length sarees which gained popularity as Maheshwari sarees and built hundreds of temples throughout India and promoted industrialisation in the 18th century. In her honour, a commemorative stamp was issued on 25 August 1996 by the Republic of India; Indore international airport has been named Devi Ahilyabai Holkar Airport and Indore university has been renamed Devi Ahilya Vishwavidyalaya.
Maharani Chandrawati Bai Holkar of Indore:
Maharani was the first Wife of Maharaja of Indore Tukojirao Holkar III and the first royal female to hold a drivers license who encouraged many other women to master their driving skills.
Maharani Sanyogita Bai Holkar: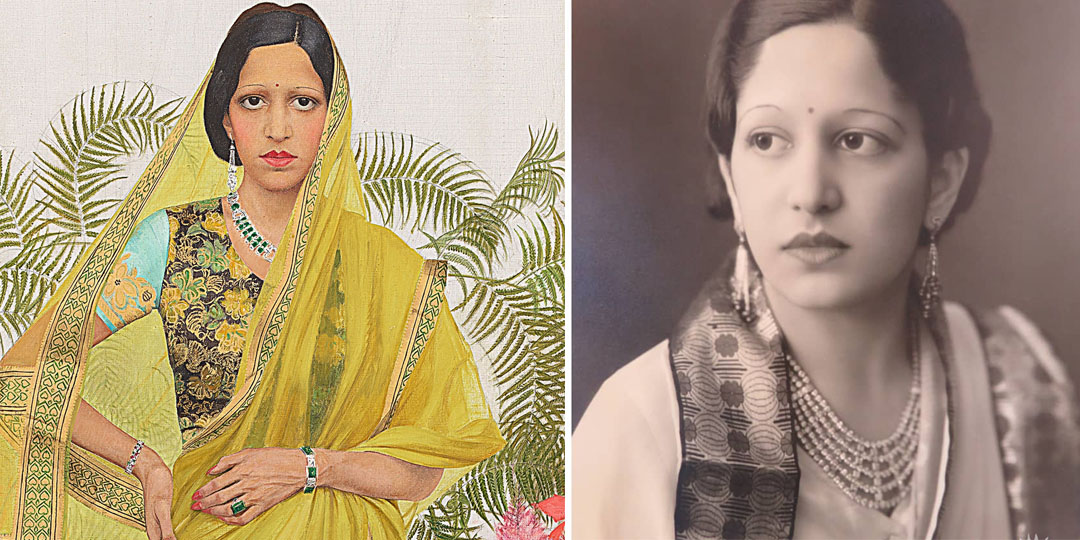 In the year 1924, HH Yeshwant Rao Holkar, Holkar 14 married Maharani Sanyogita Bai Holkar. The couple lived in a social whirlwind and travelled Europe extensively and were photographed by Man Ray and painted by Bernard Boutet de Monvel.
Important Diamonds of the Maharaja of Holkar
Jonker Diamond:
HH Maharaja Tukoji Rao III, Holkar 13 had a unique interest in jewellery and had acquired important jewellery pieces. He owned historic Jonker V, VII, XI and XII purchased from Harry Winston. Though not much is known about the Jonker diamonds owned by the Holkars; Jonker V diamond weighing 25.27 carats, D VVS2, type IIa appeared at Christie's Magnificent Jewels, Geneva 2019.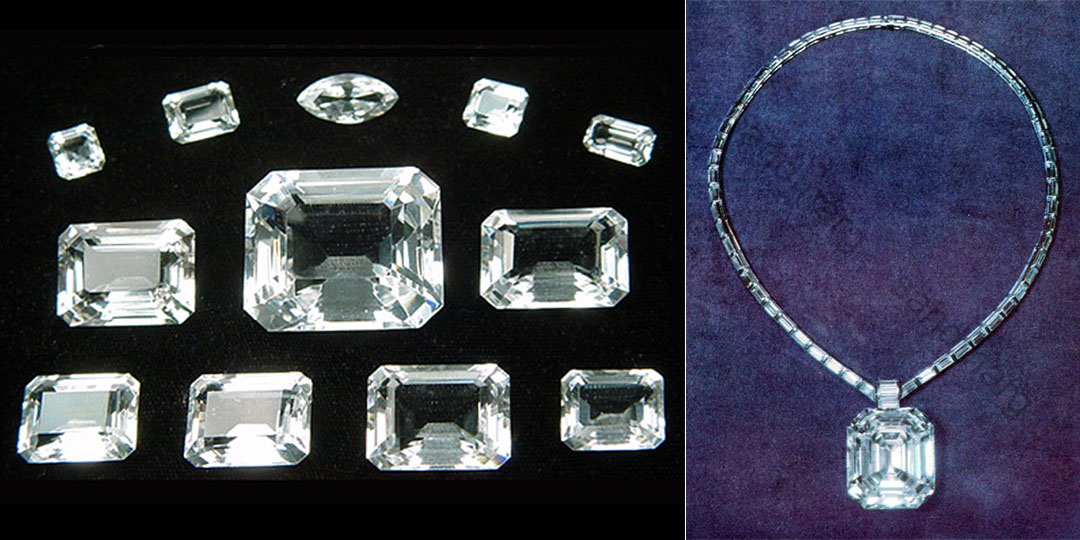 Let's dive a little a learn about the legendary Jonker Diamond now.
• The Jonker 726cts fourth-largest uncut rough was named after the diamond digger Johannes Jacobus Jonker who discovered it in 1934. Harry Winston purchased the diamond in 1935 and after closely examining the rough; Lazare Kaplan polished 13 diamond pieces from it.
• The largest diamond, the Jonker I, was a 142.90cts emerald cut; later recut to 125.35cts and set in a platinum necklace with 110 baguette-cut diamonds. This diamond necklace along with the other acquisitions of Harry Winston was displayed at the "The Court of Jewels" exhibition. In Image 6 model is wearing a necklace with the 125.35cts Jonker Diamond as a belt.
• Not much is mentioned about the owners of the other Jonker Diamonds, Maharaja of Indore purchased Jonkers V, VII, XI and XII.
Porter-Rhodes Diamond:
HH Maharaja Tukoji Rao III, Holkar 13, a collector of exclusive gems and jewels had purchased 56.60-cts Asscher cut Porter-Rhodes diamond.

Let's know more about the Porter Rhodes Diamond.
• A 153.50cts rough diamond discovered from the Kimberley mine in the year 1880 was named after American diamond prospector "Porter Rhodes".
• The rough was polished into an old mine cut diamond weighing 73 cts and sold to a London based jewellery firm that recut the diamond to 56.60cts Asscher cut and sold it to HH Maharaja Tukoji Rao III, Holkar 13.
• After changing many hands, Lawrence Graff purchased Porter Rhodes diamond in 1987 and repolished it to 54.04cts, graded it D colour and mounted it on a platinum ring, which represents the current setting of the diamond.
Pearl Ornaments
Every Indian Maharaja had an exceptional collection of Natural pearl jewels; just like the Nizam of Hyderabad, Maharaja of Baroda, Sita Devi of Baroda, Maharani Gayatri Devi of Jaipur, Maharaja of Darbhanga, Nawab of Rampur to name a few; The Holkars also had an exceptional collection of pearl strands.

Featured above is HH Tukoji Rao Holkar III, Holkar 13; wearing a pearl necklace along with a large sash of pearls and HH Yashwant Rao Holkar II, Holkar 14 who was responsible for buying some of the most famous jewels including the Spanish Inquisition Necklace and the Indore Pears is wearing a seven strand pearl necklace.
Emerald Necklaces of the Holkars
One of the most popular gemstones in Indian history is Emeralds. These gemstones are known for their unique green colour and rarity. Let witness three important emerald necklaces from their treasury of Holkars.
Maharaja of Indore Necklace: The Spanish Inquisition Necklace: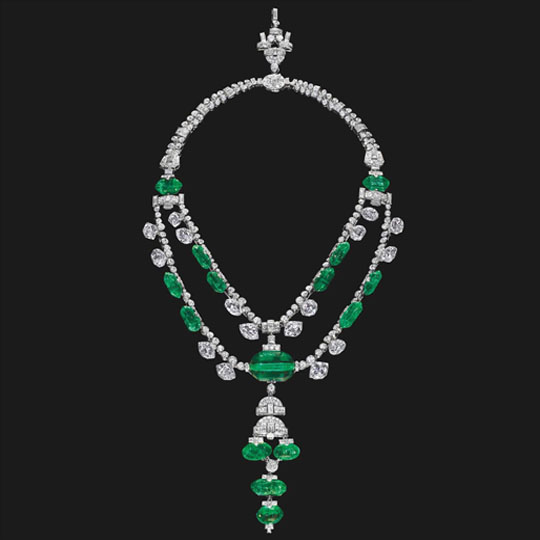 This necklace mounted in platinum with European and Art Deco styling was owned by HH Tukoji Rao Holkar III Holkar 13; in the early 20th century and was later inherited by his son HH Yashwant Rao Holkar II, Holkar 14: who sold the necklace to Harry Winston in 1947.

Harry Winston renamed the necklace to "Spanish Inquisition" as the gems were "supposedly" owned by the Spanish Royal Family. He lent the necklace to actress Katharine Hepburn for the 19th Academy Awards ceremony. It was later displayed at the "The Court of Jewels" exhibition along with the other acquisitions of Harry Winston. It is currently displayed in Smithsonian Institution in Washington D.C.
The Dudley Emerald Necklace:

The Dudley Emerald Necklace is composed of six large emerald droplets and twenty-four smaller droplets; linked by two diamond chains and centred by a pear-shaped emerald. The 6 main clusters of emerald surrounded by diamond, suspends one large and two smaller pear-shaped emeralds. The story goes the Spanish explorers brought the emeralds from Colombia to the Spanish Crown. These stones were set into the necklace and worn by the women of the royal family and then the English Earl of Dudley before becoming a part of the collection of the Maharaja of Indore. HH Yashwant Rao Holkar II, the last ruler of Indore and a great patron of French jewellers sold the necklace to Harry Winston.

Featured above are different Maharajas of Holkars adorned in emeralds, and a necklace embellished with 13 emeralds and diamonds; auctioned at Sotheby's Tokyo in the 1990s.
Safe to say, the style was an essential trait of the Holkar's of Indore.
Indoor Sapphire Taveez bead
India's independence in 1948 led to the merger of the princely state into newly independent Indian states and most of the heirloom pieces belonging to the Holkars family were either stolen, sold or auctioned.

Indoor SapphireTaveez bead of 23.20 cts, is an 18th-century pendant necklace mounted by Cartier. It was recently auctioned at the Christie's Maharajas & Mughal Magnificence 2019 in New York. This pendant was worn by HH Yashwant Rao Holkar II when photographed by Man Ray.
Jewels crafted by Van Cleef & Arpels
Maharaja HH Yashwant Rao Holkar II Holkar 14, a great patron of French jewellers like Chaumet, Mauboussin and Van Cleef & Arpels commissioned some spectacular jewels for his wife Maharani Sanyogita Bai Holkar.

Featured above are exclusive jewels crafted by the French Maison Van Cleef & Arpels for the Maharaja of Indore.
• The ruby ear clips, c1930 made with baguettes, round cut diamonds and 14 exclusive rubies.
• Necklace c1936 made with 9 briolettes, square and baguette-cut diamonds and set in the Platinum mounting.
• Art deco bag c1923 probably fabricated in silk, is made with rose-cut diamonds and calibrated onyx set in Platinum
• Egyptian style bracelet watch, made in Platinum and embellished with diamonds, ruby, emeralds and onyx. The bracelet watch was 1 of the 6 rare and exclusive masterpieces that Maison created for this model.
• Openwork and flexible bracelet 1925 made in platinum and diamonds.
After seeing all these magnificent jewels from the Hokar's, it's impossible to estimate the value of their entire collection, isn't it?
On that note, this brings us to the end of the article, and like always it gives me great delight to curate informative and value-creating articles for all of you.
Stay tuned for my next article on royal jewels!
Credit: Pratiek Dhadha; Akshay Chavan
Disclaimer: The above images belong to their respective sources, where rights may be held. Usage here is for information/reference purpose only.