It gives me immense pleasure to talk about the Legacy, Lifestyles and Jewels of the remarkable Indian Maharajas. In this article, we will travel to Patiala and witness the flamboyant life of the Maharaja of Patiala, who ruled the princely state of Patiala.

The Princely State of Patiala rose to fame due to its support to the British during the Revolt of 1857. The vast income from the fertile plains of Punjab turned it into one of the wealthiest and most powerful kingdoms in India and the Maharajas of Patiala played an important role in supporting the British army. The first Maharaja of Patiala was Baba Ala Singh (1695–1765) and Maharaja Yadavindra Singh was the 9th and last ruling Maharaja of Patiala; who agreed to the consent of merging the Patiala State into the newly independent Union of India in 1947.
Featured above is The Order of Phul (Nishan-i-Phul), The Royal Family Order Of The State of Patiala, founded by Maharaja Bhupinder Singh before 1911.
– It was awarded in two classes and conferred on male members. The First Class consisted of the collar, collar badge, breast star, sash and sash badge in gold and blue enamel. The Second Class consisted of breast star and neck badge in gold with blue enamel outlines.
– The inscription in gold on the blue enamelled garter is inscribed in Gurmukhi "Tera gharu mera asay" (Your home is my refuge) and surmounted by the Royal crown. The reverse of the garter is engraved with the maker mark "GARRARD & Co. Ltd. Jewellers to H.M. THE KING EMPEROR. LONDON AND CALCUTTA.
– It is believed that the diamond-encrusted version was worn by HH Maharaja Bhupendra Singh during grand ceremonies, while the gold and enamel version was worn by him on less formal occasions.
Lifestyle and Jewels of Maharaja of Patiala
HH Maharaja Bhupinder Singh was the ruling Maharaja of the princely state of Patiala in British India from 1900 to 1938, after the death of his father Rajinder Singh. He is known in the books of history for his opulent lifestyle and was also the first person in India who owned a private plane in 1910.
Featured above is a beautiful Patiala Sarpech; late 18th early 19th century; set with diamonds, rubies and emeralds. It was sold at Christie's Magnificent Mughal Jewels auction in 1999.

HH Maharaja Bhupinder Singh's love affair with jewels is justified with his visit to Boucheron's Place Vendôme Maison. HH Maharaja Bhupinder Singh arrived at Boucheron accompanied by six large boxes of emeralds, sapphires, rubies and pearls; and requested the Maison to make 149 pieces of jewellery, each one embellished with the finest quality of gemstones and attention to detailing.

One of the grand necklaces owned by Maharaja Of Patiala is the Multi-Layer Patiala Ruby Choker; created by Cartier in1931. The 3 different necklaces that were put together originally were meant for the Maharaja of Patiala, who presented it to one of H.H. Maharani Sri Bakhtawar Kaur Sahiba.
The story goes that HH Maharaja Bhupinder Singh supplied Cartier with countless gemstones from his treasury to be reset and redesigned for him, his wives and concubines and one of the most impressive jewels crafted by Cartier was the multi-layer Patiala Ruby choker necklace. The surviving portion of the masterpiece "The Patiala Choker" was recently sold at a Christie's sale in New York in June 2019 for close to a million dollars.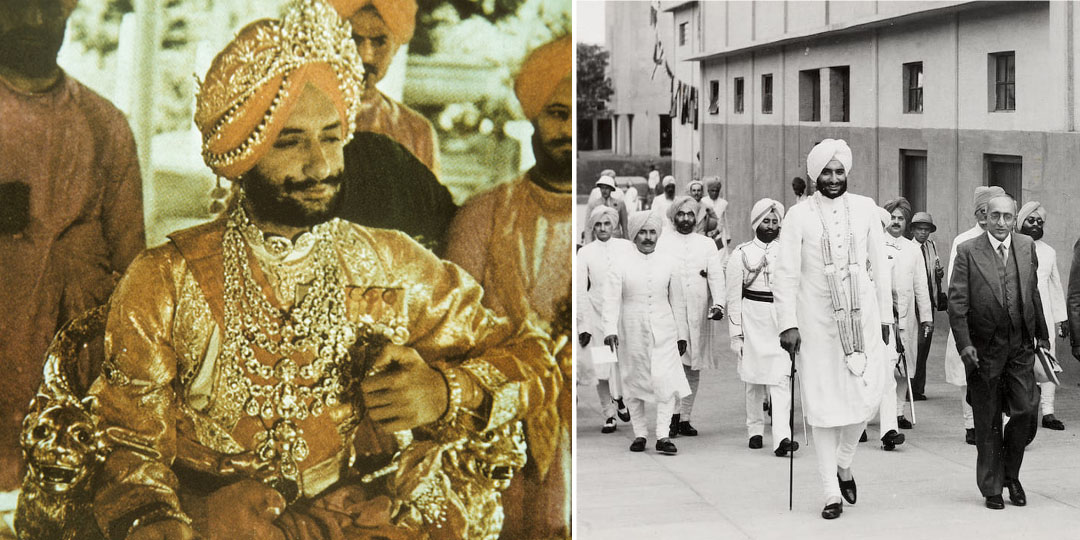 HH Maharaja Yadavinder Singh succeeded Maharaja Bhupinder Singh and was the 9th and last ruling Maharaja of Patiala. Just like his father, HH Maharaja Yadavindra pursued a political and diplomatic career and worked tirelessly for the betterment of his people and introduced many social reforms in Patiala. HH invested a lot of his time, energy and money in making India a great cricket-playing nation. He agreed to the incorporation of the princely state into India on 5 May 1948. He was Rajpramukh of the new Indian state of Patiala and East Punjab States Union until it was merged with Punjab in 1956.

The Patiala Necklace; was one of the most grande necklaces commissioned by the Maharaja Of Patiala in 1928. It was studded with 2,930 diamonds weighing over a thousand carats and had the world's seventh-largest diamond; the size of a golf ball weighing 234.6cts "De Beers" diamond placed in the centre, which was bought by Maharaja of Patiala from De Beers Group in Paris. The necklace was also embellished with several other large diamonds weighing 18 to 73 carats, and enhanced with Burmese rubies. It was so extravagant that it couldn't have gone unnoticed even when Maharaja sat on his elephant.
Maharani of Patiala

It is believed that HH Maharaja Bhupinder Singh had a total of 365 queens and he took care of the comfort and convenience of all his queens. Featured above is Maharaja Bhupinder Singh of Patiala and his favourite wife Rajmata Vimal Kaur; Maharani Sri Bakhtawar Kaur Sahiba of Patiala (1892-1960) the 'Official' queen of Bhupinder Singh followed by the image of Maharaja with his daughters and wives.

Maharani Sri Bakhtawar Kaur Sahiba presented Queen Mary with a magnificent brooch on behalf of the Ladies of India during the Delhi Durbar of 1911 to mark the first visit to India by any Queen Empress. The brooch, made with a large emerald hexagon is carved in the front and has a foliage design on the reverse, surrounded by brilliant-cut diamonds; additionally, each corner is accentuated with four additional diamonds, standing for the directions on a compass.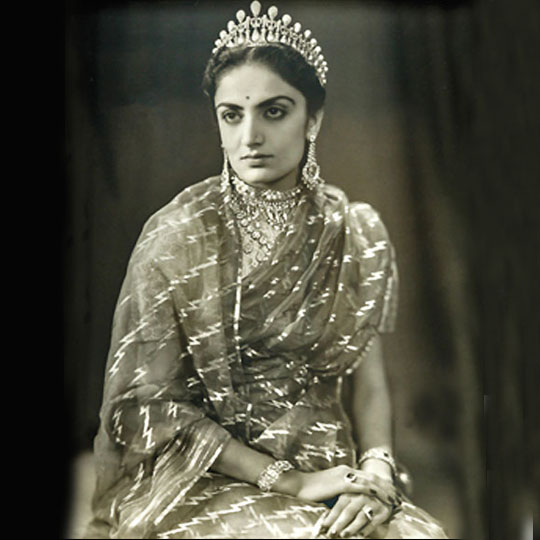 Mehtab Kaur was the second wife of the ninth and the last Maharaja of Patiala HH Yadavindra Singh. She is seen wearing The Patiala Lovers Knot Tiara along with royal necklaces, bracelets and rings.
After the sudden demise of Maharaja Yadavinder Singh, Mehtab Kaur she followed her family tradition and contributed to my political and social reforms leading to the betterment of the people of Patiala. Her devotion, austerity and charity made her a cultural icon in Patiala.
Styling and Dressing up!

The Maharajas of Patiala found ways to modernise their sense of style without losing their heritage and opulence. They layered their royal jewels over their traditional outfits. In most of the images, we see the maharajas layering their turbans with tiaras, headdresses and head ornaments; and are seen wearing churidar-kurtas (Indian attire) embellished with brooches, badges, bib necklaces, strings of pearls, belts, rings and armbands made of precious stones.
Not just an ancient trend but also a current trend, layering of jewellery is one timeless style tip!
With this, we call it a wrap. Isn't the story of Maharaja of Patiala as fascinating as their jewels!
Credit: Pratiek Dhadha, Akshay Chavan