After diamonds, my next personal favourite gems are Natural Pearls, an organic, white to bluish-grey coloured, precious gemstone. I want to extend that admiration onto you guys too, by taking you on an educative tour on Natural pearls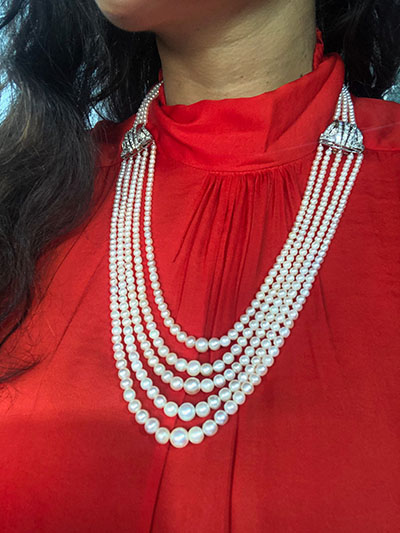 Best pearls are from Bahrain, due to the oyster beds being located near underwater sweet water springs. After many, many years of diving for pearls, divers have made natural pearls so rare, almost close to becoming extinct. Therefore, they are hard to find on the ocean's surface and are generally much more expensive than cultured pearls, because of this rarity.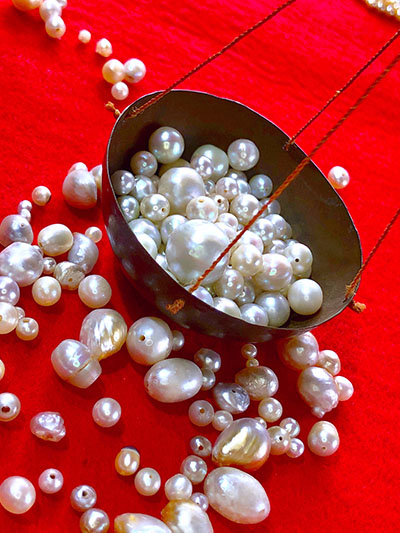 Natural Saltwater Pearl weights are generally expressed in "Chav"
The formula for calculating the "chav" per carat involves squaring the carat weight (multiplying the carat weight by itself) and multiplying that by 0.6518. This makes a 1-carat pearl 0.6518 chav but a 2-carat pearl 2.6072 chav, which is four times, not just twice. Rationale, behind this, is to consider both the mass and the size of the pearl in establishing a Weight.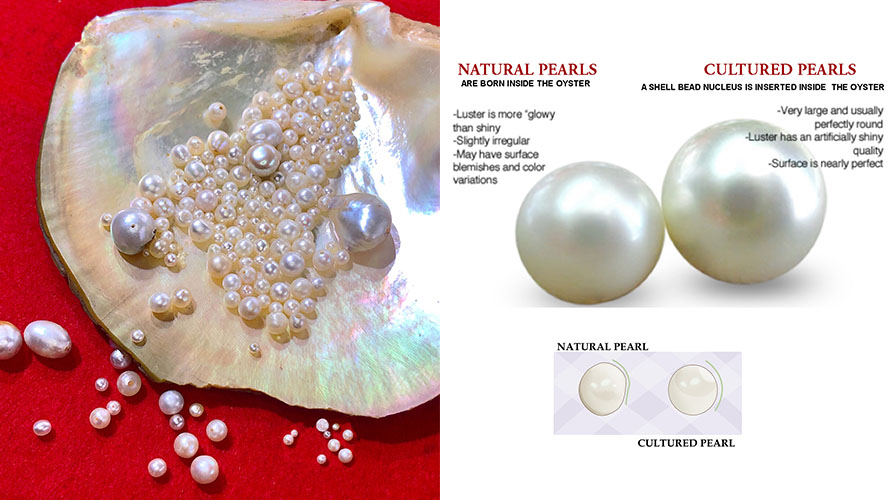 1) A Natural Pearl is formed when an irritant accidentally gets into the soft tissue of the mussel in an oyster. As a defence mechanism, the animal produces secretions to coat the irritant. Many layers of coating are deposited on the irritant making the irritant smooth and a natural pearl is thus born.
A Cultured Pearl is formed in the same process as a natural pearl. The only difference is that it begins by inserting a shell bead nucleus inside the oyster and irritating the oyster to produce the layers of nacre.
2) Natural Pearls have fingerprint-like surface ridges when viewed under magnification. Cultured pearls have bubbles or mat patterns on the surface when viewed under magnification.
3) Natural Pearls have enriched body colour and an overtone colour. Cultured pearls only have one body colour.
4) While Natural Pearls are cold to touch, whereas no coolness is felt when touching Cultured pearls.
5) Natural Pearls are heavy in weight. Cultured pearls are light in weight.
6) Natural Pearls show smoothness around drilled holes, whereas Cultured pearls show roughness or bumps around drilled holes.
Now let's understand the following procedure :
Drilling of Natural Pearls: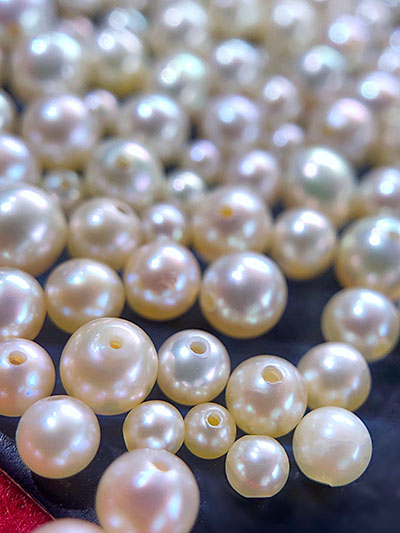 Natural Pearls are hand drilled by expert artisans to achieve maximum yield with minimal wastage and accuracy of the Basra Pearls
After cutting a small section of a piano hinge with a hack saw, the pearl is placed between the two hinge flanges, and the pearl drill bit is locked into the chuck of a flexible shaft machine before starting the procedure manually. Several drill sizes are used based on the size of the pearl.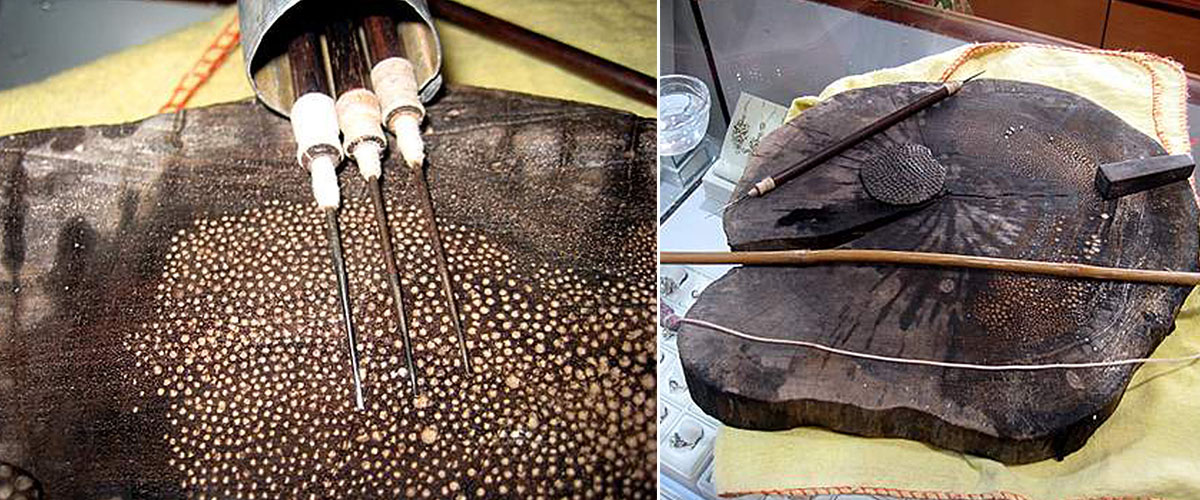 The Assortment of Natural Pearls
Pearl grading is subjective, depending on the seller you're dealing with. Pearl Value Factors are determined by Size, Shape, Color, Luster, Surface quality, Nacre quality and Matching.
Size: Large pearls are rare in nature.
Shape: Usually, the perfectly round shaped pearls are rare and hence, more pricy.
Colour: While many prefer the classic white pearl, pearls come in every colour of the rainbow. They are graded on their colour's depth and saturation.
Lustre: This is the biggest value factor to pay attention to – the amount of light reflected on the pearls.
Surface Blemishing: Pearls that feature clean surfaces without inclusions like pin-pricks, scoring marks, chalky spots and wrinkles will be more valued than pearls with multiple blemishes.
Nacre Quality: Natural pearls from the ocean are very rare and have a premium price.
Matching: How well they are matched within a pair or an entire layout.
Beading Of Natural Pearls
Natural Pearls are first beaded on a Silk thread, as it is a quicker and effortless procedure, and then transferred onto a nylon thread, as the strength of the nylon will take the weight of the pearls.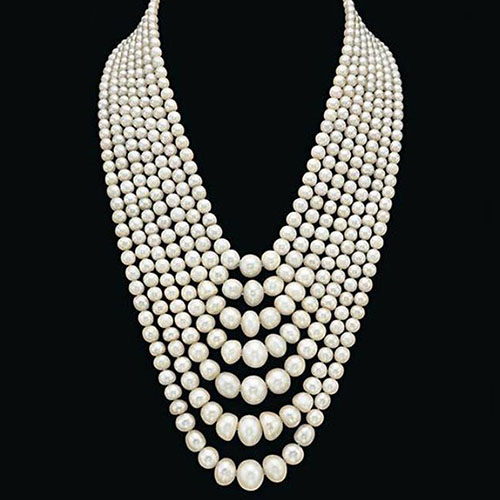 After carefully beading Natural pearls, a gorgeous necklace is ready to be adorned.
I would like to share some insight on how to maintain and take care of Natural Pearls.
– Wear your pearls as much as possible.
– Wipe pearls after use to remove any trace of perspiration or perfume.
– Store them in silk or chamois leather when not in use, away from any other jewellery or metals.
– Keep a close look at the stretching of thread, discolouration or fraying.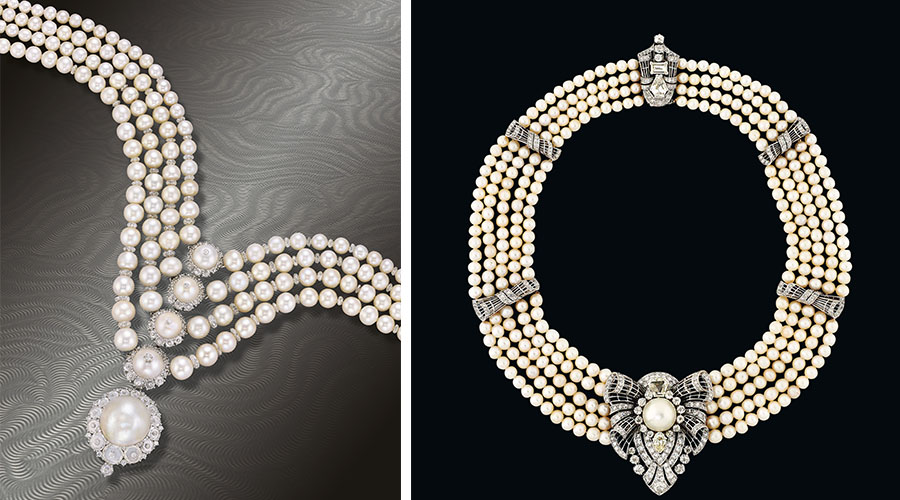 It was a very informative and educative experience, to get a better understanding about Natural Pearls, and after witnessing the procedure of manufacturing Pearl necklace, I now understand why " Woman needs ropes and ropes of pearls"!