Jewellery and gemstones develop an emotional value and bond to the consumers. Talking about gemstones; they have been popular in demand for a century because of their value, variety of colour choices and craftsmanship; they can make even a plain design to look your jewellery simply striking!
It was my utmost pleasure to present the journey of gemstones titled the "Past, Present and Future of Gemstones" at the Intergem Show in Idar-Oberstein; the gemstone capital of Germany.
PAST OF GEMSTONES: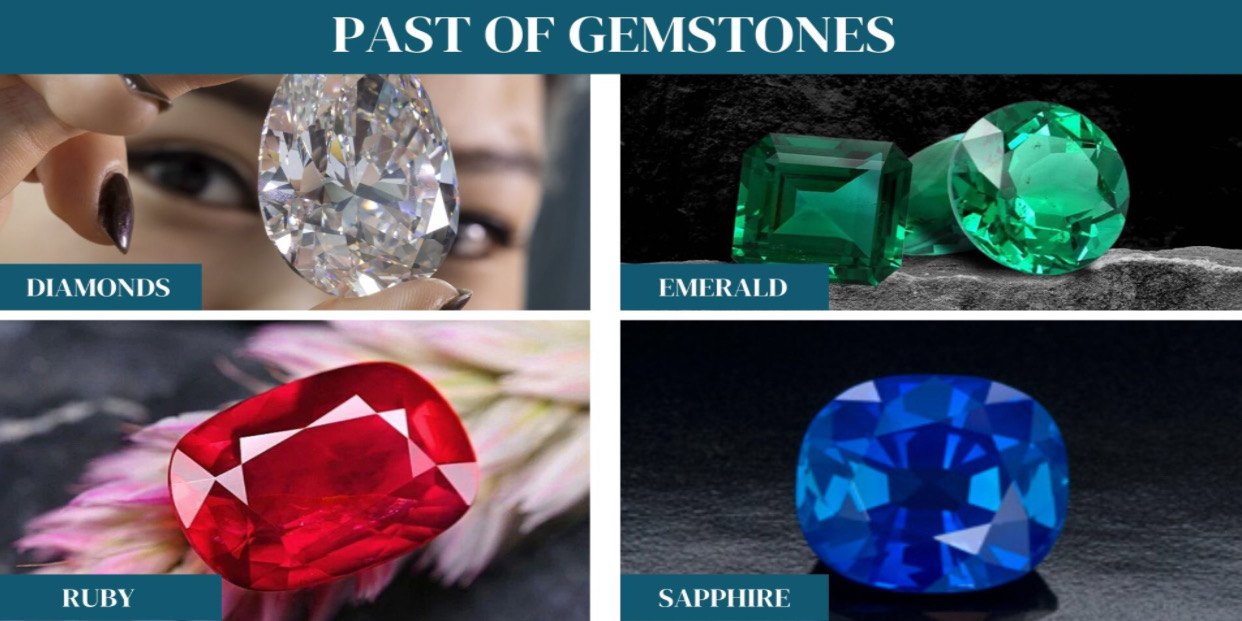 Starting with the early centuries; diamond, ruby, sapphire and emerald are four of the most valuable and sought-after gemstones in the world for many years. These gemstones have been a very popular choice and have been known as the "Big Four".
DIAMOND:
For over two thousand years, the Golconda mines in India, discovered in the 17th century were the only known source of diamonds in the world. Some of the famous Golconda diamonds are Koh-inoor, Dresden Green Diamond, Regent Diamond, Orlov Diamond, and Hope Diamond to name a few.
Read my experience at the De Beers Diamond mines in Botswana and discover how are natural diamonds sourced.
EMERALD:

The first known emerald mines were in Egypt, dating from at least 330 BC into the 1700s at Cleopatra mines. Until significant deposits were discovered in the Americas in the 16th century popularly known as the Columbian mines and in the 19th century, Zambian mines. Over years emeralds were known to occur in, Brazil, Pakistan, Afghanistan, Russia, Madagascar and Zimbabwe.
RUBY:

As early as 2500 B.C., rubies were first discovered in the Mogok region of Myanmar, formerly known as Burma. Rubies of Burmese origin are known for their Pigeon Blood Red colour hue. The other popular ruby mines are in Afghanistan, Madagascar, and Mozambique.
Read my article on Burma Ruby to know more about these rare gemstones.
SAPPHIRE:

The sapphire mines were discovered in Montana in 1865 by early gold prospectors mining the Missouri river. The Kashmir sapphire discovered in 1881 is the most famous type of sapphire; known for its mesmerising blue colour and velvety appearance. Ceylon sapphires are also considered the finest available sapphires in the world for centuries; for their vibrant medium blue hues.
Read my article on Kashmir Sapphire to know more about these rare gemstones.
SIGNIFICANCE OF GEMSTONES:
For centuries; Several civilizations have long held the belief that gemstones possess talismanic powers, divine skills, and healing characteristics.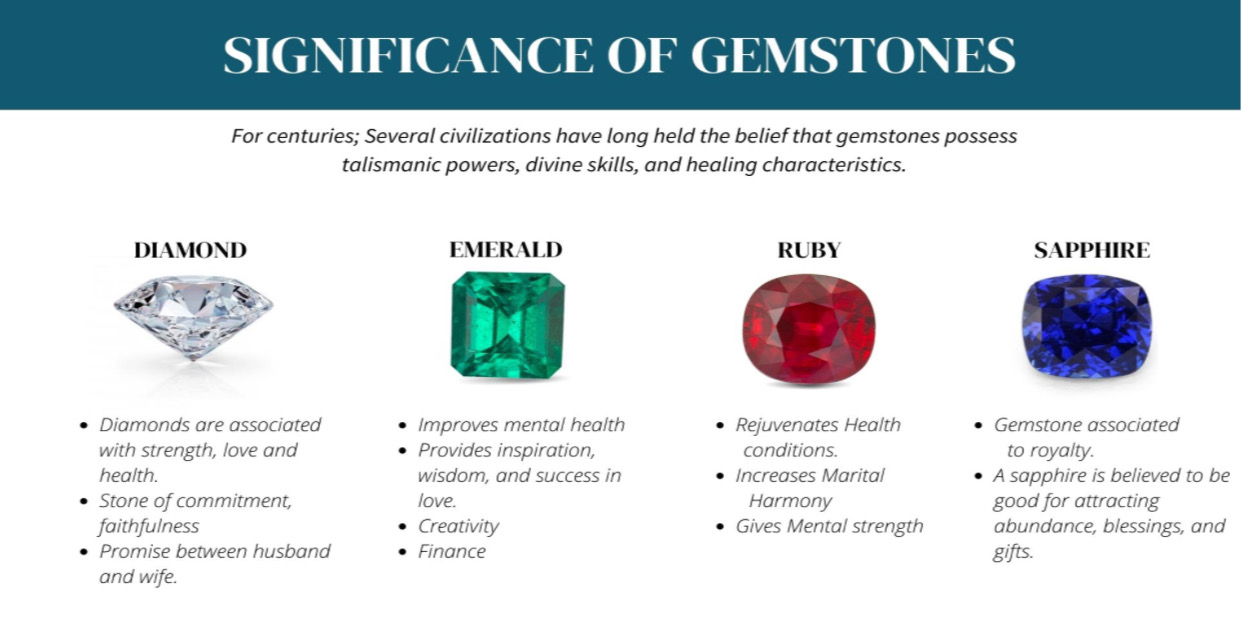 • Diamonds are associated with strength, love and health; it is the stone of commitment, faithfulness, and promise between husband and wife.
• Emerald improves mental health; provides inspiration, balance, wisdom, and patience.
• Ruby brings good health, wealth, wisdom, and success in love.
• Sapphire is associated with royalty and brings abundance, blessings, and gifts.
PRESENT OF GEMSTONES:
Gemstones have gained popularity since ancient times, let me share a few reasons for the growing popularity of gemstones in the 20th century.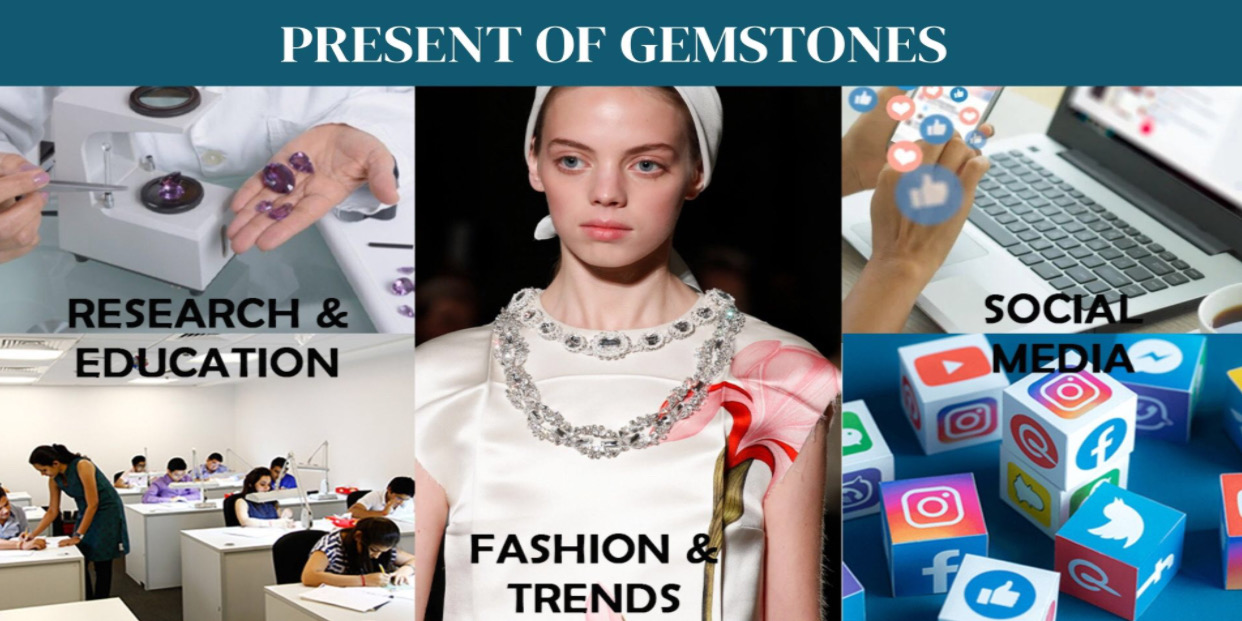 1) Discovery of new mines:
Earlier, gemstone mining was restricted to a few countries or regions as shared earlier, but over the years advancements of technology, education, research and infrastructure as led to discoveries of new mines:
• Tanzanite Mines were discovered in 1967.
• Paraiba Mines in 1989.
• Padparadscha mines in Madagascar 1998.
• Mozambique Ruby in 2014.
Additionally, new gemstones such as amethyst, aquamarine, chalcedony, garnet, malachite etc gemstones have become an affordable option.
2) The advancement of education:
Research and emerging technologies such as 3D printing, laser welding, cutting and engraving, and computer-aided design have speeded up the manufacturing and distribution procedure.

3) Social Media awareness:
Especially during the Pandemic when travel was restricted; mass communication methods such as social media channels, digital photography, and influencer trends emerged extensively; and these platforms grew from being just electronic information exchange to the virtual gathering place to the retail platform to vital 21st-century marketing tool.
4) Fashion and Trends:
Consumers; especially the millennials and Gen Z are more aware of all the newest trends and fashion throughout the world thanks to social media and online marketing; Latest fashion trends enable the consumers to express their individuality and their style and gemtone jewellery has become the most ideal way to get noticed; leading to their popularity.
5) Celebrity Influence:
In the past decade itself, gemstones have gained a lot of popularity in bridal jewellery; this is because the pieces donned by royalty and celebrities became instant inspirations for young couples across the globe.
FUTURE OF GEMSTONES:
The market has significantly grown in the past ten years and is expected to go even higher in the next decades. Gemstones are durable, beautiful, and elegant in their way and offer a delightful magnificence to the wearer. Here are a few thoughts that explain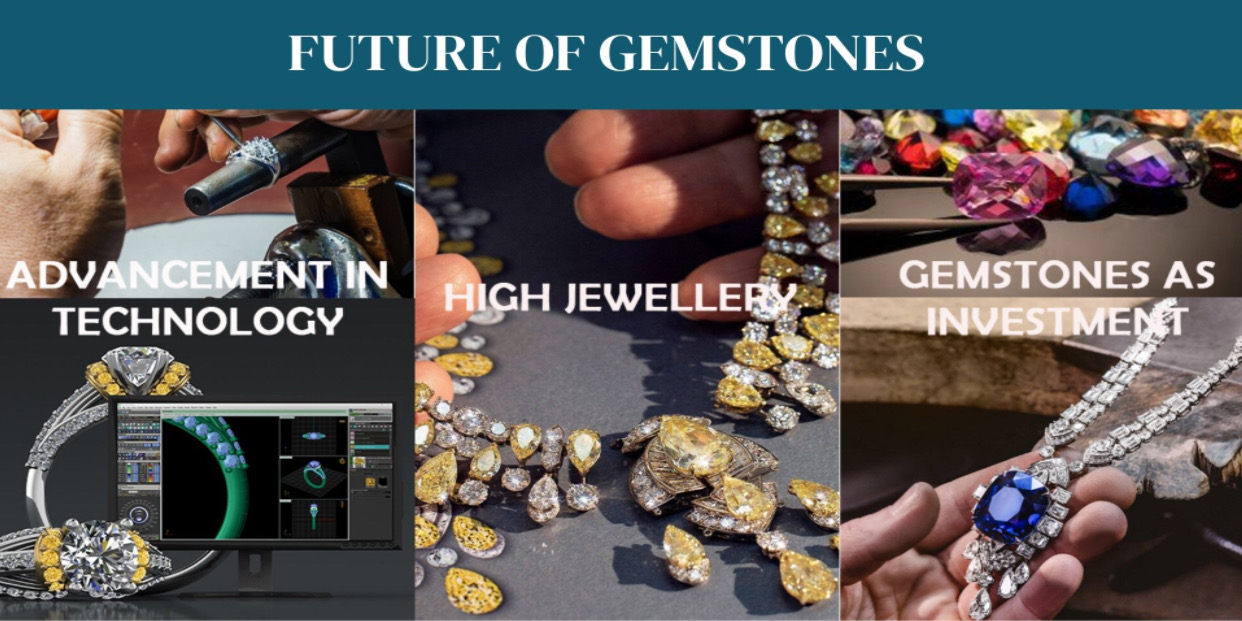 1) Increase in disposable income will lead to an increase in demand:
The economic growth, and increasing disposable income, will lead to an increase in demand for gemstones; especially in India and where gemstones have been deeply rooted in ancient traditions, healing practices and astrological benefits.
2) Advancement in Technology:
Technological innovation and Artificial Intelligence is the future! With Virtual Reality and Augmented Reality being widely adopted by most industries including the gems and jewellery industry, consumers can now interact with precious gems and jewellery and make purchase decisions from the comfort of their homes.

3) Gemstones as Potential Assets:
Consumers are investing in gemstones as tangible assets; as also mentioned earlier discoveries of new gemstones such as amethyst, aquamarine, chalcedony, garnet, malachite etc have become an affordable option.
4) Changing preferences of Millenials and GenZ:
The current generation doesn't believe in following the norms set in the 1940s. Instead, they are willing to experiment with new trends. Runways; fashion magazines and social media have made gemstones popular amongst the millennials and Gen Z which is further proof of their rising popularity. Since gemstones are available in a variety of hues and tones, the millennials pick one that suits their personality. Additional they also want to be educated and informed if their gemstones are responsibly sourced.
5) High jewellery Maison presents new gemstone jewellery
High jewellery brands such as Dior, Louis Vuitton, Gucci, Bulgari have launched their new high jewellery collection with coloured gemstones as the hero piece, which has resulted in surplus demands for colored gemstones and also led to a changing preference in wedding jewellery.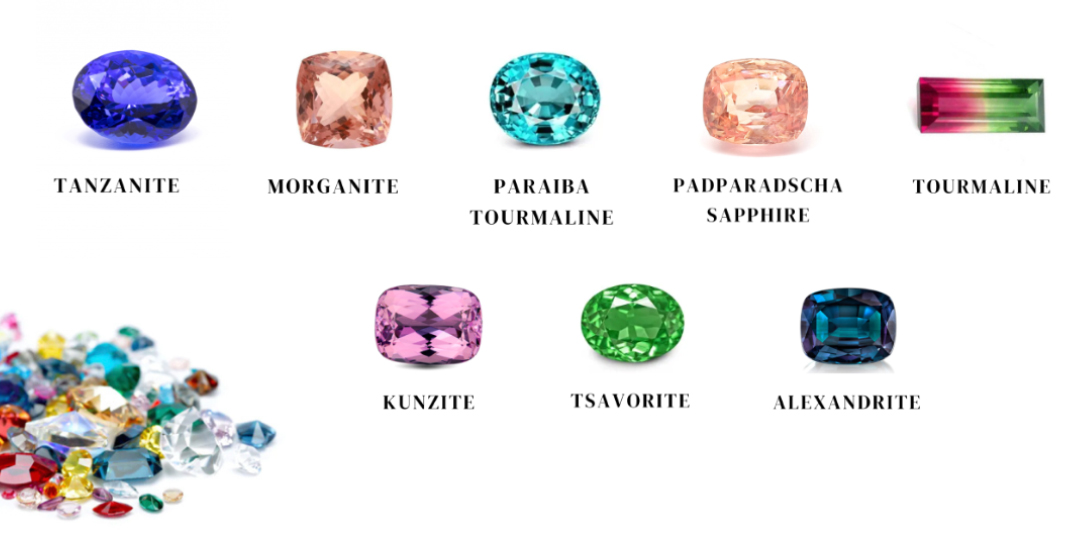 The market has significantly grown in the past ten years and is expected to go even higher in the next decades. Gemstones are durable, beautiful, and elegant in their way and offer a delightful magnificence to the wearer.