Mother nature has gifted us many different colours in Natural Fancy Colour Diamonds such as Green, Blue, Red, Pink, Orange, Purple, Grey and many more. In this article, we will learn about Brown Colour Diamond.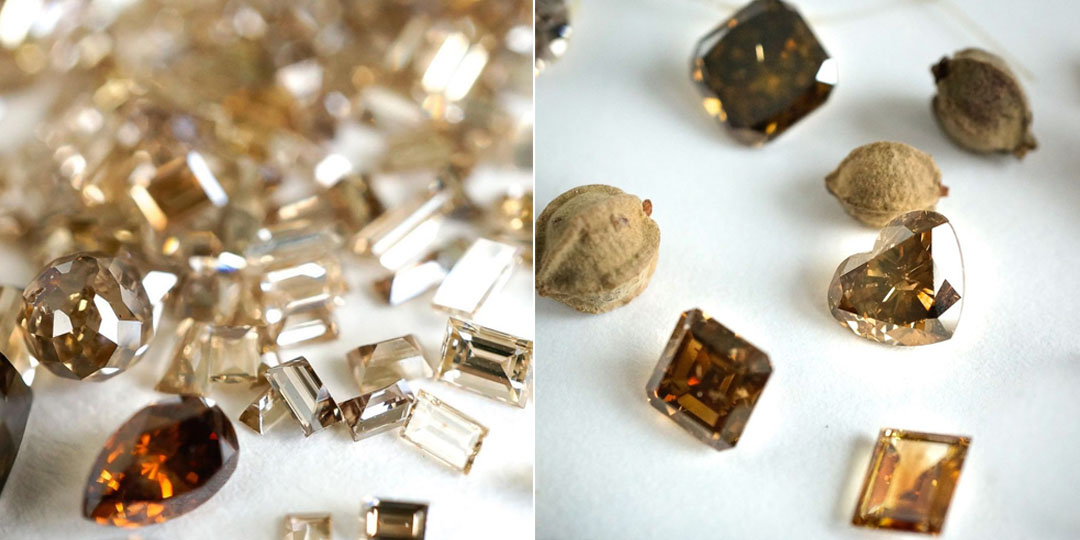 Brown diamonds are the most common colour variety of natural fancy colour diamonds, accounting for 15% of production in most mines. These diamonds are considered as one of the more common and less expensive colour diamonds. The majority of the brown diamonds are used for industrial purposes; due to their brown colour which makes the stone less attractive and dull as compared to other fancy colour diamonds.
Cause of Brown Color :
The colour in natural brown diamonds is caused by internal parallel brown grain lines caused due to distortion of the crystal lattice. The deformed crystal lattice changes the way that light passes through the diamond, causing the diamond crystal to absorb certain wavelengths of light and transmits other wavelengths. The visible light that reaches a human eye causes us to see these diamonds as "brown."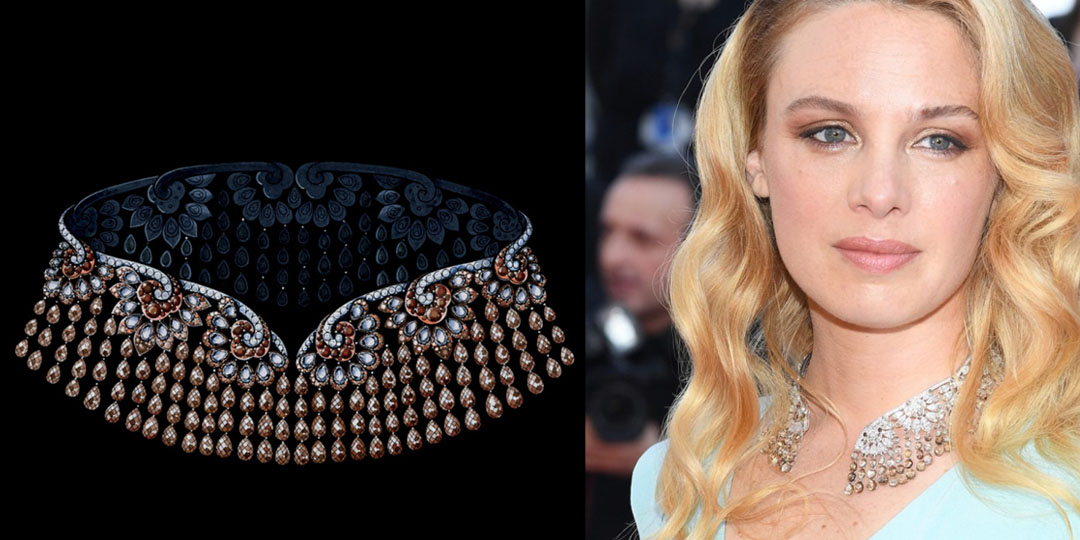 Colour Grading:
1. Brown diamonds are recognized in the famous D-to-Z diamond colour grading scale developed by the GIA. Here, the grades are determined by examining the diamond in a table-down position and concentrating on the area around the girdle.
• Diamonds graded K to M are given a letter grade and termed "Faint Brown".
• Diamonds graded N to R receive a letter grade and the term "Very Light Brown".
• And the diamonds graded S to Z receive a letter grade and the term "Light Brown".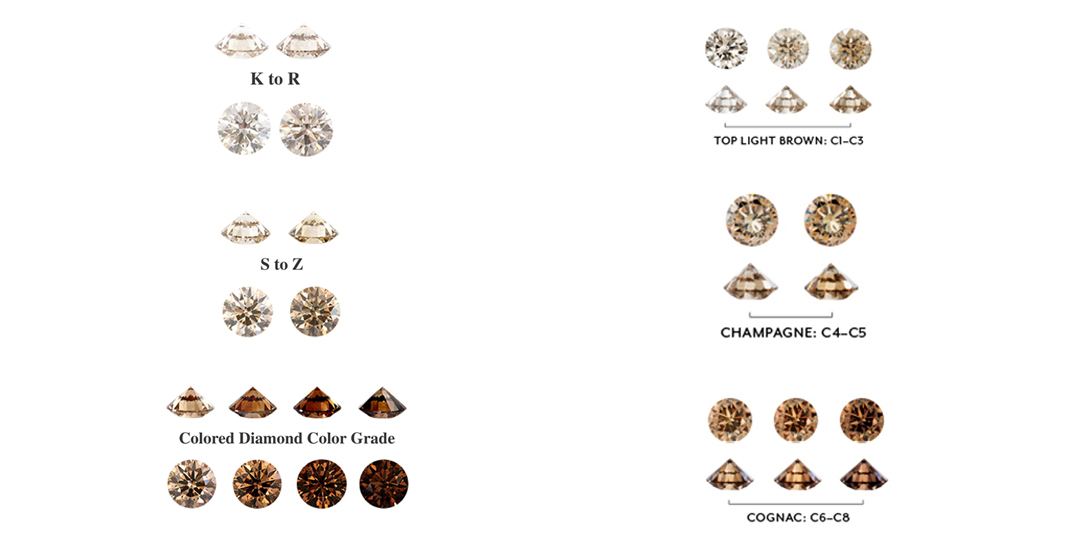 2. Beyond the D-to-Z scale, diamonds with a distinct brown colour are graded: Fancy Light, Fancy, Fancy Intense, Fancy Dark, Fancy Deep or Fancy Vivid; depending upon their hue, tone, and saturation. All of these "Fancy" colour grades are determined by examining the gem in the face-up position; this makes the colour assessment more similar to what a buyer will see once set in jewellery.

Price valuation and Rarity:
The price of a Brown diamonds depends on the hue, intensity and saturation of its colour.
• High colour intensity will make a diamond more valuable and as the intensity lowers; a brown diamond becomes more affordable than a high-quality colourless stone.
• Additionally, the presence of secondary colour such as yellow, orange or red in the brown diamond makes these diamonds more valuable and precious.
Brown diamonds are the most common colour variety of natural fancy colour diamonds and are generally more affordable as compared to the other natural fancy colour diamonds due to their abundant supply.

Chocolate Diamonds, Champagne Diamonds and Cognac Diamonds:
The marketing strategies turned dull brown diamonds into a must-have item.
1. In the 1950-1960, USA based Baumgold Brothers rebranded brown diamonds and sold them as champagne, amber, cognac, and chocolate diamonds. This strategy increased the demand for brown diamonds. However, soon the other companies followed Baumgold Brothers strategy and marketed brown diamonds with additional new names such as clove, coffee, caramel, cappuccino, mocha, espresso, cinnamon and tobacco, which created confusion in the marketplace and lead to a decline in demand.
2. In 1986, 80% of the diamonds mined in the Argyle mine were brown. The Argyle Mine shipped millions of brown diamond rough to India where the skilled Indian cutters faceted them into melee-size diamonds. These small size brown diamonds when set into jewellery had a great scintillation and the brown colour was not easily noticeable.

This attractive appearance of jewellery with low-cost diamond was a great success and Argyle Mine had accomplished in turning a rejected dull diamond into a new and profitable niche in the diamond jewellery market.
Today, brown diamonds are sold under trade names such as Chocolate Diamonds, Champagne Diamonds and Cognac Diamonds. The power of marketing is visible right here! I can say, it's almost the result of the digital world.
Natural or Treated.
• Brown diamonds are usually treated with high-pressure high-temperature HPHT; to convert them into attractive colours such as yellow or close to colourless.
• Treated diamonds are less valuable than natural untreated diamonds of similar colour and quality.

One of the key investment tips that I'd like to put out is to research well and buy a certified diamond from a reliable source. Though the shine and appearance of these diamonds may not be as bright as the other natural fancy colour diamonds, brown diamonds come in a very attractive price range and make a perfect match for any skin tone.
So, which is your favourite natural colour diamond so far?
Credits: Langerman Diamonds, GIA, Wikipedia.