On the Big day, every groom wants to look his best and loves to feel like the King of the day.  Jewellery is an important part of.
The magnificence and grandeur of an Indian wedding is unique. It is a day when you make a commitment for life with those saat-pheras.
However, the Brides steal the show thanks to their delicately ornate Bridal attire. Everything is so perfect about the way they look on that special day that hardly anyone glances at the poor Dulha!! (Groom )
So all the Groom's to be .. here is something for you !!
Make sure that you not only complement your bride-to-be in making those lifelong vows but also when it comes to your look and appearance. Yes, dear grooms, you have to take extra care to look stunning on your special day. And, for that, you need to invest in some trendy Jewellery as well. These traditional and stylish accessories will not only enhance your overall appearance but also accentuate your sophistication and charisma. So, here I bring to you a list of accessories that every Indian groom must have.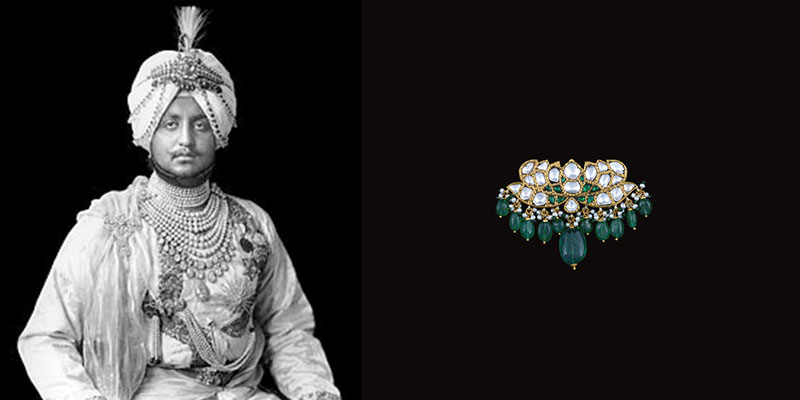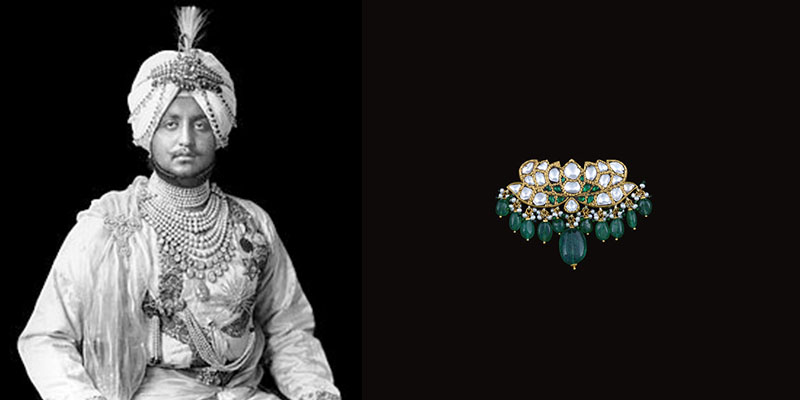 1. Sarpech is a turban ornament that was worn by significant Hindu and Muslim princes. Sar means head or front and pech means screw. Hence, the word Sarpech literally means that which is screwed onto the front (of the turban).
In India, various types of Sarpech are found depending on their time of production. This can be attributed to the development of the Sarpech design through the centuries. Those produced in the 16th and 17th centuries resembled a plume and were worn on the right side of the turban. Their material depended on the occasion they were to be worn at.
This sarpech here is made by Raniwala Jeweller from Jaipur, known for its royalty and heritage they bring to designs. It's unlike any other I have seen made with Uncut Diamonds, Emeralds & Pearls. This is one is surely fit for a King.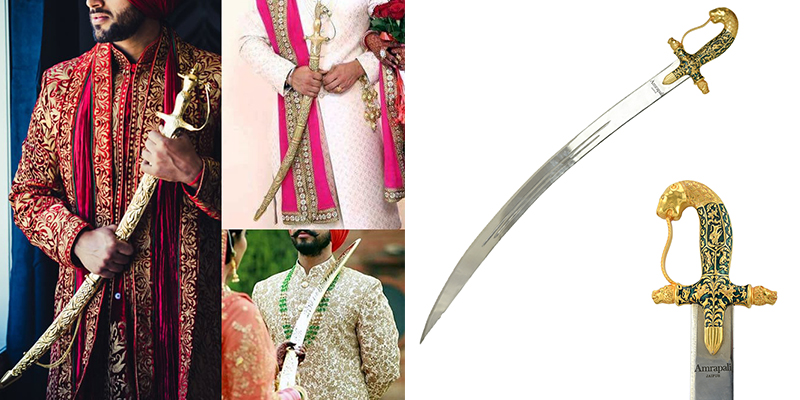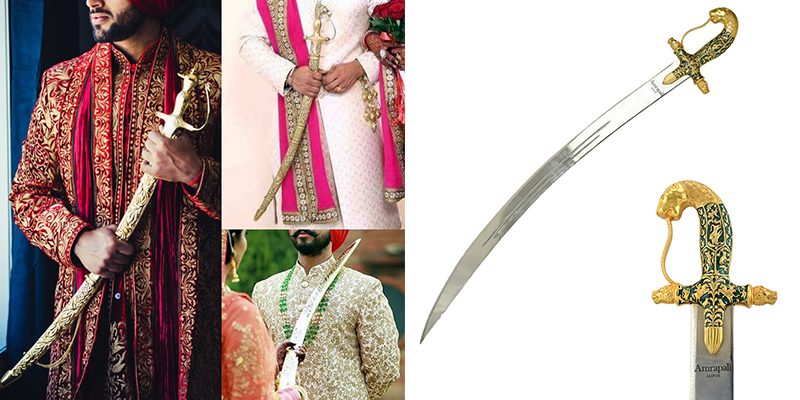 2. The ceremonial sword, a very common adornment for a Sikh or Rajput groom to carry on their Big Day. This ceremonial sword is a religious representation of carrying the master along with you into this new beginning with his divine.
This is ceremonial sword by Amrapali jewels was carried by none other than Ranveer Singh during his Anand Karaj ceremony to the gorgeous Deepika Padukone. The ceremonial sword has a fine Persian detailing on it with intricate craftsmanship.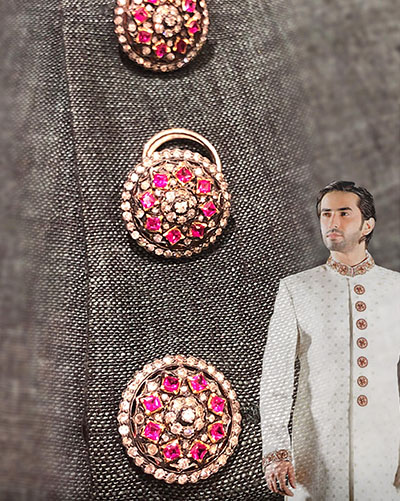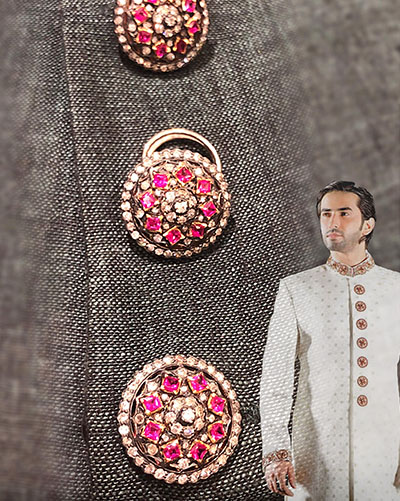 3. Replace the regular Buttons on their sherwani, jacket, kurta or bandi with those in polki, jaadu, meenakari, gold or even diamonds.
See here are buttons from Rosentique made in diamond and rubies. They exude a Rajwadi feel with a royal touch.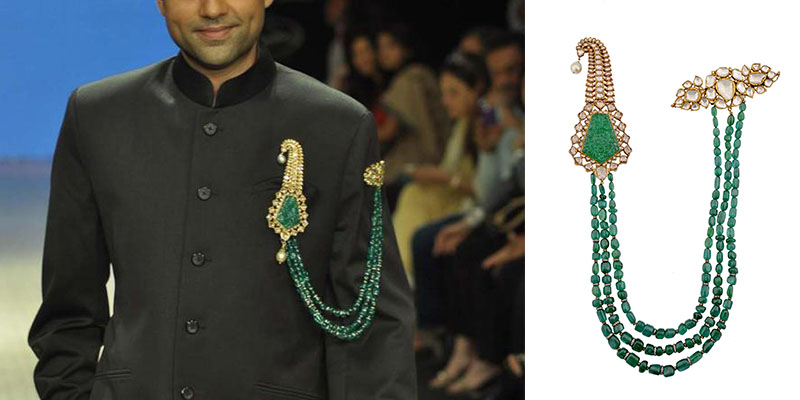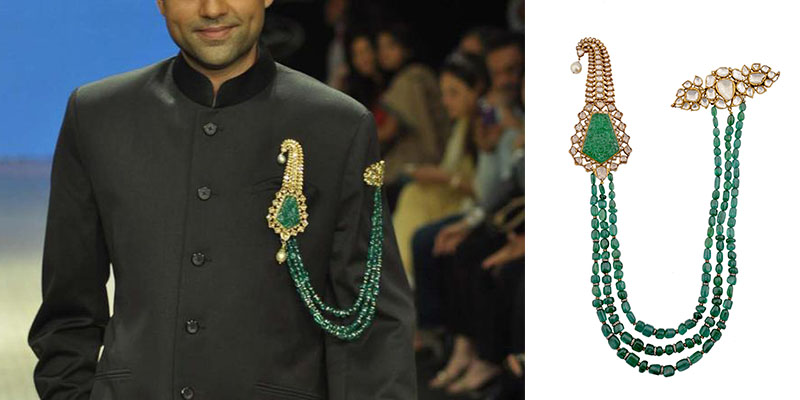 4. Brooches came into being a simple utilitarian pin that would clasp the fabric/outfit being worn. Soon through the medieval years, it becomes a fashion piece of adornment and a sign of prestige to be adorned. Brooches in nature are unisex and adorned by men and women alike. It signified the important material part of the wearer at the display.
This one is a double pin brooch by Amrapali Jewels. You can also wear it as
– A Sarpech
– A pendant
– A single brooch itself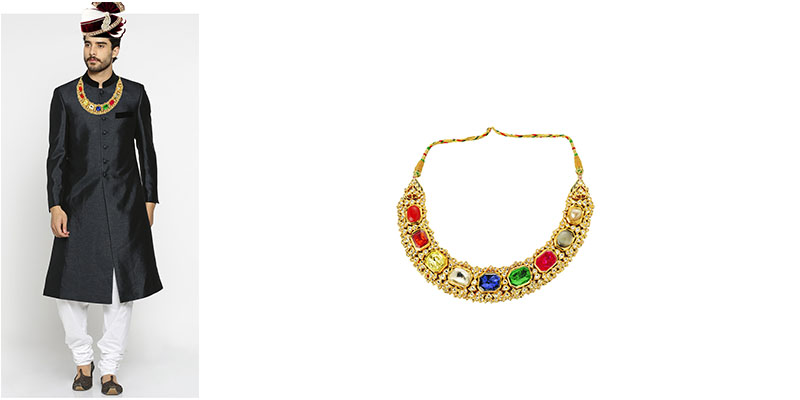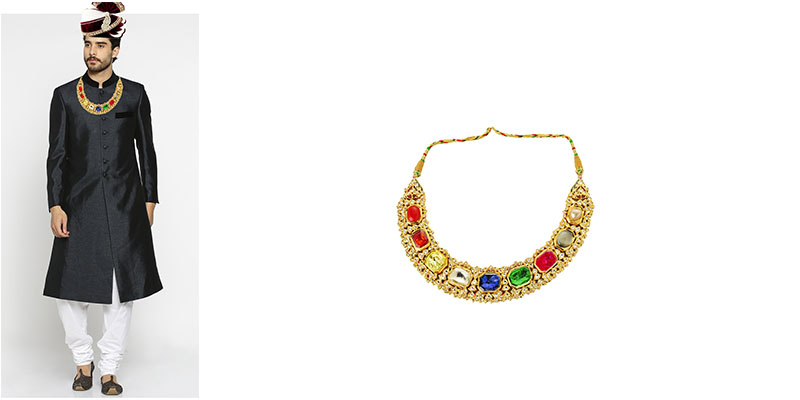 5. Here's a beautiful Kantha adorned by the groom on his bid day. This stunning Navratna Kantha necklace is basically made of 9 gems surrounded by uncut diamonds. This necklace is crafted to perfection by Surana Jewelry, an eminent jewellery house from Jaipur. The great detailing on the sides adds a touch of larger than life drama making the groom feel no less than a Maharaja himself.
There are A TON) of variations when it comes to Hindu weddings. You have your Panjabi Hindu, your Tamilian Hindu, your Rajasthani Hindu, and on and on. Each will have their particular spin on the ceremony, the clothes, the food.
Consider this your Essential Guide to the basic Hindu wedding and be happily called as MR to your Mrs!!