2019 has observed a rising trend in jewellery with more colourful designs and gemstone. Jewellery that stands out in the crowd, which is bold and embellished with coloured diamonds and gemstones have become the should have pieces of this year, observed on numerous red carpets occasions and celebrations.
During the Festive season of Navratri, a Hindu festival that spans over 9 days where a specific colour is adorned each day representing a different form of Goddess Durga. I would like to share with you the High jewellery in significance to the colour adorned on a respective day.
Day 1 of this auspicious festival is celebrated wearing Orange.
Orange signifies joy, sunshine and happiness, representing enthusiasm, happiness, creativity. Featured below are the classic Cartier High Jewellery with Corals, the collection was immensely inspired by the French Riviera and to give it that resemblance, precious gems were married to their vibrant contemporaries to bring alive the essence of this coastal landscape.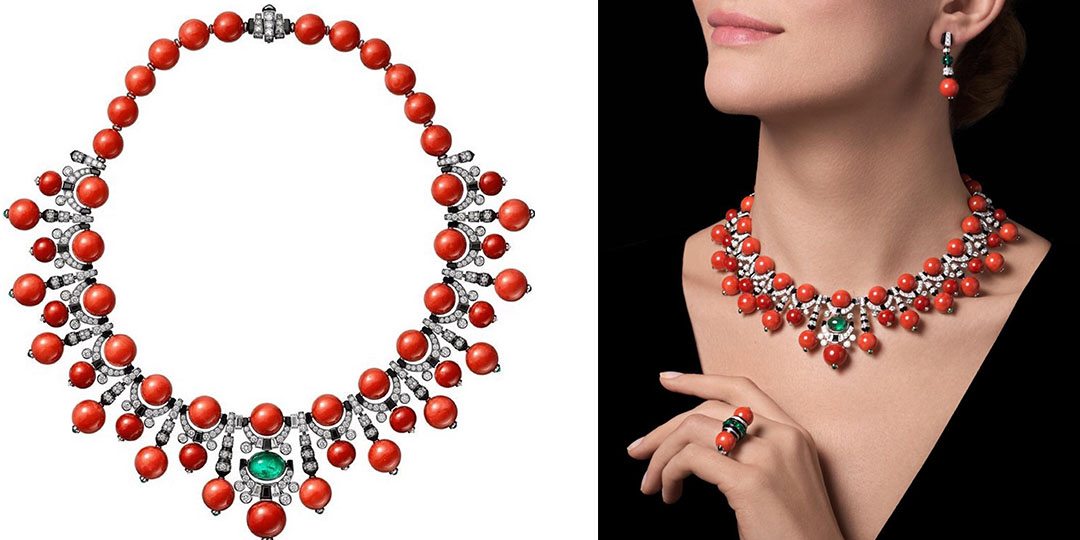 Unlike most other gemstones which are of mineral origin, Coral is organic, formed by living organisms. It has been formed from branching antler-like structures created from coral polyps in tropical and subtropical ocean waters. Red Coral is the most used gemstone form of Coral.
Day 2 of this jolly festival, Navratri is celebrated wearing White.
White represents purity and innocence, what better than adorning high jewellery with Diamonds by Graff.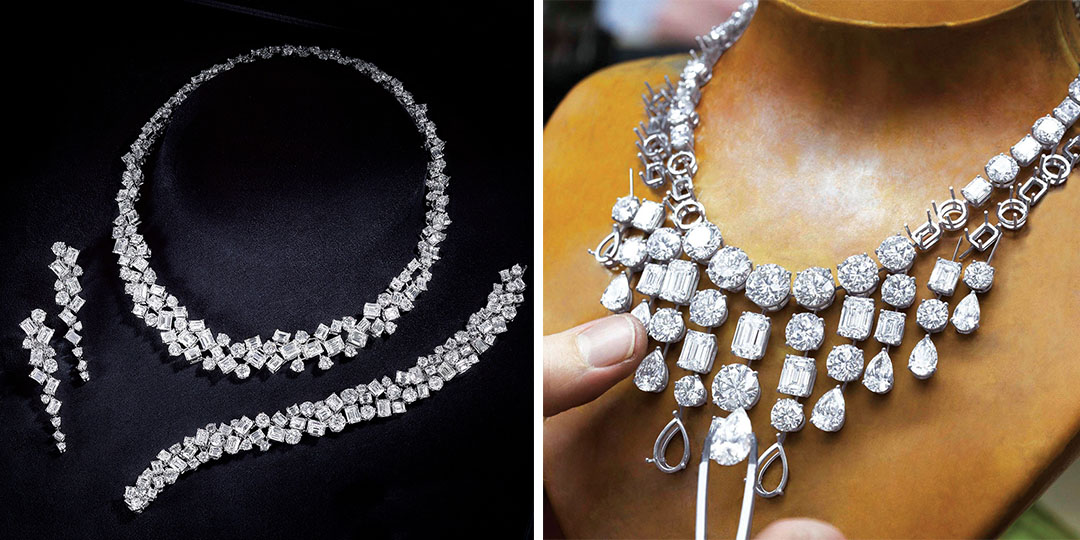 Each Graff jewel is inspired by classic and timeless elegance. One of the things that separate Graff 's workshop from other high jewellers is that it produces high jewellery craftsmanship in a volume-based operation.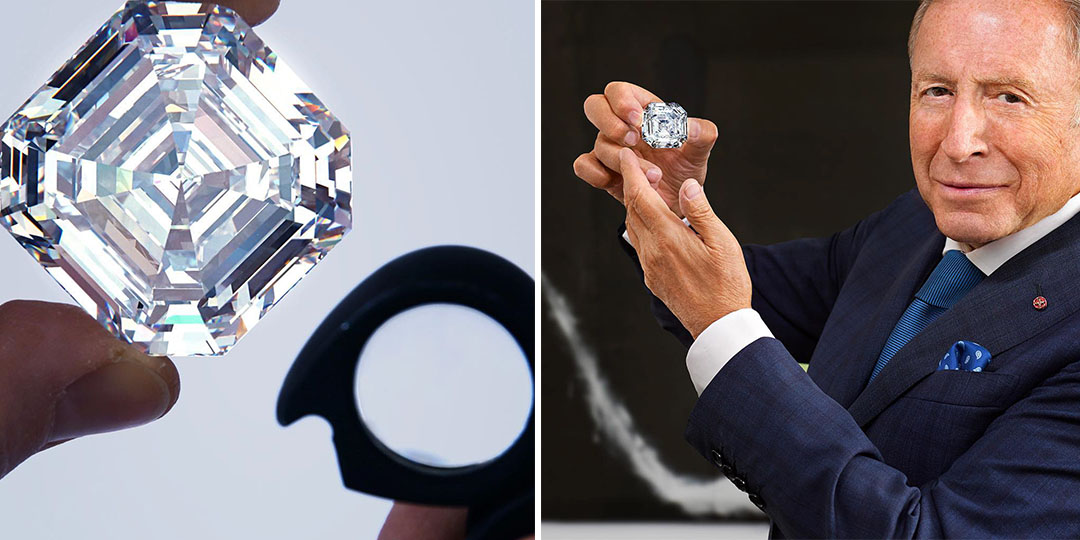 "The Graff Lesedi La Rona" 302.37carats, the largest highest colour, highest clarity diamond ever graded by the GIA, and the largest square emerald cut diamond in the world.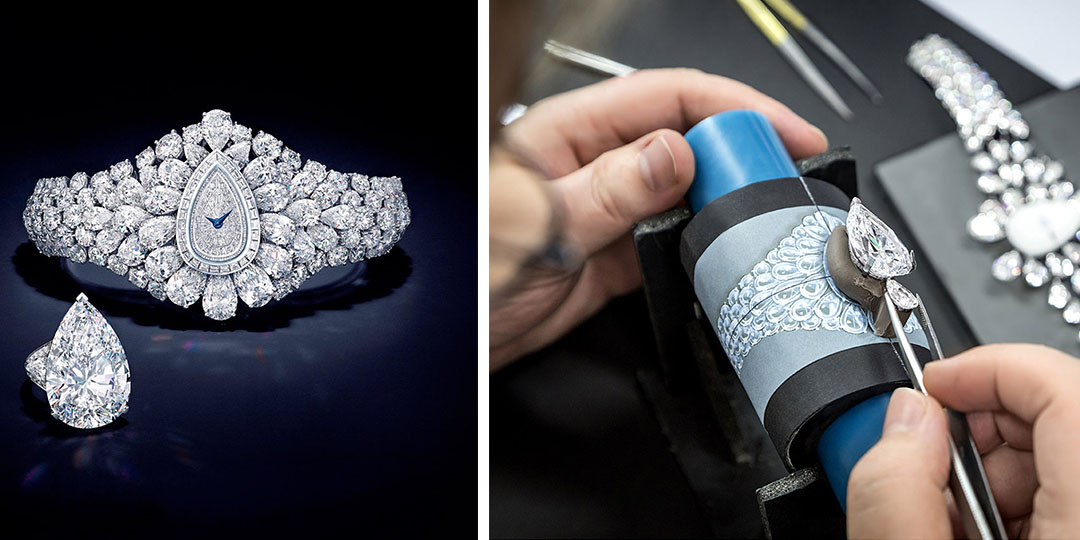 "The Fascination" a 40million dollar watch is ingeniously designed with a detachable part that can become a ring. Apart from telling time, this unique creation can also transform into a dazzling diamond ring.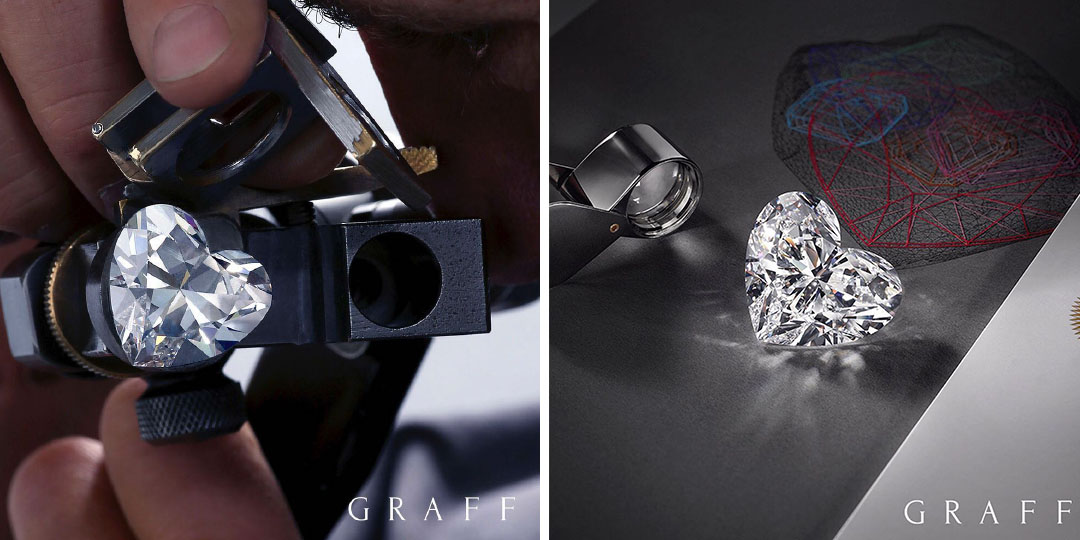 "The Graff Venus" the largest D flawless heart-shaped diamond in the world, 118.78cts, Type IIA, Graff spent 18 months turning a 357-carat rough diamond from the Letšeng Mine in Lesotho into this stunning stone.
On day 3 of this groovy festival, the colour of love, passion, celebration and an Indian staple Red is adorned. The colour is indeed every bride's favourite and is considered as a touch of luck!
Featuring High Jewellery by Van Cleef & Arpels "Treasure of Rubies" which showcases the beauty and majesty of the RUBY.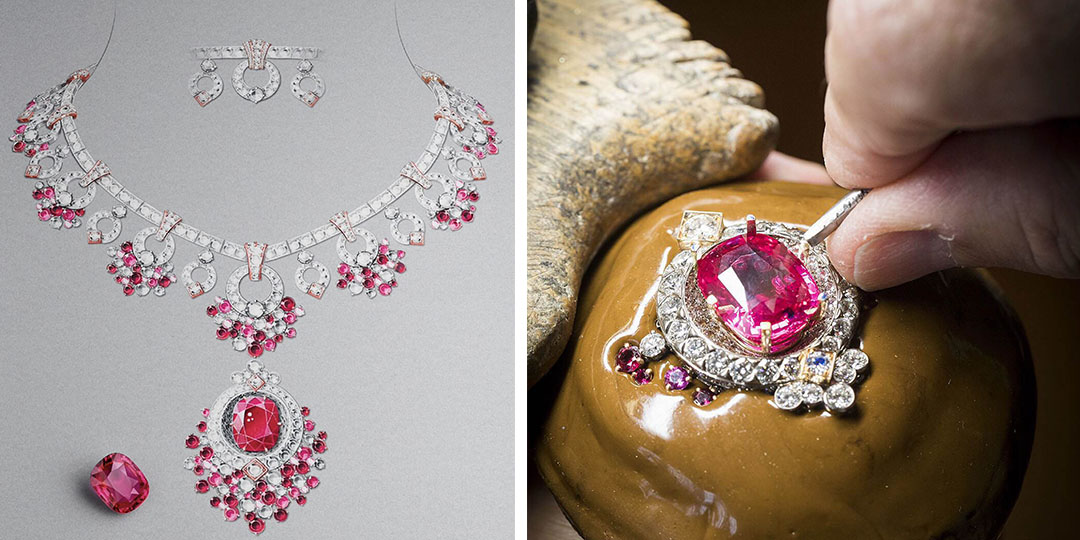 "Jardin de Rubis" necklace with detachable clip, made in white gold, pink gold, one cushion-cut ruby of 18.12 carats along with rubies, pink and white diamonds.
Day 4 is celebrated wearing Royal Blue. The colour signifies trust, loyalty, wisdom, sincerity, confidence and stability. Celebrating the royal moment on this day with Cartier "Hemera" necklace from Magnitude collection 2019.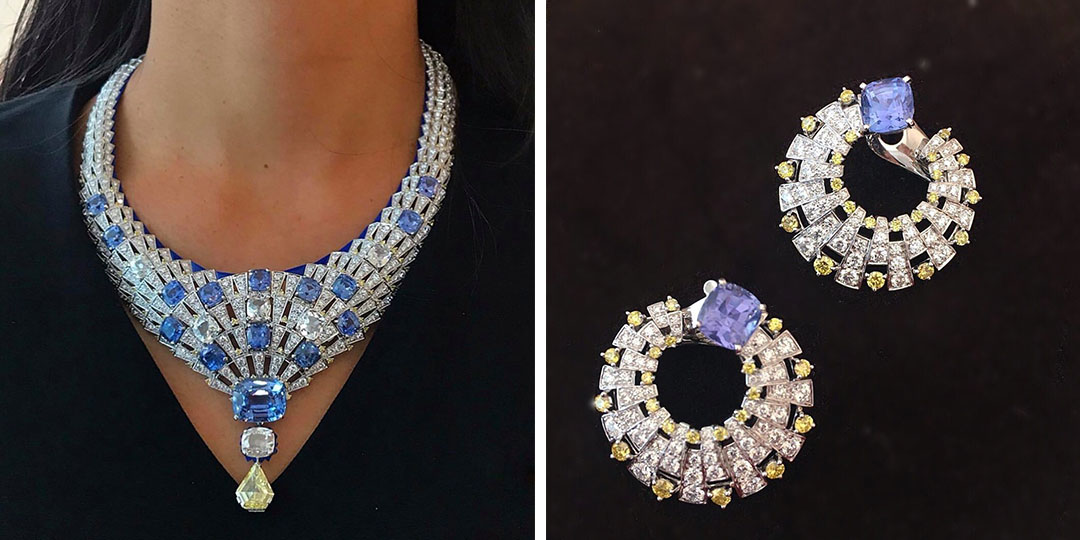 This stunning creation can be convertible in 2 brooches made with gemstones such as Sapphires, yellow diamonds, Lapis-Lazulis and diamonds.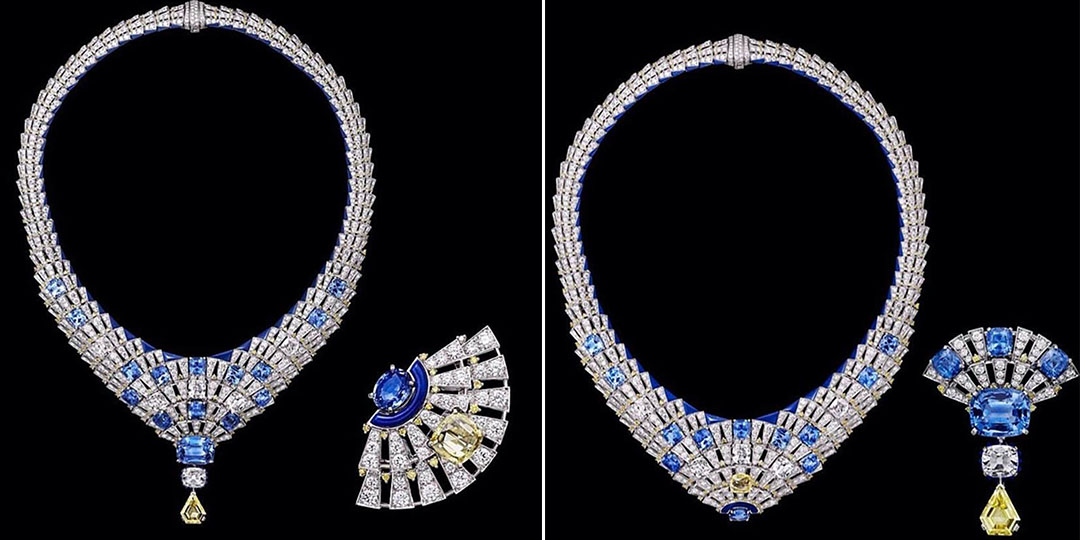 Lapis lazuli, or lapis for short, is a deep-blue metamorphic rock used as a semi-precious stone that has been prized since antiquity for its intense colour.
Day 5 of Navratri is celebrated by adorning YELLOW. The zesty hue signifies freshness, happiness, energy, optimism & clarity.
Sharing high jewellery by Piaget from their PiagetGoldenOasis.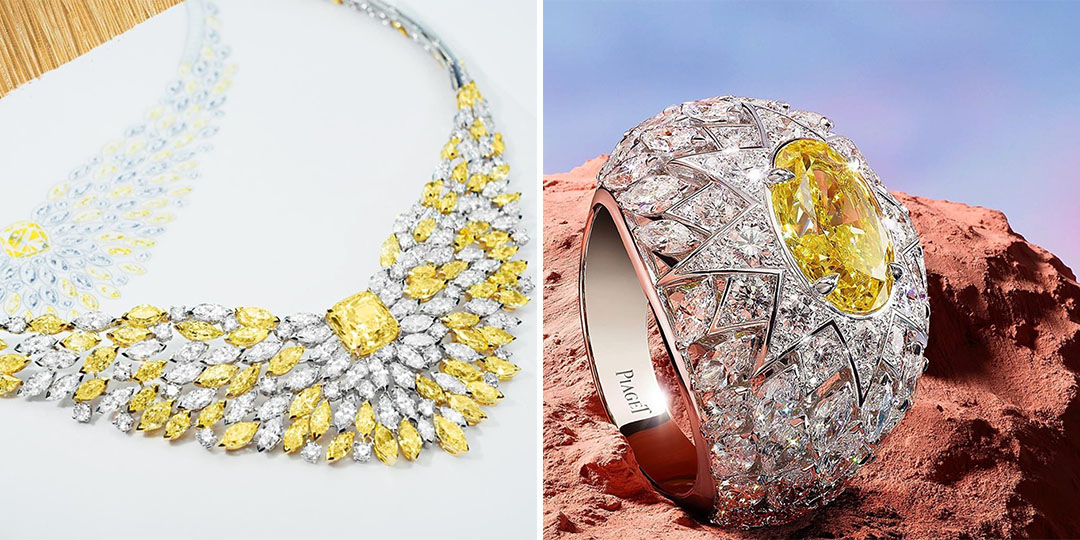 The Golden Hour necklace is a dazzling ode to the sun, delicately balancing the warmth and purity of yellow and pure white diamonds. The Golden Hour high jewellery necklace features a stunning 6.63 carats Fancy Vivid Yellow diamond, these diamonds are rare by nature as only one out of 10,000 diamonds are classified as fancy coloured and of those, only six per cent of all yellow fancy coloured diamonds are graded as fancy vivid.
Day 6 of Navratri is represented by the colour of life GREEN. The colour denotes growth, harmony, freshness, safety, fertility, and the environment.
Showcasing masterpieces from Chopard's High Jewelry collection.
The journey of Chopard to turn the red carpet Green!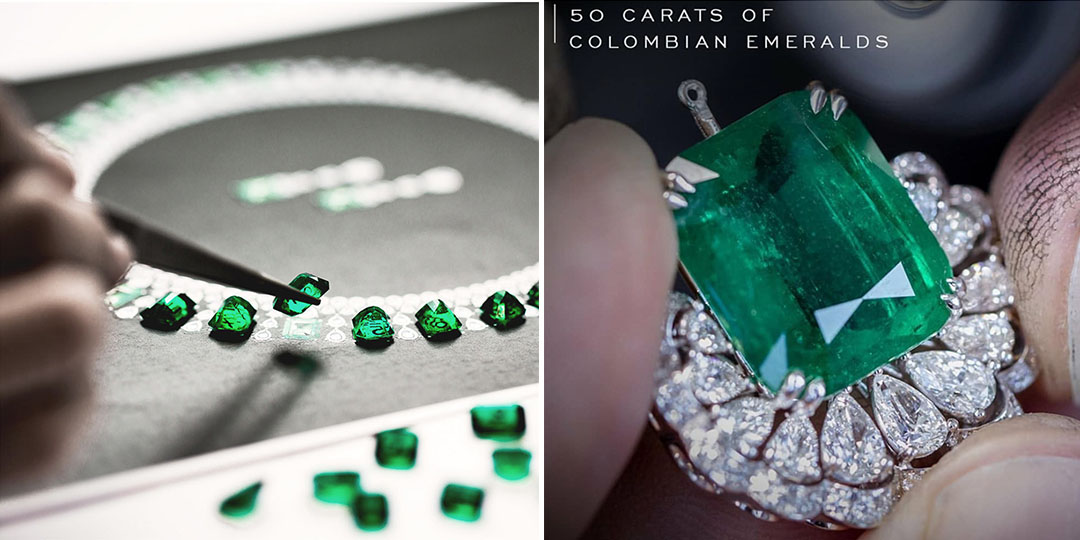 The expert craftsmen at Chopard are perpetually working towards making each piece complete with intricacy, attention to detail and crafting them to perfection.
Day 7 is celebrated with the colour of Grey. A fine blend of white and black, grey signifies balance and amalgamation of the two worlds that reside within us.
Featuring High Jewellery necklace Paves De Cristal by Boucheron.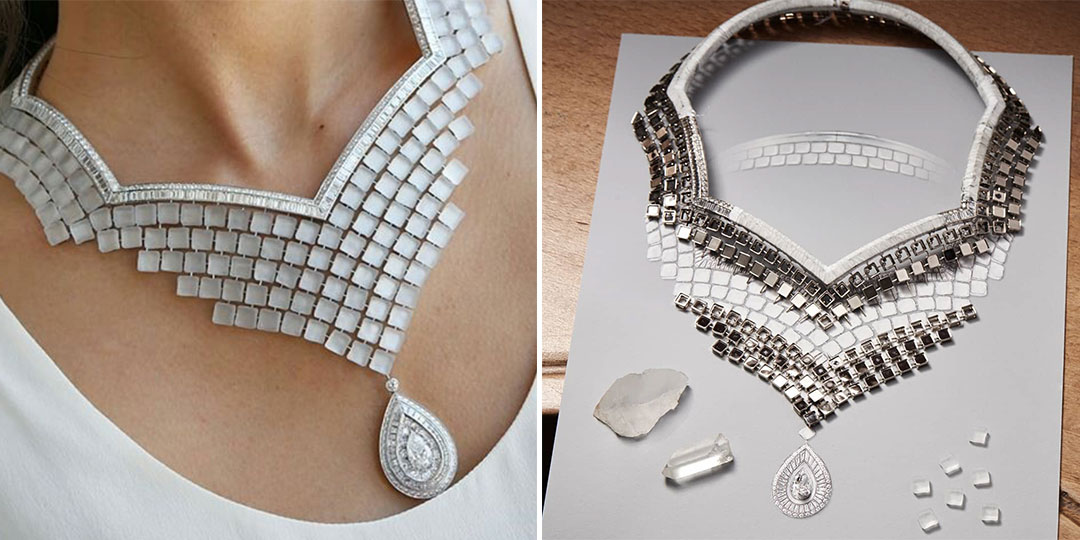 Set with a 2.68 ct F IF pear diamond, baguette diamonds and rock crystal, paved with diamonds.
Celebrating day 8 with PURPLE, a colour associated with royalty, nobility, luxury, power, and ambition.
Sharing High jewellery by De Grisogono, who are celebrating LOVE with passion in subtle shades of purple.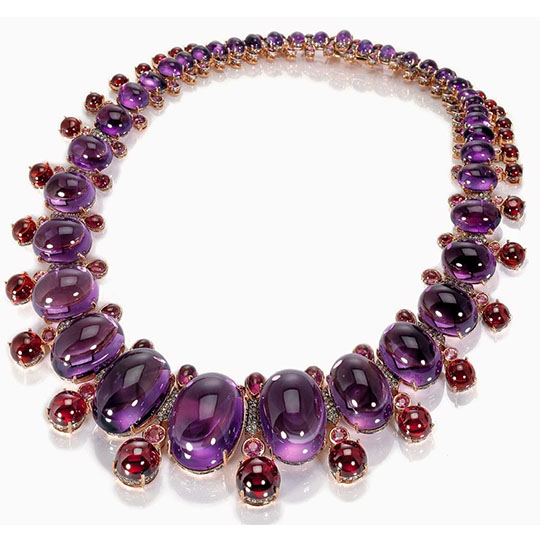 Unique Piece Necklace by De Grisogono, embodying a symphony of gemstones featuring 41 cabochon-cut amethysts, 40 cabochon-cut pink sapphires, surrounded by pink tourmaline drops.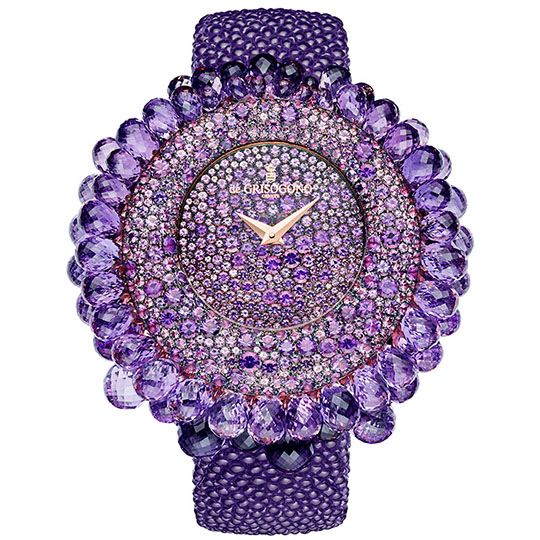 Grappoli high jewellery timepiece features 70 moving briolette-cut and 980 round brilliant amethyst.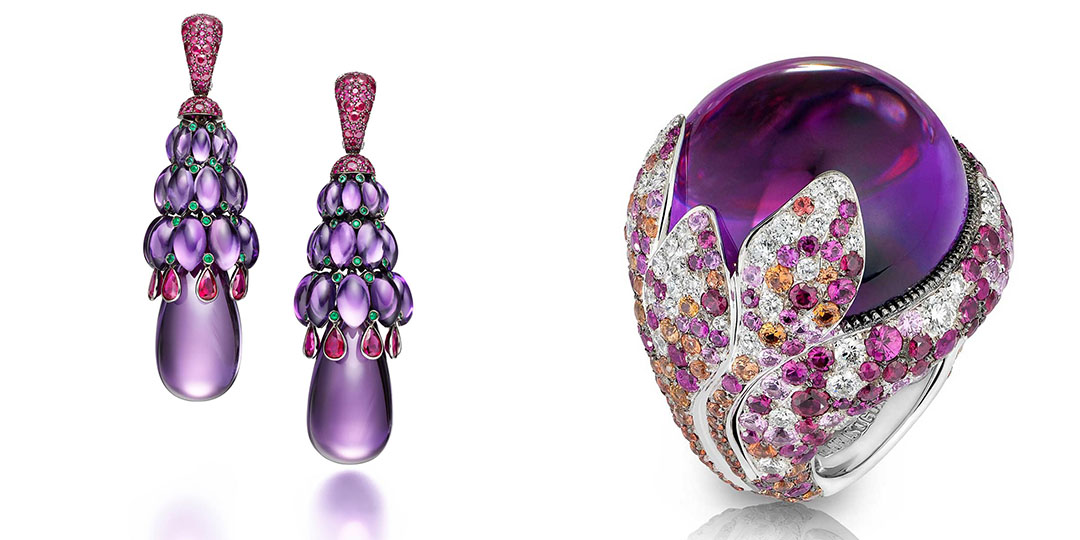 Melody of Color Earrings features drop cut amethyst and a cascade made of 48 cabochon-cut amethyst. Melody of Color Rings features cushion-cut amethyst 16.50cts surrounded by a playful cascade of amethyst discs and 316 spinels.
The colour of the 9th day of celebration is Peacock Green. Featuring High Jewels by Wallace Chan art.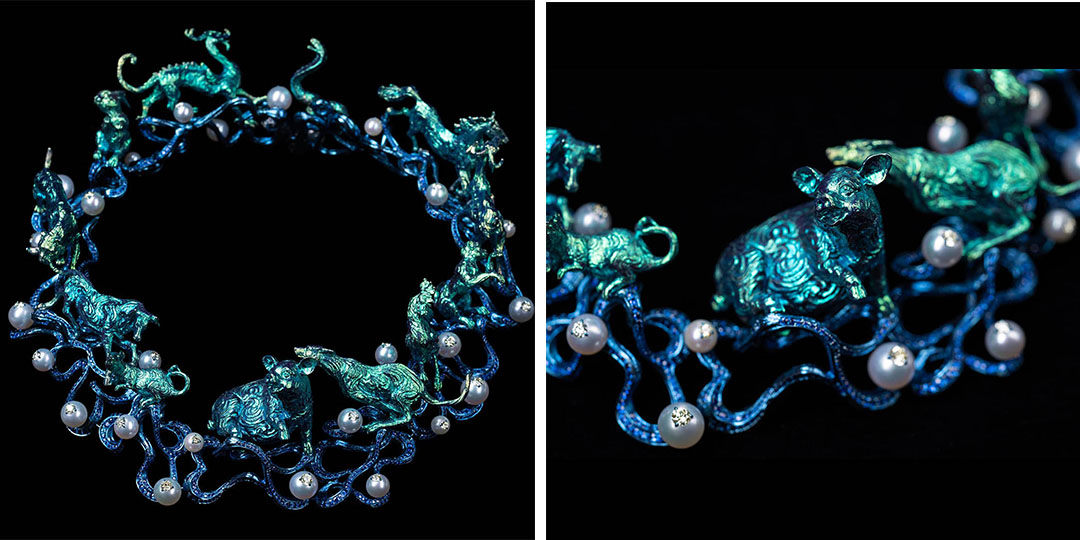 "Wheel Of Time" necklace, which is based on the Chinese zodiac. It is set with diamonds, sapphires, fancy yellow diamonds, and south sea pearls all on titanium.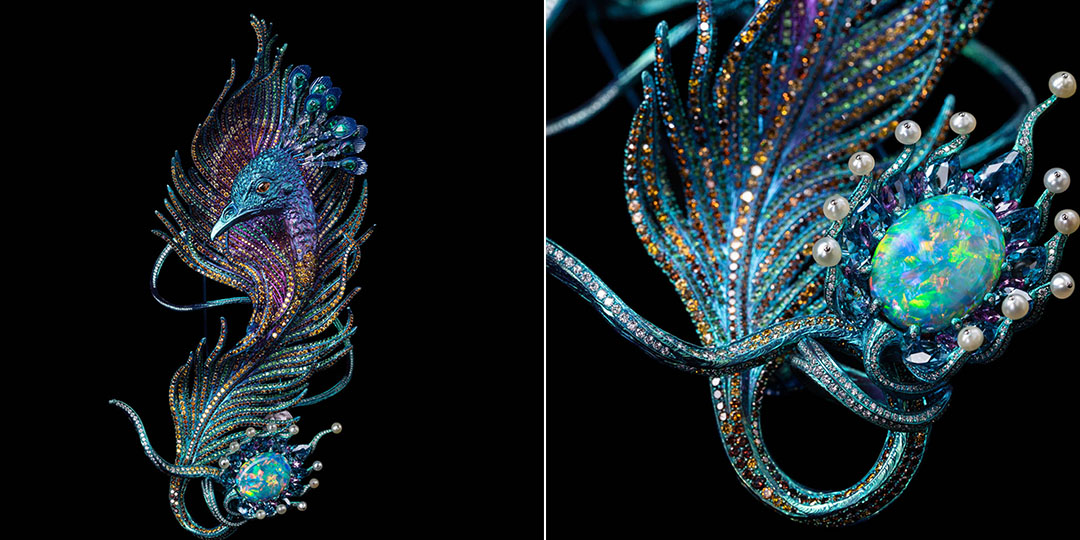 The "Hera Brooch", an innovative peacock jewel, blending the beauty of gemstones and titanium with a new form of porcelain. The plumage of the peacock has been created by hundreds of coloured gems. Padparadscha sapphire has been used for the eye and the opal can be detached to be worn as a ring!
After 8 years in research, Wallace Chan art discovered a way to tame titanium in 2007. The lightweight metal is hard and strong. Its natural colour complements coloured stones and it's bio-friendly nature embraces the human body. Wallace Chan was a pioneer in using this metal in high jewellery. He is the first Asian jewellery artist to exhibit Tefaf, London Masterpiece and Biennale des Antiquaires.
I am loving the vibrant colors of High Jewellery, well, this comes to an end, but it's only a beginning to the season of festivities!