The word RUBY comes from Ruber, a Latin word for Red. They are known as "Ratnaraj" in Sanskrit meaning "King of Gemstones". These gems belonging to the Corundum family, are associated with strong emotions like passion, love, power, and anger in human beings.
There are many different varieties of rubies available, but Burmese Ruby stands supreme and command the highest prices, and they serve as a benchmark against which, other rubies are evaluated and noted primarily for their colour. Wondering why? Well, allow me to take you through a journey to Burma (present-day Myanmar) and talk about Burmese Ruby!
Video credits Gem Minute.
Where they are found?
Most Burmese rubies come from the districts surrounding Mogok and Mong Hsu, regions in the north and north-east of Burma respectively. These mines were famous for producing about 90 per cent of all pigeon blood rubies. Records of mining Burmese rubies goes back over 5 centuries
Compilation of Ruby Mining in Burma.
Video Credit: Michael Rogge.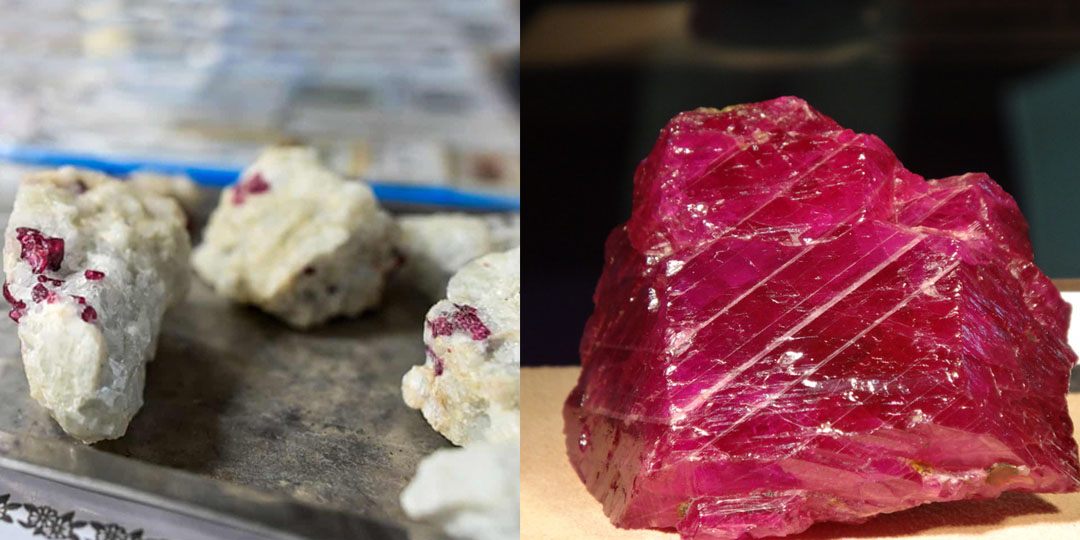 Which factors affect the colour of Burmese Rubies?
1) The Body colour of the stone working with fluorescence:
A rich highly intense infusion of colour is obtained due to the bluish-red body colour of the Burmese Ruby, giving the stones a saturated vivid appearance along with Natural Red Fluorescence of the gemstone. Though Fluorescence is not preferred in diamonds as it affects its brilliance, it is prefered in Burmese Rubies for it enhances the colour, making it an intense shade of red.
2) Inclusions in the stone:
The second main factor is the presence of minuscule inclusions that increase the dispersion of light across the surface of the gemstone. This gives a silky, soft-touch to the colour and increases its light performance.
Some of the internal features recorded in Burmese ruby include fine rutile needles or 'silk' and roundish apatite crystal inclusions. These inclusions are potentially helpful indicators to determine the authenticity and origin.

Beautiful internal view in a Burmese Ruby, seen in the images are randomly oriented rutile needles, these reflective mineral inclusions are responsible for the famous 'silk' effect.
What is a pigeon's blood ruby?
It is said that a perfect ruby is the same colour as the first two drops of blood from the nose of a killed pigeon. The term is said to have originated from Burma, where locals call the finest and most vivid rubies "KO-TWE" meaning "pigeon's blood." Other sources claim that the perfect ruby is also the colour of the central point of a pigeon's eye.
Most of Pigeon's Blood rubies came from Burma, referring to vivid, beautifully saturated gemstones, of a colour reminiscent of the blood of pigeons.
Treatments and Enhancements of these precious gems.
Heat treatment of corundum is common, improving the transparency and the colour of the stones. The treatment of Burma ruby is permanent and heated stones do not require special care. Low-grade rubies are often fracture-filled with lead glass to improve their colour and clarity. There are many treatments done in gemstones like Diffusion, Filling, Dyeing, Heating, Oiling.
Most rubies on the market, of any origin, are heat treated directly at the mines. This makes it virtually impossible to find a ruby that hasn't been heat-treated to enhance colour and clarity. A red ruby from Burma that has not undergone any enhancement is very highly-priced. It is always advisable to check the certificate to know if the stone has been treated or not.
Why are Burmese Ruby the most valuable gemstone?
Burmese rubies tend to be the most expensive among ruby varieties, their Value; determined by the colour and clarity, varies even in the same carat weight range. The most valuable rubies have a medium red to medium-dark red tone, which is also known as "Pigeon Blood Red". Much darker red or lighter pinker shades are considerably less valuable. However, one must be aware, not all Ruby from Burma, are of the highest quality.
Burmese rubies have been featured in a luxury collection of top jewellery houses and also fetched a remarkable price at the auction houses. Their rare occurrence, lesser availability makes them more highly-priced, and have become more like collector's charm.

Image 1: Burmese Ruby and Diamond bangle.
Image 2: A collage of:
A) Maxi open Ring with 13.26cts pigeon blood red Burmese ruby, with 2 rose cut on the side, along with diamond and ruby beads.
B) Burmese ruby with twin diamond rings set in platinum, with ruthenium prongs, giving the feeling of diamonds dancing around Ruby. Viren Bhagat has always set his diamonds in a magical setting.
C) Burmese Ruby and Rose-cut earrings.
Image 3: Burmese ruby cabochon necklace, weighing a total of 146cts, which took 10years of assembling these gems.
Why are Burmese Ruby rare?
The famed mines of Burma in districts surrounding Mogok and Mong Hsu, regions in the north and north-east of Burma, which produce 90 per cent of all pigeon blood rubies, are almost fully depleted, making Burmese rubies ever scarcer and expensive.
These gems are found in alluvial marble gravels using panning, tunnelling and digging pits by hand, with very little mechanization of the mining.
The rarity combined with the demand for rich red gems keeps the price very high.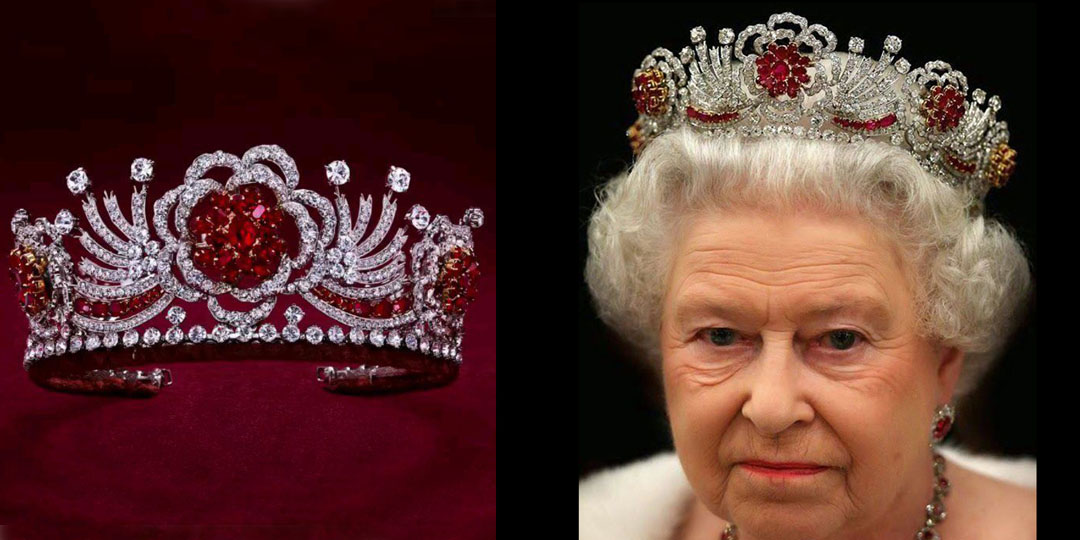 Featured above is The Queen's Burmese Ruby Tiara, created for Her Royal Highness by the House of Garrard, on receiving the commission from Queen Elizabeth herself in 1973. The 96 rubies mounted in the tiara were originally given to the queen as a wedding gift from the people of Burma. The diamonds of the Burmese Ruby Tiara, are originally from the Nizam of Hyderabad Tiara, which was also a wedding present the Queen received from the Nizam of Hyderabad.
Few factors to keep in mind when purchasing a Burmese Rubies?
1) Purchase a natural high-quality stone with a certificate that proves its authenticity and origin.
2) Be informed about the enhancement treatment. It is best if the stone comes with a certificate that verifies whether it has been enhanced.
3) Colour is one of the most important factors determining ruby quality, Burmese ruby display a strong red fluorescence, which enhances the value.
4) It is expected that a ruby will have some inclusions inside it. Make sure they are as few as possible, though, with no inclusions visible to the unaided eye. Extremely fine silk throughout the stone in Burmese Ruby enhances the value, adding to the beauty of this gem.
5) Excellent proportionate cut stone is always appealing to the eye, and it also affects the reflection of light, creating maximum brilliance and sparkle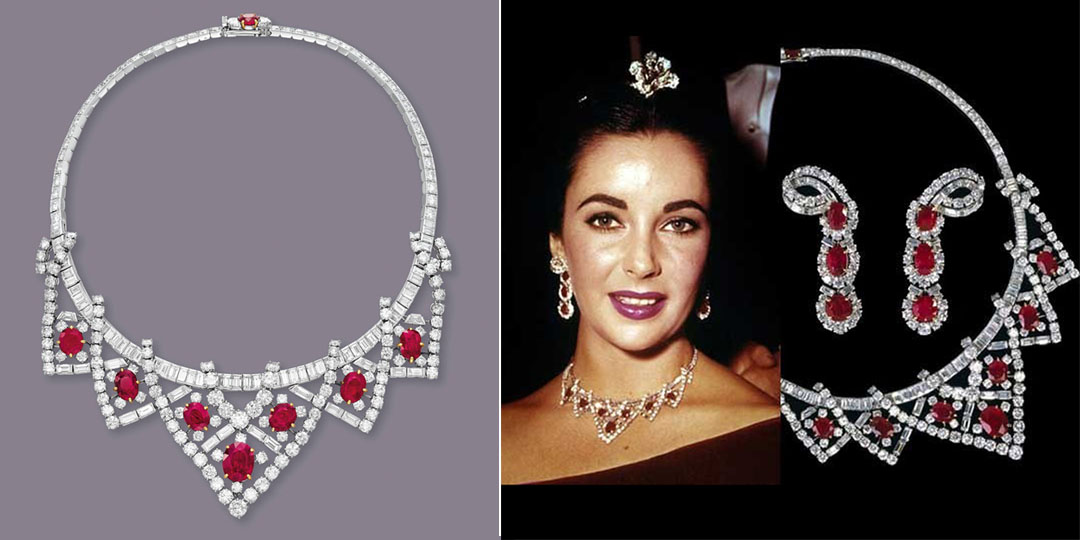 Featured above are the Elizabeth Taylor's Burmese Ruby and diamond necklace and earrings, embellished with 7 oval and cushion-cut rubies, designed by Cartier.
Hope you all enjoyed the journey with me to Burma!
The world of Gems & Jewellery is endless, which means there are limitless things to talk about with you guys!
Stay tuned for more!
Content Credits: Isreal-diamonds blog, Jewelry Shopping Guide blog, Wikipedia, Gia.edu.