I am back from my hometown to share about the 15th edition of Jaipur Jewellery Show 2018 in all its grandeur! Being officially invited by the organisation to talk about the Gems and Jewellery on my social media page: #thediamondtalk X #jaipurjewelleryshow
I kick-started by visit at JJS2018, with great pride and enthusiasm,
Jaipur Jewellery show is One of the most colossal jewellery shows of India, it is the largest B2C Gems & Jewellery Show in India and the second largest in the B2C category.
The show was inaugurated by the Executive Chairman of DMCC, Ahmed Bin Sulayem. Jaipur being the hub of gemstones I wanted to focus a lot on Gemstone jewellery.
My first stop was at Birdhichand Ghanshyamdas Jewellers booth, who are the pioneers in jewellery manufacturing.
Showcasing one of my favourite necklace from their booth, made with appx 70cts Colombian Emerald Centrepiece along with 20cts Emerald drop.
Diamonds have been specially cut to get a Star and a Hexagonal shape. The links, made in Ruby and Emeralds have been specially sourced from Afghanistan. It was an honour to have Mr Navalji Agrawal explain me the detailing of the necklace. Do watch the link above and to understand a detailed explanation of the Necklace.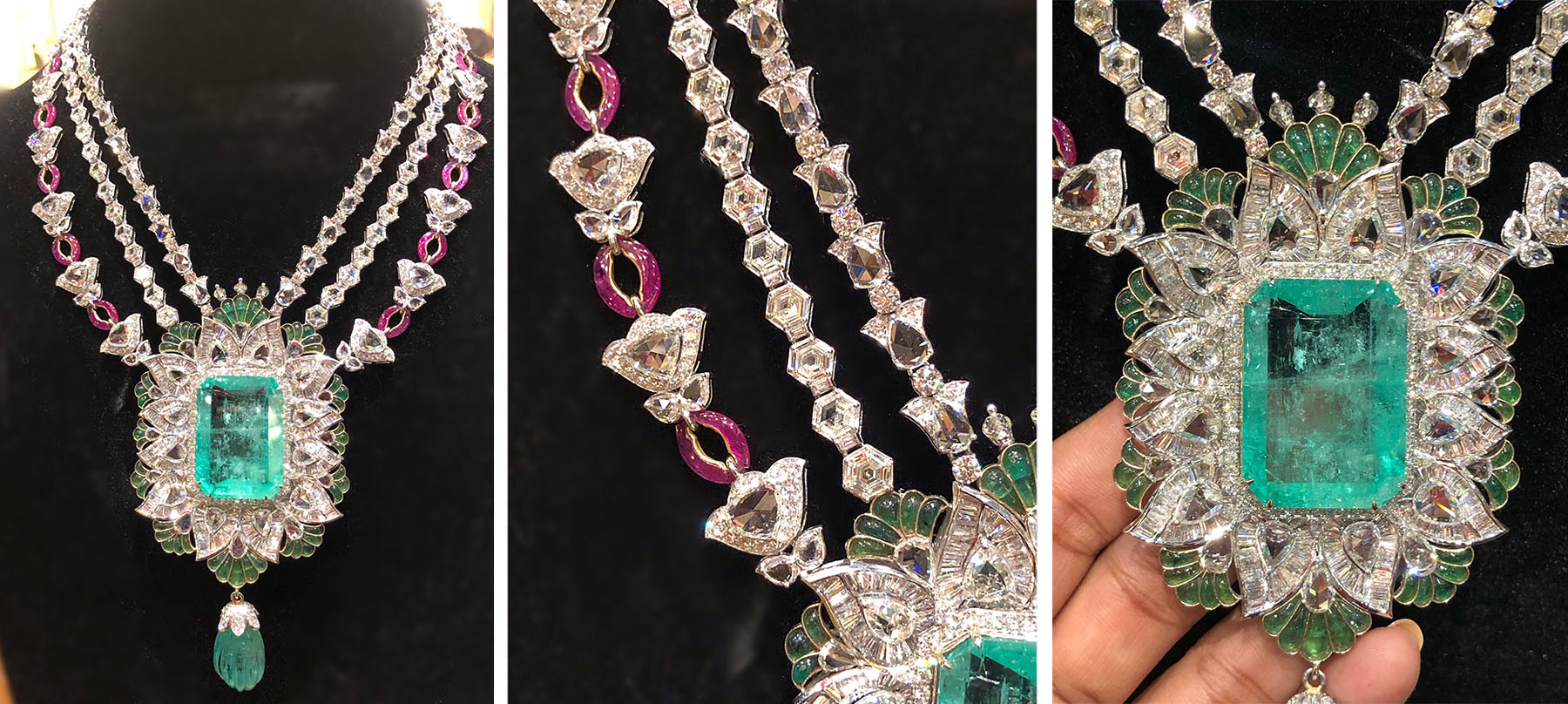 Moving on, my next stop. I was mesmerised to see the wide range of gemstone lightweight, art deco style jewellery by Jatin gems, A gorgeous necklace made of Aquamarine, carved morganite & Pink sapphires alongside diamonds caught my attention
Surely, Pastel shades seem to be a big Hit this season!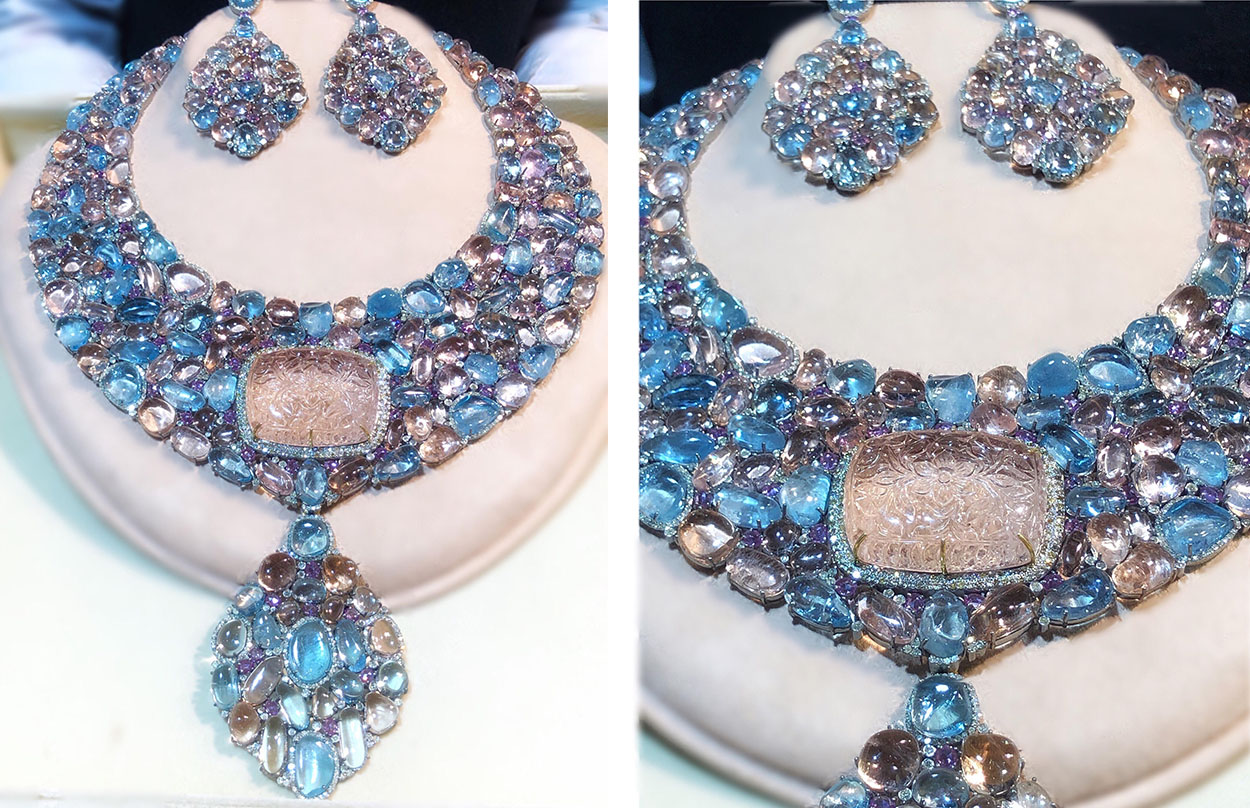 After an enriching day one, I was ready and all set for day two. Jaipur is known as the hub of gemstone manufacturing, my 2 biggest finds was Gem Gallery and Anukool Gems. The former showcased an unusual Paperweight made in Yellow Sapphire and Ruby. While the latter showcased a Zambian Emerald Rough weighing about 13,000 carats and is 2.5 kgs heavy. It was a treat to discover at the Jaipur Jewellery Show.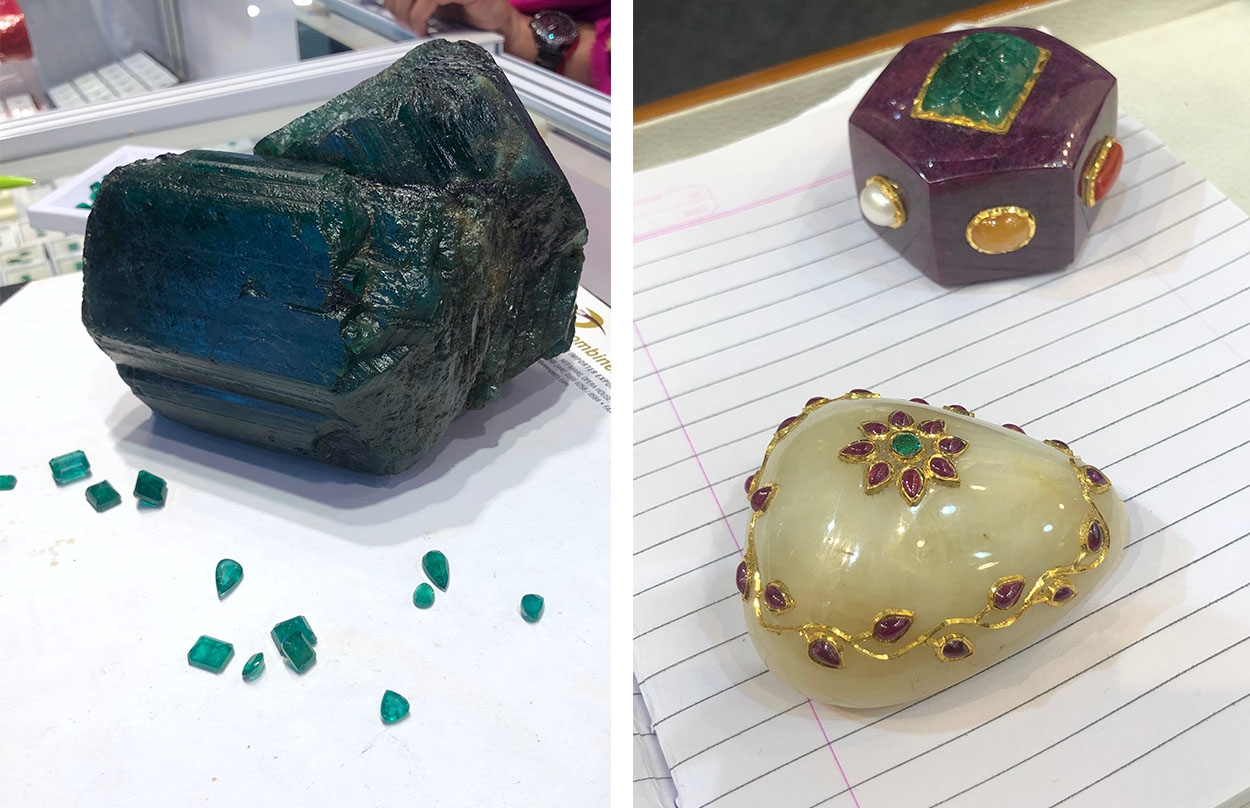 Day 3 was full of surprise as I discovered my favourite Gems studded jewellery!
Any guess which gem are we talking about? Well yes, I spent my day scouting for Diamond-Studded Jewellery.
I discovered a larger than life Fancy shape diamond necklace by Vijay Chordia of Valentine Jewellers. The necklace is exclusively curated selecting the finest diamonds strung together with perfection along with a gorgeous bracelet made in Rose cut diamonds.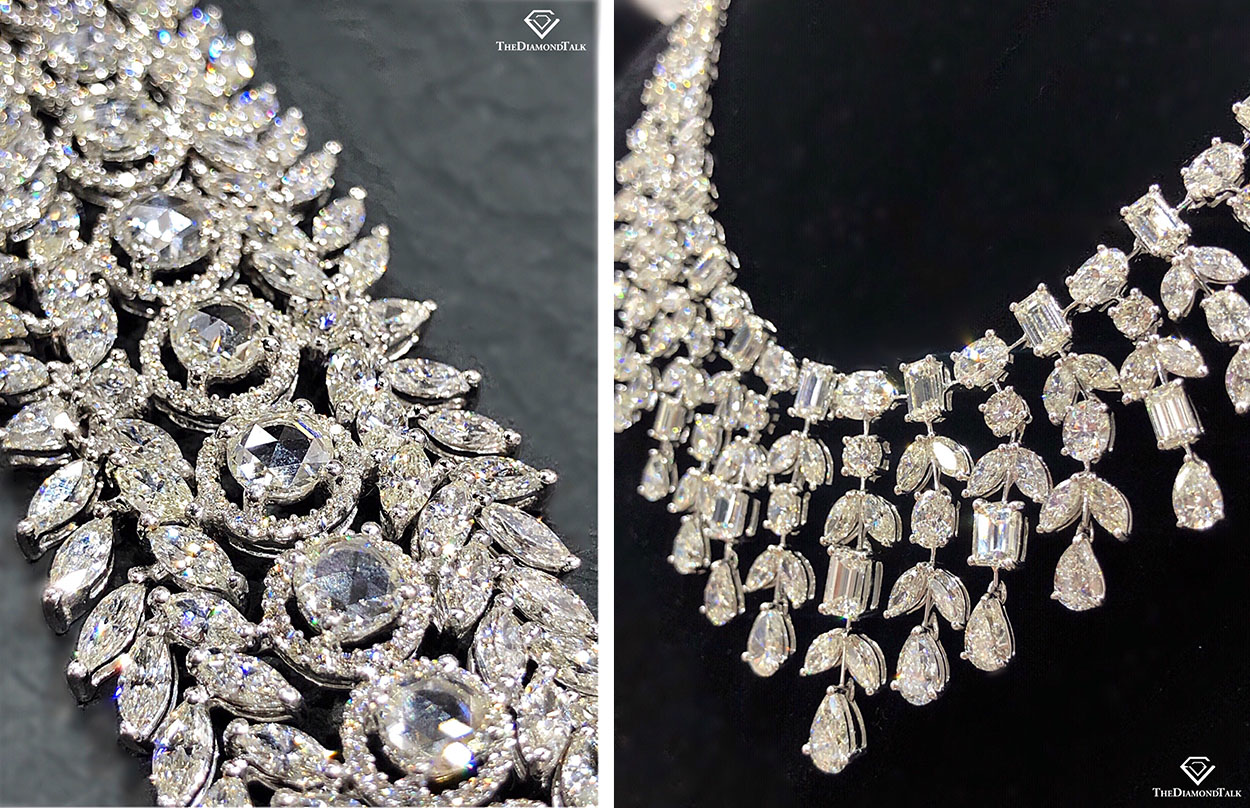 New Years and celebrations being around the corner, day 4 was all about finding my Party wear essentials. It was love at first site with Necklace pendant by Jewel Saga, made with a real peacock feather in the centre along emerald & sapphire beads, pearls and diamonds.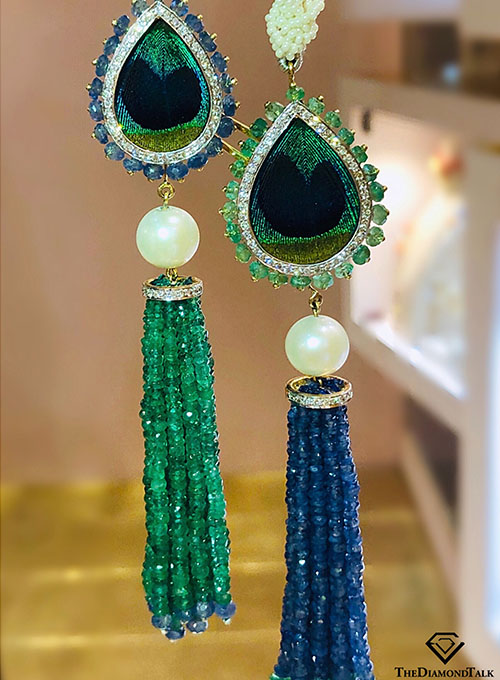 Fusion jewellery being in trends with the Millenials I found a perfect pair of earrings for my New year celebrations by VivekLadha, a perfect balance between Art deco jewellery and traditional styles. A modern-day chandbali made of Uncut diamonds and gemstones.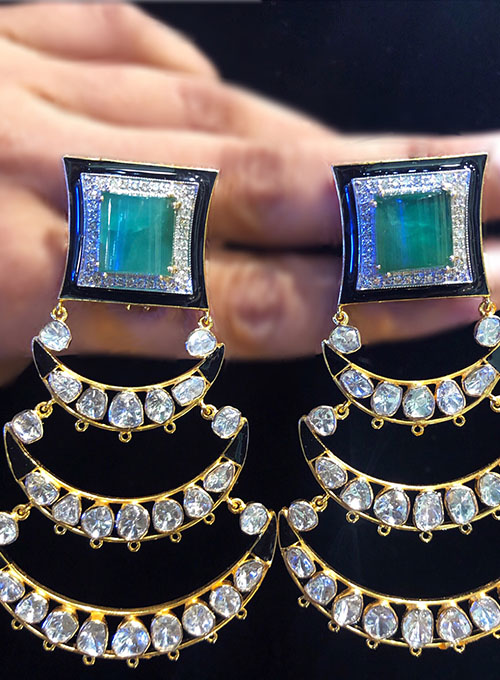 Jaipur Jewellery show had a great display of Uncut Diamond Jewellery, Gemstones jewellery, Rough stones, silver and diamond jewellery and artefacts displayed by the best brands from in and around Jaipur. JJS 2018 was truly a great experience, I will be back yet again to discover some more precious finds of jewellery from my hometown!