GIFTS have been a great gesture of expressing affection and thoughtfulness for our loved ones since the beginning of time. On that note, I bring you extravagant gifts from the heritage past of India!
Did you know that when Prince Albert Edward (Bertie), Queen Victoria's eldest son arrived in Bombay now Mumbai, on 8 November 1875, he visited more than 21 towns & cities, and was a guest at multiple Indian royal courts? Here is where, each regional ruler and Maharajas of Indian subcontinents bestowed him with elaborate jewellery, weaponry and ceremonial object as gifts and grand processions were organised by the Maharajas that allowed the Prince to learn more about the rich and varied culture & history of the Indian subcontinent.

In my article, we travel back in time to 1875 and witness magnificent jewels gifted by Indian Maharajas to the Prince of Wales during his visit to my country.
How excited are you to see the royal gifts?
Lucknow Crown
Gifted by: The Taluqdars (landowners) of Oudh, on 7 January 1876.
Occasion: Presented to King Edward VII; Prince of Wales, during his visit to India in 1875-76, in the former palace of the Kings of Awadh Lucknow.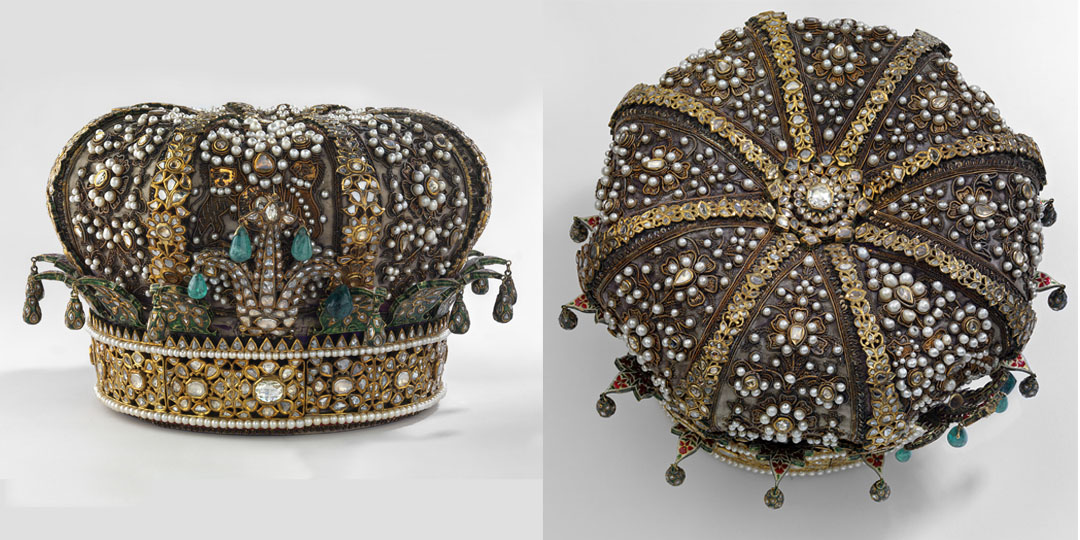 Description: The Lucknow crown is formed of a circlet of gold, pearls, diamonds and emeralds. A green enamelled pendant set in gold hangs from the top of each leaf-shaped cresting inlaid with diamonds. The aigrette on the front of the crown bears four cabochon emeralds, possibly to represent the Prince of Wales's feathers and the cap is embroidered in silver-gilt thread technique known as zardozi with the Royal Coat of Arms and the Garter motto 'Honi soit qui mal y pense', which means "Shame on anyone who thinks evil of it"
Lucknow's beautiful zardozi embroidery has certainly elevated the charm of the crown, hasn't it? Let me know in the comments.
Turban Ornament mid-nineteenth century; Udaipur
The Maharajas of the Indian subcontinent adorned their turbans with gem-studded head ornaments known as Sarpech/Aigrette symbolizing power and conquest.
Gifted by: Sajjan Singh, Maharana of Udaipur.
Occasion: This turban ornament was one of the first gifts that the Prince received during his four-month tour of the Indian subcontinent.
Description: In late nineteenth-century India, gemstones were usually polished rather than cut to maintain the weight of the gemstone and only larger size gemstones just like the centre emerald used in this head ornament were faceted. The back of the turban ornament is enamelled in red, green, white and blue with flowers and peacocks.
Did You know: The best stones from the Maharajas treasury were often reset and redesigned on request? Do look closely at the emerald on the right, it has a drill hole running through which suggests it may have been reset from another ornament into this sarpech.
Turban Ornament mid-nineteenth century; Jaypore.
Gifted by: Ramchandra Deo III, Raja of Jaypore.
Occasion: The Maharaja of Jaypore presented this turban ornament to the Prince of Wales during his visit to Madras.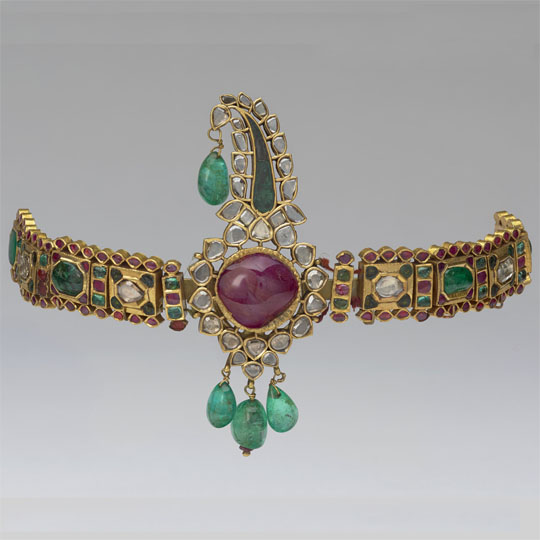 Description: The ornament is made with a large ruby cabochon in the centre; surrounded by diamonds and emerald cabochon hanging from above and below. Attached to either side are bands of alternating gold tablets inlaid with emeralds, rubies and diamonds; held in place by a red silk cord to allow for the turban ornament to curve around the head when worn.
Ear Ornaments, mid-nineteenth century
A gem in the past, this style of earrings are a rage today as well. From evening wear to virtual meetings, these can find their way everywhere.
Gifted by: Ramchandra Deo III, Raja of Jaypore.
Occasion: The Maharaja of Jaypore, presented the earrings to the Prince of Wales during his visit to Madras.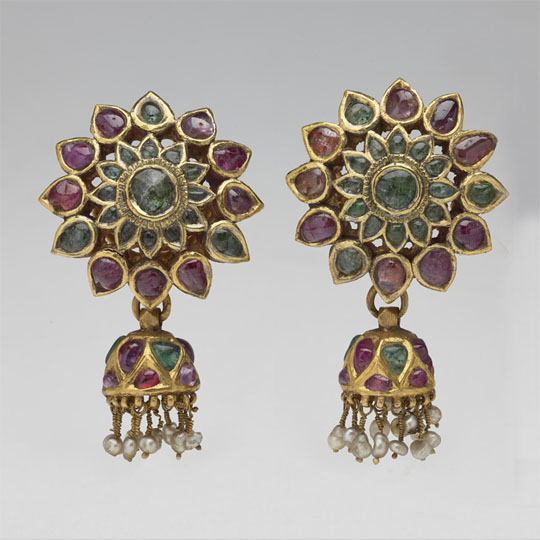 Description: These type of earrings inspired by floral motifs are known as Karanphul Jhumka; 'Ear Flower'. They are inlaid with ruby & emerald; the hanging bell-shaped are inlaid with a fringe of seed pearls.
The Indian Necklace
Gifted by: Jayaji Rao Scindia, Maharaja of Gwalior to Queen Victoria.
Occasion: The original necklace was presented during the Prince of Wales's India tour in 1875-76. It was later reset by Phillips Brothers and Sons c.1878.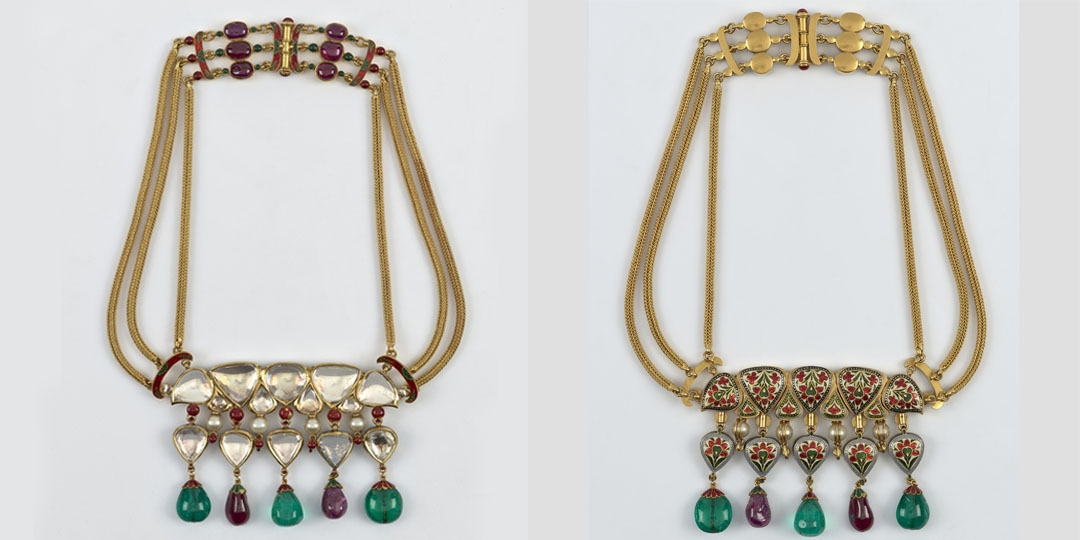 Description: This Indian Kundan style set necklace was made by Phillips Brothers & Sons using gemstones from a necklace presented to Queen Victoria by the Maharaja of Gwalior and a ring presented by the Maharaja of Mysore.
The central section was made of diamonds, pearls, ruby and emerald drops; attached to a clasp by red and green enamelled crescent-shaped ornaments and three flexible gold cords with gold-mounted Ruby cabochon. The backside of the necklace has enamelled designs of red and green flowers on a white ground.
Mysore Waist belt mid-nineteenth century
Gifted by: Chamarajendra Wadiyar X, Maharaja of Mysore.
Occasion: This belt was presented to King Edward VII; Prince of Wales, during his visit to India in 1875-76 for Queen Alexandra.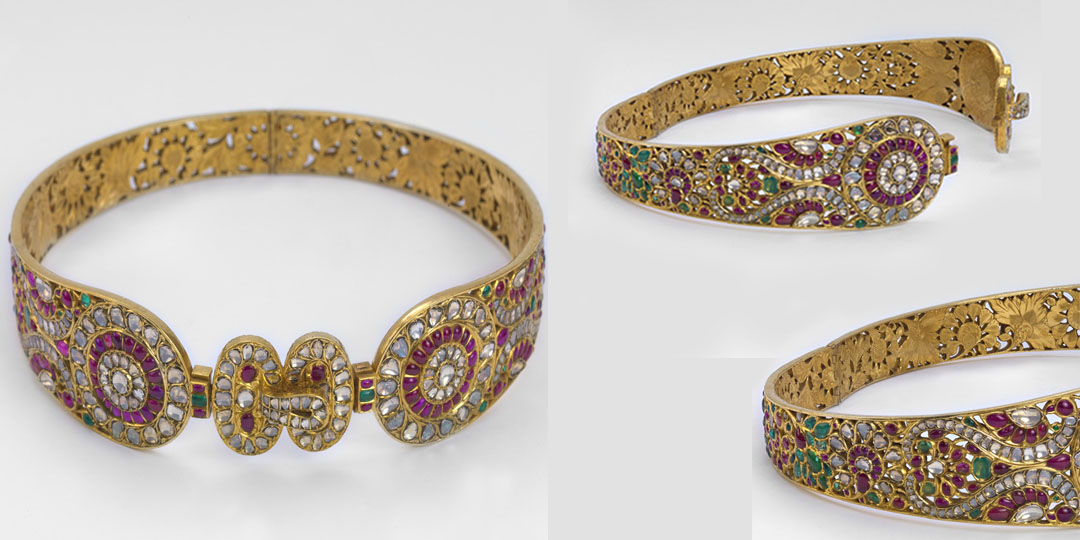 Description: This is a hinged waist belt made of a gold framework; inlaid with diamonds, rubies and emeralds in a Kundan setting. The front of the belt has a small hook that holds the two halves of the belt together and the inner rim of the belt is engraved with patterns of lotus and peacocks. These kinds of belt were generally worn by South Indian women.
Jaipur Bangle
Jaipur, a city of rich culture and heritage has been a great source of inspiration to artist around the world. Those who have visited Jaipur are familiar with the local artisans selling their article in the busy streets of the city. One such article that Prince of Wales purchased by a peddler in Jaipur was a Pair Of Bangles c.1850–1875.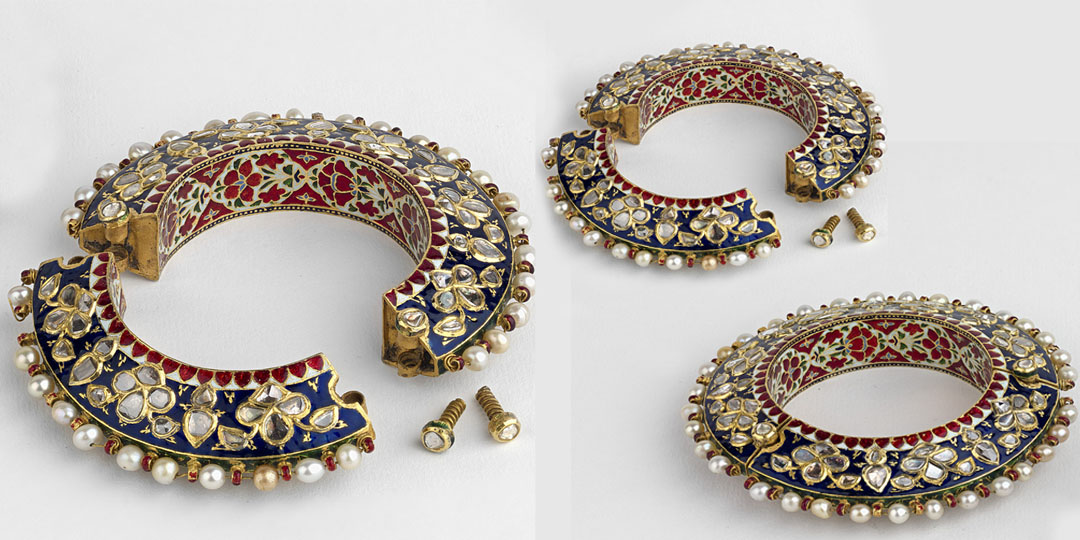 Description: Blue enamelled gold bracelets are encrusted with diamonds in a quatrefoil pattern and laced with pearls. The inner rim of the bracelet is enamelled with floral patterns in red, white, green and blue. A section of the bracelet is held in place by two diamond top screws and can be unfastened to put the bracelet on.
Jaipur's culture and vibrancy reflect through this pair magnetically! I'm sure it inspired you to invest in some of these Rajasthani jewels too. Did it? Let me know in the comment.
Daggers
Highly decorative and fully functioning arms and armoury were the highest level of gifts received by the Prince. Let's take a look at a few of them.

Image 1: Maharaja of Kashmir; Ranbir Singh's 19th-century sword and scabbard. The hilt of the sword is made of gold and encrusted with gemstones. A large circular emerald is engraved at the centre on both the side.
Image 2: Inhabitants of Coorg gifted a knife. The blade is made of silver and a golden hilt is cast to form a parrot's head; inlaid with rubies for eyes and the scabbard is made of wood with mounts of gold chased with a floral pattern. A gold chain and tassel are attached to the mount which carries a set of grooming implements such as a file, tweezers and an ear scraper.
Image 3: Maharaja of Patiala; Mahendra Singh's 19th-century shield is made with rhinoceros hide. The edge of the shield is embellished with a gold textile border embroidered with pearls in floral motifs.
Image 4: Maharaja of Alwar's Ibrahim Dagger. The curved channel blade is filled with loose pearls that move with the motion of the dagger.
I can't seem to choose a favourite out of these lovely options! Can you?
Armguards eighteenth century, Northern India
Not only the traditional jewellery adorned by the Maharajas were embellished but also their Armguards.
Gifted by: Jayajirao Scindia, Maharaja of Gwalior.
Occasion: Maharaja held a military review in honour of Prince of Wales visit to Gwalior. Many of the Maharaja's soldiers and attendants wore jewel-encrusted armour. These bejewelled armguards were presented during the visit.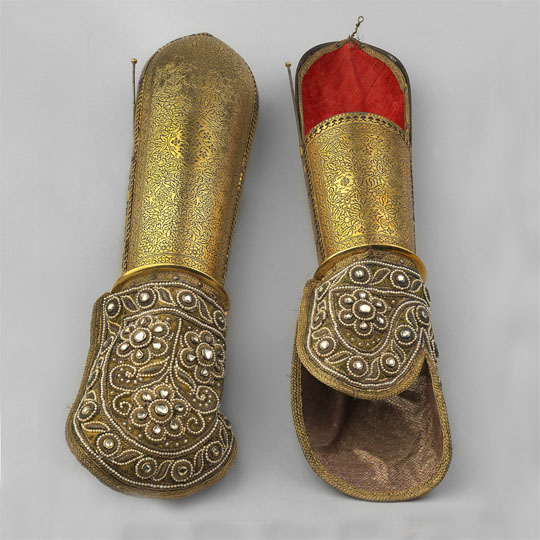 Description: A pair of steel armguards also known as dastana; are overlaid with gold patterning of floral designs with trefoil borders. The gauntlet lined with pink silk, are seen encrusted with diamonds, pearls and gold thread embroidery work called zardozi. The elaborate craftsmanship and luxurious material suggest they were designed for ceremonial wear.
Indian Peacock barge Inkstand 1870-76
In today's digital world; communication is a matter of a click of a button or a tap on the screen. However, in the olden days, it used long processes and letters. Prince of Wales received an exquisite INKSTAND; which was widely used until the development of ballpoint pen and fountain pen.
Gifted by: Ishwari Prasad Narayan Singh, Maharaja of Benares.
Occasion: Prince of Wales travelled on a state barge, similar to the model featured above, to meet the Maharaja of Benares Ramnagar that overlooked the River Ganges. This Inkstand was presented as a memento of his visit.

Description: This is an exquisite enamelled gold and jewel-encrusted inkstand in the form of a barge with oars, an anchor, flagpole and mast, that comes apart into nineteen separate components.
Here is a brief description of the different parts of the barge:
• The prow of the model represents a peacock with a spread tail, enamelled with incised blue and green detail inlaid with sapphires and diamonds.
• The stern is shaped as the head of a Makara (a mythical sea creature).
• The first canopied section near the peacock is silk embroidered with pearls, glass beads and silver wire suspending above four rods and a lotus-shaped seat, or palki.
• The second canopied section made in gold is enamelled with floral designs and inlaid with diamonds. The canopy is fringed with textile decorated with coloured threads, seed pearls and tinsel.
• The deck of the ship is enamelled with birds and flowers and can be lifted to reveal two inkwells, a pair of scissors, a penknife and two pen nibs.
• The flag is decorated with two fish to represent the Benares coat of arms.
Enamelled Objects
The technique of enamelling was introduced to the Indian subcontinent in the late 16th century when craftsmen from the court of the Mughal emperor Akbar (1556–1605) were sent to learn from European craftsmen based in Portuguese Goa. Enamel production had soon established in several parts of Indian subcontinents such as Jaipur, Delhi, Lucknow, Benares and Sindh, each one developing its styles and colour palettes.
Below are a few enamelled objects given to the Prince of Wales during his visit by Maharaja of Jaipur, Ram Singh II.

An enamelled gold perfume holder 1870-1875; formed of a circular tray with a green and red enamelled gold lotus flower in the centre that opens to reveal a yellow and red cup and cover when pressure is applied to the rod beneath the tray. This perfume holder took 5 years to complete.
A gold enamelled octagonal Cosmetic box with hunting scenes and an openwork pattern of flowers. The hinged lid is inlaid with diamonds. The base of the box opens like a lid, disclosing a mirror surrounded by an enamelled gold border.
Since Hunting was a popular Indian court entertainment, these images were often used to decorate courtly objects.
Gold Objects
19th-century silver and gold metal objects depicting Hindu gods and goddesses were regarded as a high standard of craftsmanship by Indian metalworkers. These objects became very popular amongst the Europeans, who encouraged the craftsmen to apply these motifs to objects of western use, such as tea sets, tankards and caskets.

The Gold Casket c1875 was presented by the inhabitants of Madurai to the Prince of Wales. This sandalwood casket is covered with panels of sheet gold worked in high repousse depicting Hindu deities. The corners of the casket are decorated with elephant-headed lions, known as yali which are depicted in South Indian temple carvings. The panels on the side depict scenes from the life of the Hindu goddess.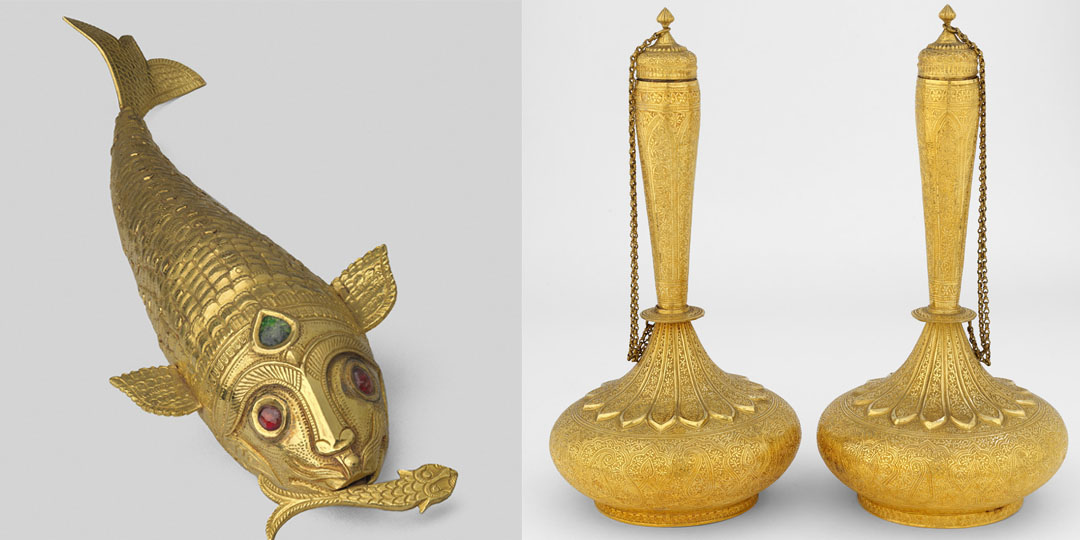 Image 1: Gold Fish c1875 was presented by Waghji II Rawaji, Thakur Sahib of Morvi. This is an articulated flexible goldfish with inlaid rubies eyes and an emerald head, holding a smaller fish in its mouth.
Image 2: A pair of gold bottles 1870-1875 were presented by Ranbir Singh, Maharaja of Kashmir. The bottles are engraved with stylised flowers and overhanging cypress trees pattern known as 'shawl,' in reference to the Kashmir-produced shawls that are woven and embroidered with similar motifs.
And, this is where we wrap!
I believe any piece from the Indian heritage is a Royal masterpiece in itself, with its impeccable craftsmanship and beauty! On that note, who else would like to receive this necklace as a gift?
Let me know in the comments.
Credit: Royal Trust Collection , Pratiek Dhadha.
Disclaimer: The above images belong to their respective sources, where rights may be held. Usage here is for information/reference purpose only.