After a successful first edition of the GJS Show, I was delighted to be a part of the 3rd edition of GJS India Gem & Jewellery Show, a grand business-to-business expo #HumaraApnaShow from 7th to 10th April 2023.

The show catered to the rise in demands after Gudipadwa and before Akshay Tritiya, followed by the wedding season. Key Highlights of the GJS 2023 were:
1. Over 750+ booths and 450+ manufacturers/ whole sellers/dealers comprising Gold, Diamond, Platinum Silver Jewellery, Couture Jewellery, loose diamond and colour stones, machinery, technology, packing material and allied exhibited.
2. The show attracted more than 15,000 visitors.
3. Visitors and exhibitors enjoyed complimentary meals.
4. IDT Gemological Laboratories Worldwide presented GJC NITE 2023 with different brands showcasing their jewellery and ramp walk with Bollywood celebrities.
Let me share with you my discoveries from the show!

My first visit at the GJS Show was House of Sparsh, and it was a magical experience to view their latest collection. My favourite is this magnificent necklace from Euphoria – A Gist Of Grandeur collection that reflects India's heritage and culture in its full glory! Let me highlight the significance of each design motif used in the design!
🦚The exquisite peacocks symbolise the national bird of India.
🐘The majestic elephants create a riveting and mesmerising effect throwing light on how they were used by kings during wars.
🌷The figurines of flowers and leaves showcase the earth at its peak of beauty and harmony!
In short, it encompasses the beauty of India.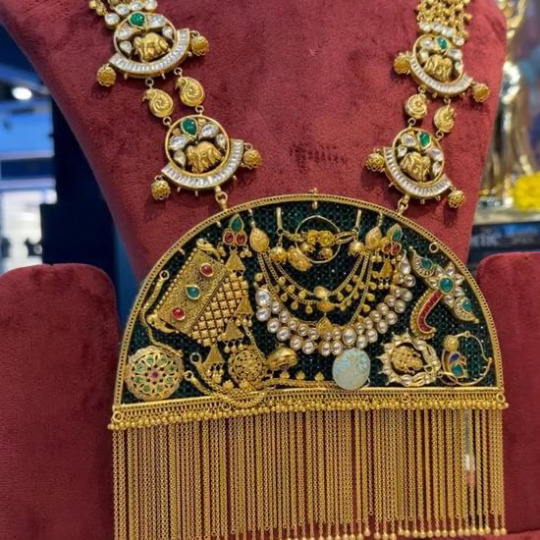 My next discovery is the Necklace inspired by diverse Indian culture, heritage and technique's that won the JewelBuzz Iconic Awards 2023 in the Bridal Gold category by Smr Jewels.
Vismay Soni, the creative designer shares his inspiration "This piece is treasured and extremely significant in the realm of Indian jewellery craftsmanship. The incorporated mythological creature depicted in this ceremonial neckpiece elaborates the culture and techniques that have been used across the Indian heritage culture and craftsmanship of cities of India in different states. In the necklace, we can see goldwork techniques, enamelling, old antique work, heritage motifs, jewelry pieces like chain, pendant, brooch ring, earring, mathapatti, gold band strap, and hair accessory that has been worn by different culture's across India"
This wearable art sets an example of India as a whole one identity, bringing back the traditional old-world and vibrant charm of India! It is a marriage of culture with modern techniques.

Featured above is an exquisite Traditional South Indian Closed-Back Setting diamond necklace by Laxmi Diamonds Banglore. A closed-backed setting is used when it is desirable to have metal behind the stone so that no part of the stone below the girdle is visible. Love the detailing and the craftmanship.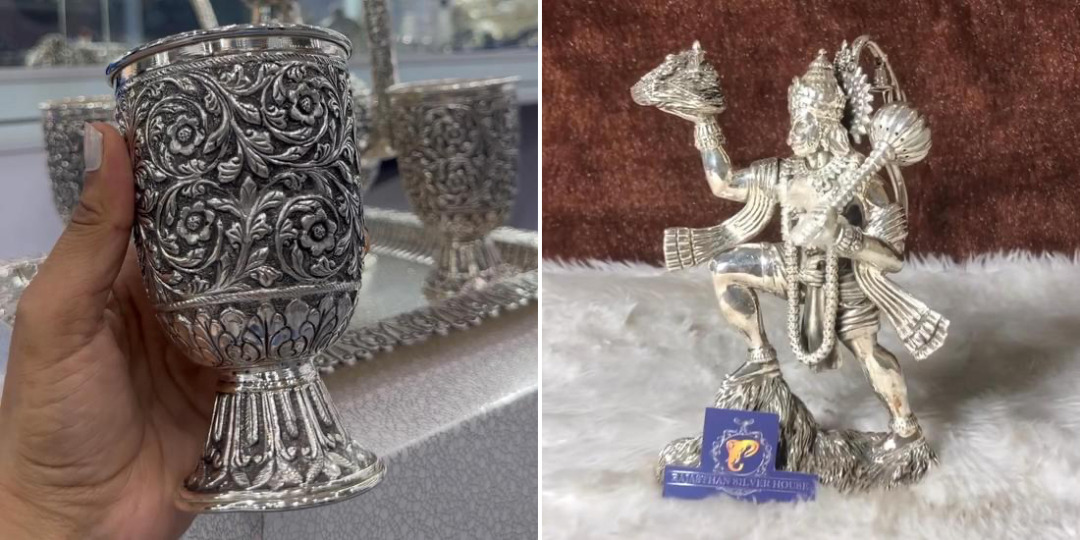 Besides gems and jewels, I discovered a wide variety of Silver artefacts and ornaments at Humara Apna Show! Featured above are silver glass and flask handcrafted in 92.5 silver by Rajasthan Silver House. Did you know: Indians have been always fascinated with silver and gold ornaments for ages and are also considered the largest consumers in the world
At the Jewellery Innovators pavilion, I discovered designers and Couture/ Fine Jewellery brands in
Features above are the jewellery collection from P Hirani Exports LLP, Vasupati Jewellers India Pvt Ltd, Dia Gold and Anand Shah Jewels; who are a part of Jewellery Innovators.

Jewellery Innovators had 12 distinguished brands in the pavilion. Featured above are Tara Fine Jewels, Matushree Gold LLP, House of Sparsh Pvt Ltd, and Jewels Of Jaipur.

And finally, the other brands in the Jewellery Innovators pavilion are; Anand Ranawat, Sanskriti Jewels, Enshine and Romil Jewelry.

Modern & Trendy Gemstones!
Wearing coloured gemstones is an interesting trend. When we think of the gemstones in blue, green and red colours…the names of the big 3 gemstones; which are Sapphire, Emerald and Ruby come to our mind first; for these gemstones remain the most sought-after gemstones in the world due to their hardness, rarity and beauty.
At, TT Gems I saw alternative gemstones in blue, green and red colour which have gained popularity amongst gem collectors and modern designers over a period of time.
❤️𝐑𝐮𝐛𝐞𝐥𝐥𝐢𝐭𝐞 𝐓𝐨𝐮𝐫𝐦𝐚𝐥𝐢𝐧𝐞 :
Origin: Mozambique
Colour Range: Brownish pink to pinkish red
Price: Appx 75 USD/ct -900 USD/ct
💙𝐓𝐚𝐧𝐳𝐚𝐧𝐢𝐭𝐞:
Origin: Tanzania
Colour Range: Purplish to royal blue
Price: Appx 125 USD/ct – 450 USD/ct
💚𝐏𝐞𝐫𝐢𝐝𝐨𝐭:
Origin: Burma
Colour Range: Grass green to the intense olive green
Price: Appx 50 USD/ct – 800 USD/ct

Mamraj Musaddilal are renowned for creating divine timeless jewellery pieces of the magnificent Victorian era. A great example is this exquisite wearable art crafted with antique uncut diamonds, diamonds and emeralds.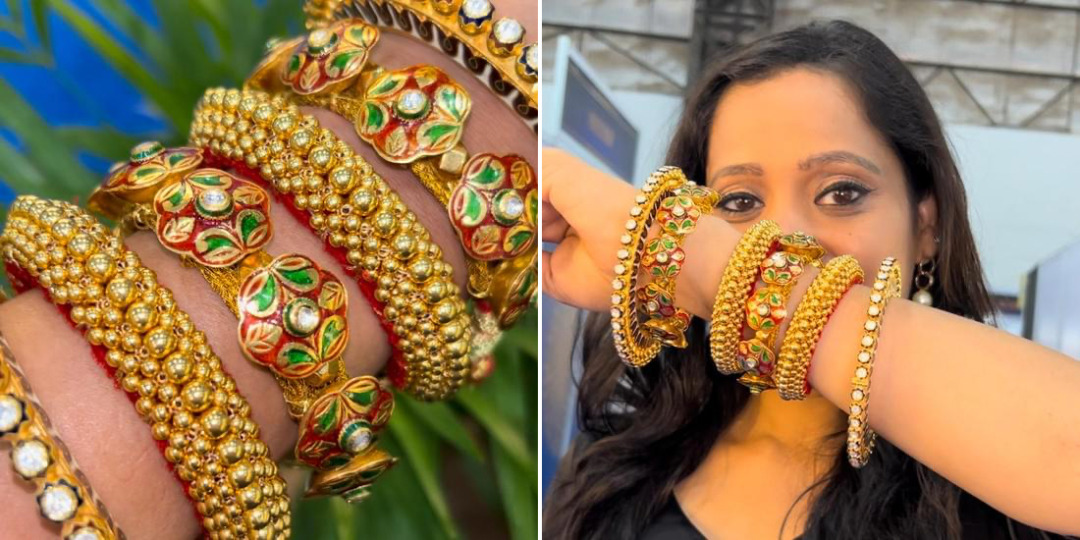 Bangles are more than accessories for Indian women. According to Indian culture, they bring an abundance of good health, luck and prosperity to the wearer. I discovered these exquisite bangles handcrafted by Ruchita Jewels. Aren't they beautiful? They look even more beautiful in arms! Do you agree?
I had the most memorable days at the GJS Show and I look forward to the 4th edition.