The Silicon Valley of India, BENGALURU hosted the first edition of IIJS Tritiya; the most coveted gem and jewellery show from 17th -20th March 2023; just a month before Akshaya Tritiya, the auspicious gold jewellery-buying festival, and it was my privilege to be a part of the show.

IIJS Tritiya was a platform to connect with 800+ jewellery exhibitors in India and discuss business opportunities.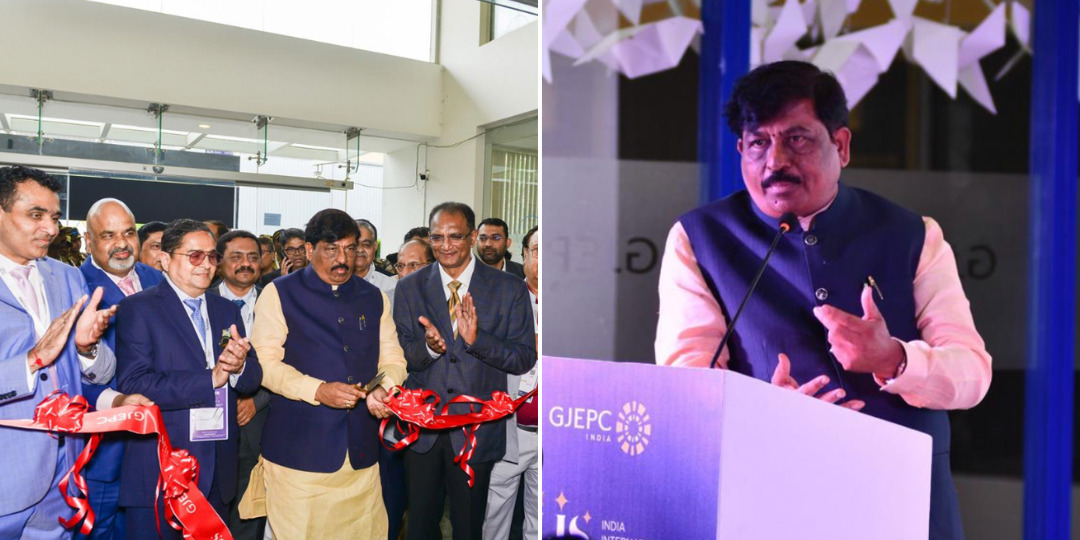 The inauguration of IIJS Tritiya 2023 was graced by Dr. Murugesh R. Nirani, Minister for Large and Medium Industries, Government of Karnataka (Chief Guest); and Shri T. S. Kalyanaraman, Managing Director of Kalyan Jewellers (Guest of Honour); along with Shri Vipul Shah, Chairman, GJEPC; Shri Kirit Bhansali, Vice Chairman, GJEPC; Shri R. Arulanandan, Director of the Department of Commerce; Shri Suresh Kumar Ganna, President, Jewellers Association Bengaluru; Shri Nirav Bhansali, Convener, National Exhibitions, GJEPC; Shri Sabyasachi Ray, ED, GJEPC along with others.
GJEPC and Jewellers Association Bengaluru (JAB) also signed a MoU during the inauguration with the objective of working towards the enhancement and development of jewellery manufacturing and trade in Karnataka.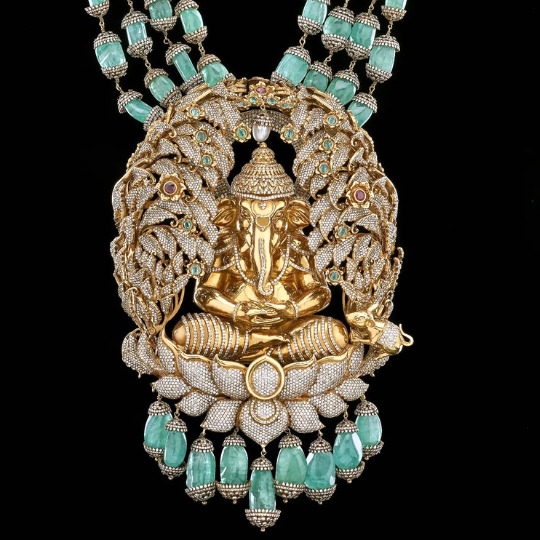 India's leading wedding jewellers, Shiv Narayan Jewellers; well-known for designing wedding collections for diverse communities across India launched their new collection at the IIJS Tritiya.
The gold Ganesha pendant embellished with rubies and emeralds gets into the Guinness book of records for being the heaviest weighing 1105.15 grams and for the most number of diamonds totalling 11472 set in a pendant. It took Shiv Narayan Jewellers, Hyderabad, five months to craft the Ganesha necklace.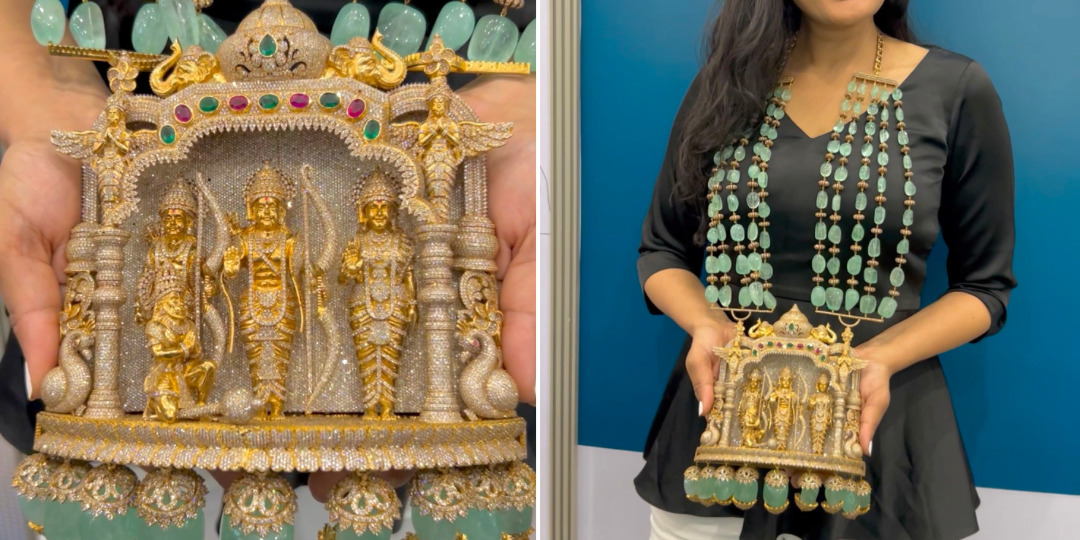 At the IIJS Tritiya Shiv Narayan Jewellers paid a tribute to Lord Rama by creating a pendant which showcased "Ram Parivar" in the front and an inscription of "Jai Shri Ram" at the back. This one-of-a-kind masterpiece is crafted with 70,000 natural diamonds, 2600 cts emeralds and weighs approximately 2 kgs. It took the expert team at Shiv Narayan Jewellers 8 months to handcraft and bring this work of art to life; and the good news is that the magnificent pendant is all set to make its way to Guinness World Records.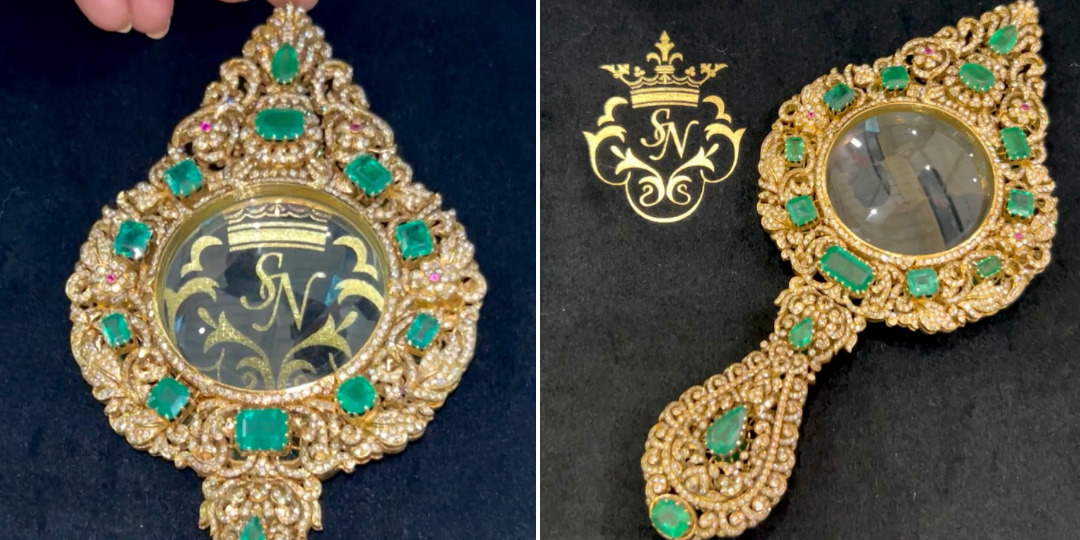 Besides discovering magnificent jewellery by Shiv Narayan Jewellers I also discovered an antique magnifying glass embellished with emeralds and diamonds.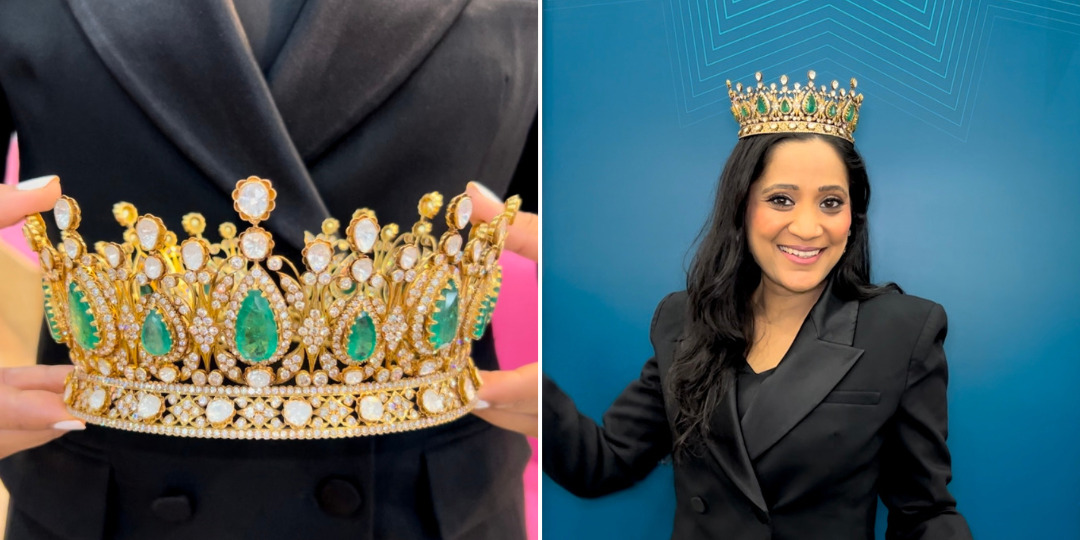 Setting my tiara and shining like a princess in this magnificent handcrafted wearable art inspired by the Victorian era; made in emeralds and diamonds.

A magnificent masterpiece with 428.40cts Golconda cut diamonds natural diamonds by
Shiv Narayan Jewellers!

Featured above are a few of the necklaces launched by Shiv Narayan Jewellers at the IIJS Tritiya Show.
I was absolutely humbled by the honour, love and respect.. showered by the entire Shiv Narayan Jewellers family. Thank you so much for appreciating my work and for making it a memorable day for me
Temple Jewellery is one of the most popular jewellery in South India, which showcases the various forms of Hindu Gods and Goddesses. This form of jewellery requires delicate, intricate and meticulous craftsmanship. And this is what SK Seth Jewellers delivers in spades. Established in 1962 by Mohanlal S Seth, SK Seth Jewellers are renowned for the finest compilation of handcrafted antique gold jewellery inspired by the glorious beauty of ethnic and temple jewellery that transcends time and generations.

It was a pleasure visiting Badalia Diamond Jewellers one of the biggest solitaire and natural diamond jewellers from India with a legacy of more than 65 years, they specialize in handcrafted solitaires, effulgent bridal & contemporary collections. If you are looking for the rarest and the most exclusive size of loose natural diamonds and jewellery you must visit Badalia Diamond Jewellers.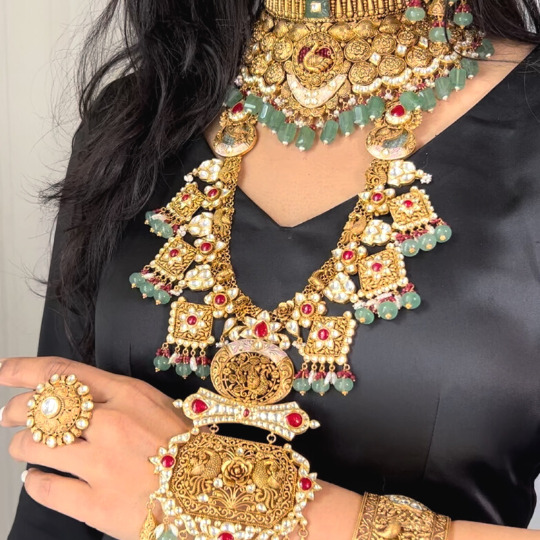 Sunil Jewellers, is known for incorporating the latest designs & patterns in jewellery ahead of the market trends. At the IIJS Tritiya, they launched their new fusion collection; a perfect amalgamation of intricate detailing of North and South Indian design sensibilities. In the necklace featured above we can see a harmony of gold temple jewellery, enamel detailing and gemstones. Each wearable art is brought to life by a team of skilled artisans under the supervision of Mr Sunil Agrawal and the next-generation Parv & Ishank Agrawal who are taking forward the legacy of fine jewellery craftsmanship with their innovative approach!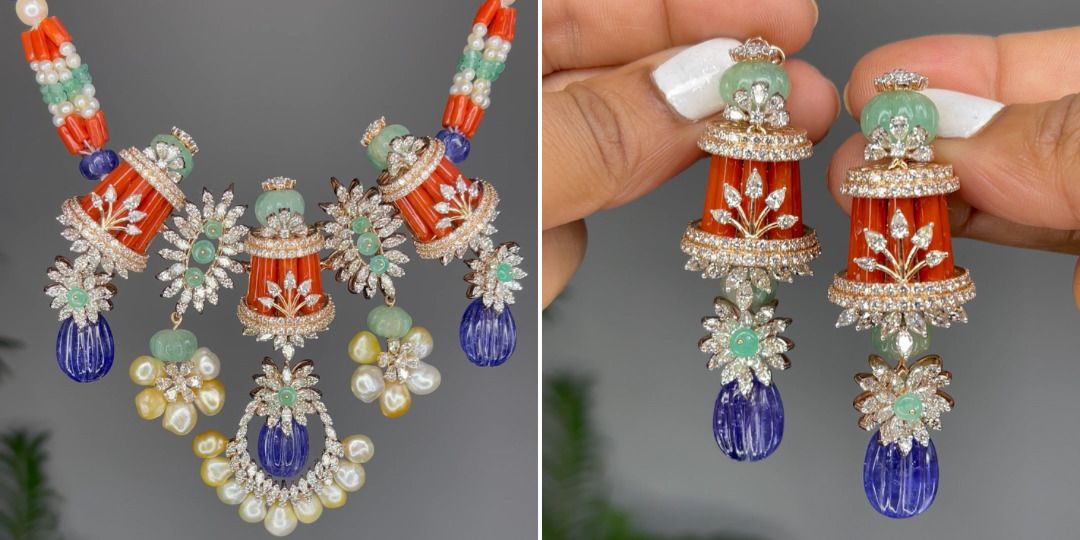 I experienced the world of fusion jewels with coloured gemstones at Heedario Gems and Jewels. The skilled team of artists at Heedario are renowned for handcrafting elegant jewels with intricate designs, and modern ombre colours for the modern woman.

Anand Ranawat part of Sanghvi Dhanrupji Devaji and Co. is the brainchild of the talented and creative couple, Anand and Manali Ranawat who have expertise in handcrafting statement fine jewels with ethically sourced gemstones. Featured above is one of their masterpieces made in the finest quality diamond and emeralds.
Piece-de resistant, isn't it?

Valentine Jewellers is one of the leading manufacturers, exporters and suppliers of gold Jewellery studded with precious gemstones and diamonds based out of Jaipur. The company was conceptualised and formed in 1995. At IIJS Tritiya they launched their exclusive polki and Jadau jewellery.
Here is a glimpse of my fabulous 3-day visit at IIJS Tritiya. IIJS is where business Happens!