Through the eyes of a Jewellery connoisseur five days of diamonds, gemstones and more!
Hongkong, the mecca of jewellery. This premier trading hub of the World hosts one of the Hongkong Jewellery & Gems Fair with key players from around the globe. The exhibition held in 12th September-18th September 2018, hosted a total of 3690 exhibitors from 57 countries two venues 'The Asia World-Expo for loose diamonds, gemstones and pearls; and Hong Kong Convention & Exhibition Center.
Day one kickstarted meeting A.A.Rachimiov the man behind the World renowned A.A. Rachmaninov Diamonds, a true fangirl moment. I was instantly enamoured by the large diamonds rocks at AARanchiminov, Pluzenick & Ajaria Gems. The coloured diamond collection at Novel Collection not only promised uniqueness but also great quality.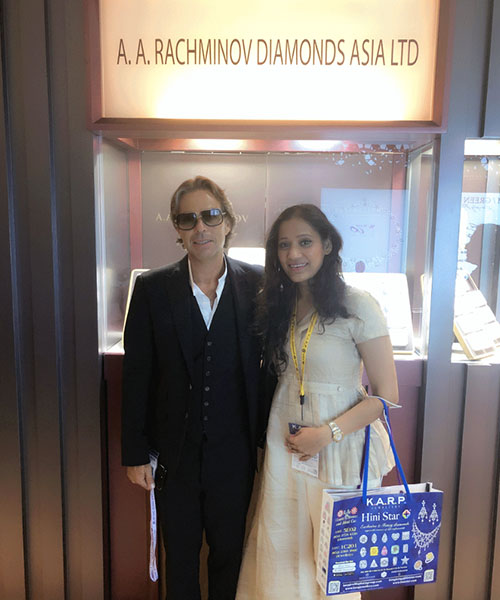 Unlike most other exhibitions, I was drawn to animal figurines crafted out of precious crystals and gemstones. Unusual, style statements and eye-catching – These pieces where truly one of a kind, by B.B. Gems.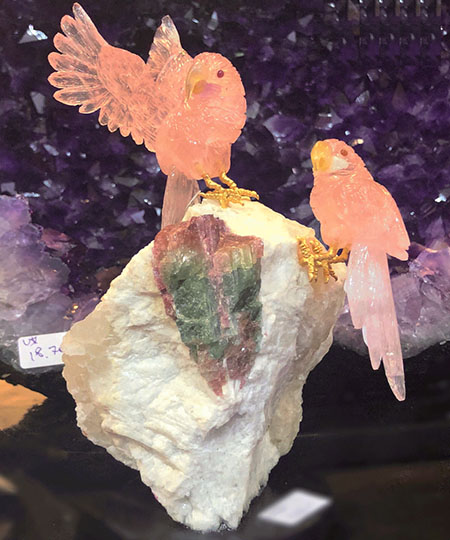 Moving to fine Jewellery – A wide variety of bracelets and cuffs by Sally arts, Auto pearls set themselves apart with creative designs, usage of gemstones and diamonds and craftsmanship. However, leading Italian manufacturer Roberto Demeglio showcased stretchable jewellery with the aim to make it more comfortable & wearable. The future of jewellery has surely arrived with stretchable jewellery.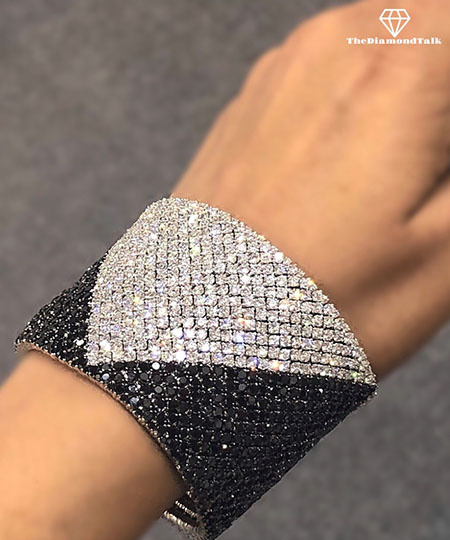 While I enjoyed my time at the fair, I deeply missed celebrating Ganesh Chaturthi back home and my sheer coincidence I chanced on the booth of Mario Buzzanca, an Italian pearls and fine jewellery designer.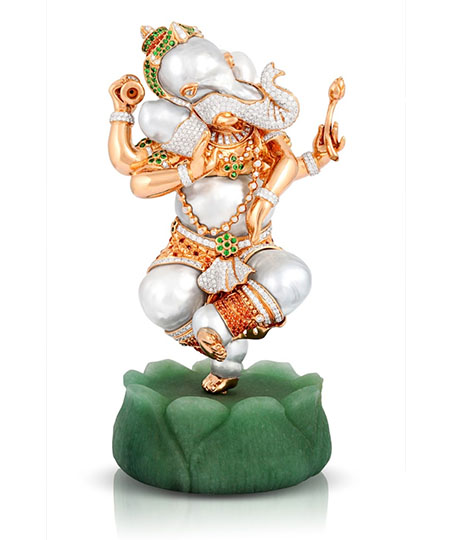 I was mesmerised to see an engraved, gold, south sea pearl figurine of Lord Ganesha. Yes, a dancing Lord Ganesh art object crafted keeping the finest details on Indian culture in mind. I also had the opportunity to interview the man himself and understand his fascination behind the same.
Lastly, The diamond necklaces by Hueb inspired by nature from its luminous collection with droplets and burst of diamonds, mirroring the beauty and fire within each of us, was truly one of a kind!!!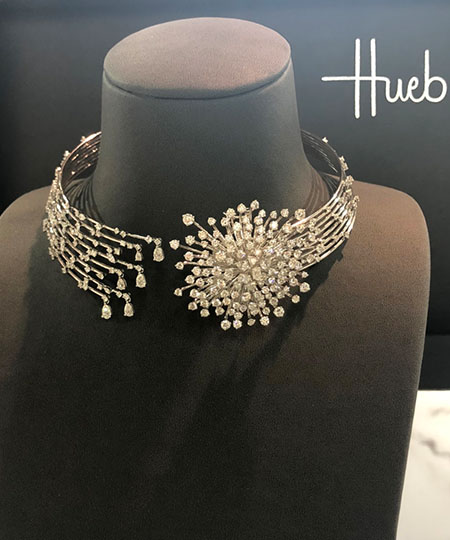 In the end, the five days at Hong Kong and Typhoon Mangkhut later the journey through a plethora of jewellers has been a whirlwind. Meeting top rated jewellers, manufactures, living breathing diamonds and gemstones and networking with the best of the industry this has left me inspired to keep pushing up & up!
I will be going back for the next fair to uncover some more precious pieces. Stay tuned for more!