It was an incredible opportunity and experience to be part of The Gem & Jewellery Export Promotion Council's (GJEPC) flagship trade show, the India International Jewellery Show (IIJS) Premiere 2021, from September 15 to 19, 2021 in Bengaluru at the Bangalore International Exhibition Centre (BIEC).
The show kick-started with complete precautions and covid protocols, with 1800 pre-registered visitors at IIJS Premiere; 300 international buyers, 1300 exhibitors and 2500 booths.
The Halls were divided into the following product category:
Hall 1: Machinery Section, Allied Section, Registration
Hall 2: Couture Jewellery
Hall 3: Gold Jewellery
Hall 4: Gold Jewellery & Diamond Coloured Stone Jewellery
Hall 5: Gold Jewellery, Diamond Coloured Stone Jewellery, Loose Stones, Laboratory & Education
The event showcased versatile jewellery crafted with the highest standards of design and finish. Allow me to take you through a few of my selections from the show.

My first visit was by Mumbai based Aqua Jewellers booth, in Hall 2 and it was a joy to discover their Lotus inspired pendant set from their "Madhuban" meaning "Celebrating Nature" collection. The pendant is crafted in Uncut Diamonds, Carved melons, Rose quartz and Bikaneri enamelling. The Fusion Style Polki pendant is a great work of art; handcrafted with great detailing.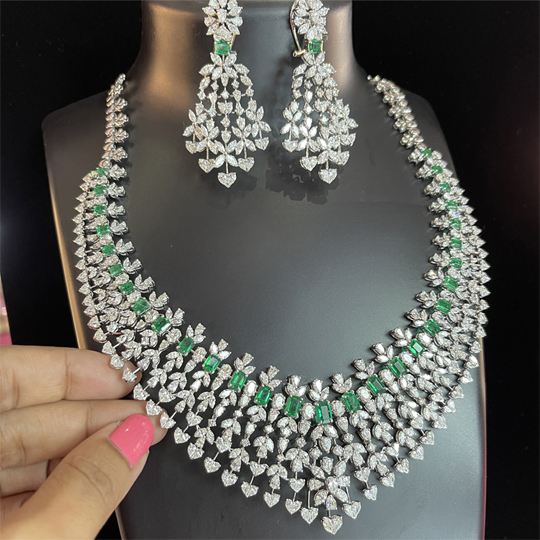 Natural Diamonds being one of my favourite gemstones; have always been a great source of inspiration; they remind me to be stronger, resilient and to keep shining bright. My search for Natural Diamond Jewellery drew me inside Kolkata based Divya Jewels booth and I was pleased to witness a wide range of innovative Diamond Jewellery crafted with modern sensibilities. Featured above is a magnificent necklace handcrafted with the finest quality of fancy shape natural diamonds
I spent my Day 2 in Hall 1, by the Craft Pavillion and Machinery Section.
The Crafts Pavilion, promoted by the Gem & Jewellery Skill Council of India (GJSCI) had teams of artisans from three different states demonstrating the skills that have been handed down over multiple generations. I witnessed the art of
1. Gubaabi Meenakari.
2. Thewa.
3. Chettinad Jewellery.
In my previously curated article History Of Antique Indian Jewellery, I have shared the procedure of the traditional Indian Art Forms. The link to the article https://thediamondtalk.in/history-of-antique-indian-jewellery/
At the Machinery section, I saw the advanced technology and the machines used in the Indian Jewellery Industry.
In the above video, I have shared the procedure of making machine bangles, recorded at the Eagle Industries booth.
1. The thick gold strip is put into the machine for resizing according to the width of the bangle design.
2. Then the resized strips are passed through the specific die, to achieve the required design.
3. This same procedure can be used to make bangles, hoops and rings.
I was completely in admiration of witnessing the advanced technology and machinery used in the Jewellery industry and my heart was only filled with gratitude for our artists, craftsmen and the entire support system who indeed Shine brighter than a Diamond!
On Day 3 of the show, I visited Emerald Jewel Industry Ltd to be a part of their Stay Ahead campaign launch; which aims to strive towards uniqueness and innovation in jewellery technology. The four collections launched are:

Image 1: Natya Collection depicts the rich culture and heritage of Indian dance forms curated using hand carving with modern technology.
Image 2: Simha Collection represents iconic styles of Gold jewellery for men. The Cuban chains and bracelets are the highlights of the collection.
Image 3: Millennial Gold represents contemporary gold designs to match the designs of modern millennials.
Image 4: Italian Chains collection is crafted using cutting edge Italian technology, giving a delicate and graceful European finish.
Which is your favourite collection? Let me know in the comments.
My Day 4 was well spent in Hall 4; admiring the Gold Jewellery & Diamond Coloured Stone Jewellery.

I visited Mumbai based SK Seth Jewellers and was enlightened by the radiating beauty of this exquisite Temple Jewellery necklace handcrafted with Goddess Laxmi carving in Nakshi art. The necklace embedded with pearls, ruby, emeralds is designed and curated by master craftsmen under the guidance of Mr Mohanlal Seth, who has made S K S a reputed B2B brand with his ethical practices and creative design concepts for 4 decades. Each jewellery piece, I witnessed at SK Seth Jewellers is truly out of the world.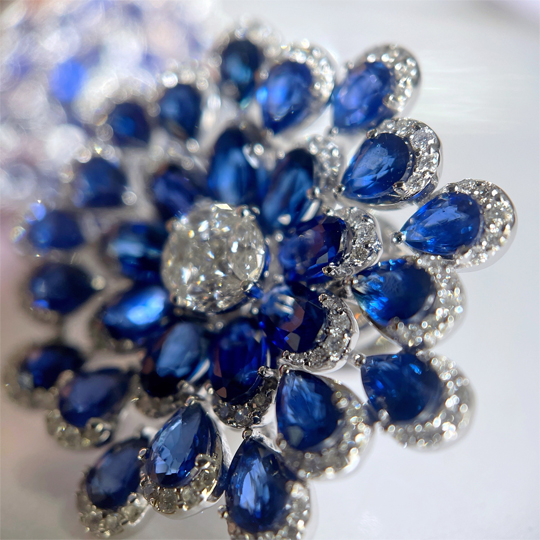 Another discovery in Hall 4 was by Savio Jewellery. I was enchanted to see these exclusive floral-inspired earrings crafted with the finest quality of Sapphire and Diamond
The expert team at Savio Jewellery ensure only charismatic gems feature in each of their creations adding an extraordinary level of splendour and charisma to your look.
I spent the last day of the show in Hall 5, admiring some natural diamonds and gemstones jewellery.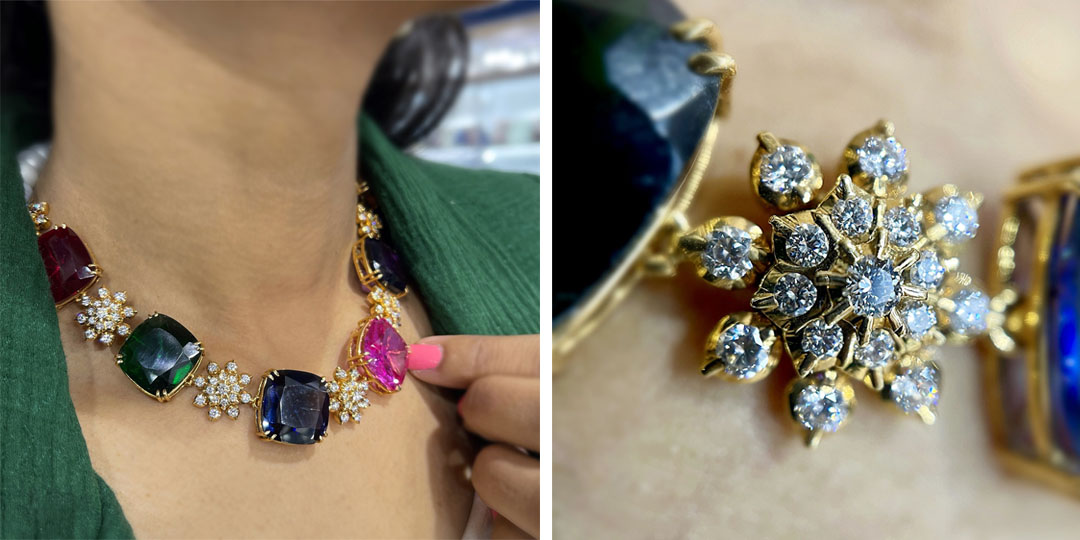 It was a pleasure to meet Karan Bothra, Creative Director of Whitefire Diamonds, a Diamantaire who's obsessed with Quality & is possibly the only one out here using The Finest Diamonds available in the world today. Featured above is a gorgeous colorful necklace crafted in the finest quality of gems.
And finally, It was a pleasure to visit the IIGJ Mumbai booth and admire the graduating project named GLIMPZ; crafted by the three-year degree students of IIGJ Mumbai.
This year's design theme was based on INDIA, the Enticing Land Of Wonders. India has a great history when it comes to its heritage and culture and is gifted with many arts, handicrafts and monuments. Seeking inspiration from the multiple Indian States the students had conceived, designed and manufactured their creative design in the following groups.
Group 1: Gujarat & Andhra Pradesh.
Group 2: Orissa & Himachal Pradesh.
Group 3: Kerala & New Delhi.
Group 4: Uttar Pradesh & Maharashtra.
Group 5: Rajasthan & Karnataka.
Group 6: Madhya Pradesh & Arunachal Pradesh.
It was exciting to see the emerging youth of the country excelling so high!!
This was a very brief run-through of my wonderful five days at the IIJS Show 2021. Thanking the committee members of GJEPC for putting up a fabulous 37th edition of the IIJS Show 2021 and ensuring everyone's safety! And let's pause and applaud the Real Gems of our Gems & Jewellery industry, our ARTIST and the ARTISANS who work passionately behind the scene in crafting the most exclusive work of art.