It was a pleasure attending Asia's largest B2B gems and jewellery exhibition; the India International Jewellery Show (IIJS) Premiere Show organised by GJEPC from August 4-8 at the Bombay Exhibition Center. The show serves as the primary platform for jewellery manufacturers to connect and network with retailers in the following category:
⦁ Jadau Polki Jewellery
⦁ Gold Jewellery
⦁ Diamond Jewellery
⦁ Fusion Jewellery
⦁ Gemstone Jewellery
⦁ Packaging and many more
Let me take you through a few of my discoveries from the show in each category.
Jadau Polki Jewellery:
Jadau jewellery has its origin in the Mughal era and these jewels were graciously adorned by the queens, princesses and members of the royal family.

Jaipur has been an epicentre of craft for centuries and its rich culture, magnificent palaces and forts have been a source of inspiration to world-famous designers. At Jewels Of Jaipur, I saw handcrafted jewels infused with modern sensibilities into the rich legacy & cultural glory of Jaipur and that were made to sparkle modern women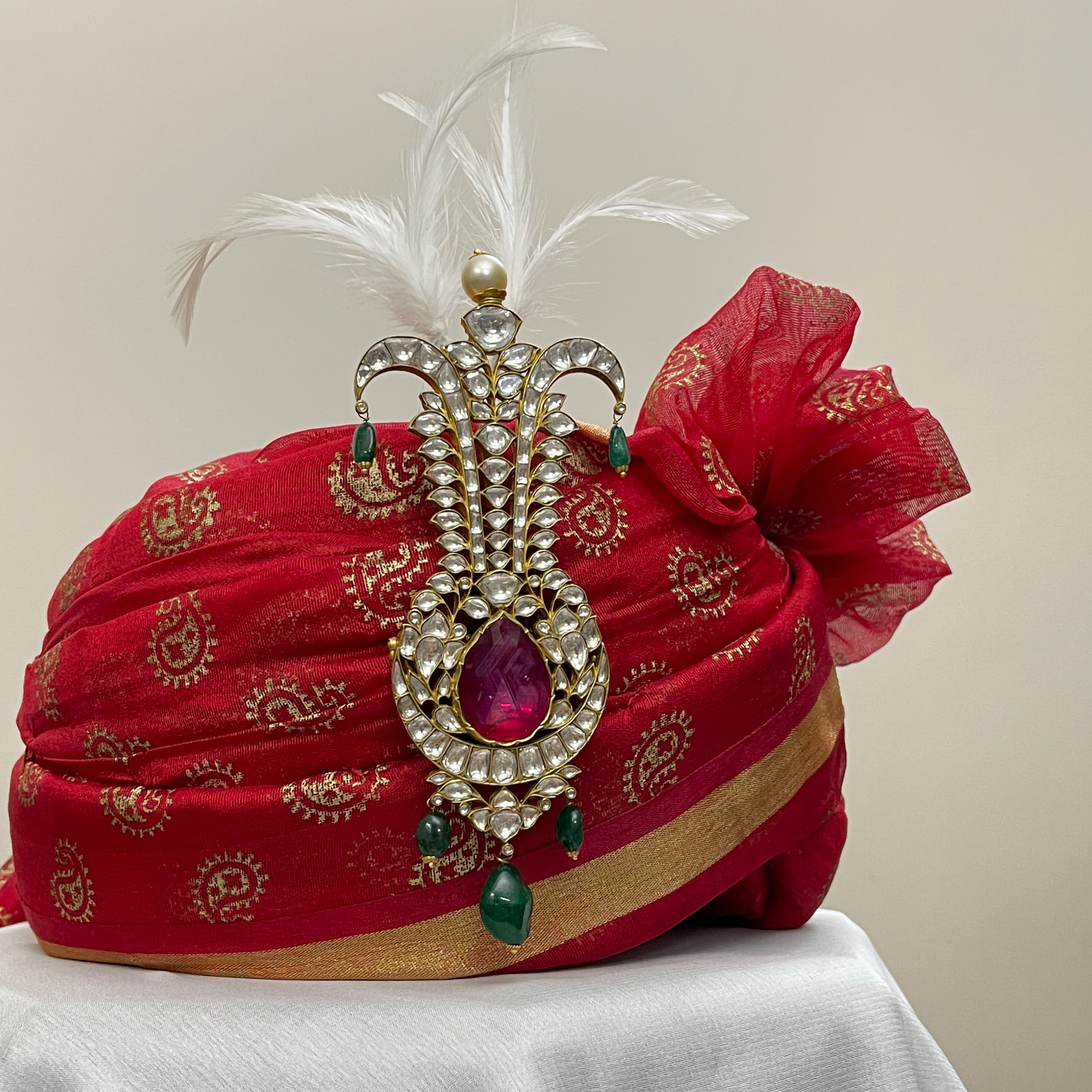 At Ghatiwala Jewellers; a name synonymous with crafting traditional jadau jewellery. I saw innovative jewelled ornaments crafted in Ghatiwala Atelier by skilled artisans with the finest quality and the best selection of gemstones making Ghatiwala one of the most trusted names for exceptional jadau jewellery! Featured above is the head ornament crafted with the best Jadau Jewellery.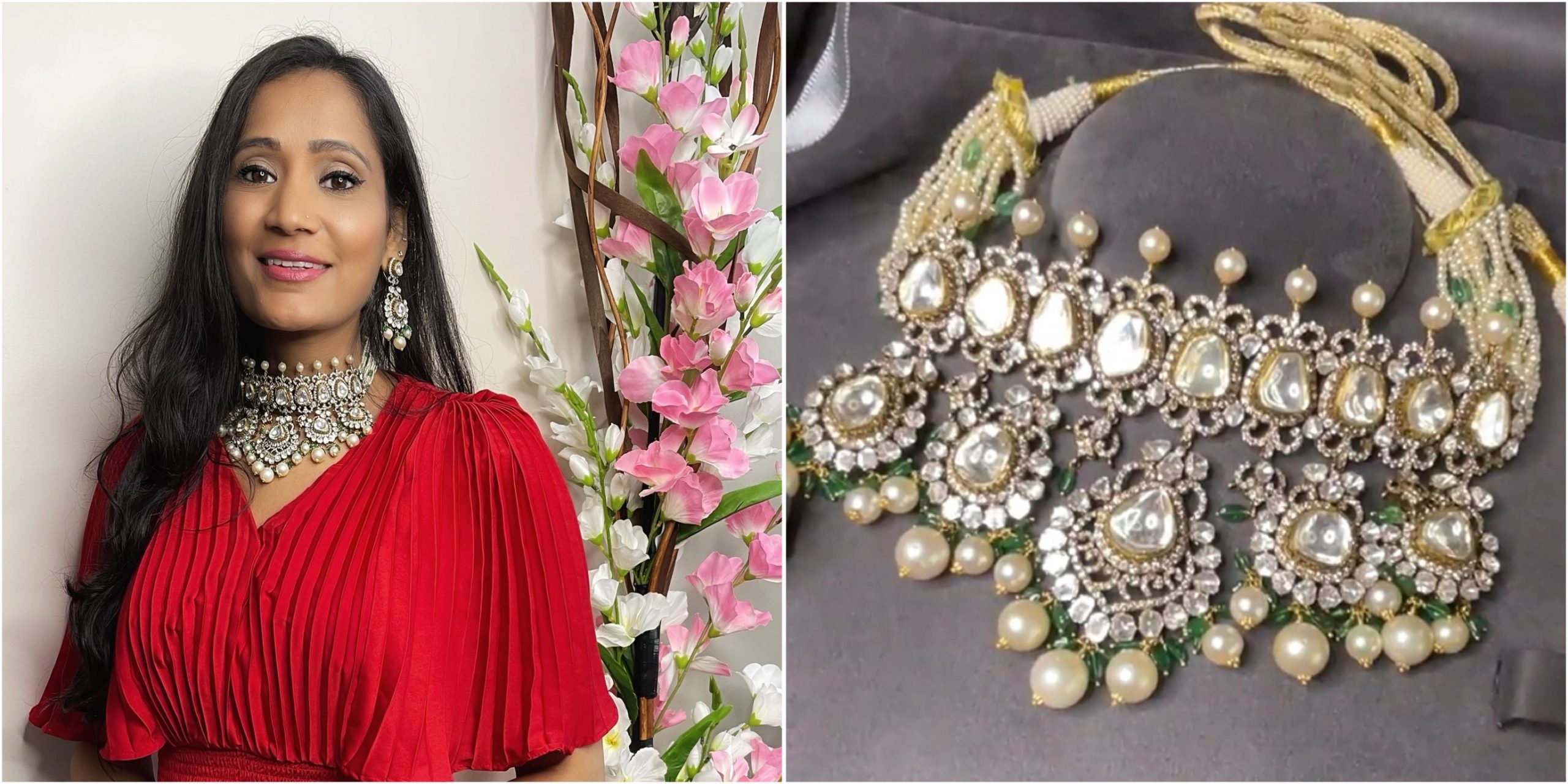 Another magnificent masterpiece that unveils modern elegance and sheer luxury from Ghatiwala Atelier is a grande choker necklace embellished with the finest gemstones and uncut diamonds.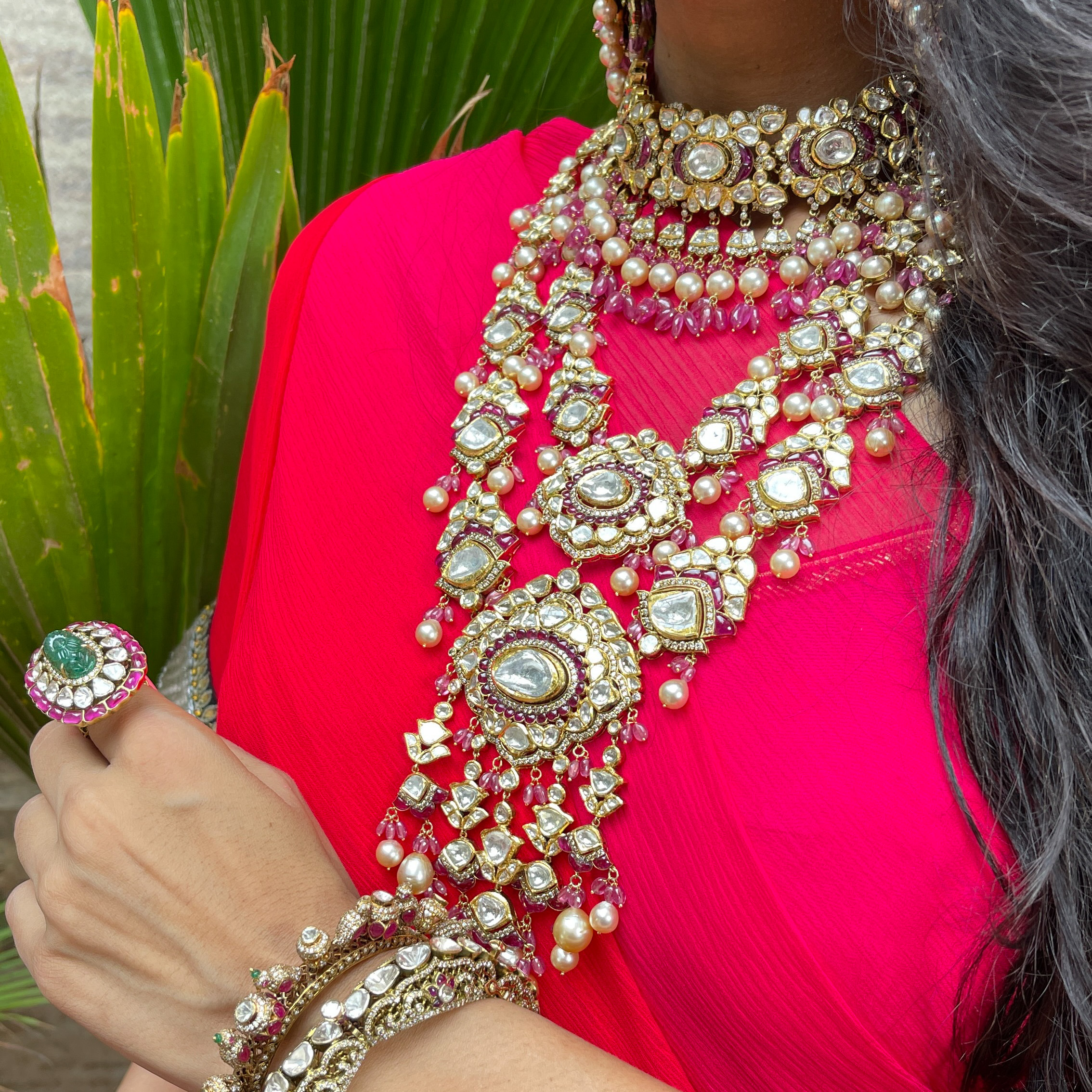 At Jewels of Rajputana, a family-run jewellery house from Jaipur. I was delighted to witness their contemporary Jadau Jewellery handcrafted by skilled artists of Jaipur with the finest gemstones in a harmony of traditional and trend-setting designs!
Gold Jewellery:
Gold is the symbol of the Hindu goddess Lakshmi, the goddess of wealth, fortune and prosperity, and features prominently in religious ceremonies and weddings of all prominent Indian faiths. There is no Indian occasion that is celebrated without Gold Jewellery.

One of the premium jewellery connoisseurs I visited at the IIJS Premiere Show is S K Seth Jewellers who are renowned for crafting jewellery inspired by the resplendent beauty of ethnic and temple jewellery. The family-run company creates the finest compilation of ardently handcrafted antique gold jewellery that transcend time and generations under the guidance of Mr Mohanlal Seth, who has made S K Seth a reputed B2B brand with their ethical practices and creative design concepts for 4 decades. It was a pleasure celebrating the 50th Golden year of the company with the family members.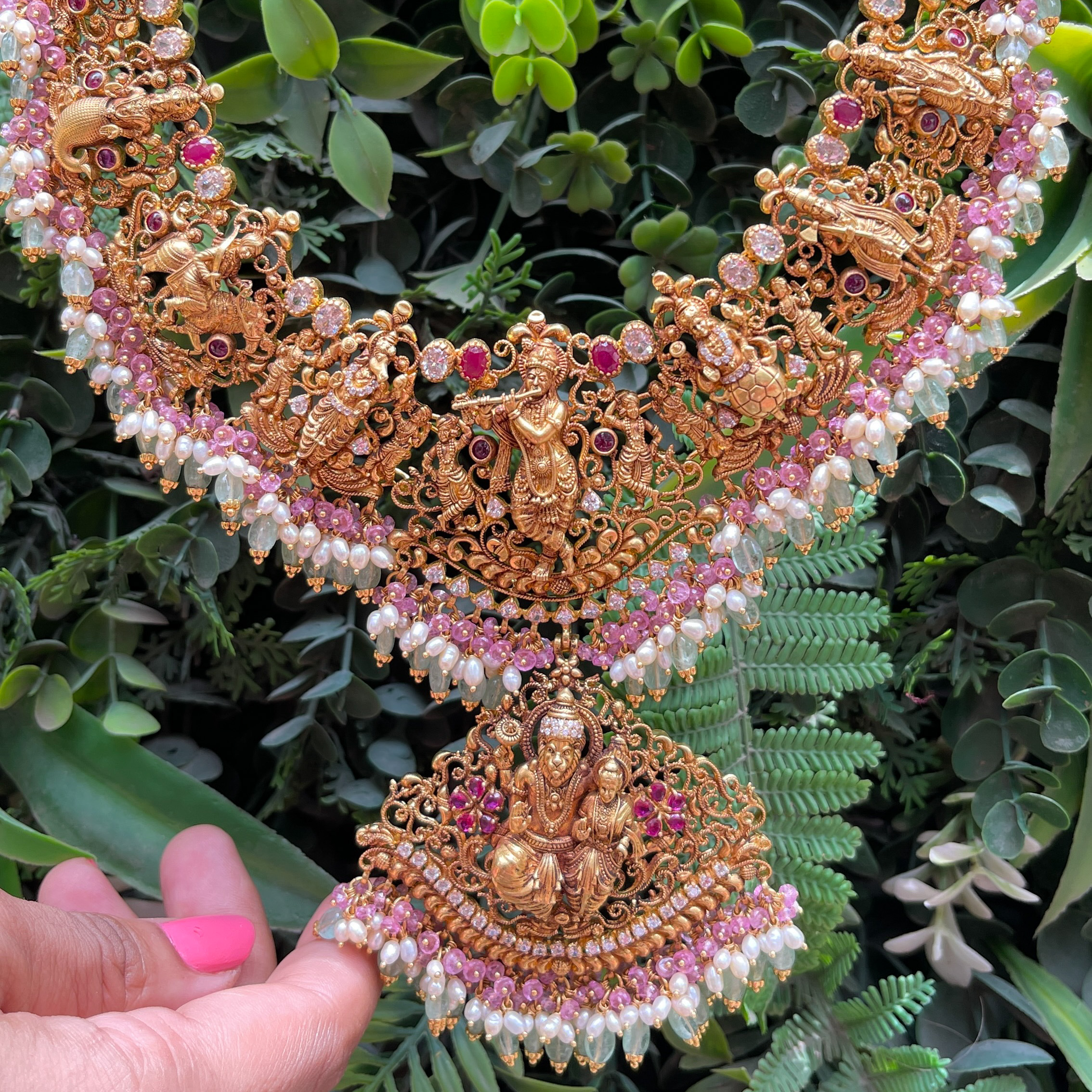 A most popular example of Gold Jewellery is Temple Jewellery which is designed in various forms of Gods and Goddesses. Each step involved, in the making of these jewellery pieces, is very delicate, intense and meticulous.
Mr Deepak Mohanlal Seth of S K Seth shared the basic procedure of handcrafting Temple Jewellery with me:
⦁ The outline sketch of the design is first drawn on paper, then pasted and sketched on the gold sheet.
⦁ The gold sheet is hammered and embossed from the back of the metal.
⦁ The embossed piece is filled with heated natural resin wax for the carving of the design to come to life.
⦁ The backside of the piece is closed with a gold sheet; followed by cleaning and polishing.
Diamond Jewellery:
The journey of a natural diamond from the mine to the manufacturer until they make its way to the jewellery store is unique and fascinating. These natural Diamonds inspire us to keep shining bright and rise against every situation. Let me take you through a few of the Natural Diamond Jewellery I discovered at the IIJS Premiere Show.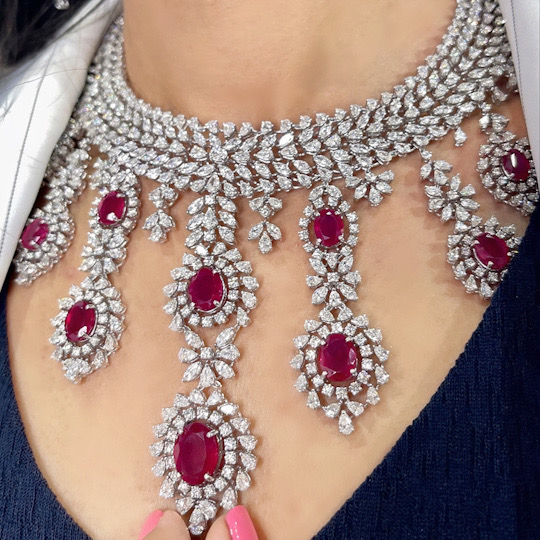 I would like to introduce "B. C. Jain Jewellers ~ A Vivek Jain Enterprise" one of the most entrusted and desired brands from Kolkata, who have been in the jewellery industry for three generations.
The expert team at B. C. Jain Jewellers (Vivek) Pvt. Ltd. strives to make innovative and contemporary designs with attention to detail and each product is checked for quality in multiple layers for design, durability and finishing. They specialise in handcrafted Diamond Jewellery, Polki-Jadau Jewellery and Gold Jewellery.

My next recommendation in the Diamond Jewellery category is Badalia Diamond Jewellers, who are the biggest solitaire and natural diamond jewellery brand in India. With a legacy of more than 65 years, they specialize in handcrafted solitaires, effulgent bridal & contemporary collections and also provide a timeless and precious range of jewellery.

Jatin Gems had an incredible collection of Victorian Jewelry collections. Featured above are exclusive jewels by Jatin Gems; whose beauty and craftsmanship are a sight to behold! Don't you agree?
Gemstone Jewellery
Coloured gemstones add a unique appeal and charm to the simplest of outfits and are a beautiful amalgamation of traditional and modern design sensibilities.

I would like to introduce The Leo Jewels; renowned for crafting diamond and gemstone jewels. Shagun Shah, of The Leo Jewels, makes sure every piece is crafted with attention to detailing and exudes elegance.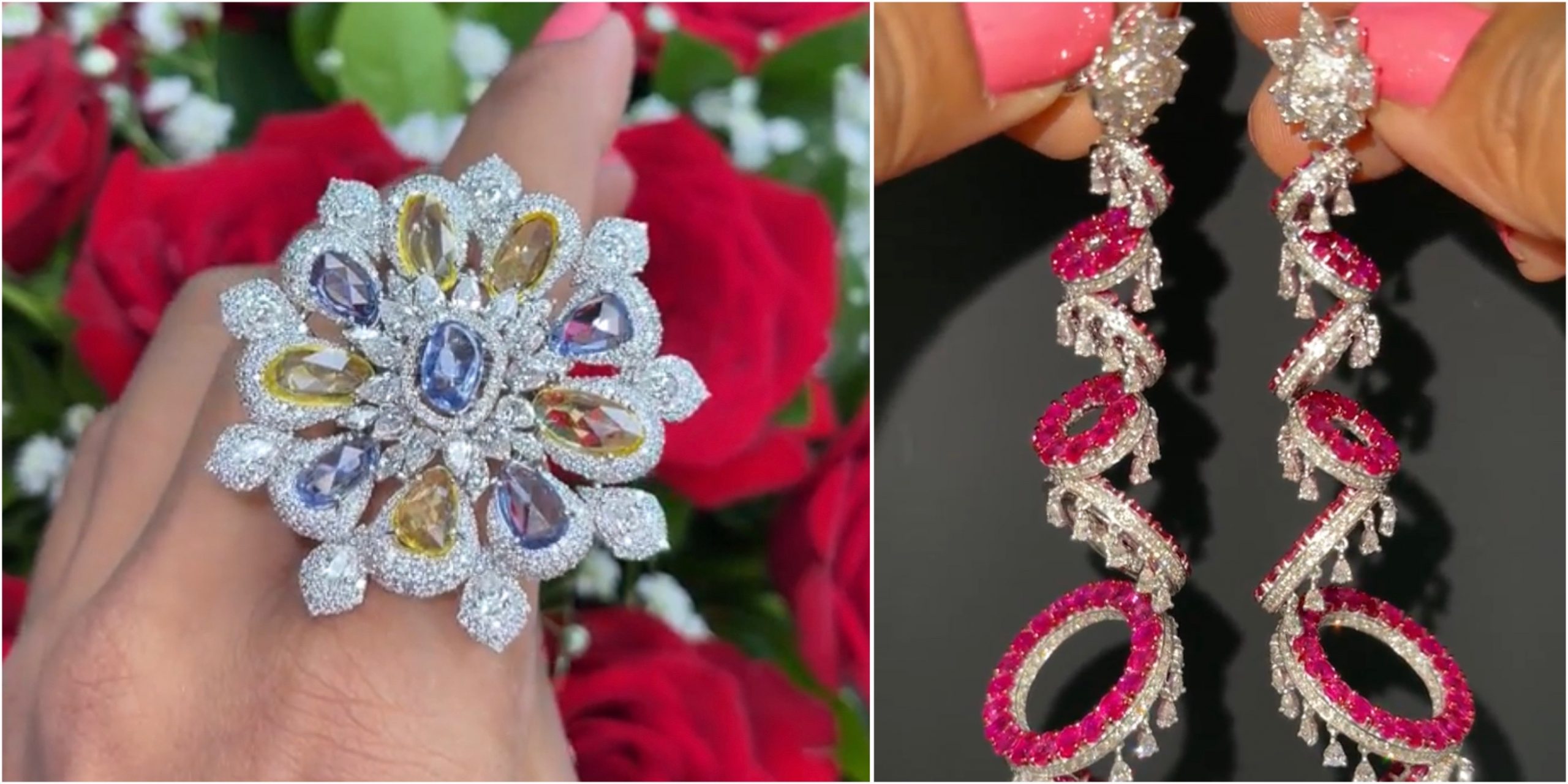 It was a pleasure meeting the creative team of Diviano during the IIJS Premiere Show. Yash Hirawat of Diviani shared about his two-decade-old family-run business and showed me innovative and modern fine jewellery embellished with the best gemstones. My pick from Diviano is a pair of chandelier earrings made with the finest quality ruby and diamonds. What makes the earring special is that the vibrant colour of ruby and the radiance of diamonds can be seen from all angles! Another pick is a multi-colour sapphire rings

When you talk about Jaipur's artisans and jewellers immediately their skills in creating exclusive jewellery with precious stones come to mind. Featured above is a statement necklace embellished in fancy cut diamonds, along with ruby beads, that will compliment your Indian as well as western attire by Diviano.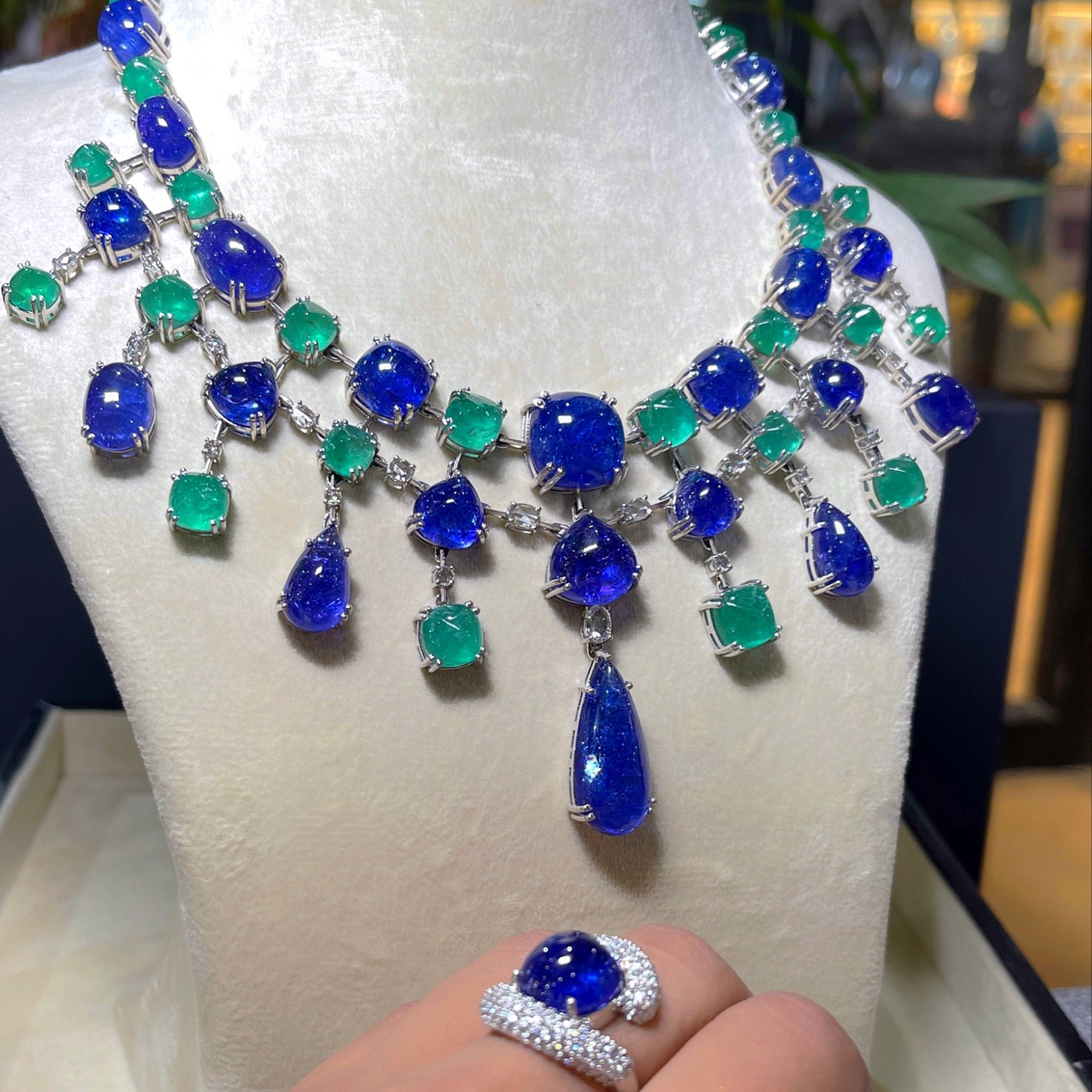 One of my favourite jewellery houses that handcrafts jewels from responsibly sourced gemstone and are synonymous with luxury and refinement is Gem Gallery. The family-run business house is built upon artistic excellence, superb craftsmanship, trust and friendships and is known for creating exclusive jewellery collections ranging from boutique items to object d'art and magnificent Haute joaillerie masterpieces. Over the years Gem Gallery has penetrated continents across the world while retaining its eminent position as jewellers to those that appreciate the finest standards of dazzling craftsmanship.
Fusion Jewellery:
Fusion Jewellery is an amalgamation of Indian and western jewellery design sensibilities.
In this form of jewellery; traditional Indian craftsmanship techniques are used along with modern coloured gemstones and contemporary innovative and modern designs.
House of Sparsh is known for curating innovative and well-crafted jewellery using the finest gemstones for the millennial

Headed by creative duo Suken and Hema Shah the skilled team handcrafts authentic works of art with diversified inspiration from the world's flora and fauna.
After the great success of their last collection, they have come up with a sequel 'Herencia Recreando' at the IIJS Premiere Show. The collection incorporates chokers, bangles, statement necklaces, cocktail rings and eye-capturing jhoomki's (earrings). The pieces are focused on a symmetrical spectrum influenced by middle-east countries.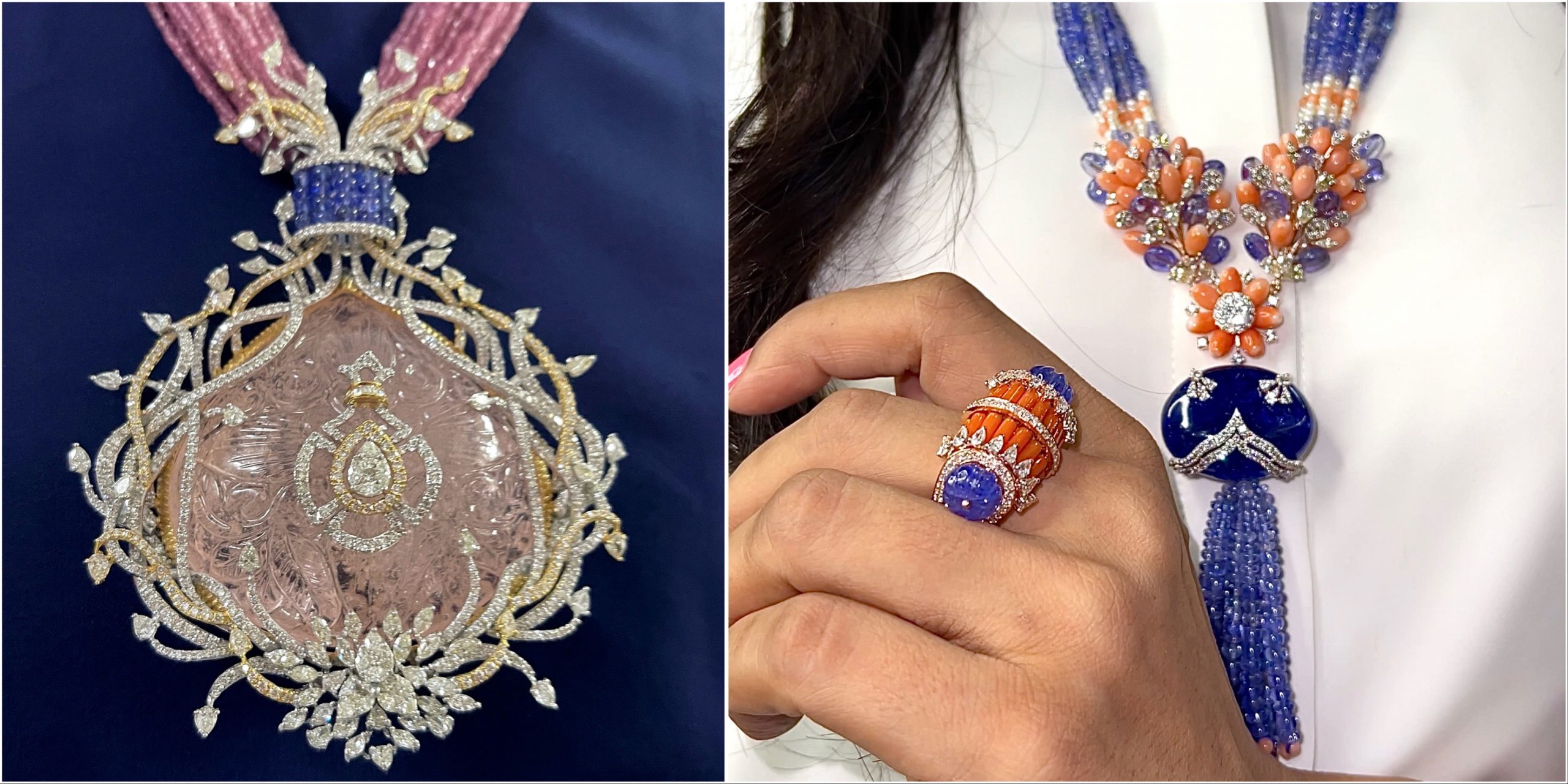 Heedario Gems and Jewels is renowned for creating fusion jewellery with colour stones and diamonds. The next generation, Hitesh K Jain is carrying forward the 37-year family legacy and handcrafting elegant jewels with intricate designs, modern ombre colours and patterns; for the modern woman
Packaging:
Jewellery display and packaging play a very important role in building a unique image of the brand and making the product stand out.
Video credit: The Diamond Talk
At The Bombay Display Company I saw multiple store display themes; and branding requirements that can be custom-made for a luxury Jewellery boutique, a stand-alone store or a Corporate chain. They also have exclusive boxes; packaging materials and a huge range of fabrics that will make your product stand out.
It was an incredible experience being at Asia's largest gem & jewellery show, and I look forward to the next edition of the IIJS Premiere Show 2023!