JCK Las Vegas is the leading jewellery event in North America open to all jewellery professionals. Each year, the industry gathers awe-inspiring domestic and international designers, showcasing their most sought after trends and designfs!
I too started preparing myself for the most-awaited jewellery show! My happiness was beyond joy, as I was granted a Press Badge to cover the event on my social media handle!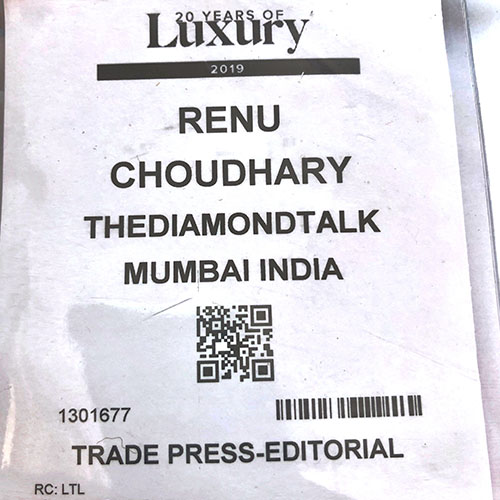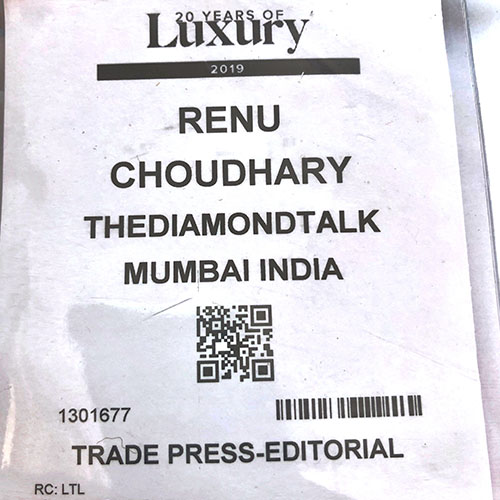 Day 1 began with great enthusiasm, I attended JCK's opening breakfast with the president of the Republic of Botswana, His Excellency Dr Mokgweetsi Eric Keabetswe Masisi.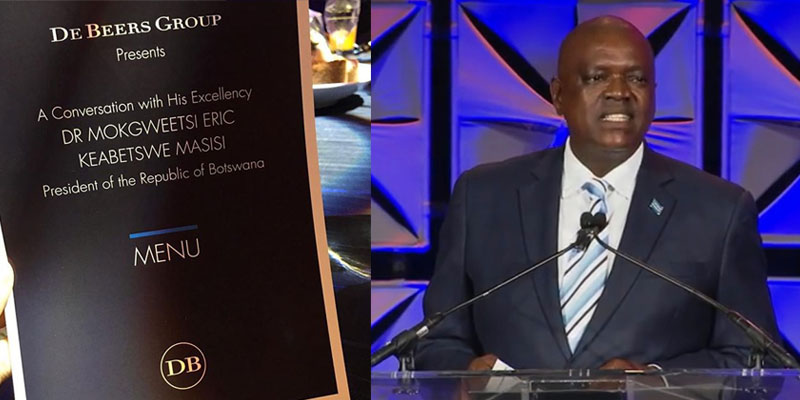 I have been a great admirer of the De Beers group, each of their diamonds is Beautiful, Rare and Responsibly Sourced. It was undoubtedly an excellent opportunity to meet the president of the Republic of Botswana, His Excellency Dr Mokgweetsi Eric Keabetswe Masisi.
President Masisi expressed what the diamond industry has done for his country, transforming one of the world's poorest nations into an upper-middle-income country.
Diamonds represent one-third of the country's gross domestic product, and the proceeds from the country's 50-year partnership with De Beers has been invested into updated infrastructure, schools, roads and hospitals.
It was indeed a very great session and after a power-packed breakfast, I was ready to explore the Gems and Jewels at JCK !!
My first Stop at the JCK Luxury was Le Vian, a family-owned jewellery company with a long history, dating from the 15th century, where I had the opportunity to not only see their magnificent fine jewellery through unique combinations of diamonds, gems and gold but also chatted with CEO Eddie LeVian, and his son Mr.Jonathon Le Vian.
It was a delight to see these gorgeous Neapolitan Opals rings.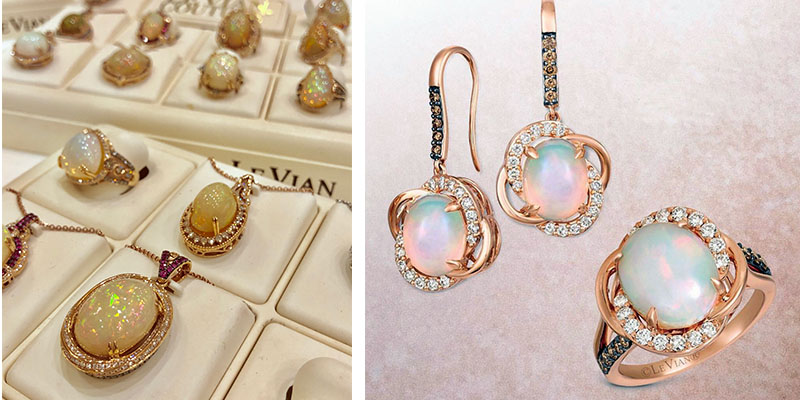 I discovered the newest gemstones on earth, Le Vian Peacock Aquaprase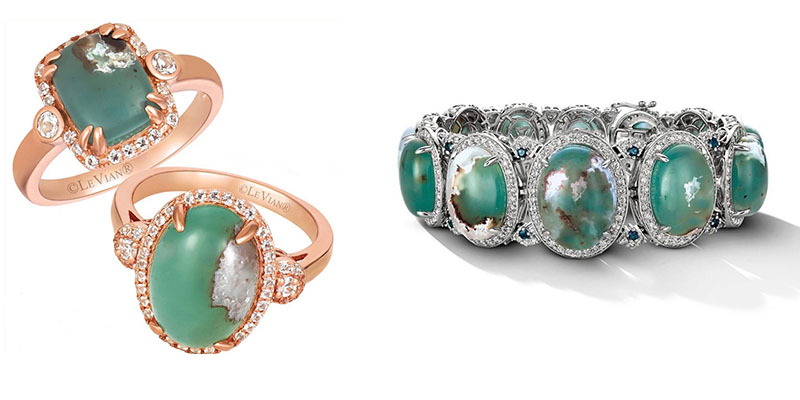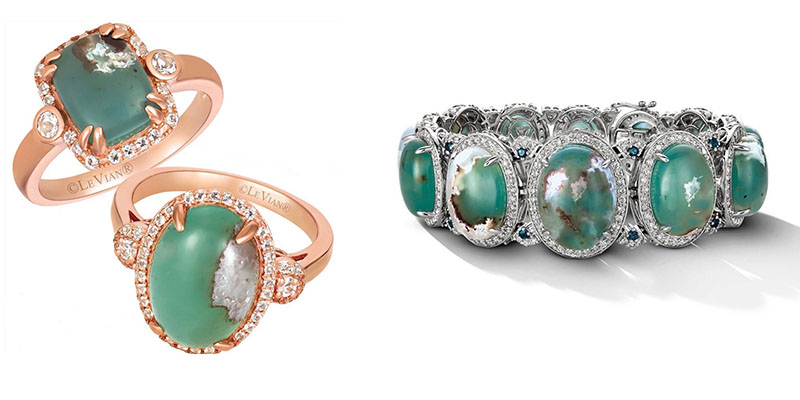 I moved to the next discovery of the day at the JCK Luxury at Pluczenik. I was happy to see a Forevermark gorgeous necklace with the 16cts centrepiece, made to perfection.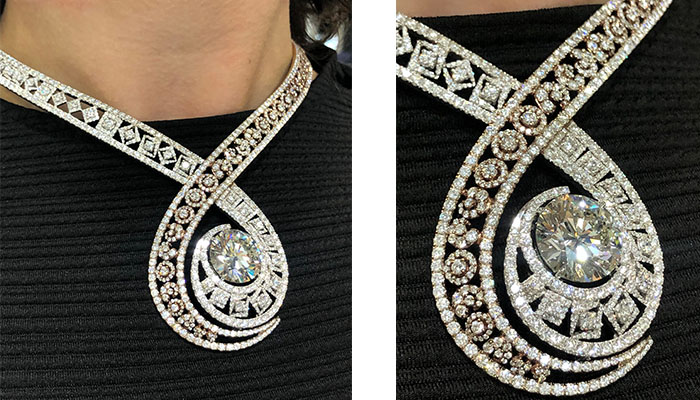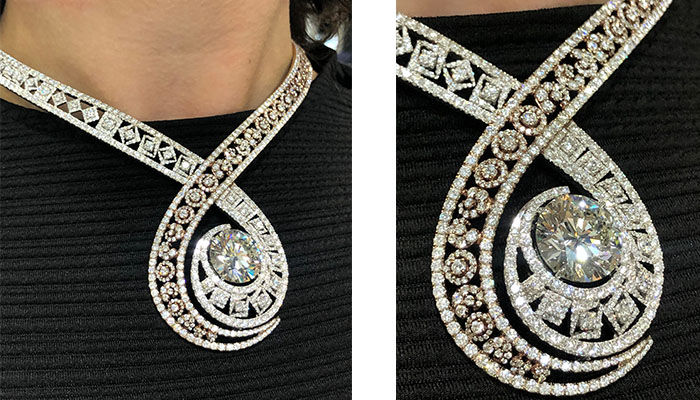 After an enriching day one, I was ready and all set to explore some trend-setting styles on Day 2: The Top Trends at the JCk show were :
Stacked Rings: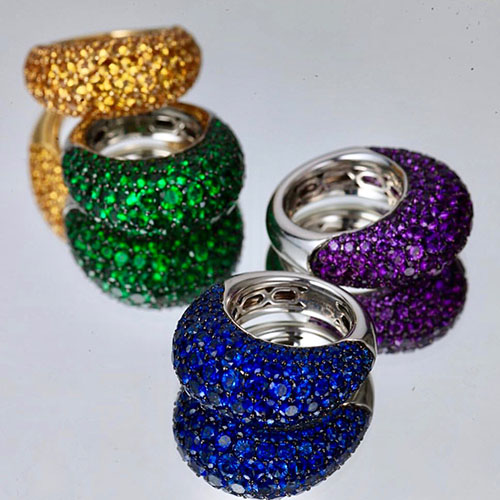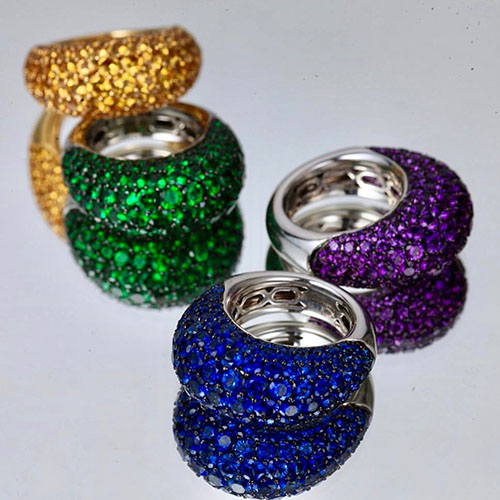 Emerald, amethyst, sapphire—the Three Musketeers of the gemstone world—are classic store staples, unrivalled when it comes to showcasing vibrant jewel tones, discovered these stack of gemstone rings by Andreoli, an American purveyor of Haute joaillerie with proud Italian heritage. Flaunt them by stacking them up to add oomph to your white outfit!
Alternate Engagement Rings
Beautifully detailed wide bands are a distinctive choice for those who wish to forgo the traditional centre diamond. A rose cut diamond ring, a gemstone ring, a ring stack, or a ring featuring a cluster of diamonds instead of single centre stone, give a nod to tradition while ensuring your ring stands out. It was a pleasure to visit Tacori Salon and discover Alternative Engagement rings along with their Tacori signature rings. All Tacori pieces are handcrafted with extraordinary care by our artisans in California.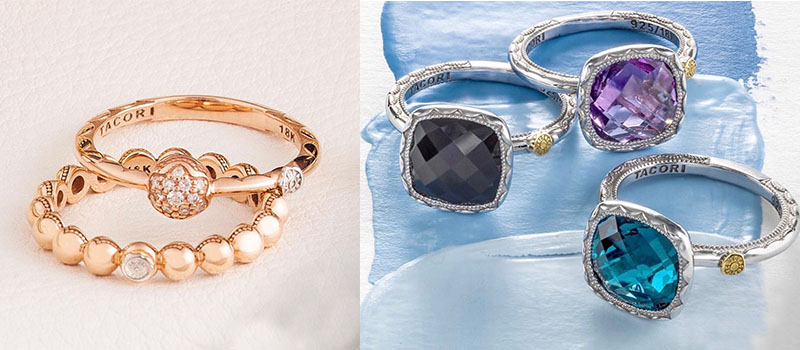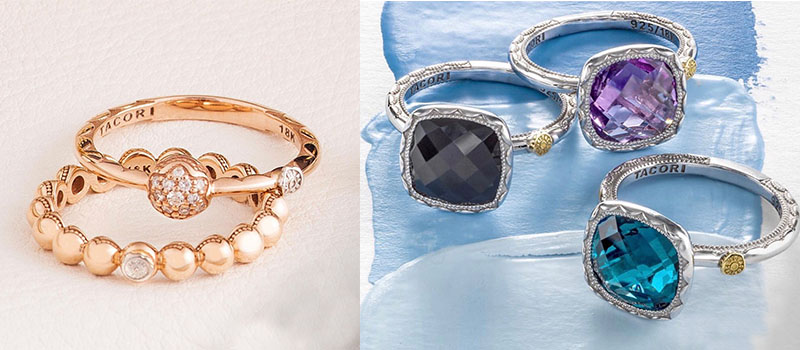 Heart-themed jewels
Heart a universal symbol. It conveys the eternal message of caring, friendship and togetherness. Heart-themed jewellery, especially pendants, have gained wide popularity over a period of time. I had my heart on this gorgeous heart themed pendant made with Fancy Canary yellow diamonds, by the House Of Baguettes, NY.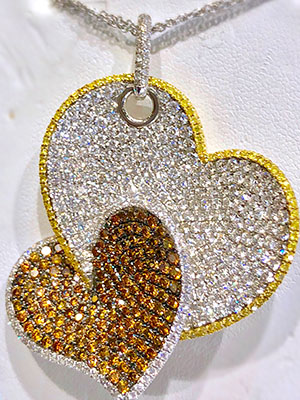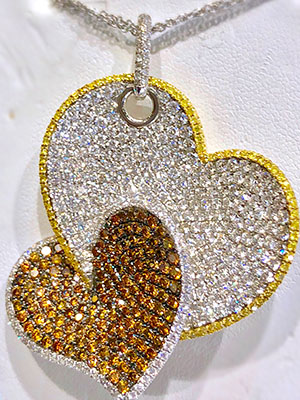 After a great Day 2, I was looking forward to another beautiful day in Las Vegas. Gemstones were big news at JCK Las Vegas and Luxury this year. It's always interesting to see colourful jewellery. Pastel-shaded gemstones like aquamarine, morganite, lighter shades of amethyst, peridot, and citrine—even paler emeralds and rubies, sapphires are so in demand.
I instantly fell in love with heart shape Paraiba Tourmaline by Evan Caplan, booth.
Paraiba Tourmaline is not only rare but comes in various colors including neon blue, neon blue-green, commonly found in the classic country of Brazil.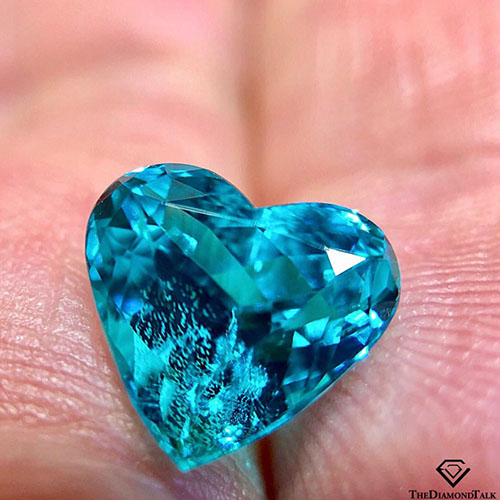 While exploring some gemstones I discovered, a beautiful gift from nature, in the form of Black Opals rough straight from the mine by Broken River Mining booth, who are home to the world's highest quality precious opal.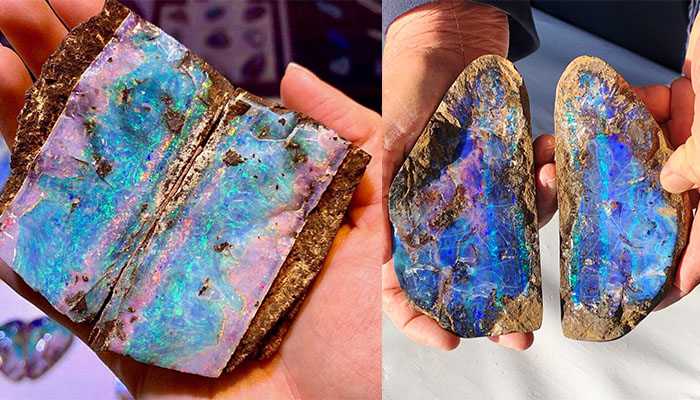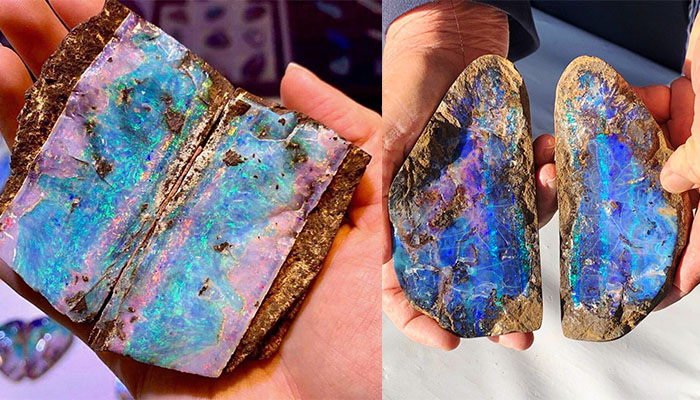 My other discovery was a rough of Dioptase Tsumeb by Evan Caplan booth, who is a collector of rare and fine gemstones. Dioptase Tsumeb is a super fine rare mineral specimen, an intense emerald-green to bluish-green copper cyclosilicate mineral, it is transparent and often highly sought after by collectors and suitable for private collection or museums.
The mineral used to be available many years ago but are very rare now as the mines have played out.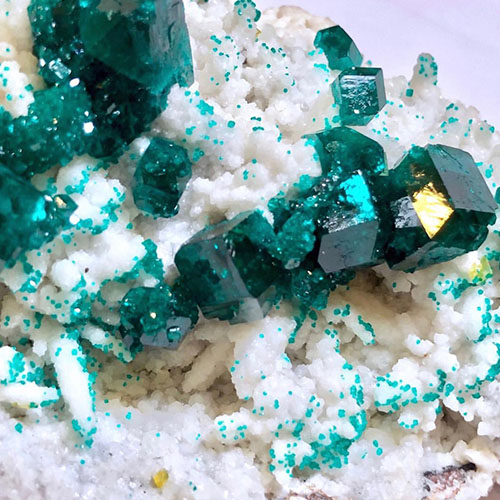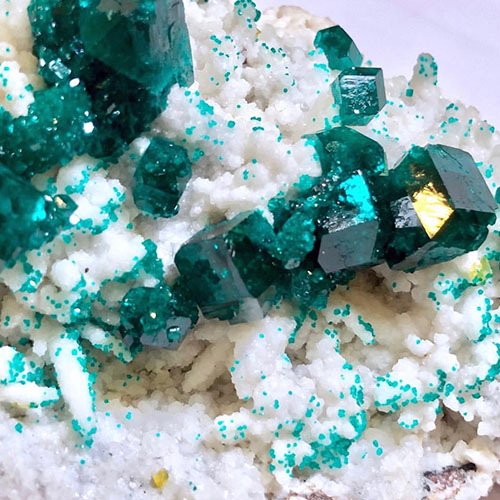 JCK indeed was a great experience, it was educative and interesting to interact with different people from the industry and to try on beautiful jewels.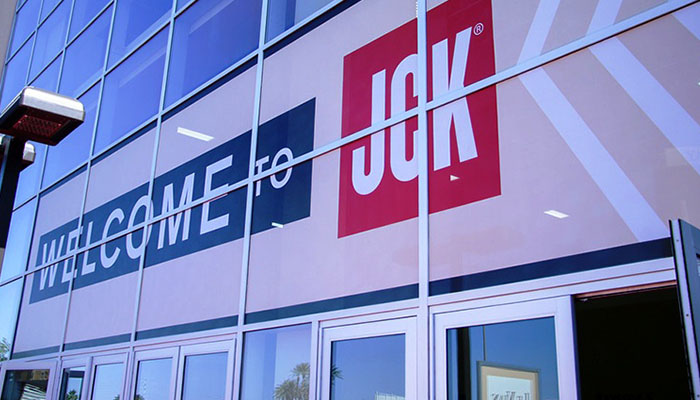 What's stuck with me is how warm and welcoming people were, how excited they were to share their knowledge with me.
I feel grateful to work in an exciting and fun industry that has the capacity to do so much good for so many people and I look forward to seeing you all again soon.