The Jaipur Jewellery Show (JJS) had a new addition "Jaipur Jewellery Design Festival (JJDF)", which is an integrated part of the JJS.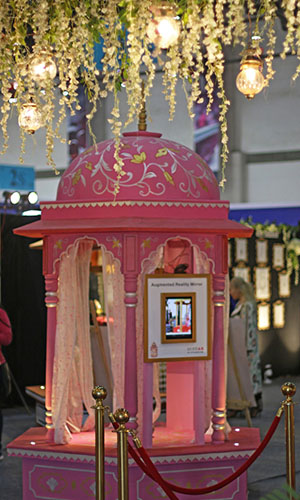 Jaipur Jewellery Design Festival was inaugurated by Princess Diya Kumari. The domes displayed at the Jaipur Jewellery Design Festival envelopes the essence of Jaipur. All of the 10 domes displayed the jewels by 10 different jewellers, under the theme- A Jeweller's Palette. The domes have been decorated according to the themes of their jewellery showcasing the talent of the designers.
These domes were equipped with Augmented Reality Mirrors wherein you can take the look and feel of the displayed jewellery without getting it out of the showcase. This is how easy and fuss-free jewellery decision making can be all thanks to this magical new technology invented mirrAR by Styledotme, a reality jewellery app developed especially for the Jewellery industry that works just like a mirror.
This enables the consumers to see multiple jewellery choices at by a single screen touch and select the style which suits them. It saves the jeweller and the consumer a lot of time and enables in faster decision making and transaction.
Jaipur Jewellery Design Festival also had an Artist section which I loved to explore, a very educative concept where I understood the procedure of Gemstone cutting live. along with the making of Jadau jewellery.
Jaipur Jewellery Design Festival (JJDF) was beautifully executed, can't wait to witness the magic of Jaipur and its jewels next year!
Till then, stay tuned!