After a great response to my article on the Royal Gifts of Queen Elizabeth, let's now see the most exclusive jewels adorned by very charismatic, glamorous, generous, leader of fashion in the 1980s -1990s and the lady who was celebrated in the media for her unconventional approach to charity work. Yes! We are talking about Diana, Princess of Wales, also known as "Diana Spencer", "Lady Di", "People's Princess", and "Princess Diana".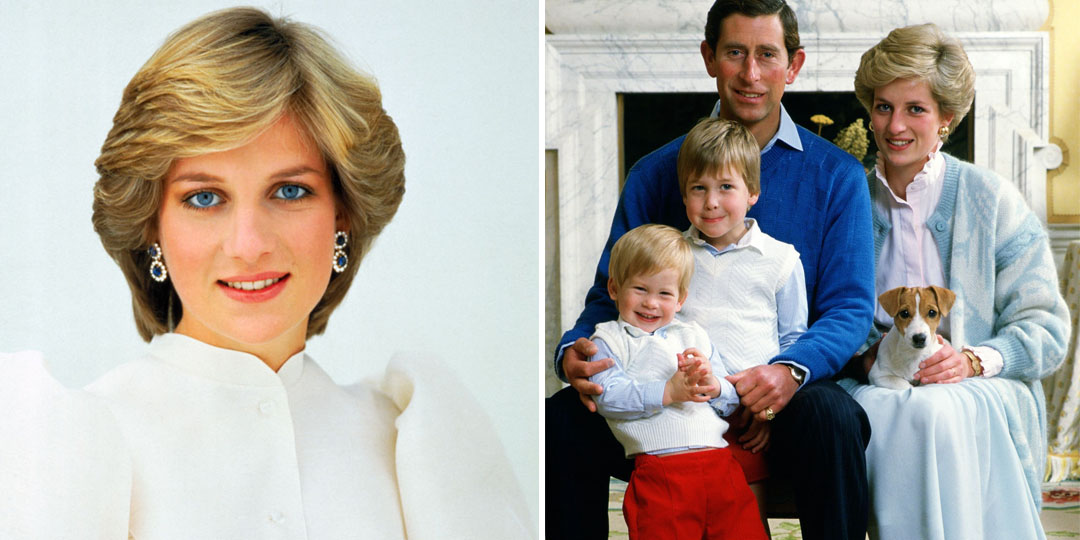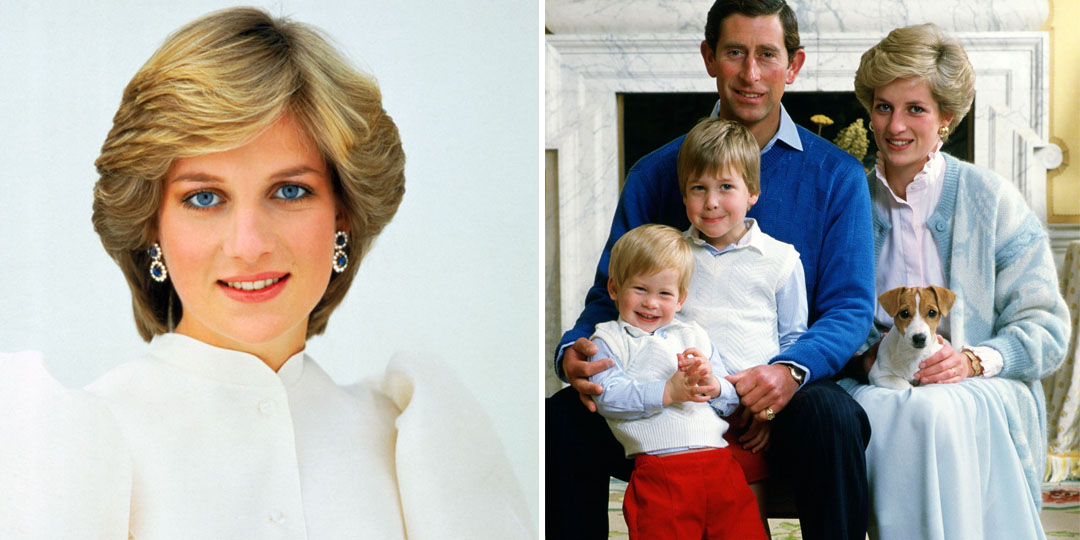 Princess Diana owned a collection of jewels most of which were either presented from foreign royalty, wedding presents, heirlooms belonging to the Spencer family, loaned by HM or purchased by Princess Diana herself. In this article, I will be sharing a few of the magnificent jewels adorned by People's Princess!
Are we ready to come aboard and travel to Kensington Palace and open the Royal treasury once again?
Spencer Tiara:
Princess Diana wore on her wedding day with Prince Charles in 1981 at St Paul's Cathedral in London.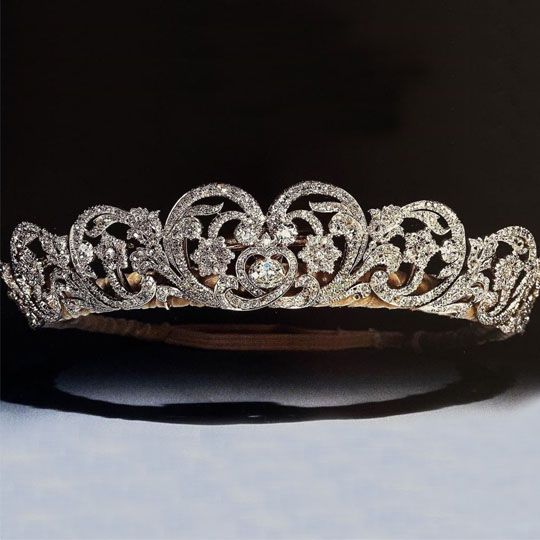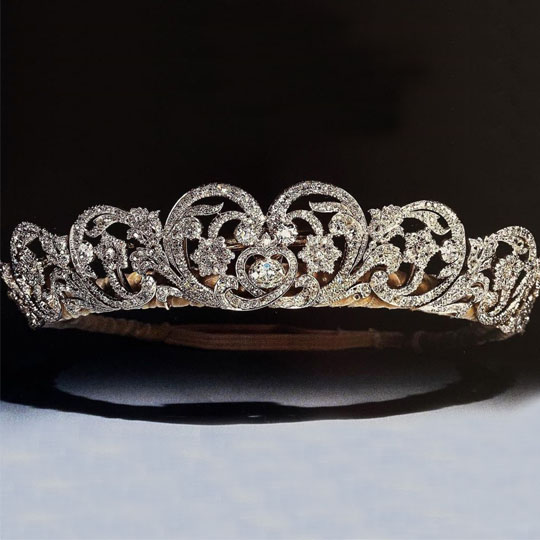 The Spencer Tiara was made from various pieces that were put together by Garrard in the 1930s. The central and end portions were given to Cynthia Spencer (Diana's grandmother) by Lady Sarah Spencer when she married in 1919. Garrard created four additional elements and mounted all of the pieces together as a tiara.


Both of Lady Diana's older sisters, Jane and Sarah, wore this tiara at their weddings.
Lovers Knot Tiara: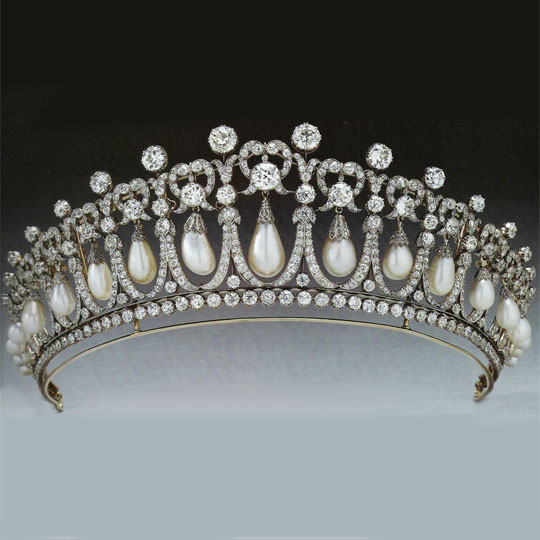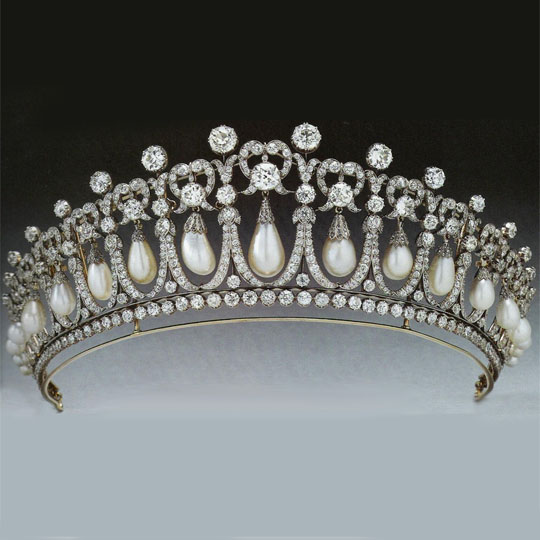 In 1913, Garrard & Co were asked by Queen Mary to make a replica of a tiara owned by her grandmother, Princess Augusta of Hesse-Kassel, using the Queen Mary's diamonds and pearls.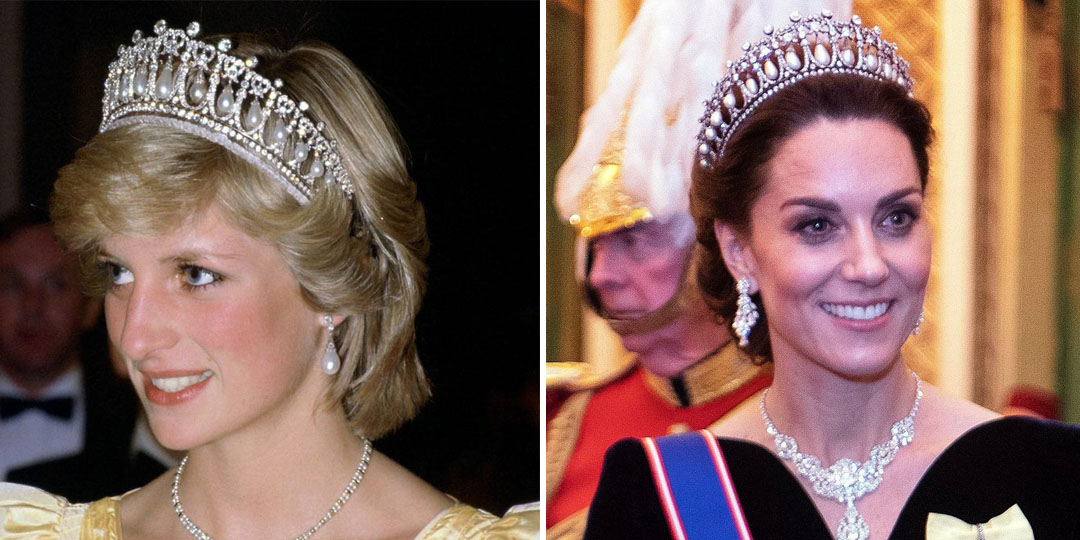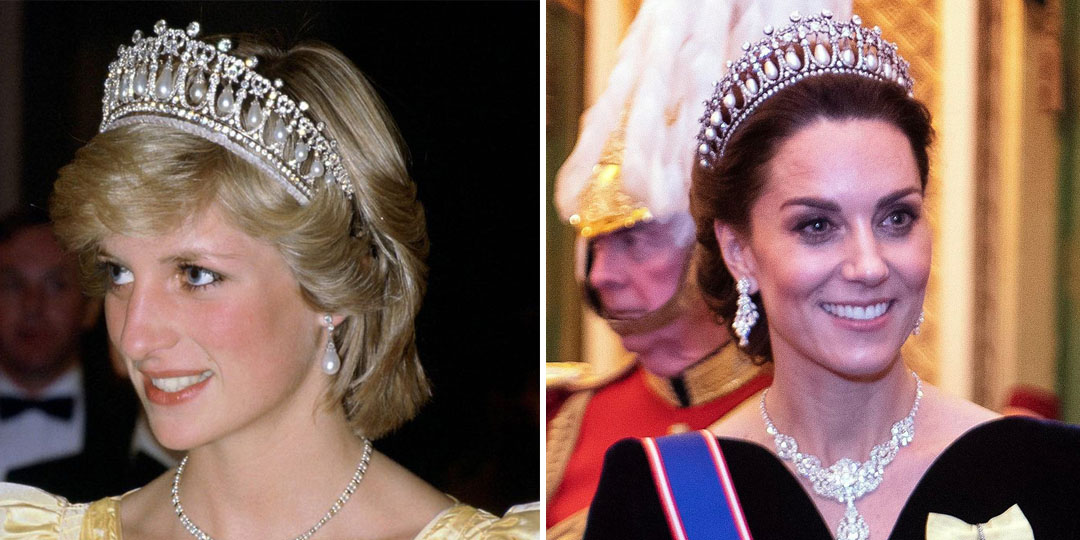 The tiara has 19 oriental pearls suspended from lover's knot bows each centred with a large brilliant diamond. Queen Mary left the tiara to HM Elizabeth II, who gifted it to Princess Diana in 1981 as a wedding present; but Princess Diana chose to wear her family's The Spencer Tiara as it was lighter and more comfortable. In 2015, the Duchess of Cambridge wore it to a diplomatic reception at Buckingham Palace.
Earrings:


Princess Diana borrowed her mother; Frances Shand Kydd's diamond earrings crafted with a pear-shaped diamond in the centre and surrounded by approximately 50 smaller diamonds for her wedding. These earrings were frequently worn by her mother on numerous important occasions and later inherited by her eldest daughter Lady Sarah McCorquodale.


Featured above are the different earrings adorned by Princess Diana.
Image 1: Emir of Qatar floral pearl earrings were given to the Princess as a wedding present from the Emir of Qatar embellished with diamonds and pearl.
Image 2: Diamond and South Sea pearl earrings featured a circular design of diamonds and a single diamond-encrusted pear. These dangling earrings were later passed to Prince William who gave them to his wife, the Duchess of Cambridge. The Duchess had the earrings modified and replaced the original pearl drops with smaller pearls.
Image 3: Aquamarine diamond earrings were first worn by the Princess of Wales at the 1987 Cannes Film Festival. The earrings were made in pear-shaped aquamarines, surrounded by diamonds and suspended from a diamond flower cluster.
Engagement Ring: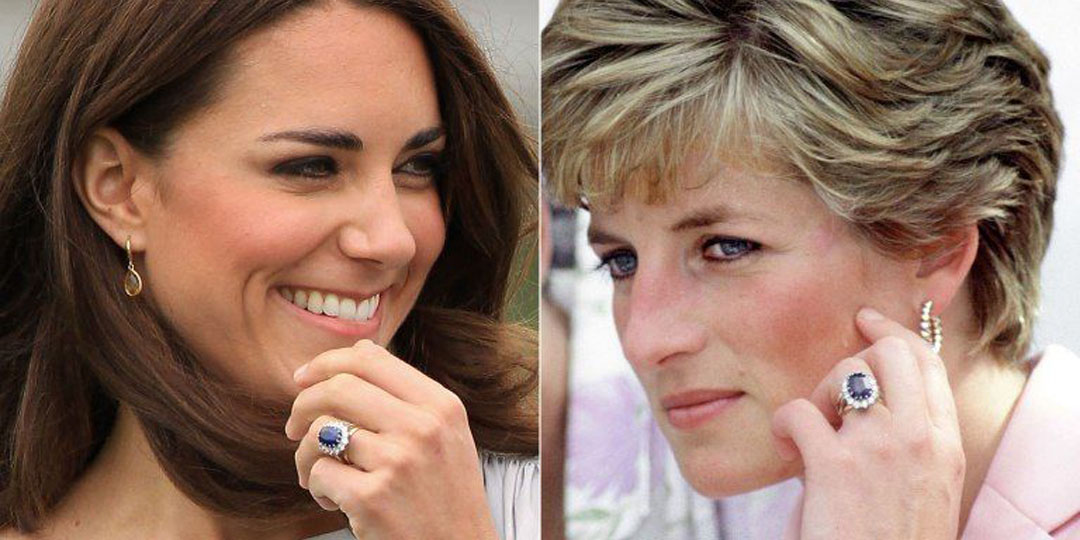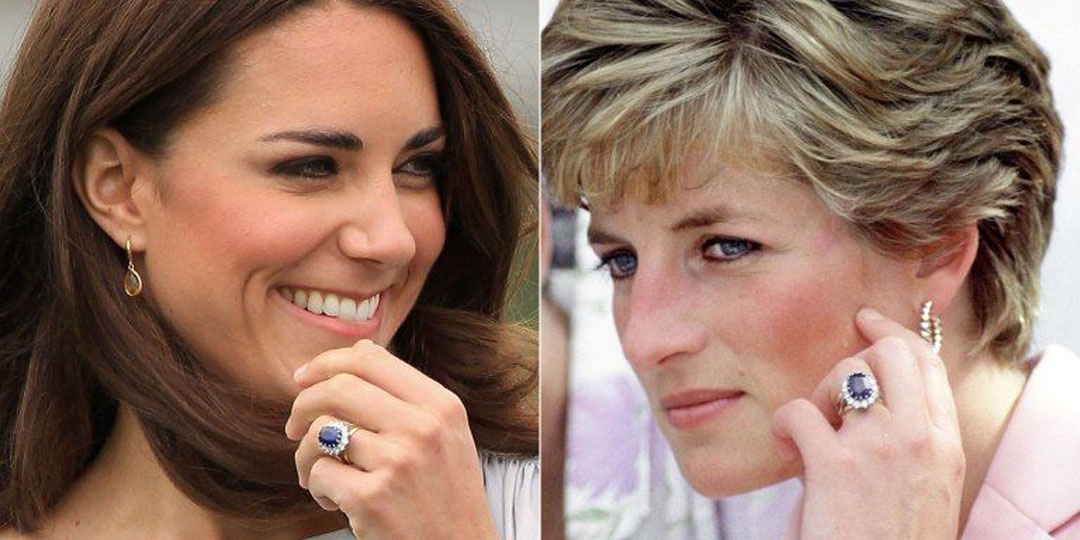 Princess Diana's 12 cts Ceylon sapphire engagement ring surrounded by 14 diamonds, was created by Garrard. The ring was inspired by Queen Victoria's sapphire and diamond cluster brooch. Prince William proposed to Catherine Middleton with the same Sapphire ring and he expressed that giving the ring to his fiancée was a "Way of making sure my mother didn't miss out on today and the excitement."
Heirloom jewellery bears a strong sentimental value that gets passed on across generations!
Necklaces:
1) The Swan Lake Suite: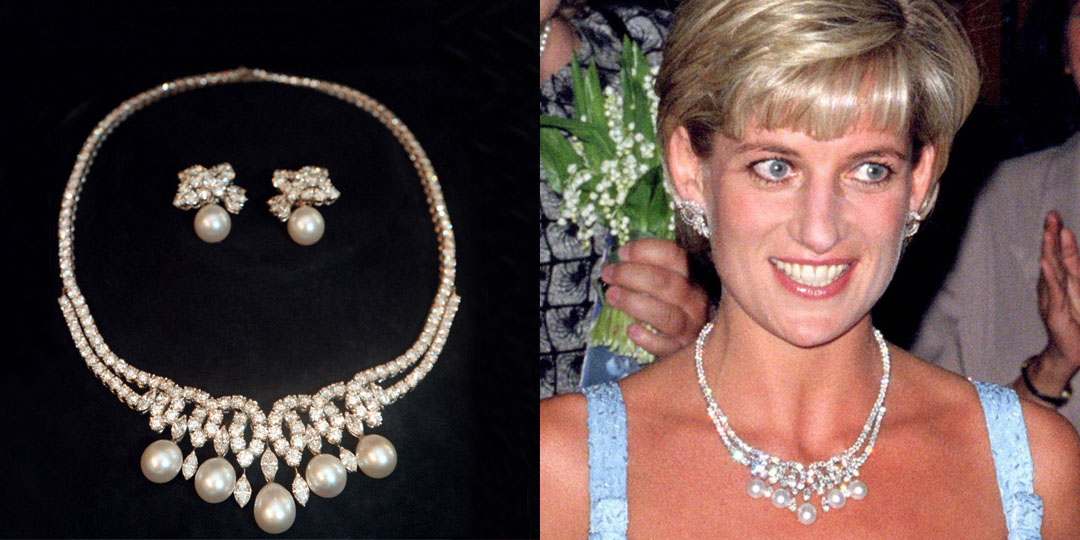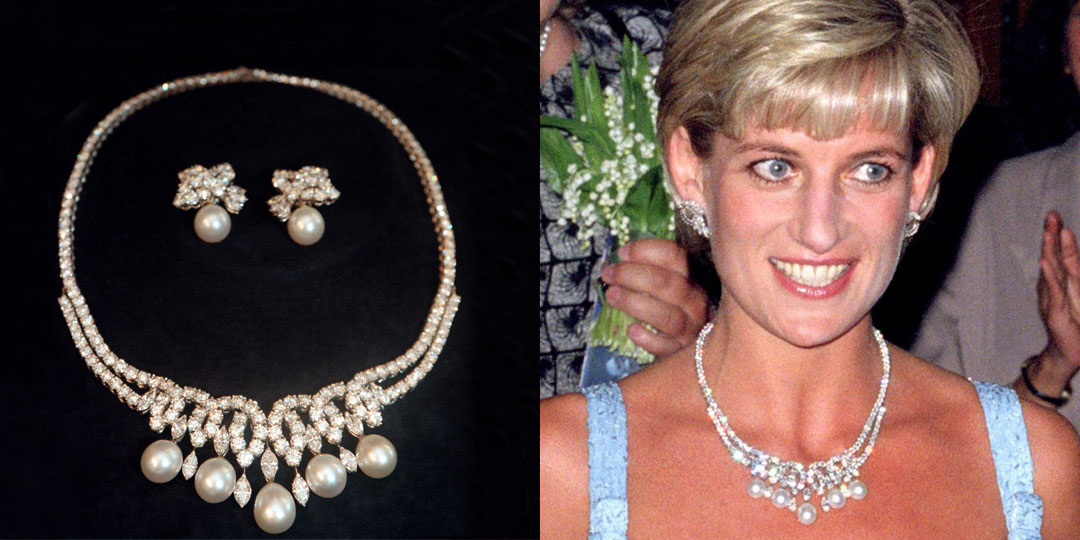 This is made with 178 diamonds and South Sea pearls by Garrard & Co. Princess Diana wore the necklace at the performance of Swan Lake by the English National Ballet at the Royal Albert Hall.
2) Sapphire and Diamond Suite: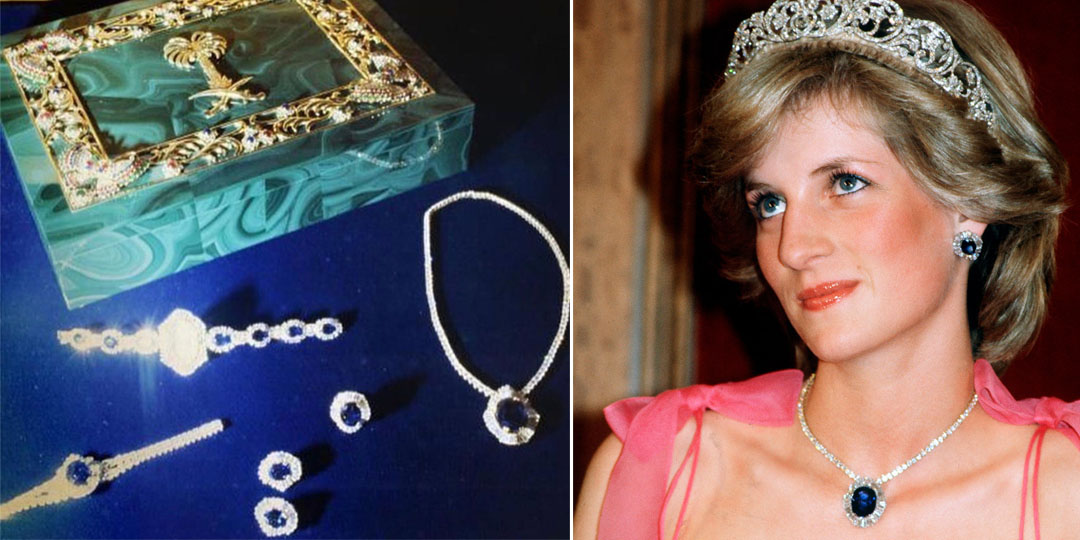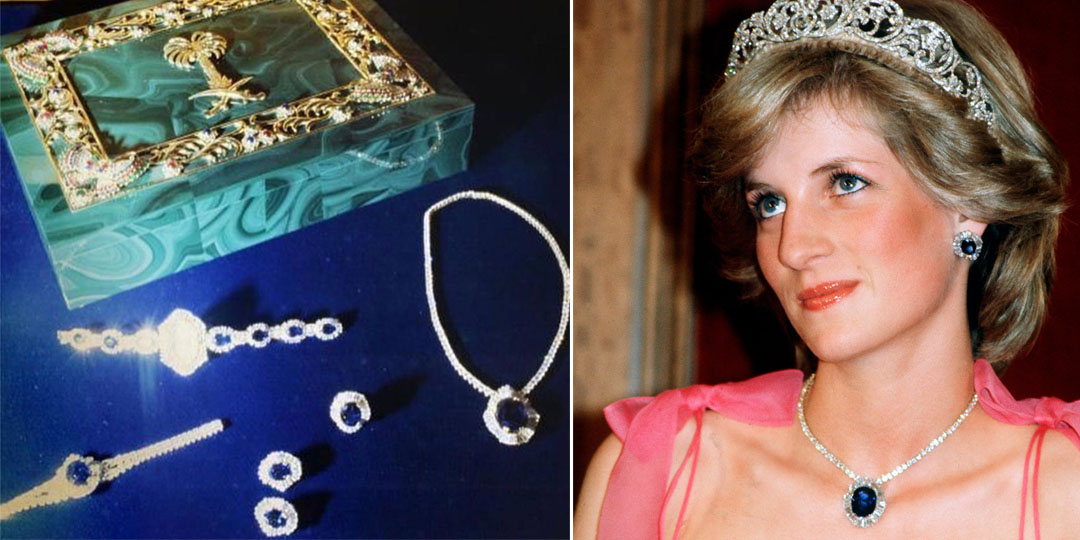 This suite was gifted by the Crown Prince of Saudi Arabia. It was presented in a green Malachite box decorated with palm tree and crossed swords. It consisted of a Burmese sapphire pendant set in the fringe of baguette diamonds and hung on a thin diamond necklace along with a matching pair of earrings and ring; a two-row bracelet of diamonds with a smaller version of the sapphire pendant as a centrepiece and a wristwatch with seven oval sapphires set in clusters of diamonds strap.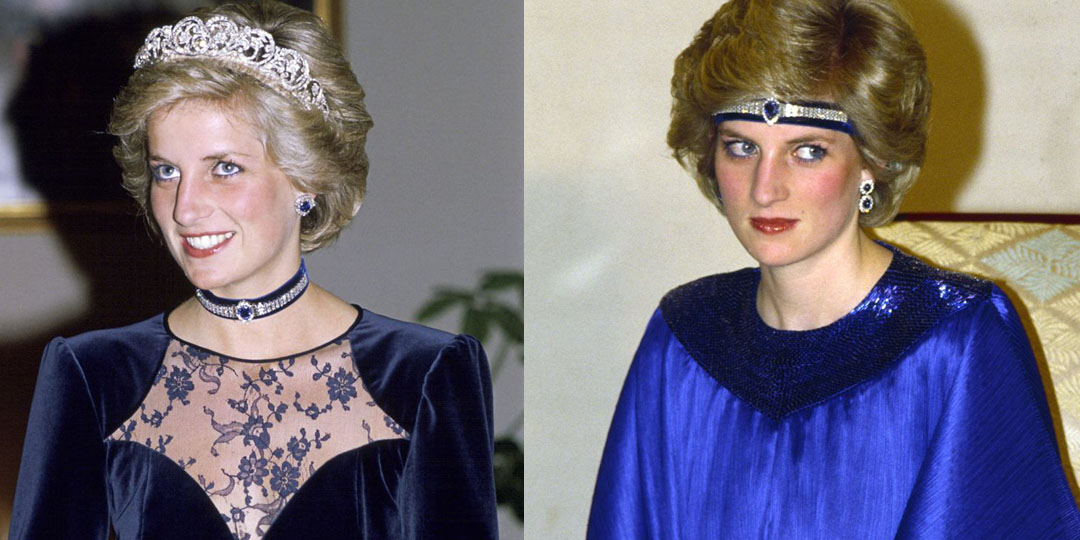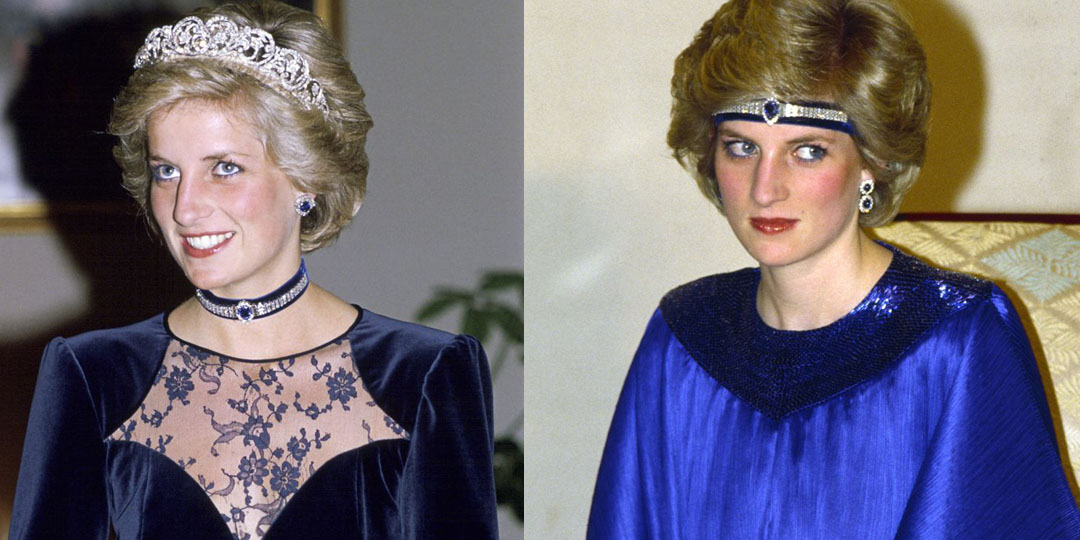 The Princess used the stones from the watch and the ring to make completely new pieces of jewellery. Four of the sapphire and diamond clusters from the watch strap were made into a pair of earrings, with two of the clusters as detachable pendant drops. The oval sapphire from the ring was set as a centrepiece of a wide choker of midnight-blue velvet backed with Velcro, with a diamonds chain running halfway around the choker on either side of the sapphire.
Princess Diana wore the choker as a headband on her official visit to Japan in 1986, at a State banquet hosted by the Emperor.
3) Queen Mary's Diamond & Emerald Choker: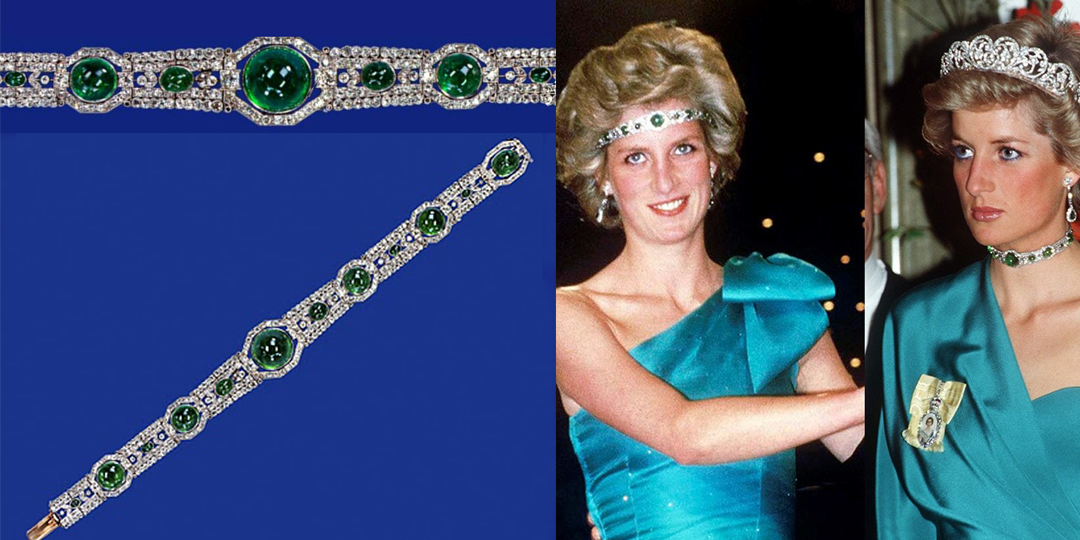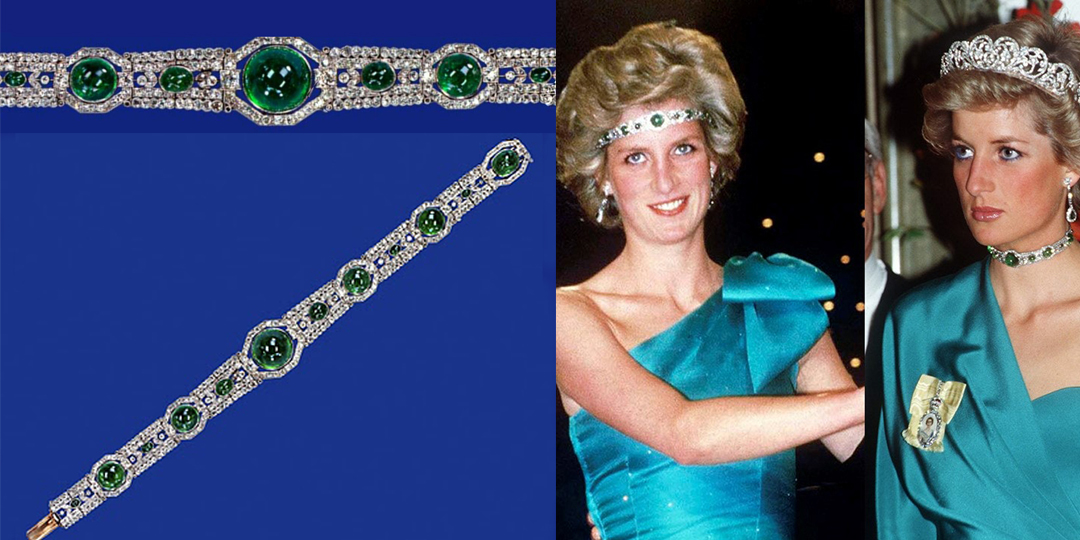 This choker was made from gemstones received as a present from the Ladies of India. In 1921, the necklace was remodelled and redesigned by Garrards to create an Art Deco choker which was inherited by HM. It was later gifted to Princess Diana by HM as a wedding gift, who wore it as a choker and on occasions as bandeau across her forehead.
4) The Sultan of Oman Suite: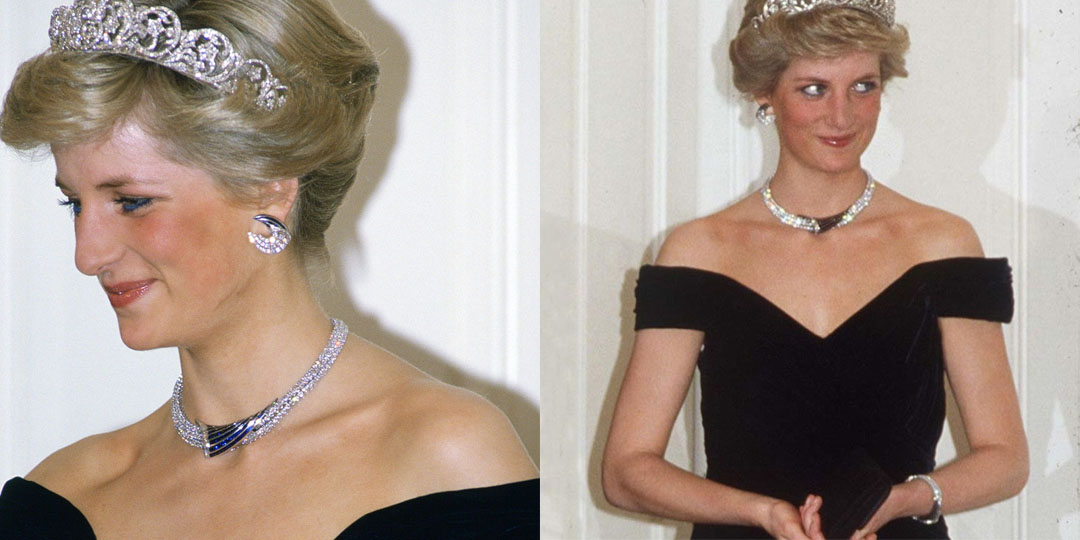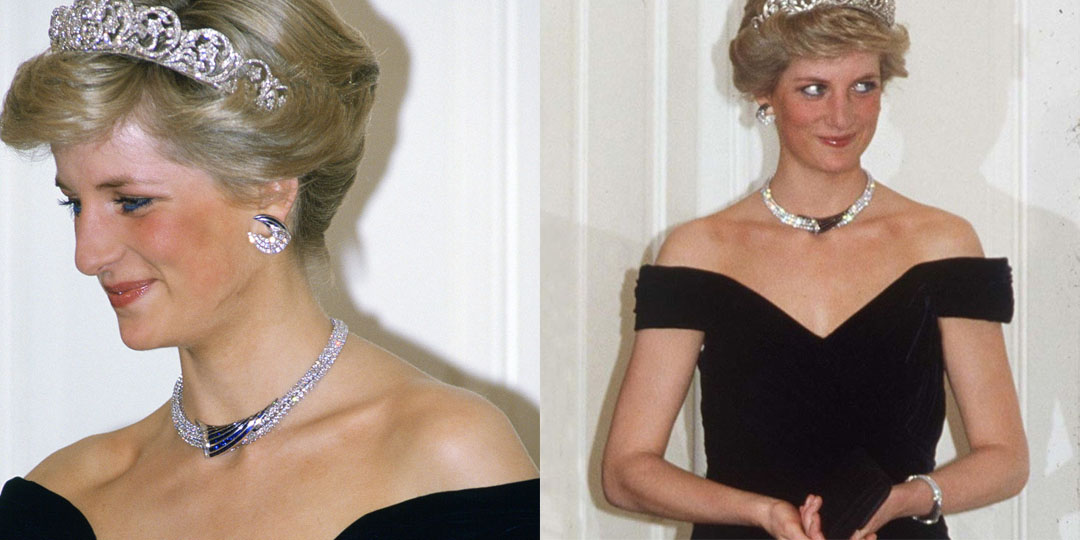 Princess Diana was given a set of crescent-shaped geometric diamond and sapphire necklace, earrings and bracelet by the Sultan of Oman in 1986, during the royal visit to Oman.
5) Seven Strand Pearl Choker: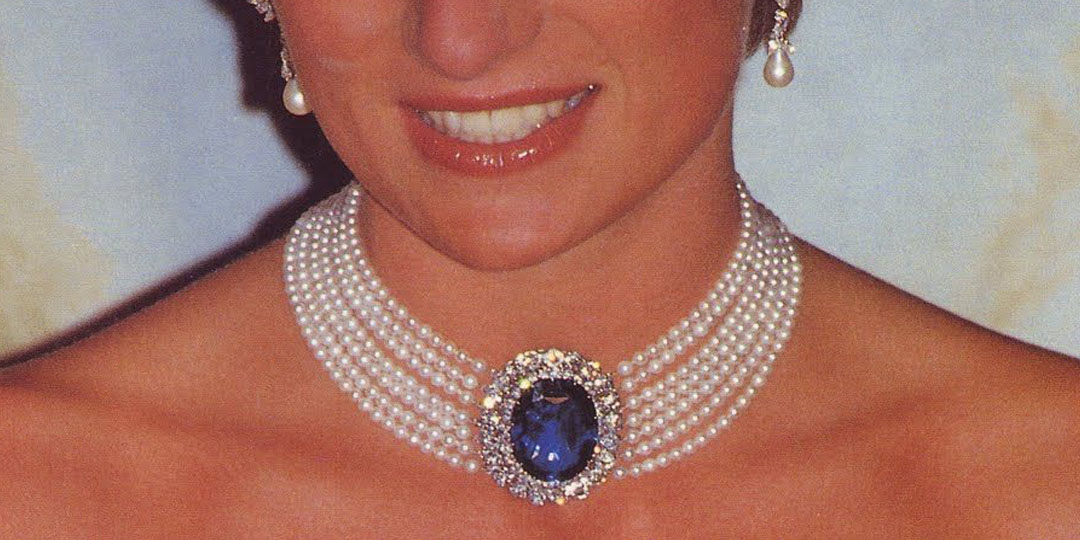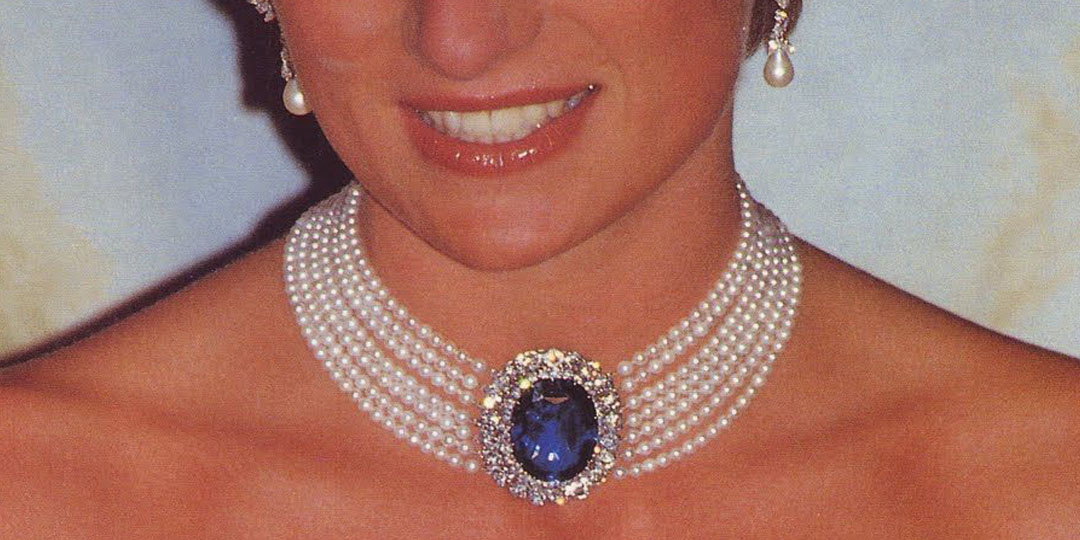 HM Queen Elizabeth, gifted a large oval sapphire and diamond brooch to Princess Diana as a wedding gift, which was later converted into a seven-strand pearl choker. Princess Diana's continued to wear this necklace even after her divorce.
Princess Diana's beauty and grace have complimented each jewellery pieces! Which one has been your favourite so far? Let us know in the comments.
Disclaimer: The above images belong to their respective sources, where rights may be held. Usage here is for information/reference purpose only.