INDIA! a land full of rich culture, heritage and traditions had remarkable Maharajas who ruled the subcontinents until its independence. In my new article, I will share the rich heritage and legacy of my country along with its vibrance and opulence.
So, ladies and gentleman, come abroad with me as I take you to North India to witness the TREASURY OF SIKH EMPIRE!!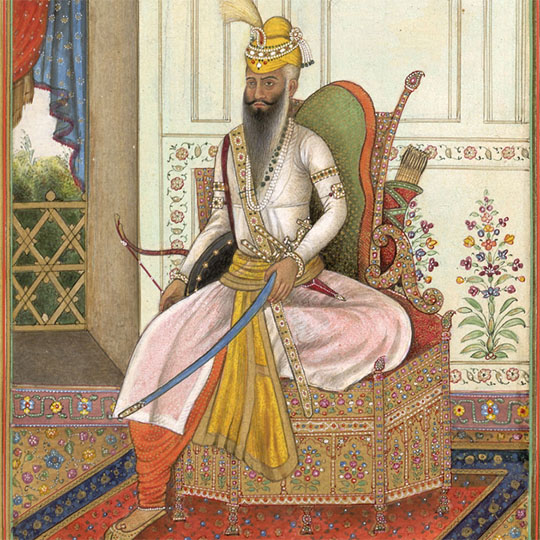 The Sikh Empire, also known as Sikh Khalsa Raj was a state originating in the Indian subcontinent, formed under the leadership of Maharaja Ranjit Singh popularly known as Sher-e-Punjab or "Lion of Punjab". This existed from 1799 onwards when Ranjit Singh captured Lahore. Inspite of losing his vision in the left eye to smallpox during his infancy, MRS fought his first battle alongside his father at age 10, after which he fought several wars and was proclaimed as the "Maharaja of Punjab" at age 21. His empire grew in the Punjab region under his leadership through 1839.
Talking about gems and jewels possessed by MRS; he had the famous The Koh-I-Noor Diamond "Mountain of Light" and Timur Ruby just to name a few:
Koh-I-Noor Diamond:
The Koh-i-Noor "Mountain of Light" is one of the largest cut diamonds in the world, weighing 105.6 cts, mined in Kollur Mine. It changed hands between various factions in south and west Asia, until being ceded to Queen Victoria after the British annexation of Punjab in 1849.

Let me briefly share the story behind the diamond.
• After Nadir Shah was killed and his empire collapsed the Koh-i-Noor fell to his grandson, who in 1751 gave it to Ahmad Shah Durrani, in return for his support.
• A descendant of Ahmad Shah, Shah Shuja Durrani brought the Koh-i-Noor back to India in 1813 and gave it to MRS, in exchange MRS support to help him get back the throne of Afghanistan.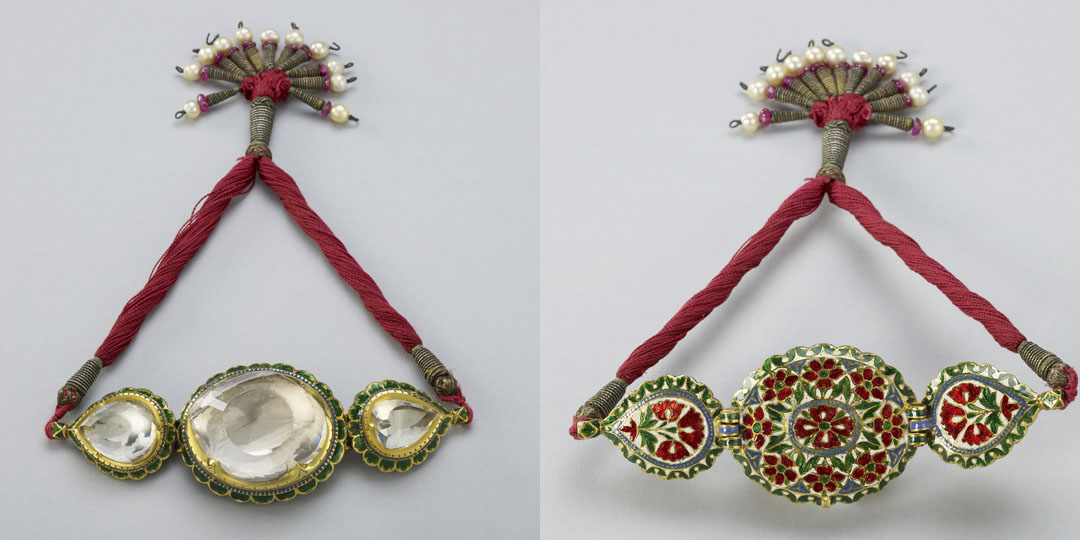 • MRS wore the diamond as an armlet during major festivals an celebration. However, after Ranjit Singh's death, the diamond came into possession of Gulab Singh, who held the diamond until 1841 and later handed to emperor Sher Singh to win his favour.
• In 1843, Sher Singh was assassinated. Duleep Singh, the last Maharaja of the Sikh Empire succeeded his late father MRS at the age of five.
• The British conquest of Punjab saw the passing of the 1846 Treaty of Lahore, which handed administration of the state and the 'protection' of the Maharaja over to the British government.
• In 1848, aged ten years old, Duleep Singh was forced to surrender or 'gift' the world's largest cut diamond, to Queen Victoria.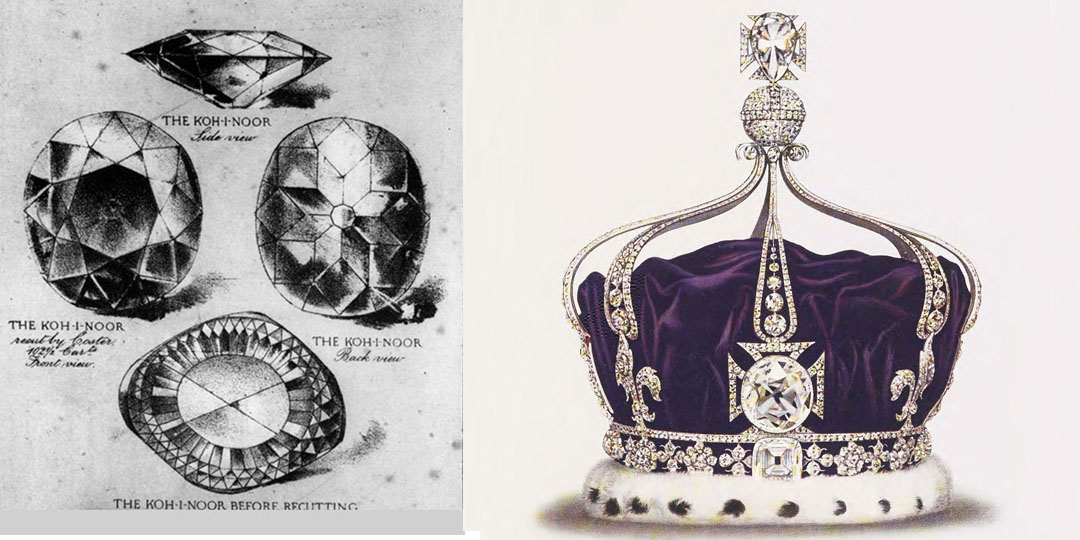 • The Queen and Prince Albert both felt that the Koh-I -Noor was badly cut and was recut by Garrard & Co. The diamond was worn by the queen as a brooch.
• After Queen Victoria's death, it was set in the coronation crown of Queen Alexandra in 1902. The diamond was transferred to Queen Mary's Crown in 1911, and finally to The Queen Mother's Crown in 1937.
• During the Second World War, the Crown Jewels were moved from their home at the Tower of London to Windsor Castle.
Timur Ruby:
The Timur Ruby is also known as "Tribute to the World" is an unfaceted, approximately 352.5cts polished Red Spinel set in a necklace. It is named after Timur, the founder of the Timurid Empire. It was believed to be a ruby until 1851.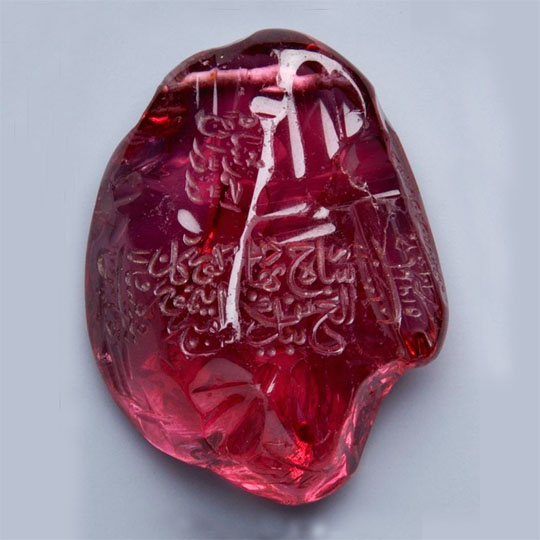 It is inscribed with the titles of five of its previous owners: Shah Jahan, Farrukhsiyar, Nader Shah and Ahmad Shah Durrani; Jahangir had the name of his father "Akbar the Great" inscribed on it.
Let me briefly share the story behind the gemstone.
• In 1739 Persian ruler Nader Shah invaded Delhi and took Timur Ruby along with other famous gemstones.
• In 1810 it returned to India when Shah Shujah was forced into exile in Punjab.
• In 1813 MRS took possession of the gem and passed into the ownership of Maharaja Sher Singh and Maharaja Duleep Singh.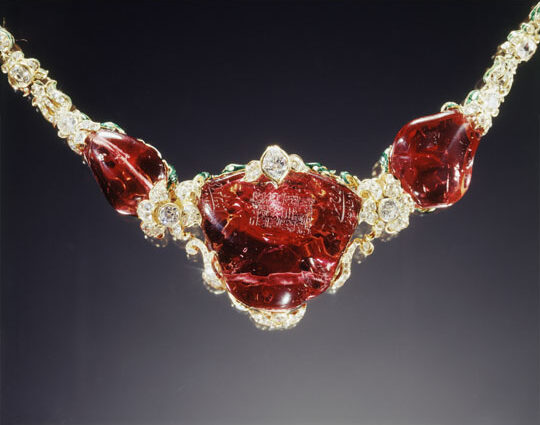 • When British annexed Punjab in 1849, they took possession of the Timur Ruby and the Koh-i-Noor diamond from Duleep Singh.
• In 1851 it was reclassified as a spinel rather than a ruby and presented it to Queen Victoria as a gift.
• The gem was set in a necklace by Garrards in 1853 and is now part of the British crown jewels.
The Golden Thone:

Maharaja Ranjit Singh's throne was made by Hafez Muhammad Multani with wood, resin core and covered with sheets of repoussé, chased engraved gold, decorated with designs of flowering plants and the base decorated with Lotus Petals; a sacred flower of the Hindu religion representing purity, divinity and eternity and is also traditionally connected to the Hindu gods and goddesses since they are often depicted with the flower and sometimes even sitted on a Lotus Throne. This throne was part of the State Property taken by the British in 1849 on the annexation of Punjab, after the Second Anglo-Sikh War. Currently, it's housed in Victoria and Albert Museum, London.
The Seal Emerald Ring:
I would now like to introduce "The Seal Emerald Ring" which was not used as a piece of jewellery but as stationary by MRS! It is a seal of authenticity and as reliable as a signature. Since MRS could not read or write, he was unable to sign his letters and royal orders. Hence a royal Seal would be used to stamp the end of his documents instead of a signature; MRS had it made into a ring setting for easy accessibility.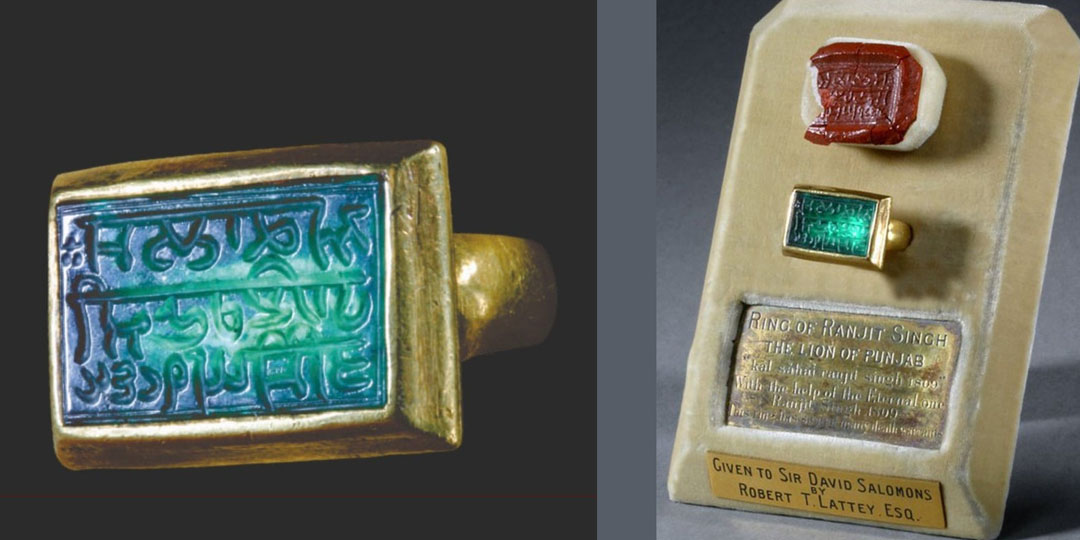 The Seal Ring bears Gurmukhi inscription: "Akal Sahai. Ranjit Singh 1869." The English inscription on brass adds that "With the help of the Eternal One Ranjit Singh 1809, this ring has sealed many death warrants". The red plaque bears the imprint of the seal ring.
Kaukab-i- Iqbal-i-Punjab (Star of the Prosperity of Panjab):
Wondering what else interested Maharaja Ranjit Singh besides jewellery? Well, he was a great collector of European medals and decorative jewellery.
Maharaja Ranjit Singh introduced most prestigious medal of Punjab in 1837 on the occasion of the marriage of his grandson, Kanvar Nau Nihal Singh, called the Kaukab-i- Iqbal-i-Punjab (Star of the Prosperity of Panjab).

The medal is made of gold, with 10 projecting rays set with pale beryls on the front. The front is set with a circular portrait of Ranjit Singh sitting on a terrace holding a bow. The upper domed section, enamelled in white, red and green hangs from a circular ring and the back has white flowers decorated with opaque pale green leaves.
The 3 different grades of the medal are:
1) The first-grade medal was ornamented with one big diamond. Meant for members of the royal family.
2) The second-grade medal, with a diamond and an emerald set in it, was bestowed on loyal courtiers and sardars.
3) The third-grade medal contained a single emerald and was open to civil and military officers who had rendered: some special service to the State.
These ornate medals are no less than their jewellery! What do you think? Let me know in the comments below!
Maharaja Ranjit Singh's warhorse Laili:
Indian history talks about wars and heroic stories of conquest. In those days, the rulers mounted on elephants while the foreign invaders rode horses. Soon, they understood the importance of horses in wars, and since then, horses and Maharajas have been inseparable.
Maharaja Ranjit Singh was very fond of horses. LAILI was MRS's favourite female warhorse, acquired from Yar Muhammad Barakzai, the Governor of Peshawar. MRS fought the Afghan war with Sultan Mohammad Shah for the horse, sacrificing 12000 men and spending 60 lakhs to acquire Laili.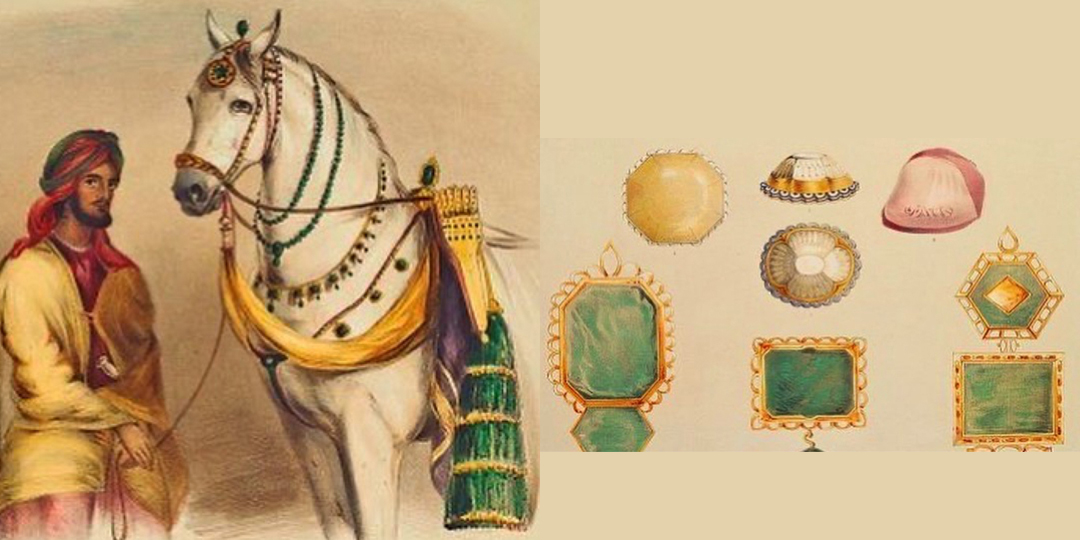 As seen in the images, Laili wore a ruby Diadem and was decked up more than the women in the Maharajas Harem, and was adorned by Koh-I-Noor diamond on significant occasions. Upon Laili's death, the Maharaja was inconsolable and saddened no end and while Lailis body was being put to final rest, he ordered a 21 gun salute in her honour.
Evidently, our Maharajas and animals have a strong relationship in the history of India!
Maharaja Ranjit Singh's Jigha: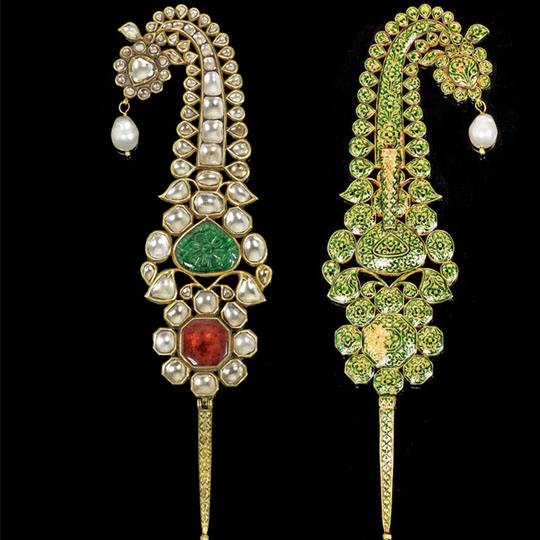 Turban ornaments formed one of the most important symbols of power at the Mughal court. The jigha, regarded as a symbol of royalty was worn exclusively by the emperor. The scale and impact of turban ornaments grew in the early 19th century. The jigha featured above is thought to have been on the turban of MRS when he met Maharaja Sahib Singh of Patiala in November 1808 and they exchanged turbans as a sign of conciliation.
Maharaja Ranjit Singh is remembered for uniting Sikhs and founding the prosperous Sikh Empire and was bestowed with the following titles during his reign.
1) Maharaja of Punjab
2) Maharaja of Lahore
3) Sher-e-Punjab (Lion of Punjab)
4) Sher-e-Hind (Lion of Hind)
5) Sarkar-i-Wallah (Head of State)
6) Sarkar Khalsaji (Head of State)
7) Lord of Five Rivers
8) Singh Sahib.

Over the years, in honour of MRS two bronze statue were installed, a 22-feet statue was installed in the Parliament of India in 2003 and a bronze bust of Maharaja was installed in French town called Saint Tropez in 2016, which had military links with Punjab.
Its time to learn about the Maharani of the Sikh Empire!
Maharani Jind Kaur:
Maharaja Ranjit Singh had many wives. Maharani Jind Kaur, renowned for her beauty, energy and strength of purpose was the youngest wife of Maharaja Ranjit Singh and popularly known as Rani Jindan. She was the mother of the last Maharaja Duleep Singh. After the assassinations of Ranjit Singh's first three successors, Duleep Singh came to power in September 1843 at the age of 5 and Jind Kaur became Regent on her son's behalf. Irrespective of her military inexperience, the Rebel Queen, known as 'Messalina of the Punjab'stood firm against the British, taking charge of Punjab.

After the Sikhs lost the First Anglo-Sikh War she was replaced in December 1846 by a Council of Regency, under the control of a British Resident. Duleep Singh was taken to England and converted to Christianity and maharani was imprisoned. Over thirteen years passed before she was permitted to see her son. Maharani Jindan Kaur and Duleep Singh were then asked to live in London. Duleep Singh had negotiated a year pension for his mother and also the safe return of over 600 pieces of her jewellery that had been confiscated by the British authorities.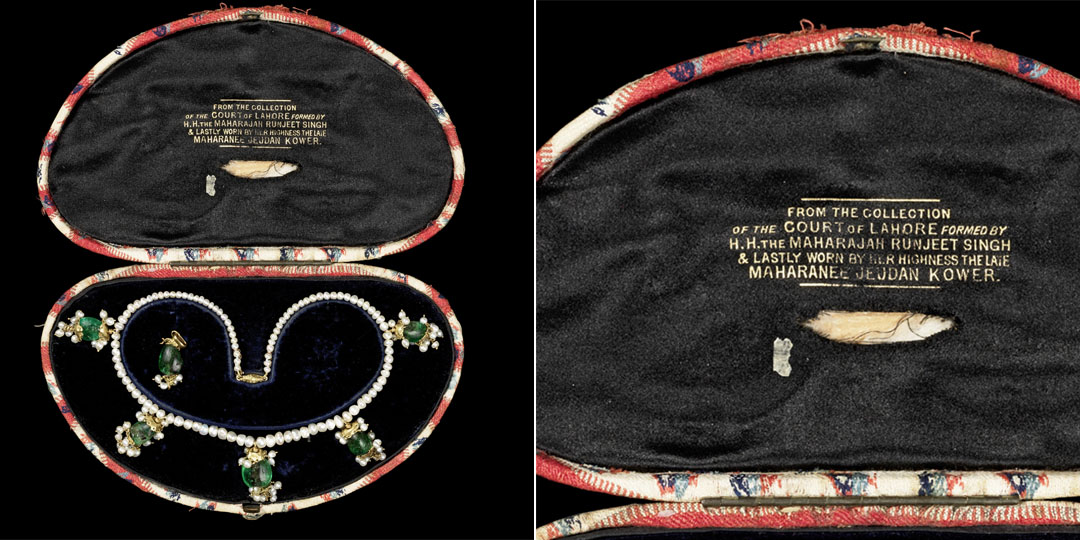 Featured above is an important emerald and seed pearl necklace from the Lahore Treasury of Maharani Jindan Kaur comprising of six polished emerald beads; each bead is gold-mounted and fringed with seed-pearl drop tassels, gold clasp and one bead is converted to a pendant. This necklace was auctioned at Bonhams Jewels in 2018.
What do you think about the necklace? Let me know in the comments below!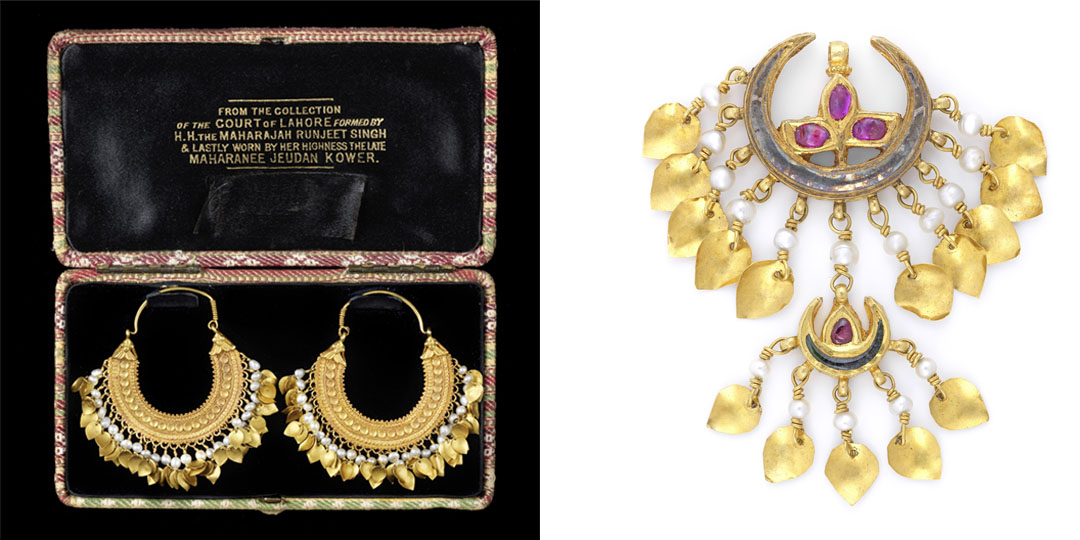 When the confiscated jewels of Maharani were returned to her by the British authority, she was overwhelmed with joy and decorated herself with an assortment of the most wonderful jewellery to celebrate the occasion!
In 1863 Maharani Jind Kaur died peacefully in her sleep. Since cremation was illegal in Great Britain before 1885, Duleep Singh was only permitted to take his mother's body after 10 years in 1864 to Bombay, for her last rites. Maharani Jindan Kaur's jewellery was inherited by her grand-daughters Princess Catherine, Princess Bamba Sutherland, Princess Sophia and a few were auctioned.

She may have passed away but the royalty of her jewellery is still alive. There's something about these vintage jewels that make you stop and stare, doesn't it?
Here's hoping the legacy and story of Maharaja Ranjit Singh, Maharani Jindan Kaur and the entire Sikh Empire gave you a peek into the country's rich history and wealth! Stay tuned to my another series on Royal Jewels!
Credit: Bonhams, Peter Bance, Sikh Museum Initiative, Cynthia Meera Frederick, Pratiek Dhadha.
Disclaimer: The above images belong to their respective sources, where rights may be held. Usage here is for information/reference purpose only.