It was a great honour to be invited by the Vicenzaoro Show: The Jewellery Boutique Show; for the gold and jewellery world, organised by IEG – Italian Exhibition Group and witness the latest trends in Gems and Jewellery, machinery, technology and watches All At Once from 17th to 21st March 2022 at Vicenza Expo Centre.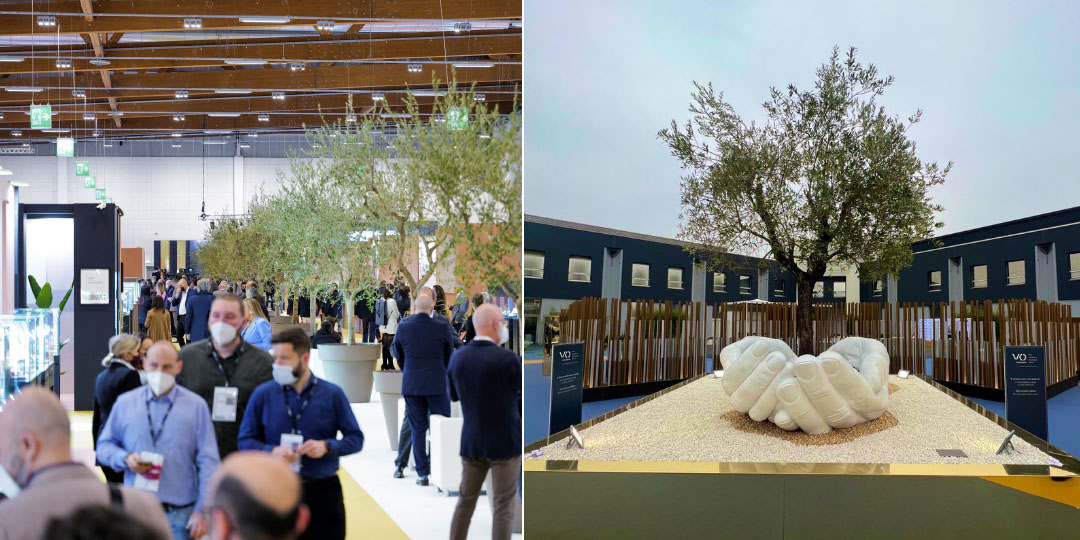 We were welcomed by the "Welcomed" by "Give", an installation by Lorenzo Quinn, a message of peace positioned at the entrance to the show. It represented the hand of a man joining that of a woman. His hands enclosed an olive tree, which in the West is a symbol of peace.
Jewellery discoveries from the Vicenzaoro Show!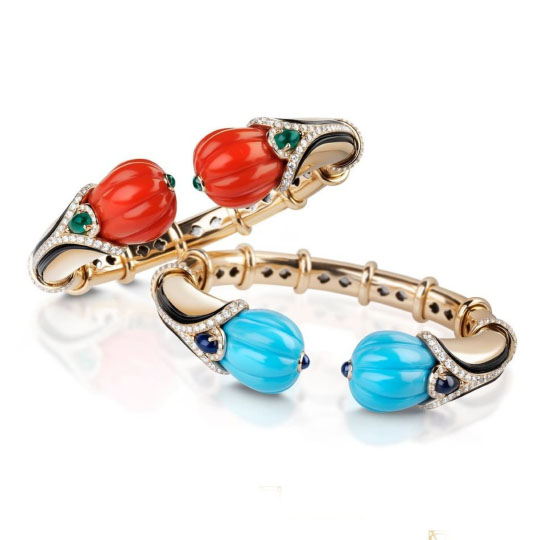 One of the brands that have been on my checklist is Verdi Gioielli. The jewellery house has embodied the most exclusive Italian style in high jewellery, and refined craftsmanship that has become a guarantee of the highest quality for more than 50 years. The handmade set featured is crafted in turquoise, Corals along with Onyx.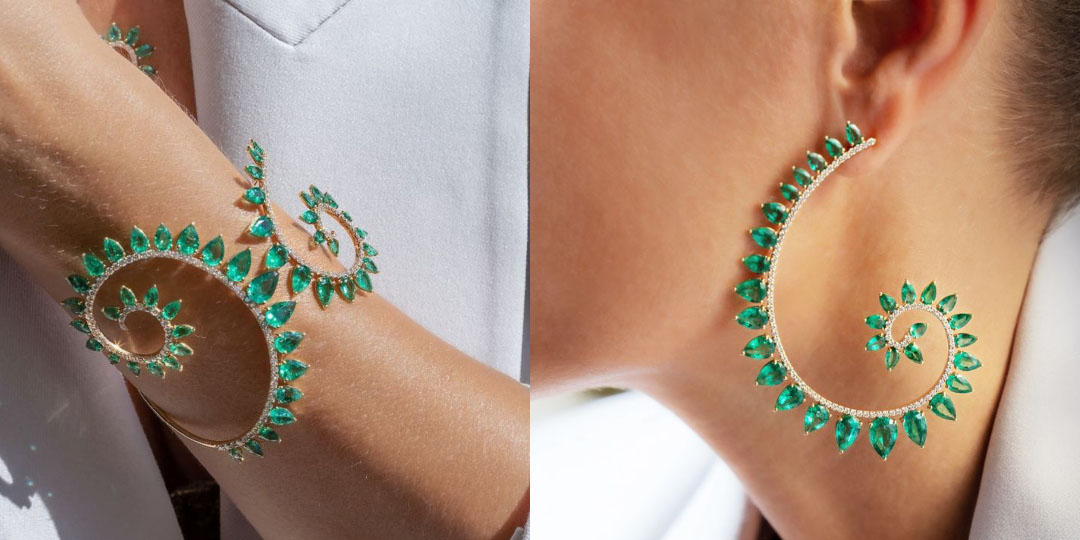 My next feature is an extremely lightweight cuff and earrings by Gismondi 1754 from their Genesi collection in Emerald. The story goes that, Massimo Gismondi was inspired by the sight of the intriguing shape of the Nautilus, to create the collection.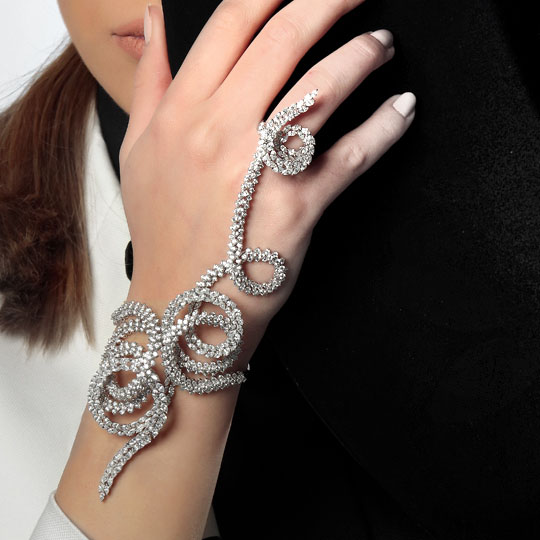 I have been a great admirer of YePrem Jewels and it was a pleasure meeting their Creative Director Virna Chakardemian and hearing the wonderful story behind the artistically intelligent contemporary jewellery. Her luxurious diamond statement jewellery, with an ingenious flair for modernity, will refine your looks, attire, style and make you look GLAMOROUS!

A contemporary must-have versatile necklace!
It was a delight to discover Nanis Jewels an Italian brand and try on their IVY collection; a masterpiece of craftsmanship in 18kt gold and diamonds, that has a free, voluptuous and extremely natural movement. The string of GOLD PEARLS are hand engraved by goldsmith masters. This versatile necklace can be worn in multiple ways, to suit your mood and attire; whether it's a black sheath dress, a soft gown, a pair of jeans or a shirt, it doesn't matter: your necklace will follow you and make you shine.
Machinery Section:
I spent my day 2 in T Gold Section. This section brings together companies specializing in the design, production and marketing of machinery and tools for the jewellery sector. Here I saw an extensive range of machines designed to support the various processing stages for precious minerals: such as casting, preparation, assembly, finishing, restoration and prototyping.
Video Credit: The Diamond Talk
After having witnessed multiple styles and types of the chain during the show, the machine for "Chain Links" caught my attention by Zone Creative and it was incredible to view the procedure.
Watch the video to see how are chain links made!
The Art of Cameo Making:
"CAMEO" is derived from the Italian word Engrave and is a part of Italian history since ancient times. The expert team at Aucella Coral & Cameos passionately shared the art of Cameo making from Torre del Greco, the only city where cameo and coral are made since 1805.
Video Credit: The Diamond Talk
The cameos are made on 2 different shells: Cassis Rufa and Cassis Madagascariensis, as these are the only 2 shell that has 2 different layers, used by the artist to make unique pieces. All cameo pieces are handcrafted and each one is unique and spectacular from another one
Did you know, Cameo attracts good health and fortune to its wearer? Here's wishing you all abundance of good health!
A visit to Vicenza Jewellery Museum
Remember the time when we were kids and excited with the very thought of visiting the museum? How awestruck we were to keep gazing at precious and ancient pieces of art?
Museums preserve the culture, heritage and history so well.
Video Credit: The Diamond Talk
I had a similar experience of Deja Vu when I visited Vicenza Jewellery Museum and I was in complete admiration of the wonderful collection! What are your memories of visiting a museum? Let me know in the comments!
I had the most amazing time at the Vicenzaoro Show; meeting clients, friends, visiting my dream brands, viewing the machinery and advanced technologies and attending seminars!
The Vicenzaoro show was a unique, physical, "All At Once" business platform, with digital extensions. A training centre for sustainability, innovation, trends and watchmaking for the entire supply chain: top-of-the-range, jewellery, components and semi-finished products, diamonds, precious and coloured stones, processing technologies, visual merchandising and packaging.
Video Credit: The Diamond Talk
Thank you team Vicenzaoro for your kind hospitality! See you in September 2022!