The first edition of the Jewelers International Showcase JIS Spring Business to Busines show was held from 13-15th March 2022 at the Miami Beach Convention Center, Florida. As one of the first major jewellery buying events for the trade-in 2022, JIS Spring was strategically planned to give jewellery retailers more time to assess inventory needs after the holidays and plan for upcoming festivals.
It was a great opportunity for me to revisit the Miami Beach Convention Center, Florida, after a successful U.S. Antique Shows and to reconnect with exhibitors vendors, build new networks and see exclusive jewels and newest trends, from fine to fashion silver, gold, diamonds and more.
---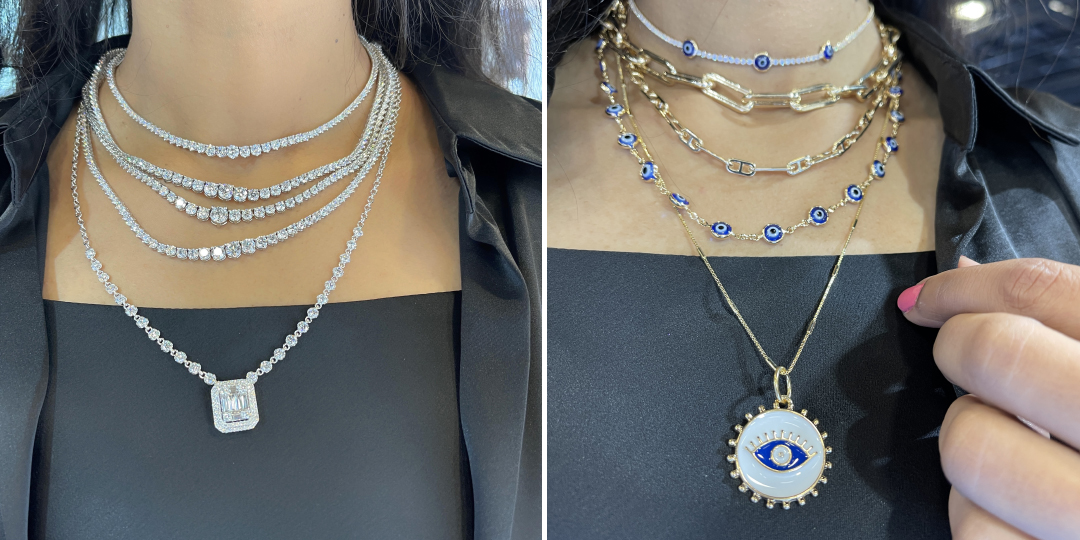 Having attended jewellery shows in different countries, I look forward to highlighting the different and unique jewellery trends of each trade event based on their geographical location and cultural trends. In the JIS Spring show, the trend I discovered was about LAYERING; I enjoyed experimenting and layering different jewellery, from Gold chains to Diamond chains! Featured above is a classy and elegant diamond necklace layering seen at Arzy Company and an evil eye layered set by Mia Jewelry. Fabulous, isn't it? Let me know in the comment.
---

Next, I was in complete admiration of layering
1. Gold Chains by Cilek Konsept.
2. Cuban chains by N.Y. Jeweller.
3. Diamond-studded chains by A & R Creations Blue Magic
The magic of diamonds is truly visible in how it elevates a simple chain to an elegant piece of jewellery. All you have to do is layer them on a simple outfit and watch the compliments flow. A great way to BLING it up!
---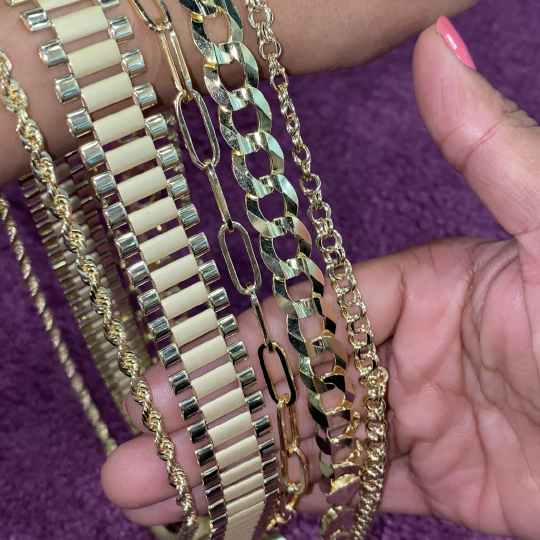 Chains hold a lot of significance in every culture, religion and country. It is hard to pick a country where chains aren't worn. This simple piece of jewellery can be worn in multiple ways. Particularly the layered chains have a classic effect. At the JIS Spring Show, I was delighted to view different types of Gold Chains I discovered by the Famous Gold Inc booth.
1. Rope Chain.
2. Rolex Chain.
3. Cuban Chain.
4. Clip Chain.
5. Chino Chain.
Which one is your favourite? Let me know in the comments section.

At the Turkey Pavilion by Serkan Kömür Jewellery, I discovered exclusive one-of-a-kind handcrafted jewels. Featured above is the lion-inspired cuff bracelet made in 24K gold along with Palladium and silver, along with their Armour bracelet cuffs.
It was an incredible experience to view the latest trends and view different styles and designs of jewels from across continents. Much gratitude to the entire team at the JIS Spring show for giving me this wonderful opportunity!