With love from Doha!!
Doha Jewelry and Watches Exhibition 2022 (DJWE) was held from the 9th to the 13th of May.
Being at the forefront of the Doha business events calendar for 13 years, this exhibition has retained its reputation as a high-profile gathering for jewellery aficionados, global brands, and aspiring designers. The show had more than 65 exhibitors, including 500 renowned brands, as well as exclusive pavilions from Turkey and India.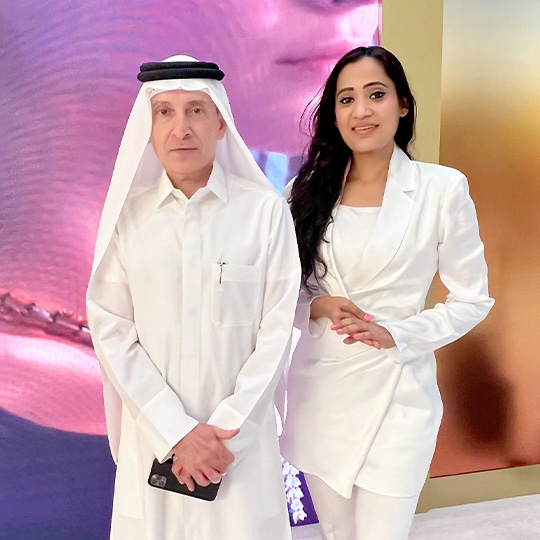 Hosted by Qatar Tourism and organized by Qatar Business Events Corporation (QBEC), DJWE was held under the patronage of His Excellency Sheikh Khalid bin Khalifa bin Abdulaziz Al Thani, Prime Minister and Minister of Interior. I am standing in with the CEO of Qatar Airways Mr Akbar Al Baker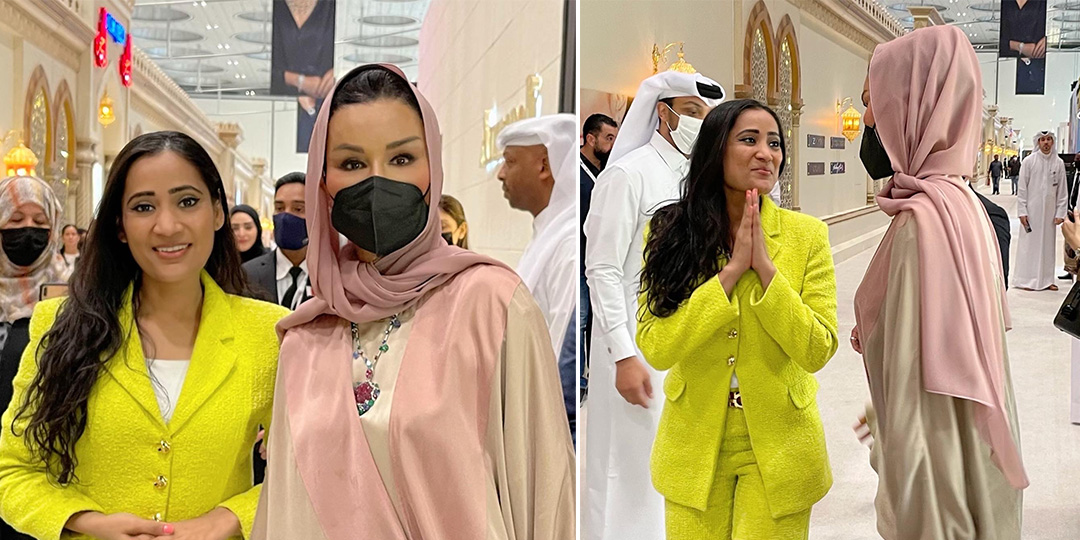 One of the most memorable moments for me during my visit, was meeting Her Highness Sheikha Moza bint Nasser; Chairperson of Qatar Foundation for Education, Science and Community Development (QF).

Her Highness wore the Udyana necklace by Cartier. The word Udyana, which means "Garden" in Sanskrit, showcases the symbolic style and color palette of 1920s Tutti Frutti designs. Set in platinum, the necklace forms a rich canopy of gemstones and is designed to be worn in several ways. The highlight of the necklace is a 67.7carat hexagonal-shaped engraved ruby pendant from Mozambique. This engraving is entirely carried out by hand, using a technique developed by the Mughals in the 17th century.
Let me take you through a few of my exclusive discoveries from the DJWE show, first up is the crown made for Miss Universe by Mouawad.
I was excited to wear "The Power Of Unity" crown that celebrates the strength in diversity and the power of women. The crown is designed with more than 1,770 white diamonds and three Golden Canary diamonds of Botswana origin that symbolize the new golden age women who are complex, diverse, ambitious and strong; the centrepiece is made with 62.83cts shield-cut. The interconnected vine motifs set with diamonds represent the unity of different communities of women from around the world that empower one another.
An empowering and stunning piece of jewellery! We have our very own Harnaaz Sandhu gracing the Miss Universe 2022 Crown!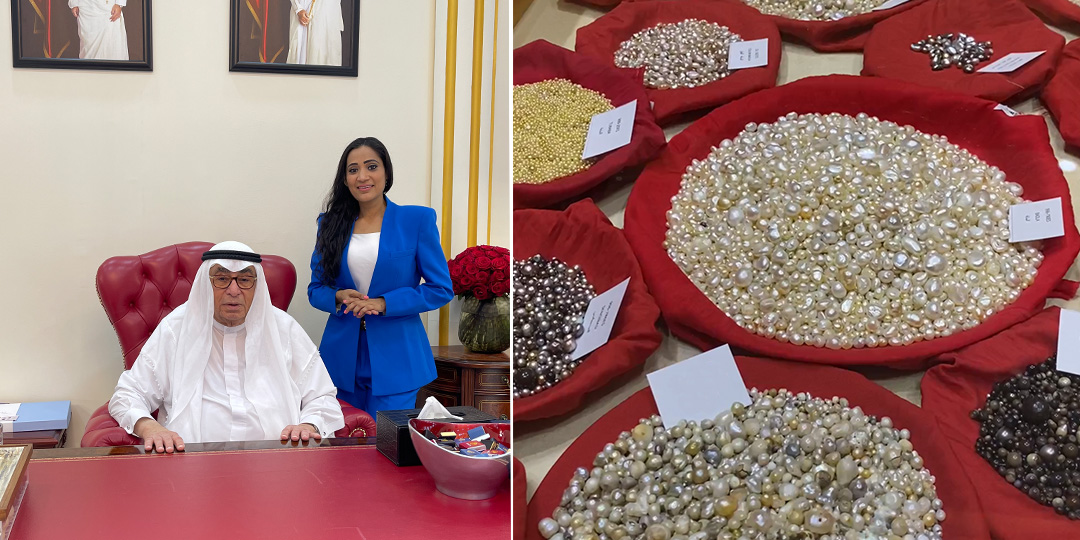 It was an incredible opportunity to meet Mr Hussain Ibrahim Alfardan, chairman of Al Fardan Group and admire the vast collection of rare and most exclusive natural pearls.
Absolutely rare and stunning pair of natural pearl and diamond earrings exclusively made for AL Fardan by Chopard!!
My next stop was by Al Majed Jewellery and I was thrilled to witness more rare natural pearl collections by Mr Ali Al Majed, who was one of the most prominent pearl traders in the Gulf.

At DJWE 2022 I saw one of a kind high jewellery collection displayed by Luxury brands, such as Bulgari, Chopard, Louis Vuitton, David Webb, Graff, David Morris and also a few Italian, Indian and Turkey jewellery!
At the RCM Gioielli booth in Ali BIn Ali Luxury, I saw an enamelled flower motif necklace crafted in white gold and a very exclusive yellow and pink diamond bracelet.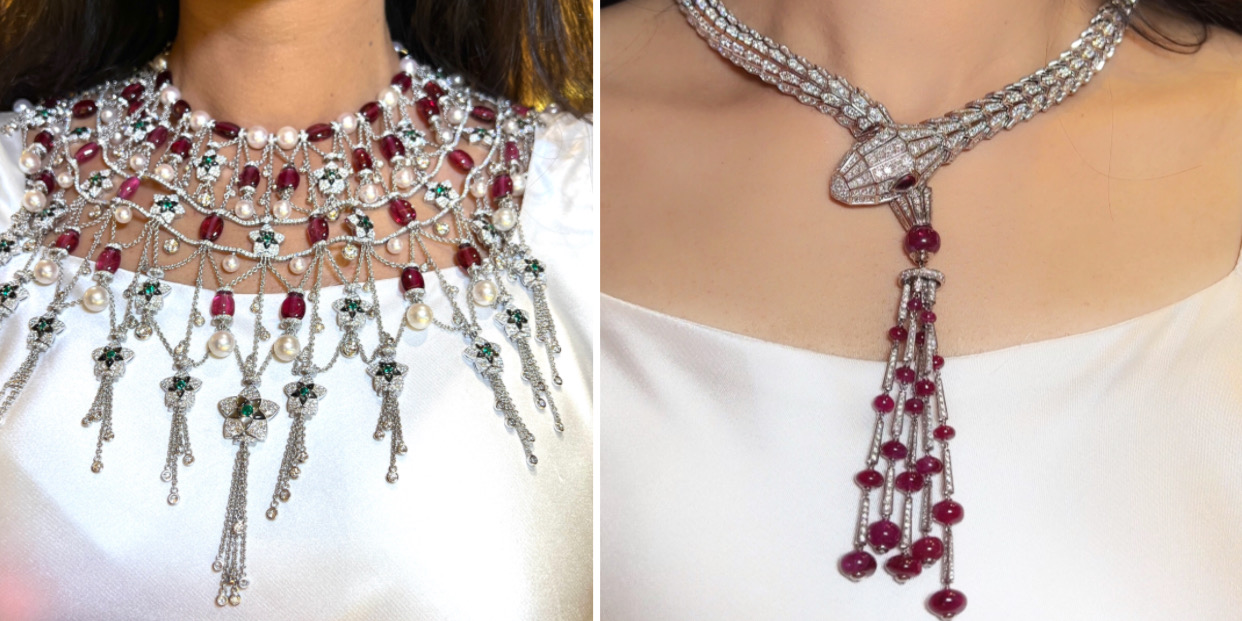 My friend at Bulgaris showed me the Jinnah necklace and my favourite Bulgari serpent set! Did you know; that Bulgari's most famous heritage design is the serpent, an animal motif that is especially significant in ancient Roman culture, representing fertility, rebirth, and protection against evil spirits.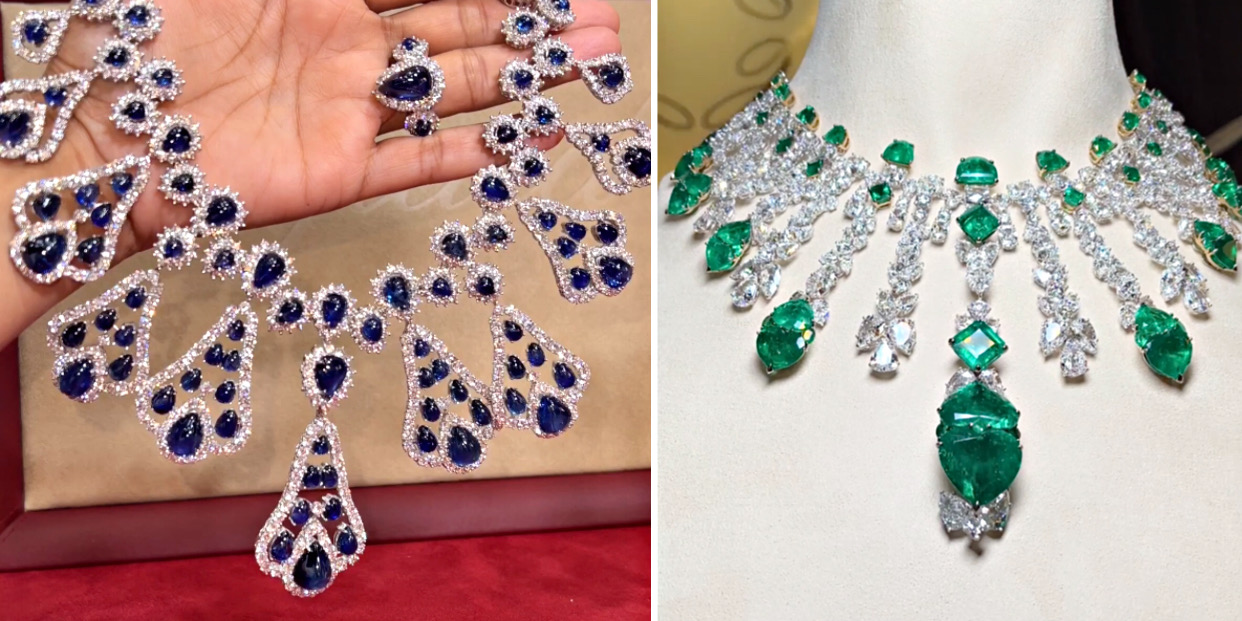 Chopard is getting ready for Festival De Cannes and Red Carpet with their new high jewellery collection! Featured above are a magnificent Sapphire and Colombian emerald necklace! Let me know which one will you wear a Red Carpet look!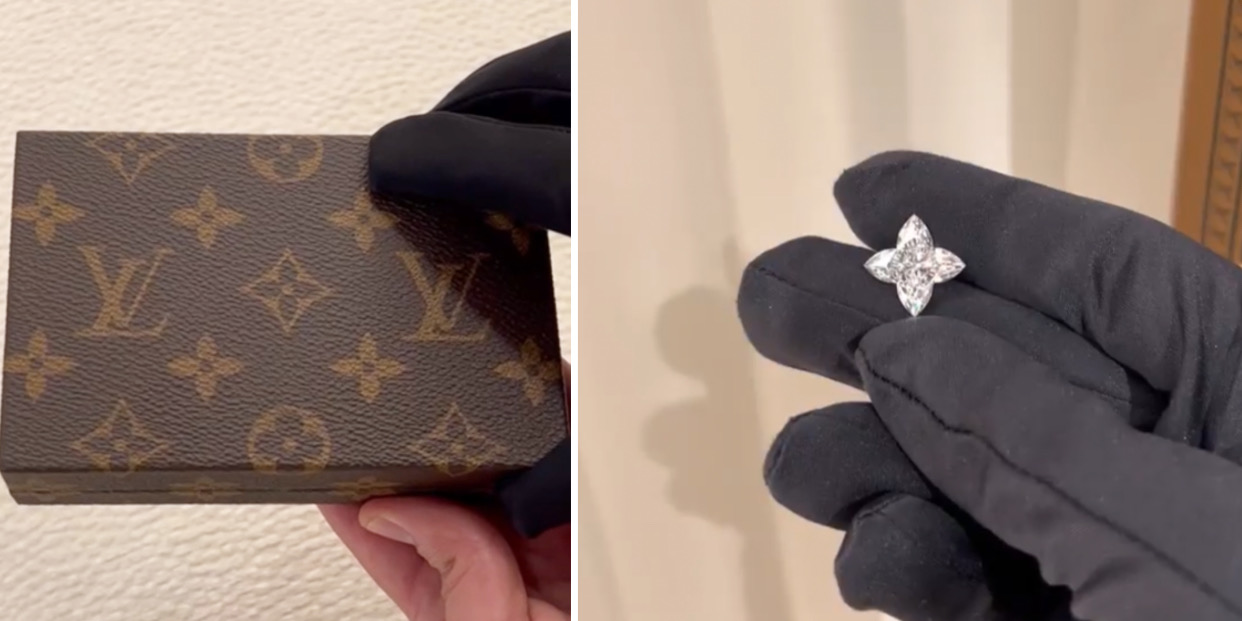 At Louise Vuitton, I saw Louis Vuitton Diamond cut patented by the Maison, which we have admired on the bags, accessories and jewellery! And now talking about jewellery let me share 2 of my favourite necklaces I saw at Louis Vuitton.

Featured above is an octagonal cut indicolite tourmaline of 34.81cts set with tanzanites, aquamarines and diamonds necklace and a stunning necklace made in Topaz.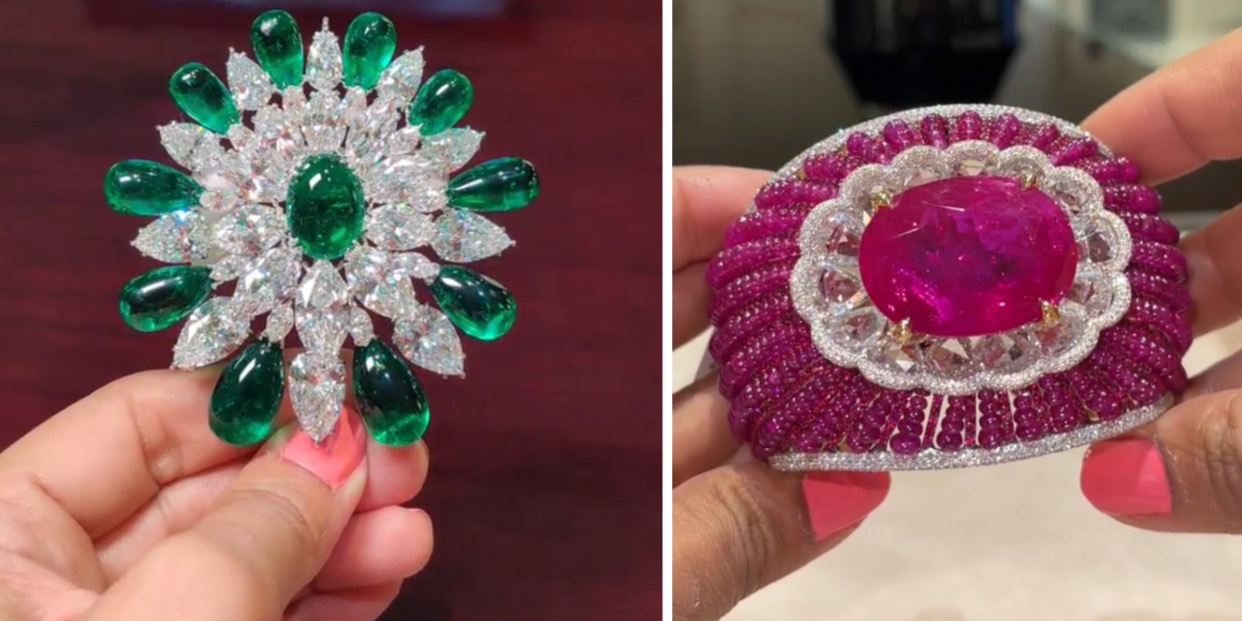 At Chatila, I discovered the best gemstone masterfully crafted into designs of great beauty, delicacy and a sophisticated fusion of the traditional and the contemporary styles! How stunning is the luscious Colombian emerald brooch with the finest quality diamonds and an all Burma Ruby bracelet!

I discovered an unbelievable size of rare Conch Natural Pearls crafted with meticulous detailing by Boghossian Jewels and; two pear-shaped diamonds are each set over one pear-shaped Pink sapphire and one pear-shaped Paraiba, using the 'Kissing' technique. What's more, the wonderful Kissing technique complements these pearls so perfectly, one with the Paraiba matches the bluish Abalone pearl, and one with the Pink sapphire matches the more Purplish Abalone pearl; made in 18 Karat white gold!
It was a pleasure meeting Roberto Boghossian and hearing about the incredible family legacy!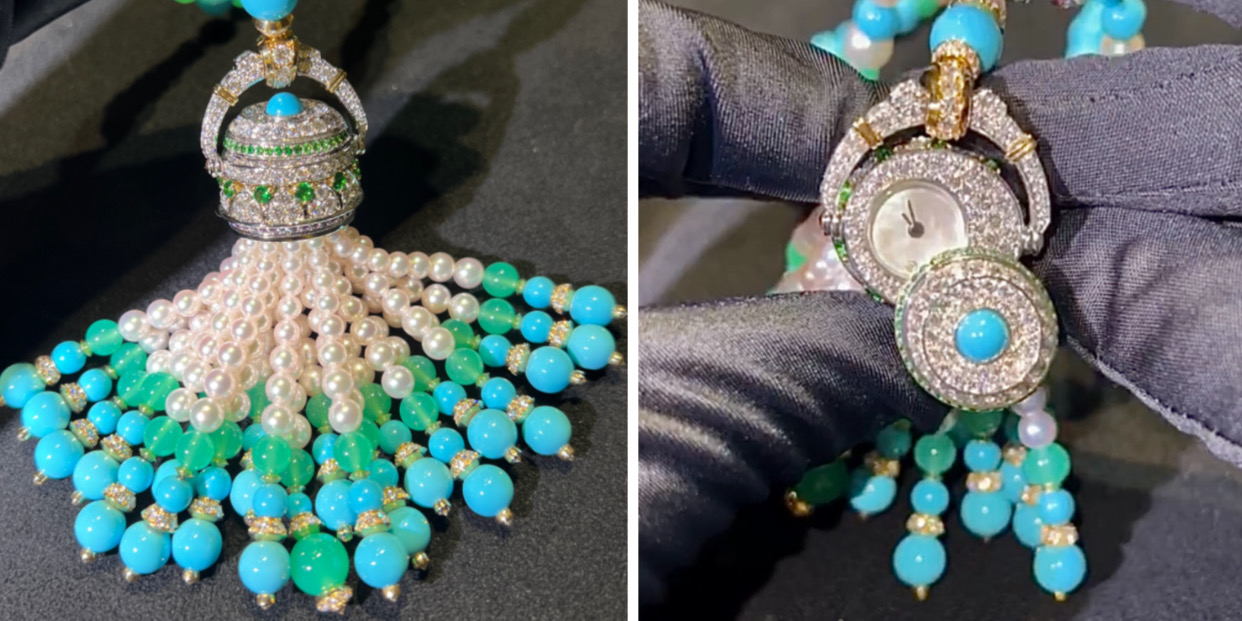 It was such a joy to view this exclusive Van Cleef & Arpels heritage necklace with a hidden clock that can be worn in 8 different ways!! Interestingly, Sautoir are a big trend among Arab women as they are gracefully adorned in their traditional outfits known as Abayas! Well, whether you are Arabian or not, this necklace can add more style to your outfit!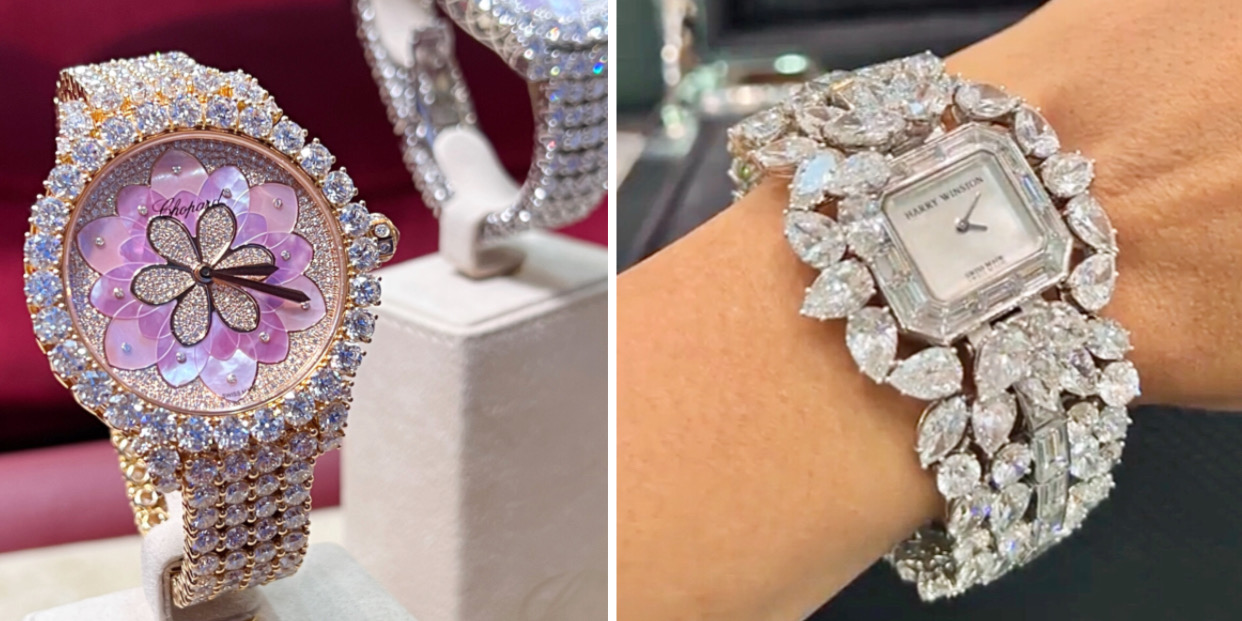 Besides witnessing high jewellery, I also saw limited edition and rare watches at the Doha Jewellery and Watch Exhibition. Featured above is a LIMITED EDITION watch made by Chopard for Al Fardan Group and another Diamond studded watch by Harry Winston. Let me know which one is your pick!

At Franck Muller's booth, I had the privilege to meet Nick Rudaz who showed me the most exquisite Franck Muller watches. My favourite is Vanguard 45mm chronograph watch with diamonds set on steel with hand-painted numerals.
What do you prefer to wear on your wrist, a diamond-studded watch or a bracelet? Let me know in the comments.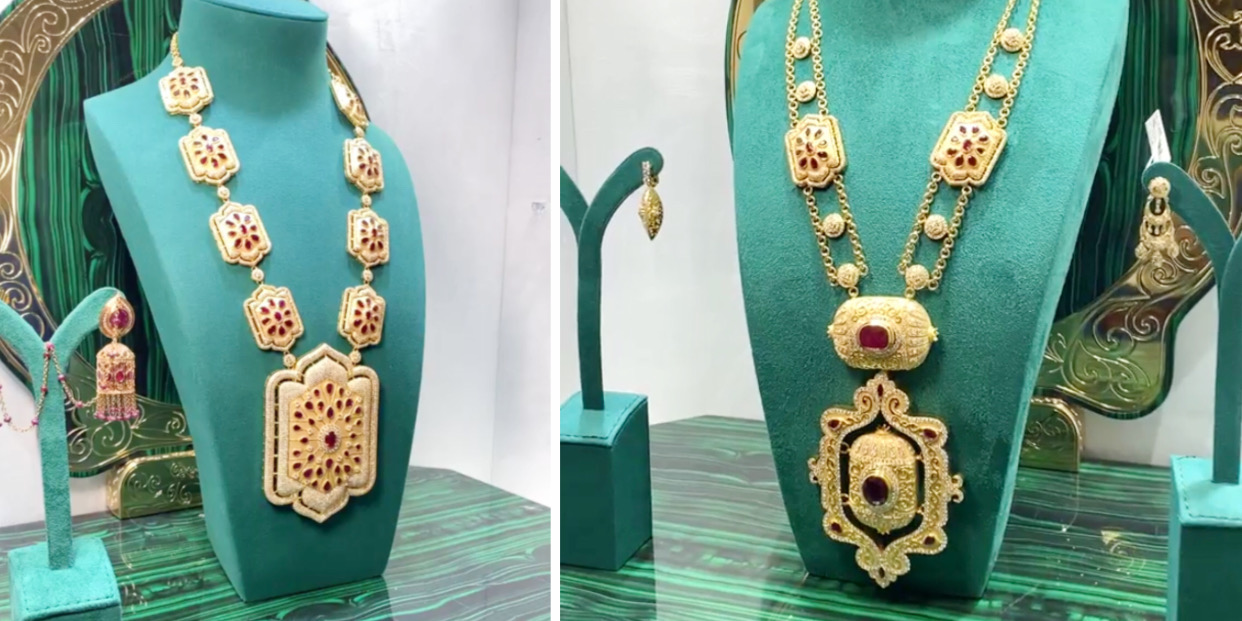 During my visit to Gems and Jewelry shows, I try to curate value-creating, different and unique jewellery trends and content. Each show has something different to offer from another, inspired by the geographical location, traditions and cultural inspiration. Delighted to share a traditional Qatari wedding necklace crafted by the Alfardan Group.
Visual Display is as important as the jewellery itself! Let me take you through a few of the Visual Displays of the brands I admired
1. Boucheron has a long history with the Maharaja of Patiala, and the jewellery house paid tribute to the Maharaja with a visual display of the jewels commissioned for him. I look forward to their new collection: New Maharajahs.
2. Chaumet's historic and sustained devotion to the Tiara is a fascinating and important aspect of jewellery history. Tiaras have historically symbolized royal power and social status and are, specifically designed to imbue their wearer with virtuous qualities and authority. It was fascinating to view the tiaras displayed at the booth.
3. At Louise Vuitton, the brand's monogram caught my attention on the ceiling, trunk, Jewellery and special diamond cut.
4. And finally, let's peep into the delicate window display by Christian Dior.
Let me know which Visual Display appealed to you the most!
And it's a wrap from the Doha Watch and Jewelry Exhibition 2022. It was a pleasure being a part of the 18th edition of the Doha Jewellery and watch exhibition and I hope you all enjoyed this journey! For more content and jewels do visit my Instagram handle!