Emeralds, a gemstone who's popularity rages far and wide. Jeweller's from across the world swear by the classic emerald and diamond combination, moreover keep creating modern designs. My fondness for emerald began as little girl seeing my grandfather bring home rough emeralds back home as a part of his trade. The stone's versatility, wear-ability and richness have never failed to surprise me. It pairs perfectly well with Indian couture outfits as well as chic western outfits.
Columbian emeralds are the most popular variety followed by Zambians one used to create unique designs. Emeralds are believed to be calm and soothing to the wearer and instant uplifting agent to one's personality.
Here are some of my favourite emerald jewellery pieces I can't get over: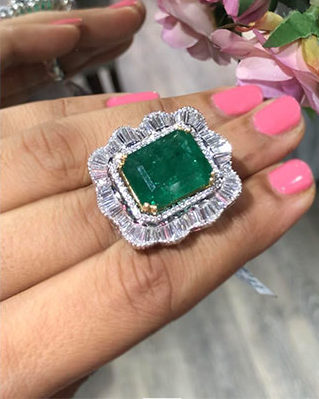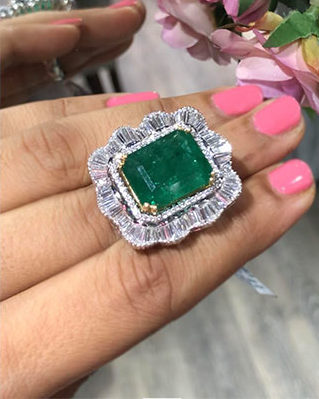 Vijay Jewellers, a couple of decades old firm based out Mumbai swears by the classic emerald and diamond combination. I chanced on this 11-carat emerald ring set beautifully in a bed of diamonds. It's a classic piece to pass down generations with craftmanship worth admiring…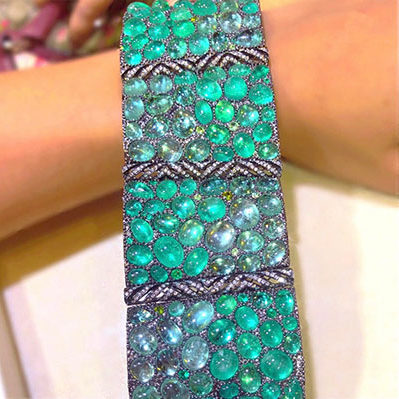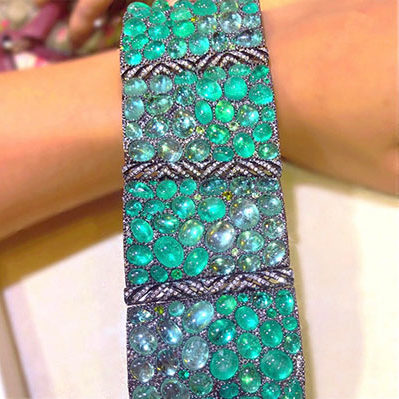 A wrist full of emeralds sounds interesting especially when they are fused with diamonds and black diamonds in various shades. This piece by designer Michael Young Jewels is truly a masterpiece in itself. At my recent visit to the Hongkong Gems and Jewellery fair, I discovered the booth, only to find this piece belongs to a collection created for a generation of ambitious trendsetters. True to its virtue adorn the piece by itself and your set.
Moving on to something special, this piece belongs to a dear friend in the line of trade and is made to order. However, the fine detailing, intricacy and play od diamonds and emeralds with such a unique design left me completely mesmerised. The pendant is made with diamonds and emeralds all along, it's delicate, trendy yet impactful.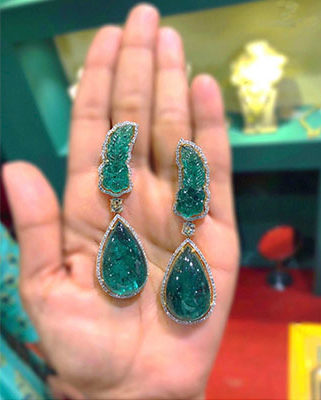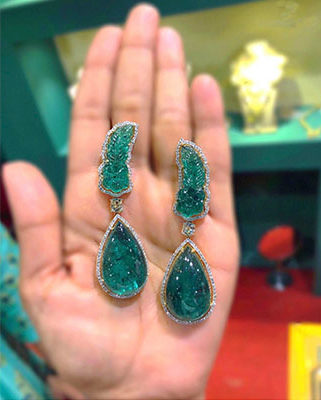 At JAS Jaipur, while roaming around the booth of Golecha Jewels my eyes lay on these emerald earrings. On a closer look, I saw the emeralds are engraved frequently known as Intaglio. Golecha Jewels started in the early 90's with an aim of providing unique and realistic jewellery. Their philosophy is clearly visible in this pair of earrings set in a diamond halo and wearable with almost everything.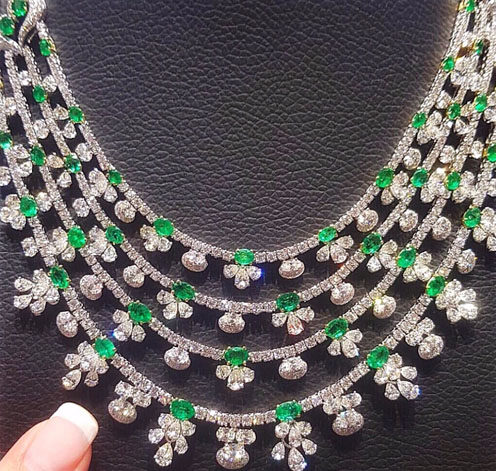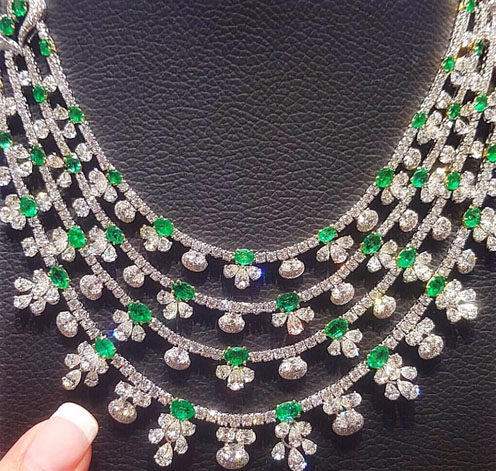 Lastly, what's a girl without an Emerald and Diamond necklace? This beauty is from Begani Jewels.  Made with Fancy shape Diamonds and Oval shape Emerald, in sync with this seasons trend. Each of the diamonds are clustered together to form a motif adding a touch of modern design to the necklace. Begani Jewels is a Mumbai based jewellery store.
While I continue my quest for emeralds and more, stay tuned for the next one!