With close to two decades of being the epitome of luxury and elegance in Qatar, the Doha Jewellery & Watches Exhibition; is a unique exhibition of exclusive jewellery and exquisite craftsmanship.
After the great experience of attending the 2022 Doha Jewellery & Watches Exhibition, it was a thrilling experience for me to be a part of the show again from 20 – 25 February.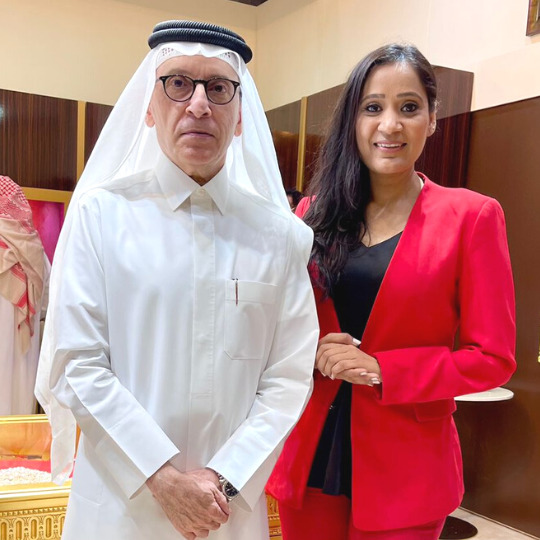 Hosted by Qatar Tourism and organized by Qatar Business Events Corporation (QBEC), DJWE was held under the patronage of His Excellency Sheikh Khalid bin Khalifa bin Abdulaziz Al Thani, Prime Minister and Minister of Interior. I am standing in with the CEO of Qatar Airways Mr Akbar Al Baker.

My first discovery from DJWE 23 is Bird on a Pearl an exclusive high jewellery capsule collection created with remarkable natural saltwater pearls from Mr Hussein Al Fardan's private natural pearl collection. All of the rarest and most extraordinary pearls in the collection were sourced in the Gulf region.
I was mesmerised by the virtual presentation; do notice the window display at the end of the video with Bird on rock displayed inside a moving shell 😀!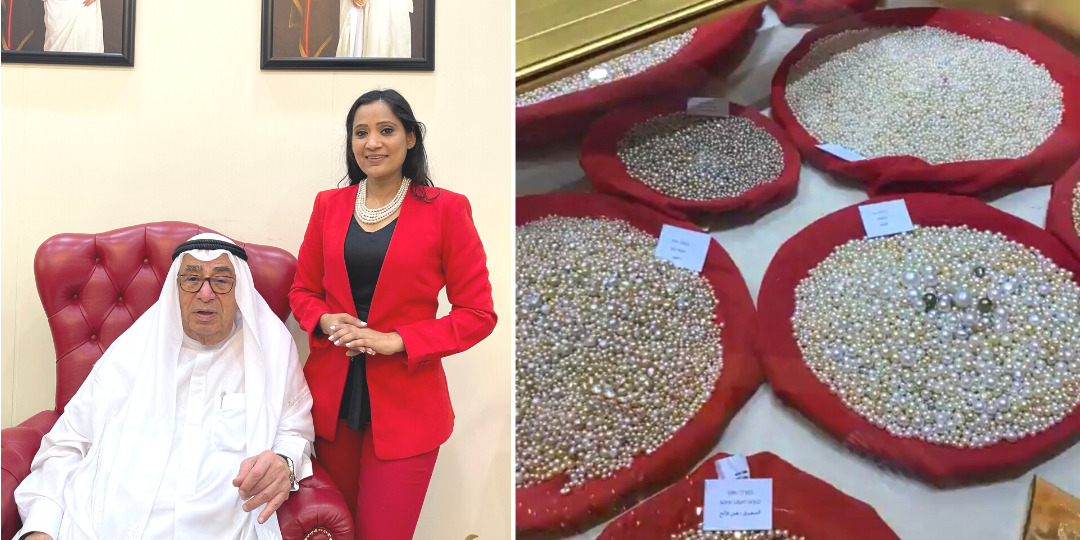 It was an incredible opportunity to meet Mr Hussain Ibrahim Alfardan, chairman of Al Fardan Group and admire the vast collection of rare and exclusive natural pearls.

Featured above is a masterpiece crafted by Alok Lodha Jewels a heritage high jewellery house founded in 1968. The legacy of almost six decades is driven by a passion for rare gems and outstanding craftsmanship nurtured through three generations of an intimate family-run jewellery house. And this reflects in their amazing collection of jewellery!

It was a delight to discover Awaken ONE a brand that brings together the tradition and modernity of the Art of Guillochage engraving and Flinking. Engraving has historically been used in decorative art among the wealthiest European Royal Courts in the 18th Century. Today, this unique and precise technique is rarely used in jewellery as it requires the savoir-faire of a Master Engraver. This truly has become the AWKN1 signature jewels brand statement of exclusive craftsmanship. Who else is in love with this exclusive collection like me? Let me know in the comments!

Ladies and gentlemen presenting Chopard's high jewellery necklace made with the most magnificent craftsmanship. It was a pleasure meeting the gracious Queen of Hearts: Caroline Scheufele, Chopard's Co-President and Artistic Director Caroline Scheufele who passionately shared her inspiration behind Chopard High Jewellery!

At Papillon booth, I met the gracious Noora Al Ansari, the owner and designer.
Papillon means Butterfly in French and is synonymous with the journey of the customer who enters the jewellery store which is the garden; and admires the jewellery as a butterfly hovers over the flowers. The different brands under the Paillon booth are:
1. Siris Tanya
2. Nardelli Gioielli
3. JJ jewels
4. Jewels Deco
5. Shital Dass & sons
6. Neva jewels
7. Tessitore 1888
If you planning a visit to Doha, you must visit Papillon in Place Vendôme Mall.

At Nafees Fine Jewellery, a Jaipur-based company renowned for handcrafting modern, fun and contemporary jewellery embellished in the best and rare ethically sourced gemstones; I saw some vibrant and colourful jewels!

Anything.. any place can become a source of inspiration. Take the case of Hairaat's new collection "Al Mahra". Seeking inspiration from Arabian horses and equestrian equipment the brand has launched its new collection Al Mahra in Doha Jewellery & Watches Exhibition.
Hairaat was one of the official diamond sponsors of the prestigious Katara International Arabian Horse Festival; under the patronage of His Highness the Amir Sheikh Tamim bin Hamad Al Thani. which aims to support Qatar's rich equestrian heritage and promote the uniqueness of purebred Arabian horses.Did you know; Arabian horses are known for their beauty, high speed and intelligence?

Over the years, the DJWE exhibition has successfully retained its reputation as a high-profile gathering for jewellery aficionados, global brands, and aspiring designers. DJWE 2023 will host 30,000 visitors from over 175 countries; and there will be 500 renowned brands such as DeBeers, Chanel, Rolex, Patek Philippe, Hublot, Louis Vuitton, Cartier, Bulgari and more.
It was an incredible experience being at the Doha Jewellery & Watches Exhibition! Thank you, Qatar Airways. I look forward to the bigger DJWE 24!