The Hong Kong Twin Jewellery Show was organized by the Hong Kong Trade Development Council (HKTDC), from 1-5 March 2023 at the Hong Kong Convention and Exhibition Centre (HKCEC). Under the theme of "A Sparkling Feast Crafted in Excellence", the twin jewellery shows had over 2500 exhibitors from around the globe and presented a dazzling array of exquisite gems and jewellery.
It was a pleasure to attend; the Hong Kong International Jewellery Show, which showcased an extensive array of fine jewellery under various themed zones and Hong Kong International Diamond, Gem and Pearl Show had raw jewellery materials, including loose diamonds, precious stones, semi-precious stones and pearls.
Allow me to share a few of my discoveries:


Arjiv Exports a family-owned company renowned for cutting diamonds in step-cut, rose-cut, old mine cut, matching pairs, calibrated layouts and a lot more; during my visit, Mr Hiren Moradia highlighted his vast collection of special cut diamonds.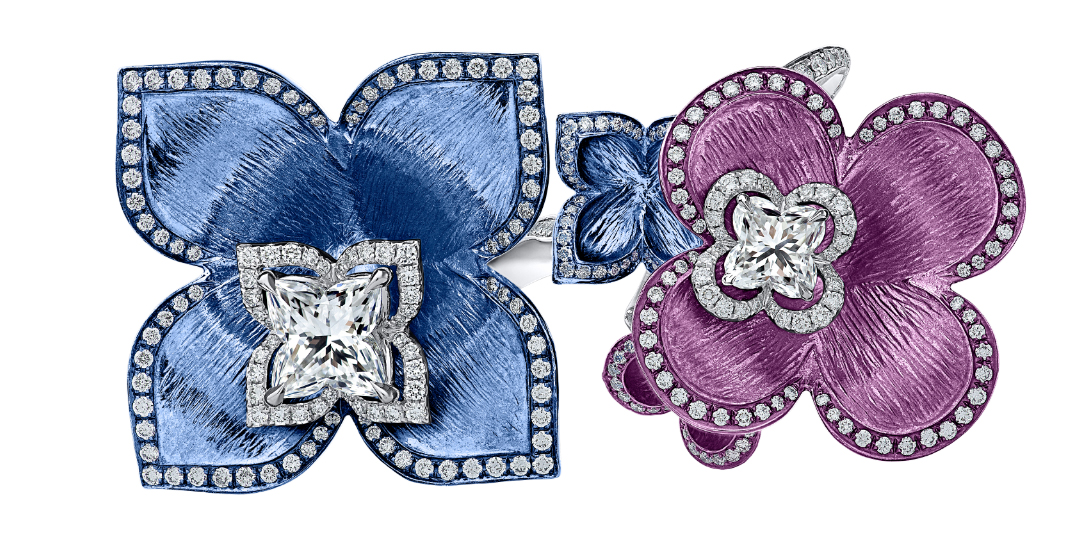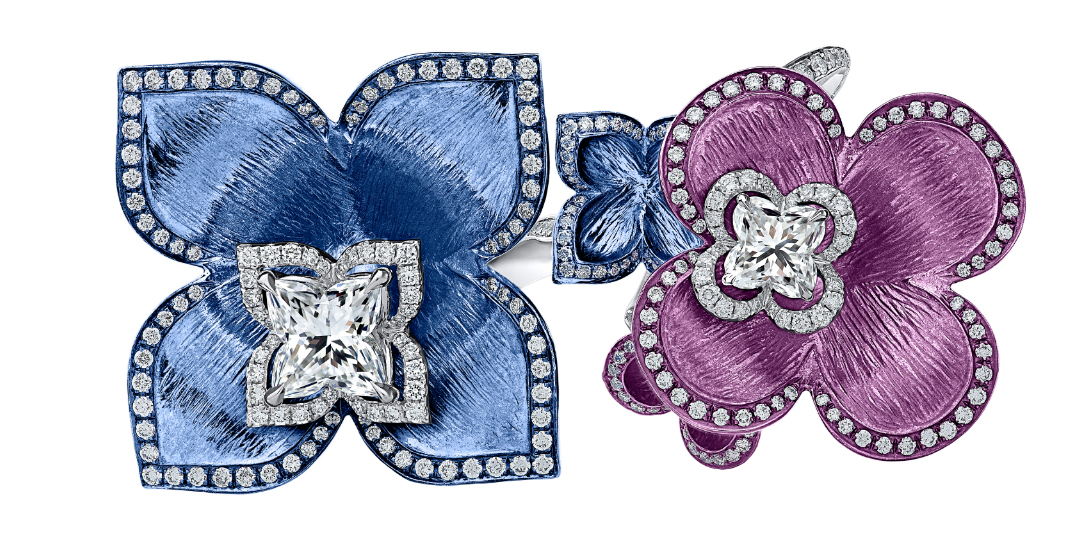 In 2019 I curated a series on Branded/Patented Diamond®️ and one of the diamond cuts that I featured was The Lily®️ Cut. It was my absolute pleasure to meet the expert team of the patented The Lily®️ Cut at Lili Jewelry in Grand Hall and discover more about this special cut.
• Lily®️ Cut Diamond is exclusively cut by Lili Diamonds, located in the centre of the Israeli diamond exchange in Ramat-Gan, Israel.
• The Lily®️ Cut is an exquisite flower-shaped diamond with four petals and a square table. This marvellously cut diamond was inspired by one of nature's most beautiful creations -Flowers! The smooth round lines characterize 4 delicate petals of the Lily®️ Cut which come in two different shapes:
1) A rounded flower diamond with curved petals edges.
2) A pointed flower diamond with sharp petals edges.
• The Lily®️ Cut has 65 facets compared to the 43 facets of the princess cut; a carefully designed cut gives rise to the unique internal reflection of light, creating an endless sense of depth in the heart of the diamond.
A work of art crafted with excellence!


One of the gemstones that I have been mesmerised in the Hong Kong International Jewellery Show is Jadeite; a dominant mineral of the most desirable variety of jade. Unlike diamonds and other gemstones, fine jadeite has a subtle glow that radiates and illuminates the unique inner beauty of the stone and promises everlasting blessing. Jadeite's colour commonly ranges from white through pale apple green to deep jade green to pink, lavender and a multitude of other rare colours. Featured above are a few of the exquisite jewels by On Tung Company, a brand synonymous with fine Burmese jadeite and renowned for handcrafting unique designs and exquisite craftsmanship!


Jadeite arrived from Burma in 1784 and by the beginning of the 19th century it had become widely sought-after, its popularity perhaps due to the Empress Dowager Cixi, who was a great enthusiast of the stone.
Featured above are different types of Jadeite colours seen by United Jewelry.
• Lavender Jadeite; is characterised by its Intense purple colour.
• Imperial Green Jadeite is known for its Intense green colour.
• Icy jadeite is nearly colourless.
Let me know which is your favourite type of Jadeite!
Did you know: Jadeite stone is said to be a lucky gemstone since it brings energies of health, love, and wealth!


My quest to share unique and extraordinary works of art pulled me inside Jheng Jewellery. A century-old jewellery family that inherits top-level coloured treasures and creates wearable art by combining elements of Oriental culture with top-level jewellery craftsmanship. I was delighted to see their work of art inspired by Chinese opera masks.
Did you know: China's mask tradition began around 3,500 years ago? In ancient China, these masks were used for spiritual purposes. Over time masks would become an important part of Chinese culture and tradition. The masks instantly conveyed the emotion of larger-than-life figures. And larger-than-life figures are exactly what opera tends to focus on! So who wants to put these masks on?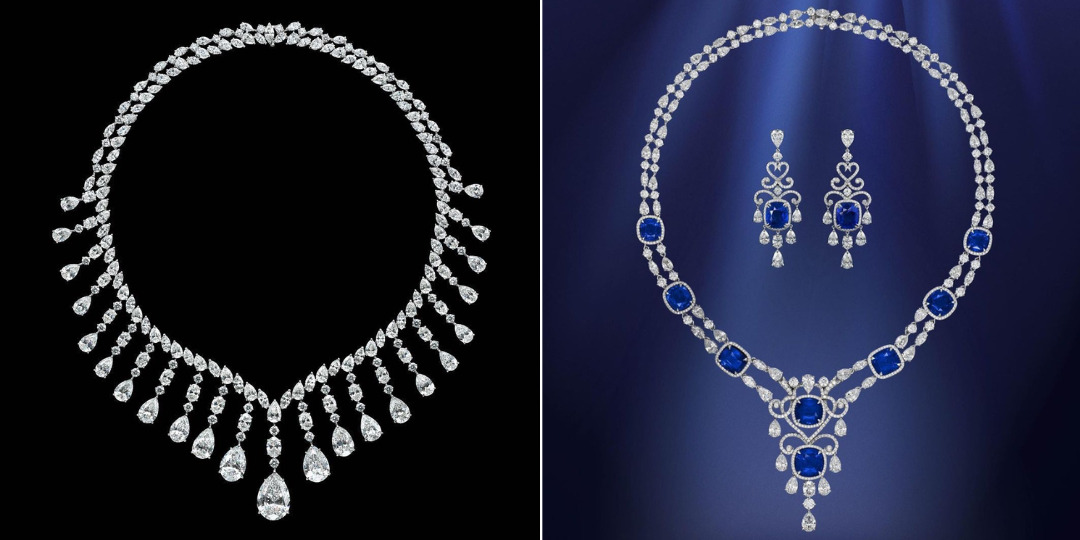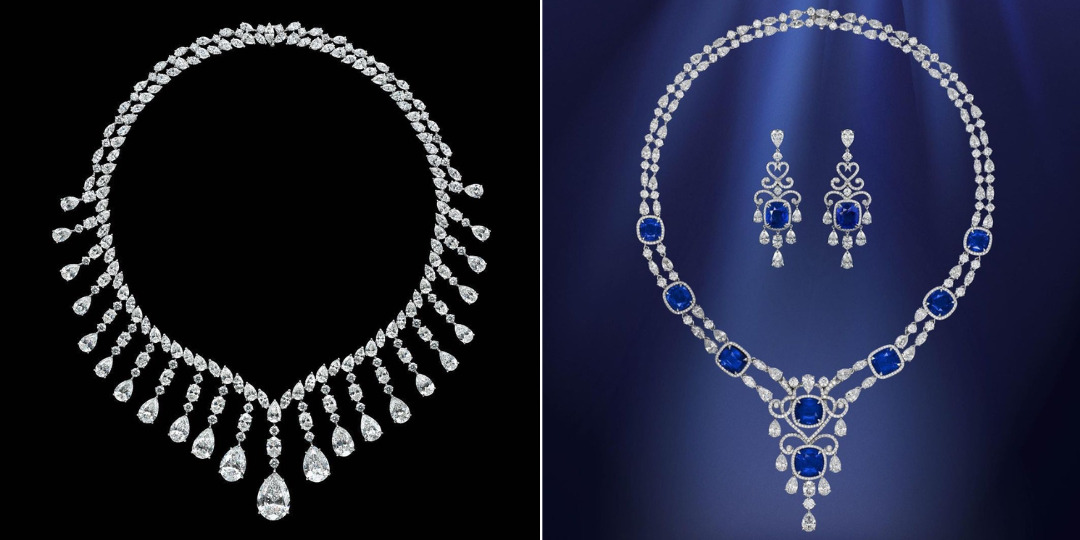 A majestic and magnificent diamond necklace made with the finest cut fancy cut diamonds by The House of Dehres; an internationally acclaimed family enterprise, renowned in the world of diamonds and precious gems. The Zion family is dedicated to the art of creating the finest, most magnificent jewellery, they have worked privately with an exclusive clientele on a global level.
My first interaction with the family was in 2018 at the HKTDC show and it was a pleasure meeting the Zion family once again.
It was an incredible experience being a part of the Twin shows; organised by the Hong Kong Trade Development Council (HKTDC) and I am looking forward to the 2024 edition!