The 15th edition of the IIJS Signature Show, a B2B exhibition, took place from 5th to 9th January in Mumbai. This year IIJS Signature Show was Bigger, Better and Greener.
The show was running completely on "Green Energy", and One Earth was the Council's first step towards making the IIJS shows completely carbon-neutral. The theme murmuration of starlings is a reminder that we together can achieve great success. Together. We fly as one!

The event was graced by the Hon'ble Minister of State for Commerce & Industry Smt. Anupriya Patel and Guests of Honour Smt. Poonam Mahajan, Member of Parliament and Shri M.P. Ahammed, Chairman of Malabar Gold & Diamonds and GJEPC Chairman of GJEPC Vipul Shah, Vice-chairman of GJEPC Kirit Bhansali, Convenor, National Exhibitions Neerav Bhansali, the entire GJEPC committee and the gems and jewellery industry stalwarts.
Let me take you through a few of my discoveries from the show.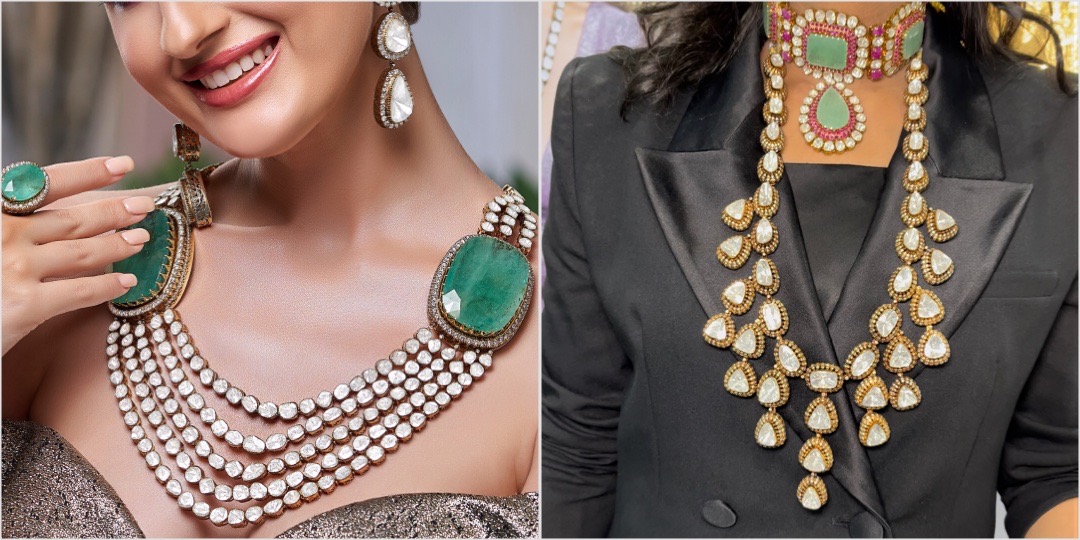 India's leading wedding jewellers Shiv Narayan Jewellers Pvt Ltd are well-known for designing wedding collections for diverse communities across India and enhancing femininity with the highest level of quality checks at every department. Shiv Narayan Jewellers launched their New Brand, "Rikasa" A Legacy of Royals".
Mr Kamal Kishore Agarwal (Chairman) of Shiv Narayan Group Of Companies and Mr Tushar Agarwal (Managing Director) shared the inspiration behind the collection!

Shree Raj Jewellers, a prestigious jewellery manufacturer and retailer from Hyderabad, are renowned for handcrafting royal traditional Indian jewellery that depicts an amalgamation of rare precious gems. For four generations, their in-house manufacturing unit meticulously handcrafts each component of jewellery with great attention to detail over the years. The family-run business house has been a jeweller to Nizam of Hyderabad, Maharaja of Baroda, esteemed zamindars and wealthy industrialists. Featured above are a few of their exclusive masterpieces.
During my recent visit to Jaipur, it was a pleasure meeting Mr Rahul Jain creative director of Royal Jewels, who passionately shared about the exquisite designs handcrafted with the rarest and the best gemstones responsibly sourced. Let me know which of their collection fascinated you the most!
Nature is beautiful; it is wild and full of inspiration. Sanskriti Jewels latest collection, "Songs of Nature", is inspired by the symphonies of love and happiness the Earth plays around us.
Let me narrate a magical story of Emily!
Emily enters the book name "Songs of Nature" and comes across a barren forest. Dishearted by the distraught ambience, Emily starts playing music, and soon the forest becomes full of life with flowers, birds and animals! Seeing the happiness around, mother nature plucks a flower and gifts it to Emily, which turns into a magnificent jewel. Thus, Emily names the jewels "SONGS OF NATURE".
It was indeed a magical experience for me to see this lovely curation of jewellery and storytelling that I witnessed for the first time. Thank you, Sanskriti Jewels, for bringing us close to nature!

It was a delight to discover exquisite couture jewellery handcrafted with diamonds and precious gemstones at Leo Jewels. What's more, the craftsmanship is as intricate, meticulous and beautifully perfect! All credit for the same goes to Shagun Shah, the creative director, who makes sure that every piece is crafted with attention to detail and exudes elegance.

Badalia Diamond Jewellers are the biggest solitaire and natural diamond jewellery brand. With a legacy of more than 65 years, they specialize in handcrafted solitaires, effulgent bridal & contemporary collections and also provide a timeless and precious range of jewellery! It was wonderful meeting the team and admiring their natural diamond jewels!
Ethnic Gold jewellery is an indispensable part of Indian weddings and the rich Indian heritage. And this is what SK Seth Jewellers delivers in spades. Established in 1962 by Mohanlal S Seth, SK Seth Jewellers are renowned for the finest compilation of handcrafted antique gold jewellery inspired by the resplendent beauty of ethnic and temple jewellery that transcends time and generations.
Whether you are looking for traditional or modern gold jewellery, the team at SK Seth Jewellers will show you masterpieces crafted with love!

Anokha Jewels, a family-run business house for 9 generations that specialises in diamond, solitaire, Polki Jadau & Gold Jewellery from Kolkata and are a Pan India wholesaler for the last 27 years. Their in-house skilled artists are renowned to produce fine pieces of jewellery. I was in love with the collection at the IIJS Signature Show.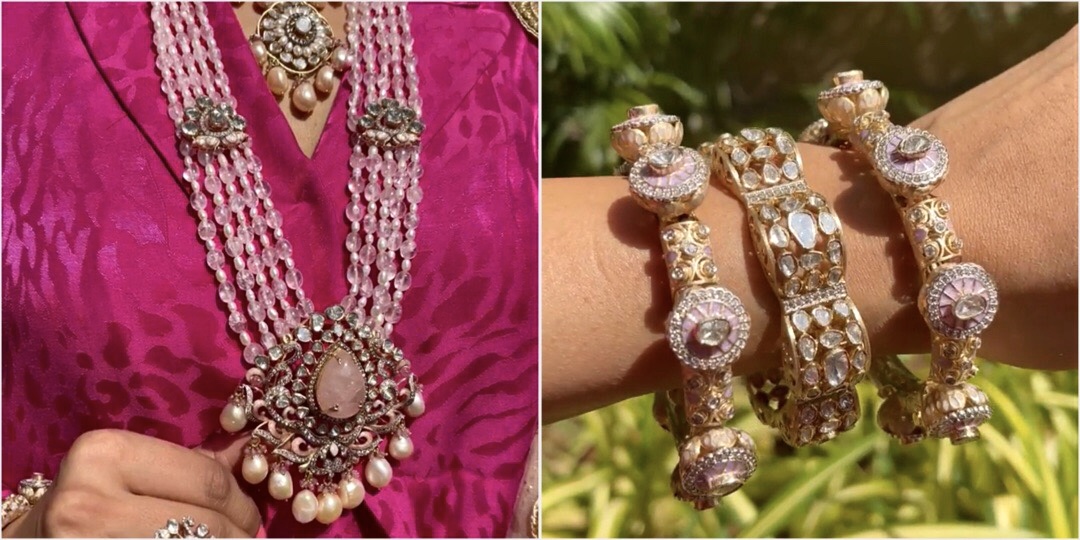 House of Sparsh's modern, trendy and innovative jewellery are a must-have for the modern bridal. The dynamic duo Suken and Hema Shah of House of Sparsh; passionately handcrafts wearable art with diversified inspiration from the world's flora and fauna using the finest gemstones. Their collection, Euphoria- A Gist of Grandeur, has a contemporary masterpiece for the modern woman.

Somira Diam has been at the forefront of design, craftsmanship, transparency, and creating diamond jewellery of the highest quality for 8 years under the leadership of Sonal Shah.
As one of the premier jewellers in Mumbai, Somira Diam specialises in creating unique and distinctive wearable art that matches the latest trends and compliments both modern and traditional dressing styles. Featured above are a few of their exclusive designs!
Mehta Tools, established in 1969, is one of the largest suppliers of various tools used in the gems and jewellery industry and retail jewellery showrooms. At the IIJS Signature Show, they launched the Smallest laser marker in the world, the LASERMARKER M7.
Mit shared the key features of the machine.
1) LASERMARKER M7 weighs only 2.5 kg!
2) You can print QRs, Barcodes, Images, and custom logos. Additionally, you can click custom handwriting and have it printed on your jewellery.
3) LASERMARKER M7 simply works on the Phone App and doesn't need any Computer or Air conditioning.
4) It has a life of 10,000 hours, so if you use it for 3 hours every day, the machine should last for 10 years!
5) It also does not have any consumables or servicing needs.
6) LASERMARKER M7 is the smallest in size but has 7 patents for its tech.
It was a pleasure being a part of Bigger! Better! And Greener IIJS Signature Show!