JCK the world's largest and most trusted jewellery industry trade event took place from June 2-5 at the Venetian, Las Vegas. After a successful 30 years celebration at JCK in 2022, I was delighted to be a part of the 2023 edition and meet my jewellery friends across continents and discover market trends, products and innovation in jewellery.

My first stop was by #LuxuryByJCK which provides the most distinguished place to do business in a high-end, secure environment and caters to the niche, high-end jewellery market.
Let me share a few of my discoveries.

Norman Silverman Diamonds is a family-owned diamond house in Los Angeles designing timeless luxury jewellery for 37 years expanding across generations, which has enabled the company to grow with passion. With the commitment to creating fine jewellery with opulence, authenticity and excellence each work of art is designed with care and made from ethically sourced materials. The company has made its mark by offering a wide collection of large and rare white natural diamonds, and fancy yellows, pinks and blues diamonds.


It was a pleasure meeting Trudy Tracy, Director of Marketing Norman Silverman, who shared her insights on what makes Norman Silverman's diamonds stand apart!
💎Norman Silverman specialises in calibrated fancy-cut natural diamonds and every single diamond is GIA certified!
💎One of the best-sellers at Norman Silverman is the diamond eternity band.
💎They specialise in exclusive one-of-a-kind large diamond!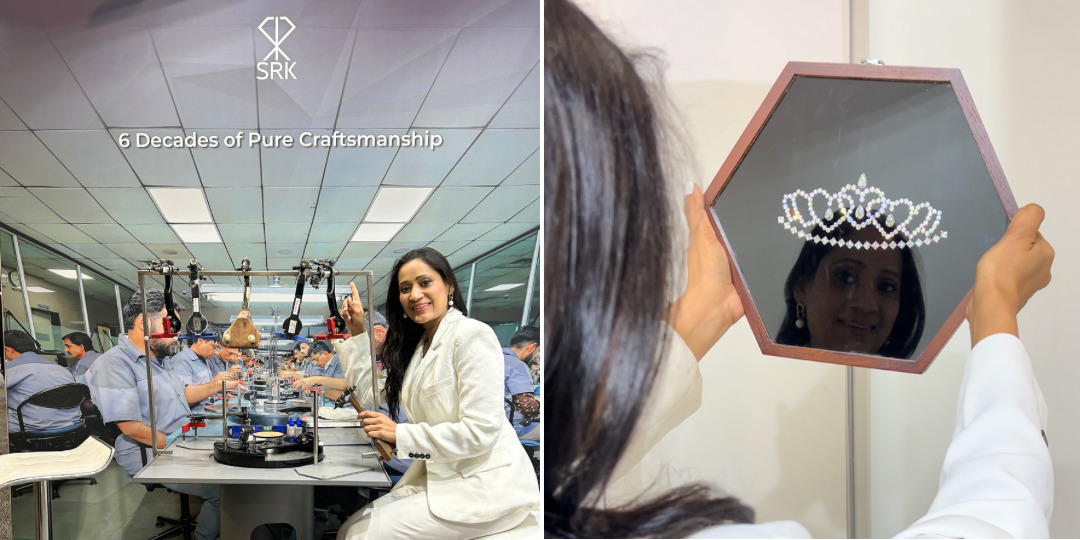 My next, visit was by Shree Ram Krishna Exports; who have been the epitome of sophisticated simplicity, transparency and ethics in the world of natural diamonds since 1964. The company's expertise lies in producing a consistent supply of natural polished diamonds in all shapes and sizes, and their status as a De Beers Sightholder is a reflection of their emphasis on excellence with responsibility! SRK is a technologically advanced diamond crafting company in the world and has embraced science and technology to further its quest to blend quality and scale.
Since 1969, Venus Jewel is renowned for its ethics, transparency, and commitment to excellence. The company is globally recognized as the most trusted supplier of large-sized premium natural diamonds, ranging from 0.30 to 30.00 carats+; and are preferred Sightholders of De Beers, Rio Tinto & Arctic Canadian Diamond Company; and the official supplier un er De Beers' Forevermark and Rio Tinto's Mine of Origin (MOO). If you are looking for natural diamonds for your inventory you must visit Venus Jewel, the world leader in solitaire in JCk

At JCK I discovered the fine jewellery brand Goko, which is one of the most important jewellery producers from Japan. The journey of the company began in 1970 with its founder Tamotsu Mochizuki, and today the 3rd generation family member Sho Mochizuki is taking the family legacy ahead and protecting the skills that have been passed down from generation to generation and is committed to offering products that are carefully handcrafted by using only high-quality and ethically sourced gemstones.



J.R Diam Group has a legacy in the world of diamonds that dates back over two and a half decades and over the years J.R Diam Group has emerged as one of the largest manufacturers of diamonds and the biggest worldwide suppliers of beads, briolettes, SS cut, rose cut and fancy cut diamonds
Wonder what makes J.R. Diam special? The skilled team ensures precision and quality at every stage of the manufacturing process and guarantees absolute customer satisfaction prioritizing purity, quality and excellence!

Sunita Nahata Fine Design, founder, Sunita Nahata is renowned for designing and creating one-of-a-kind jewels that are unique, trendy and made for women who desire to be different since 2017. Over the years she has handcrafted jewels for the multifaceted individual who embodies the spirit of the present era. Each of Sunita's creations reflects the brand's bold and playful spirit crafted with the finest quality of gemstones that resonates with the women of today, who want to be classic, unique and trendsetter!

And finally, at the special cocktail party hosted by Martin Rapaport, it was a great evening meeting jewellery stalwarts. With 30 years of uniting the industry in Las Vegas, JCK continues to deliver an exceptional experience that serves all major segments of the jewellery industry!
I look forward to the 2024 JCK Show!