Riyadh International Luxury Week, the largest Jewellery exhibition in the Kingdom of Saudi Arabia took place from May 16-19 at Al Faisaliah Hotel, and it was my pleasure to be a part of the show.

Over 75 international brands exhibited the best in exquisite gemstones, creativity, heritage and savoir-faire, and shared their wearable art with Saudi Arabian clientele. Additionally, there were educational seminars on:
👉Buying Gemstones, Natural Pearls.
👉Natural, Lab-grown & Imitation Diamonds.
👉 The World of Coloured Diamonds.
Let me take you through a few of my discoveries from the show.

It was a delight meeting my friends at Piranesi a family-run jewellery house that has expertise in handcrafting one-of-a-kind jewellery using the most precious stones and refined craftsmanship.
Featured above is an exquisite brooch adorned with a captivating emerald gemstone from the heart of Colombia. Trust the expert team at Piranesi to handcraft exquisite pieces that transcend time and embody the epitome of elegance!
I have always admired sharing creative designs of inspiring local talents; and discovering one-of-a-kind pieces; for these creations often embody the local culture, traditions, and aesthetics.
Having said that; it was a pleasure meeting Haneen AlQunaibit, Amarin Jewels, a young talented Saudi designer who passionately shared her journey and spoke about her collection.
The necklace featured above is inspired by Najdi heritage and BRIEF نبذة architecture. It is the centre of the rich culture of the Kingdom of Saudi Arabia.
1️⃣ The necklace can be worn as a complete piece.
2️⃣ The lower part can be detached and worn as a buckle.
3️⃣ The center turquoise can be worn independently as a pendant.

Amarin Jewel's main pillar beliefs are to reflect the past, present, and future in every piece.
The remarkable works crafted by the talented artist evoke a sense of awe, inviting us to celebrate the beauty and diversity of our world!

AWKN1 brings together tradition and modernity the Art of Guillochage and Flinking Engraving has historically been used in decorative art among the wealthiest European Royal Courts in the 18th Century. Today, this unique and precise engraving technique is rarely used in joaillerie as it requires the savoir-faire of a Master Engraver; this unique work of art has become the brands signature jewels statement!
Anne-Marie Le Flanchec, founder and designer shared " Each AWKN1 jewellery holds this quality of becoming a special talisman to the wearer, presenting beauty with a depth of intention. The fine craftsmanship and meaningful designs contain a specific energy that awakens and swirls, magnetising to those it is meant for; the brand is drawn to you as much as you are drawn towards it"
Let me know what you think of the collection!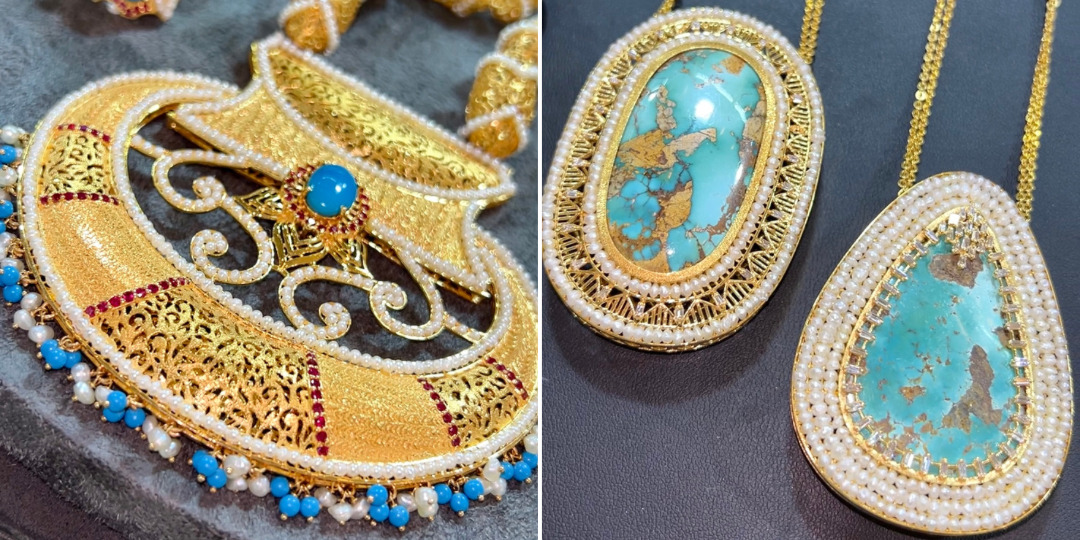 My first interaction with Mr Ahmed Matar of Pearl Biography was in 2021 when I conducted an Insta Live with him. It was a pleasure to meet him in person and view his natural Bahrain pearl collection at the Riyadh Luxury Week.
Featured above is a traditional 21 Karat Bahraini gold necklace made with intricate detailing and Bahrain natural pearls and a turquoise pendant. In Bahrain, turquoise holds a special place in the local culture and is incorporated into various aspects of life, including traditional jewelry, adornments, and even architectural elements. The vibrant blue-green hue of turquoise is believed to ward off evil spirits and bring good fortune and prosperity.
Revisit my article on Bahrain Natural Pearls and discover more about these rare gemstones.

Pearls and Tiaras!
The pearl specialist; Yoko London created this spectacular "Coronation Tiara" to celebrate the coronation of King Charles lll. The tiara features 19 individual Australian south-sea drop-shaped pearls and diamonds set in 18ct gold.
I absolutely enjoyed wearing it!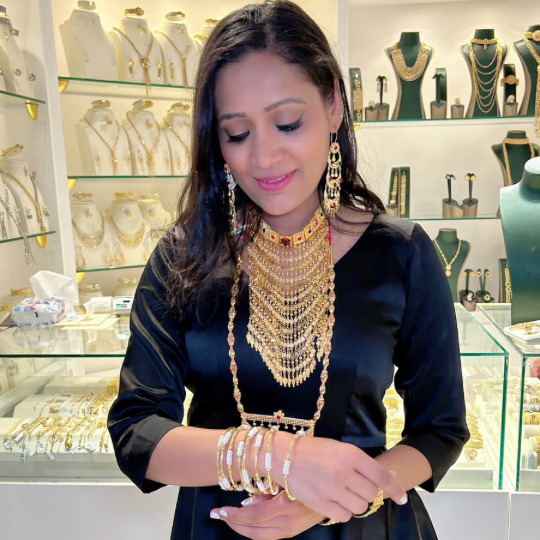 GOLD jewellery is considered a fashion statement and an essential accessory for both women and men in Saudi Arabia. It adds elegance, glamour, and beauty to traditional attire, such as the abaya and thobe, as well as modern outfits. It allows individuals to express their style and enhance their overall appearance!
I immersed myself in the colourful tapestry of their culture by adorning traditional gold jewellery by Al Bagshi Gold.
Since the Cannes Film Festival was happening around the same time as the Riyadh Luxury Week, I enjoyed admiring Chopard high jewellery by the Al Fardan booth.
Featured above is the

It was wonderful being part of the 5th edition of Saudi Luxury Week in Riyadh where over 75 brands exhibited their work of art. Thank you, Alrajhi Bank & Lucid Motors, store makers, and the National Committee for precious metals & Gemstones for organising this wonderful show!
See you at the 6th edition!