The 17th edition of the Jaipur Jewellery Show (JJS) took place from 24th to 27th December; at the Jaipur Exhibition and Convention Centre, Sitapura (JECC), with the theme "Its Time to sparkle."
It was indeed a great honour to be invited by the Jaipur Jewellery Show committee again after the JJS 2019 to talk and promote the event on my social media handles. With great enthusiasm, I went back to my hometown Jaipur, to cover the JJS 2021. Below is a small glimpse of one of the most beautiful and culturally rich cities in India, Jaipur.
Video Credinot: The Diamond Talk.
The thrill of showcasing the brilliance that my hometown has to offer, as well as the chances that lay ahead, was unparalleled. I'll take you through my four days of experience at the Jaipur Jewellery Show 2021, as well as the events that took place during that time.
Day 1 at Jaipur Jewellery Show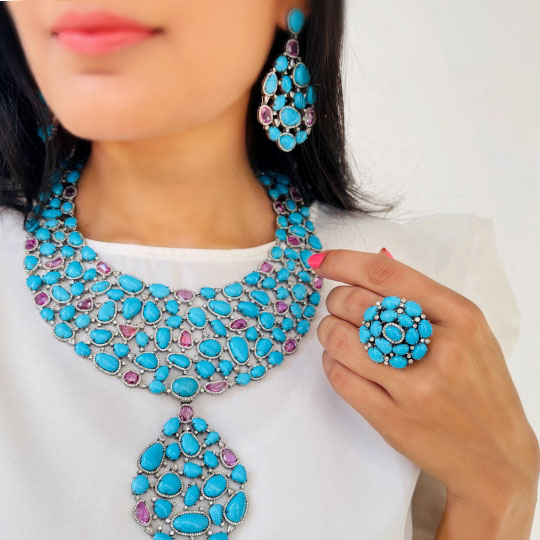 I began my first day by seeing an exclusive gemstone jewel created by Jatin Gems, a company known for creating magnificent works of art using the highest quality jewels. A necklace made from Arizona mining Turquoise and Pink sapphire gemstones is shown above.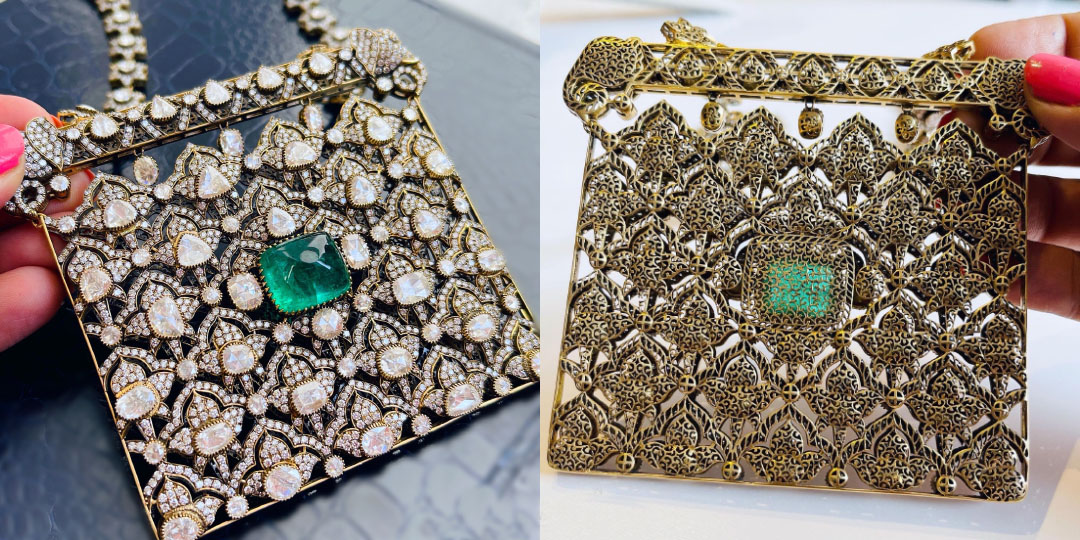 Another masterpiece from Jatin Gems is an eye-catching neckpiece embellished with Zambian sugarloaf cabochon, rose-cut, and round brilliant cut diamonds, with an intricate handcrafted Zali work detailing on the backside.

Jaipur, the city of rich culture and heritage, has inspired many designers with its Indian aesthetics. These Indian aesthetics when combined with western inspiration creates a beautiful fusion, and one such great example is this magnificent masterpiece crafted with various cuts and shapes of emeralds and rose-cut diamonds that I couldn't stop admiring at the Diviano Booth; a fine jewellery house known for their modern and handcrafted jewellery!
Day 2 at Jaipur Jewellery Show.
The artisans and craftsmen of Jaipur are world-renowned for their exclusive Jadau and Meenakari Jewels, I spent my Day 2 exploring jewels made for the brides to be!

I spotted an exclusive combination of choker and the long necklace; at Agarwal & Company made with emerald and polki, which reminded me of the age-old royal heritage of the Indian Maharani!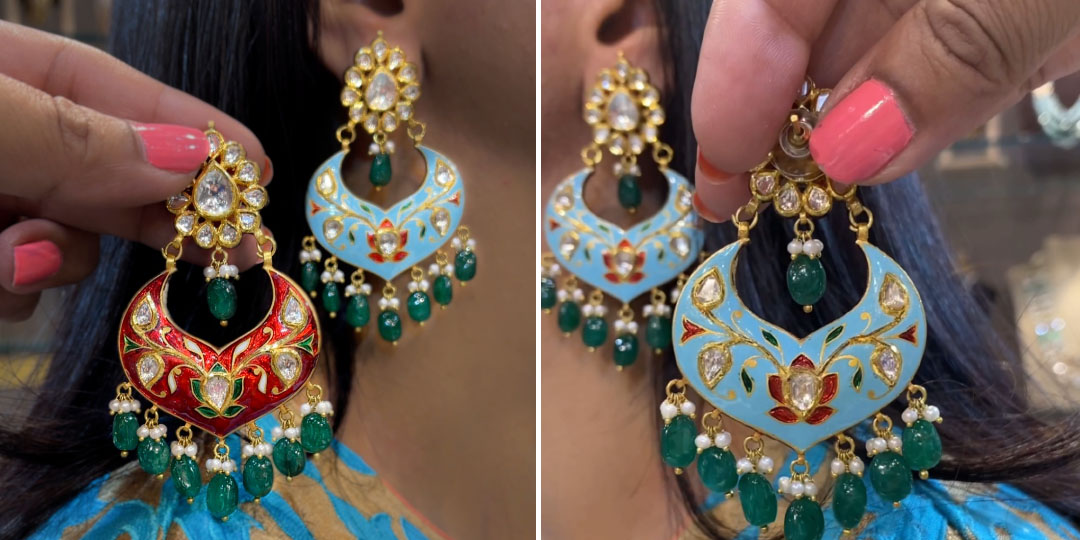 Next, on day 2, I saw these vibrant earrings made in Red and Turquoise colors of enamel by Parina International, and the fun fact is that these earrings can be styled in not just 1 but 3 different ways!
1. Red enamel and Turquoise enamel in each ear.
2. Turquoise enamel in both ears.
3. Red enamel in both ears.
Do you know; Rajasthan emerged as the capital of the meenakari trade in India, and soon the art of enameling was established in several parts of the Indian subcontinents of Delhi, Punjab, and Lucknow.
Day 3 at Jaipur Jewellery Show
The talented artisans and jewellers are renowned for their skills in emerald cutting and polishing emeralds. More than 90% of the world's emerald is processed and cut in Jaipur, and over the years, Jaipur has become the prominent destination for providing a reliable supply of gemstones. My third day was wisely spent looking for uncommon jewels!

At Parina International; I was stumped on discovering an outstanding necklace embellished with the most valuable emeralds in the world; The PANJSHER EMERALDS, making it the most priceless piece of jewellery for connoisseurs!
Video Credit: The Diamond Talk.
My next discovery was a Zambian Emerald necklace weighing 2700cts by Nakshatra Gems, a leading manufacturer, exporter, wholesaler, and trader of Zambian Emeralds.
With a complete gemstone solution & facilities under one roof, the expert team at Nakshatra Gems implements strict parameters & quality checks at all the stages of production right from sawing, grinding, faceting, polishing, assorting. Under the leadership of Mr Ashok Maheshwari, Nakshatra Gems believe in establishing strong relationships with all their customers and maintaining business ethics with complete honesty, trust, and commitment.
Day 4 at Jaipur Jewellery Show
My last day at the Jaipur Jewellery Show was well-spent meeting and interacting with the budding designers and entrepreneurs.
Video Credit: The Diamond Talk.
Jaipur Jewellery Design Festival is a wonderful initiative taken by Jaipur Jewellery Show, that provides a great platform for budding talents to showcase their exclusive work of art. It was a pleasure to visit the JJDF 2021 and witness the creative designs by young talented artists from different institutions.
I'd like to walk you through a brief technique of PLIQUE-À-JOUR enamel that I witnessed at the Jaipur Jewellery Design Festival, performed by excellent IIGJ Jaipur graduation students.
Video Credit: The Diamond Talk.
PLIQUE-À-JOUR is a French term that translates to "Letting in the Daylight". This technique of enamel was first discovered in the 15th century by Benvenuto Cellini. It was rediscovered in France circa 1900 and wheeled to new heights during the Art Nouveau period.
The Plique-à-Jour technique is used to make enamel resemble stained glass. Here; the enamel is applied in cells with no backing in the final product, which allows the light to shine through the transparent or translucent enamel. This enamelling technique is popularly used in the rendering of leaves, flowers, insect wings and other gossamer illusions.
To know more about the different types of enamelling, revisit my previous article.
The 17th edition of the Jaipur Jewellery Show was an incredible experience for me. I am grateful to the members of the JJS committee for their gracious hospitality, and I eagerly anticipate JJS 2022!