The Kingdom of Bahrain's relationship with pearls goes back to ancient history, and the Bahrain pearls are recognized for their beauty and value. Bahrain is known as the hub of natural pearls as merchants from across the globe travel to this island country to acquire the precious gems obtained from the lush sea beds. According to Bahraini pearl historians, during the older days, pearl divers would go out in large groups on big vessels and stay in the sea for long periods.
It was a mesmerizing opportunity to experience pearl diving in lush sea beds and discover natural pearls under the supervision of DANAT diving team.
Video Credit: The Diamond Talk
The journey began from Bahrain Yacht Club, and after a few minutes of a bumpy and a semi-rough speedboat ride, we reached our destination! It was a reef within the shallow section of water, where we submerged to collect oysters, but not too far from the anchored vessel.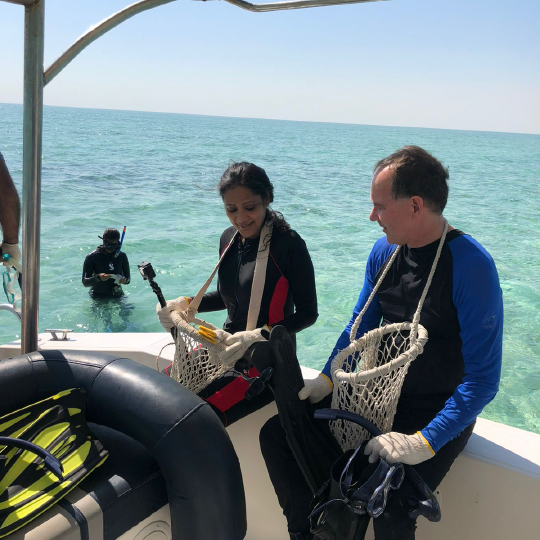 After an adventurous forty fine minutes in the shallow Bahraini waters, we made our way back to the Bahrain Yacht Club and soon got into the serious business of Oyster Shucking with soft local Bahraini music playing in the background.
Video Credit: The Diamond Talk.
The majority and the most beautiful pearls in Bahrain come from an oyster species called Pinctada Radiata
The steps in brief are:
1. Gently pick up the Oyster.
2. Slip the blunt knife through the hinge.
3. Pop open the hinge gently and keep the mantle intact.
4. Slide the blade across the shell and remove the top shell.
5. Inspect the oyster with your fingers, and feel the pearls.
6. Cut the oyster free.
After a detailed examination of the oyster by the DANAT diving team, some oysters did open up to reveal a handful of tiny white seed pearls which belonged to the diver who found them. It was my lucky day as I found not 1 but 5 small sizes of Bahraini Natural pearls.
It was one of my most memorable experiences. Being a pearl consultant it was surreal to encounter how pearls are procured and cut out from oysters. My deepest gratitude to team DANAT for making it a once-in-a-lifetime unforgettable experience for me!
Credit: DANAT, David Borough.