Jewellery Arabia, the largest and the most prestigious jewellery and watch exhibition in the Middle East, showcasing over 550 leading manufacturers, world-famous brands, and unique designs in an annual event that brings together local, regional, and international talents together.
Video Credit: The Diamond Talk
It was my privilege to be a part of the Jewellery Arabia 2021 and experience and witness a wide selection of incredible finished jewellery, engagement rings, luxury timepieces, fine writing instruments, objects & arts, accessories, and precious stones.
Now I'll walk you through my 5-day experience and events held at Jewellery Arabia 2021.
Day 1 of Jewellery Arabia: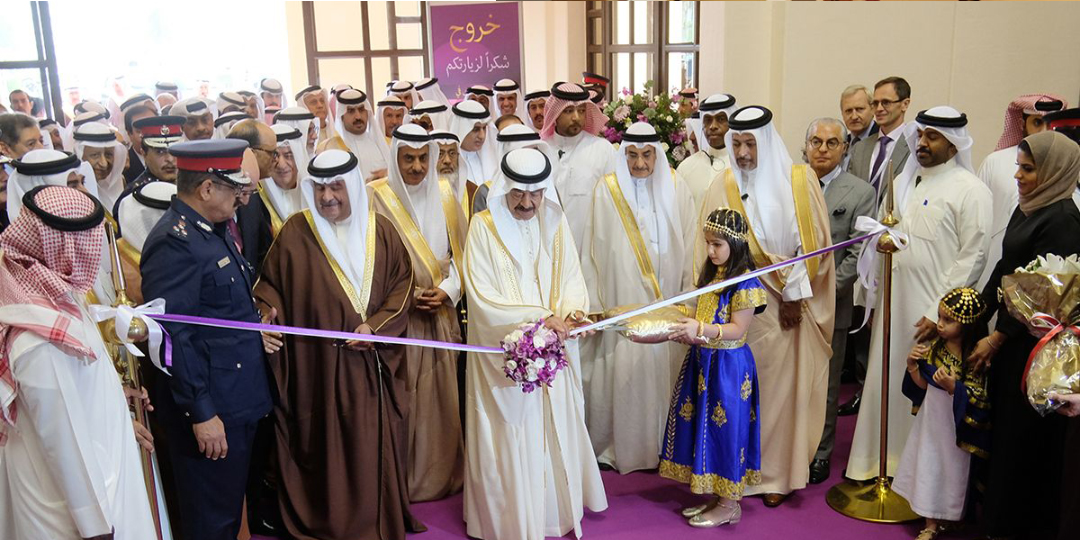 On 23rd November 2021, while admiring the scenic beauty of Bahrain, I reached the Bahrain International Exhibition & Convention Centre. The show was inaugurated by His Royal Highness Prince Salman bin Hamad Al Khalifa, Crown Prince and Prime Minister of the Kingdom of Bahrain.

My Day 1 started by stepping into the booth of Mattar Jewelers, a respected Bahraini family business that has been carrying the pearl legacy for more than 170 years now.
The company specializes in crafting exquisitely fine jewellery and products made from natural pearls.
Video Credit: The Diamond Talk
It was a pleasure to curate an IG LIVE talk with Faten Mattar, the sixth generation of Mattar Jewelers.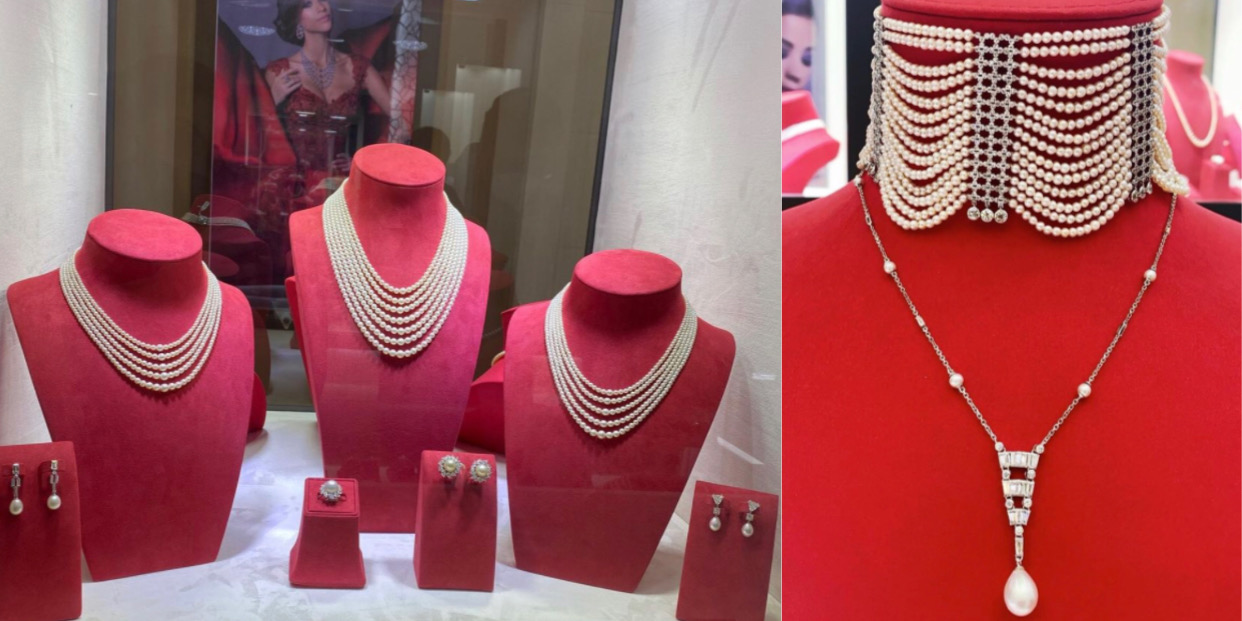 After that, I walked into the Al Mahmood Pearls booth, a Bahraini Luxury Jewelry & Pearls house established in 1930. I was dazzled by a magnificent Victorian-style necklace crafted with the finest and the rarest quality of natural pearls. The color, lustre, and size of the pearls took my heart!!
Video Credit: The Diamond Talk
It was a great pleasure to curate an IG LIVE talk with Mr Mohamed Abdul Razaq Al Mahmood
Later, I spotted these trendy and lightweight bangles; and a cluster engagement ring made of natural pearls, diamonds and gold by Ali Safar Jewels & Pearls.

To add a cherry to the cake, the latter half of Day 1 came to an end with Al Hashimi Pearls. The company was founded by Mr Vijay Shah, in the year 1980, and today Al Hashimi Pearls is a name synonymous with luxurious fine jewellery just as the history of Bahrain is with Natural Pearls.
Their exclusive Victorian-inspired pendant necklace immediately drew my attention. Each natural pearl used in the necklace has been hand-selected and fitted by their master craftsmanship.
It was an overwhelming experience at the show on day 1 and it left me in total awe of the Bahraini Natural pearls!
Day 2 of Jewellery Arabia:

I kickstarted my Day 2 by holding this marvellous tanzanite necklace with a pear-drop and brilliant round cut diamond in my hand by Crivelli at the Asia Jewellers booth. Crivelli is known for its exquisite craftsmanship and refined design.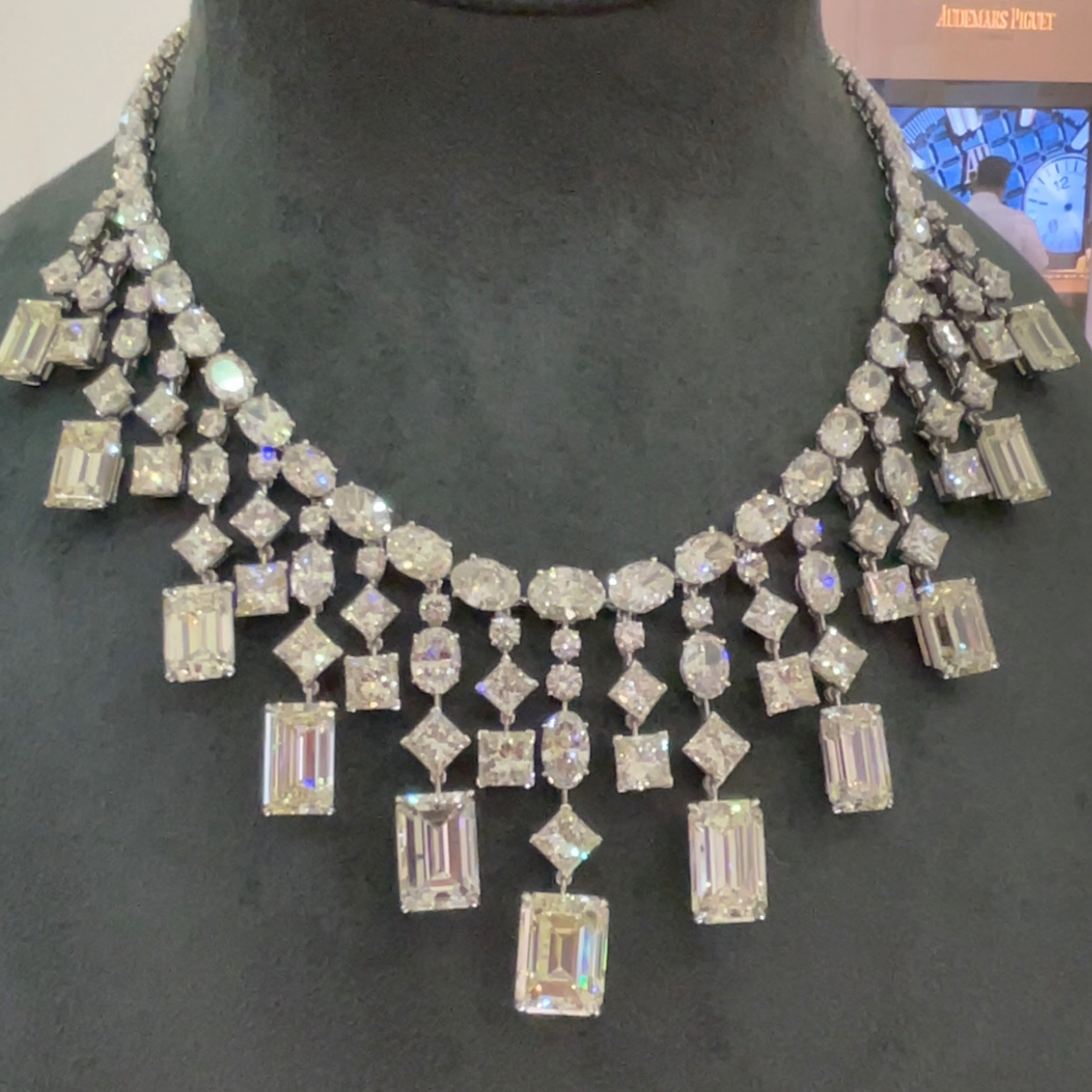 It was no less than a dream come true to visit the Moussaieff Jewellers booth at Asia Jewellers and admire their incredible diamonds. The shine and brilliance of the diamonds had me enthralled!!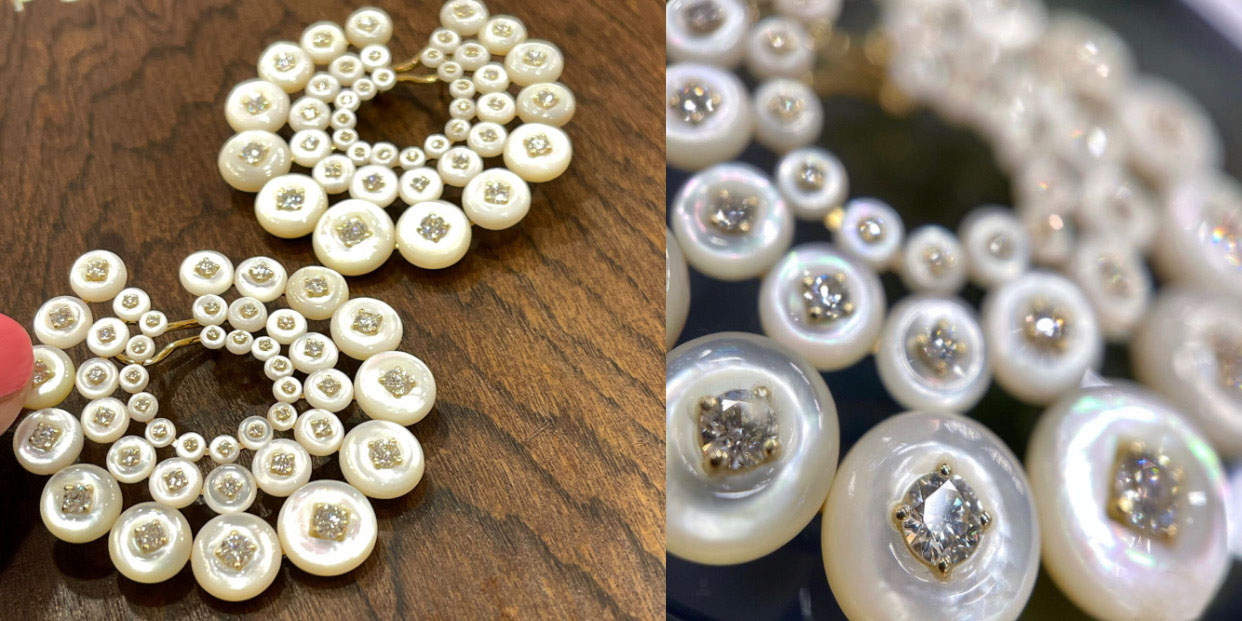 I ended my day 2, witnessing a masterpiece by the Brazilian-born jewellery designer Fernando Jorge. Shown above are the new designs from his collection 'Surround' made with Mother of Pearl and detailed by his signature finish in fluid and delicate gold structures and diamonds.
Day 3 of Jewellery Arabia: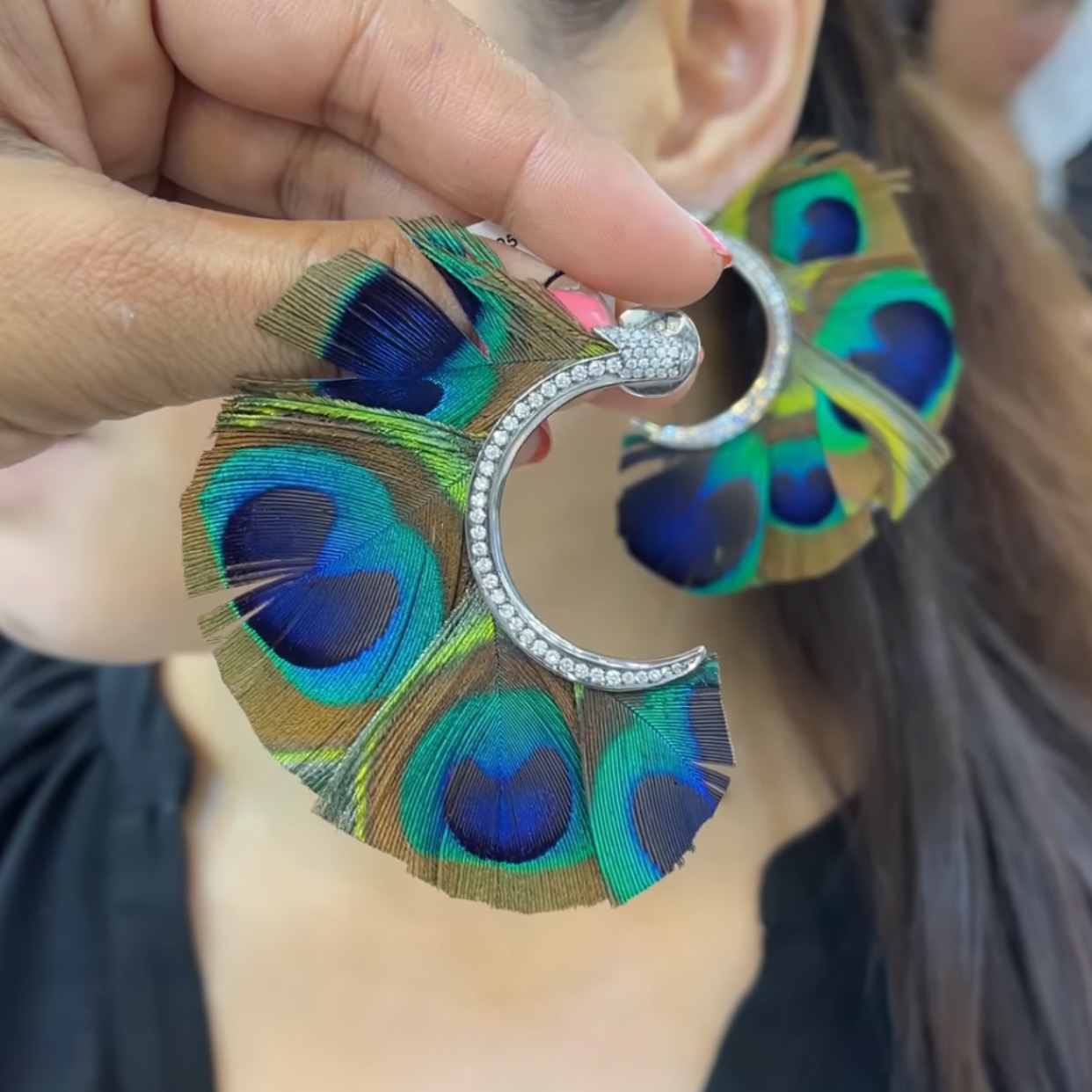 Day 3 in Bahrain commenced at Miamoon Jewellers and I was immediately drawn towards the 18kt gold peacock earrings with rhodium plate, diamond, and peacock features.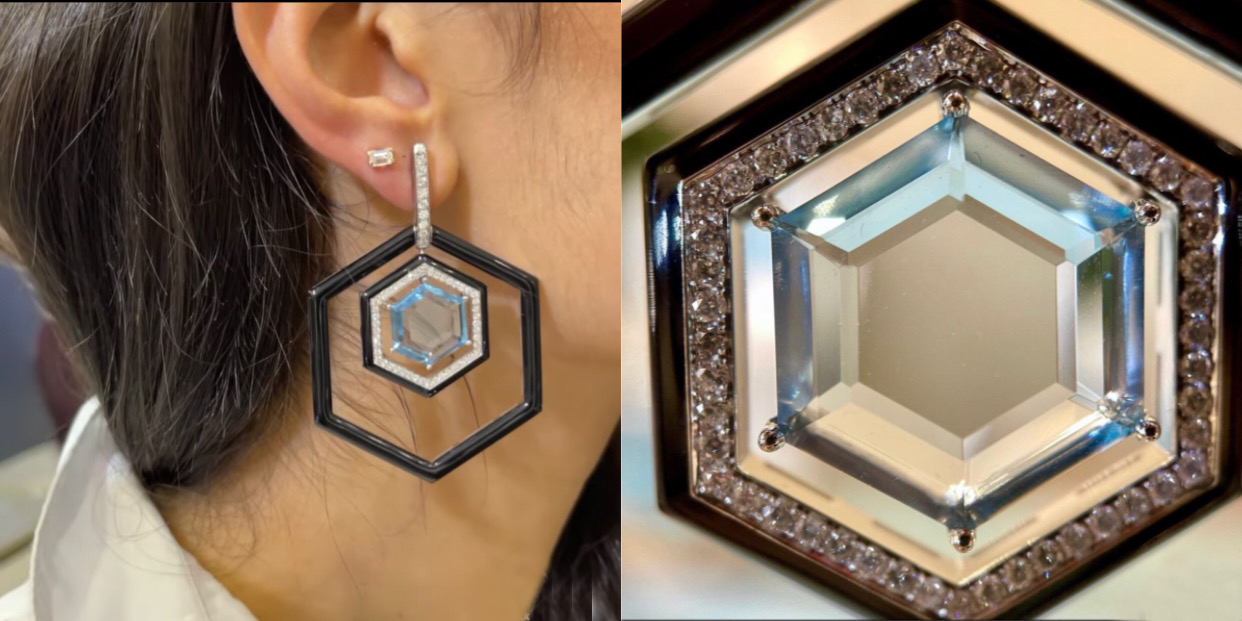 Walking down the Asia Jewellers pavilion, I was captivated by these exclusive Art Deco-inspired pairs of earrings made with Blue Topaz and diamonds by Mayyan Jaffar.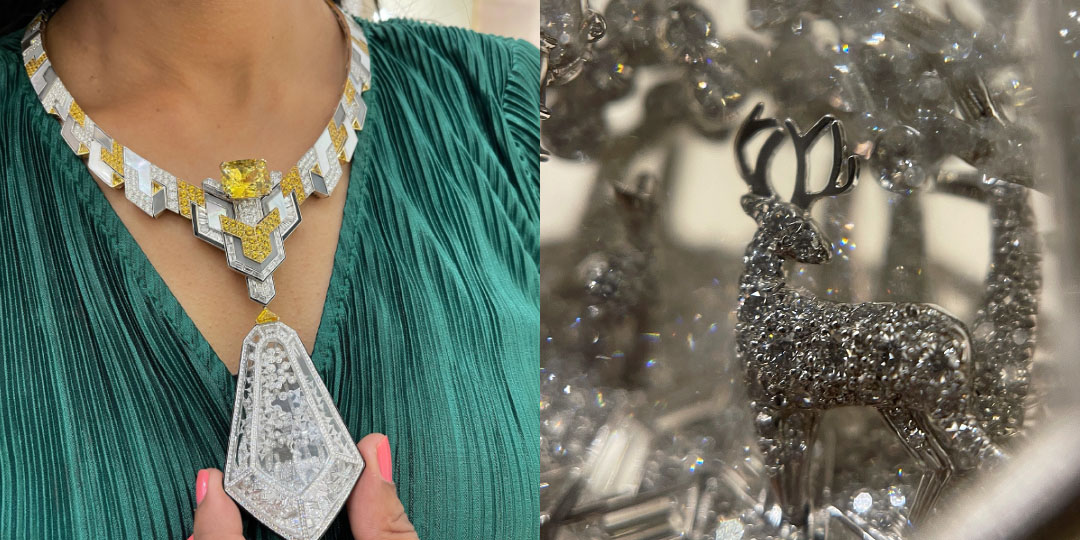 At the Boucheron Bahrain booth, I witnessed their most iconic Art Deco era-inspired necklace, crafted in 21 cts Yellow Sapphire and Diamonds. The work of art in the centre is inspired by the Window of Palais Royale boutique in Paris overlooking the garden with trees and animals.
Day 4 of Jewellery Arabia:

On the second last day of Jewellery Arabia 2021, i.e. day 4, I was startled by the beauty and colors of Dahlia and Lily watches by Beauregard Watches. Later I got to admire the exclusive floral watches by Stenzhorn, that combine the brand's signature gem-laden blooms with precision Swiss movements with the invisibly-set gemstone petals and diamonds that were transformed into something truly original and three-dimensional!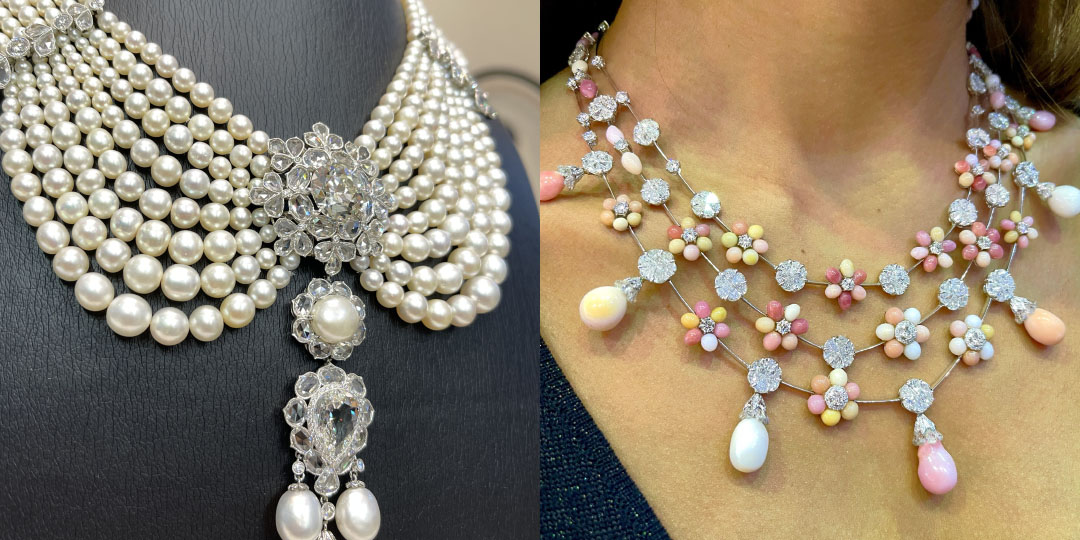 Walking inside the Bahrain Jewellery Centre pavilion, I saw a Conch Pearls and diamond necklace by Saboo Fine Jewels; and a natural pearl and diamond necklace by Maria Gaspari's booth with an exclusive 10cts old mine cut rose cut diamond in the centre.
Day 5 of Jewellery Arabia:
On my last day, Day 5, I discovered the most recognized and preferred jewellers in the GCC region, the Al Zain jewellery house, recognized for the traditional and heritage design in 21kt Gold.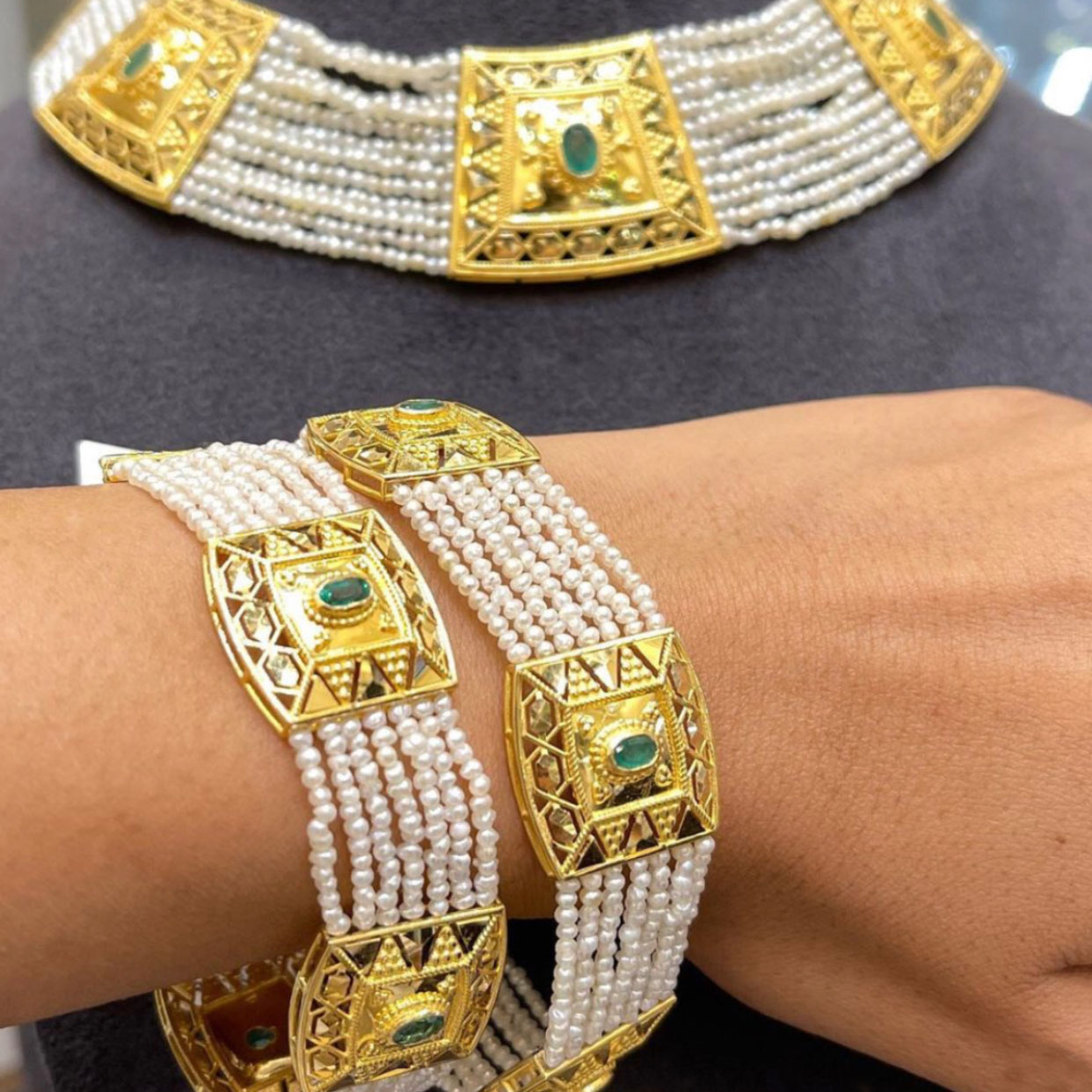 Over the years, Al Zain Jewellery has become a sought-after brand to celebrate and preserve local Arabian traditions and heritage and their design is a blend of contemporary and modern aesthetics.

My last stop at the Jewellery Arabia 2021 was Aurora Jewels, where I discovered these spectacular lightweight 18-carat gold collections from their latest collection, also available at Moda Mall in Bahrain.
It's hard to put in words, how amazing this 5-day experience felt. It was a great pleasure to be a part of Jewelry Arabia 2021, and now I will be eagerly waiting for the 2022 show, Bahrain!