Jaipur Jewellery Show is one of the most colossal jewellery shows of India, This is the biggest B2C Gems and Jewelry Show and the second biggest B2C show. This year event theme is "Inspire To Create a Fashion Statement."
It was indeed an honour, to be invited by the Jaipur Jewellery Show to talk and promote the events on my social media handle.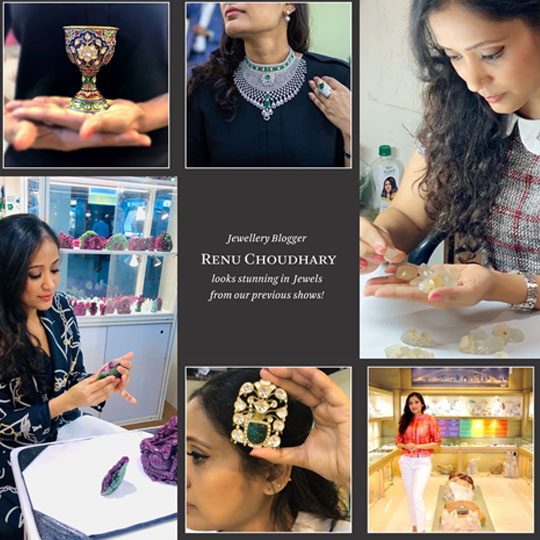 With great enthusiasm, I headed back to my hometown Jaipur to cover JJS 2019. The feeling of showcasing the talent that my birthplace offers and the opportunities that lie ahead was unparalleled.
#TheDiamondTalk X #JaipurJewelleryShow
The show was inaugurated by C.K Venkatraman, MD, Titan Company, Pramod Agarwal, Chairman GJEPC and Anantha Padmanabhan, Chairman GJC along with JJS Convenor and committee members.

C.K Venkatraman, MD, Titan Company spoke about customization of the jewellery for the women of today, which she can wear at all time, and laid importance of the jewellers and manufacturers to spend time on the women that they seek to serve and understand her expectations from jewellery.
After attending the inauguration ceremony I was ready to explore 825 booths installed!
DAY 1
My first stop on Day 1 was by Birdhichand Ghanshyamdas Jewellers booth.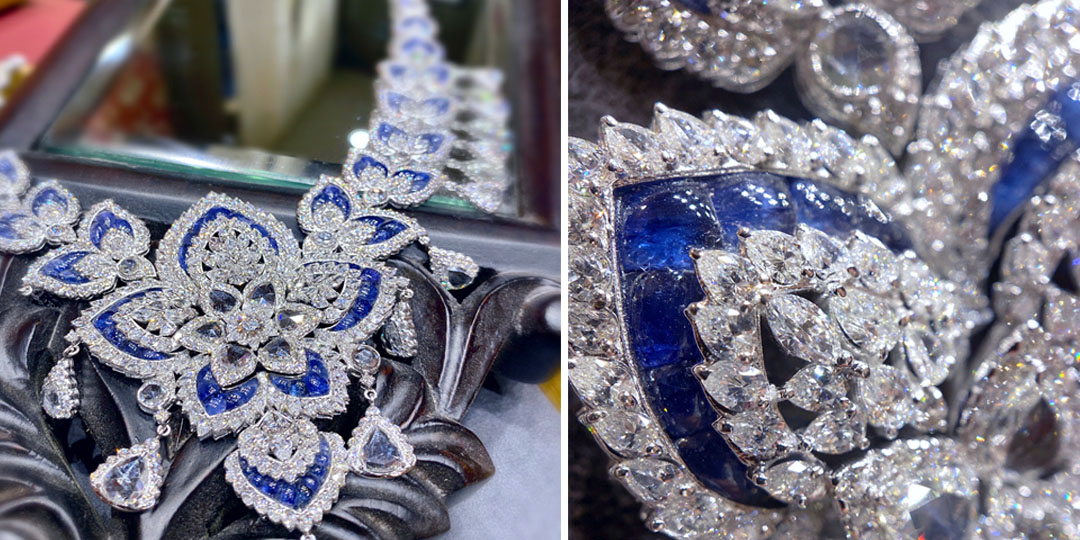 "Orchid Rumour -Gulshan-i Bahaar" necklace has been inspired by the beauty of the majestic orchids. Contemporary glamour, the flexibility and movement of this extraordinary statement piece has been achieved by the highest quality of artistry. Diamonds have been specially cut to get a Star and a Hexagonal shape. The links, made in Ruby and Emeralds have been specially sourced from Afghanistan.
Moving on, It's a GEMSTONE galore with Gem Plaza!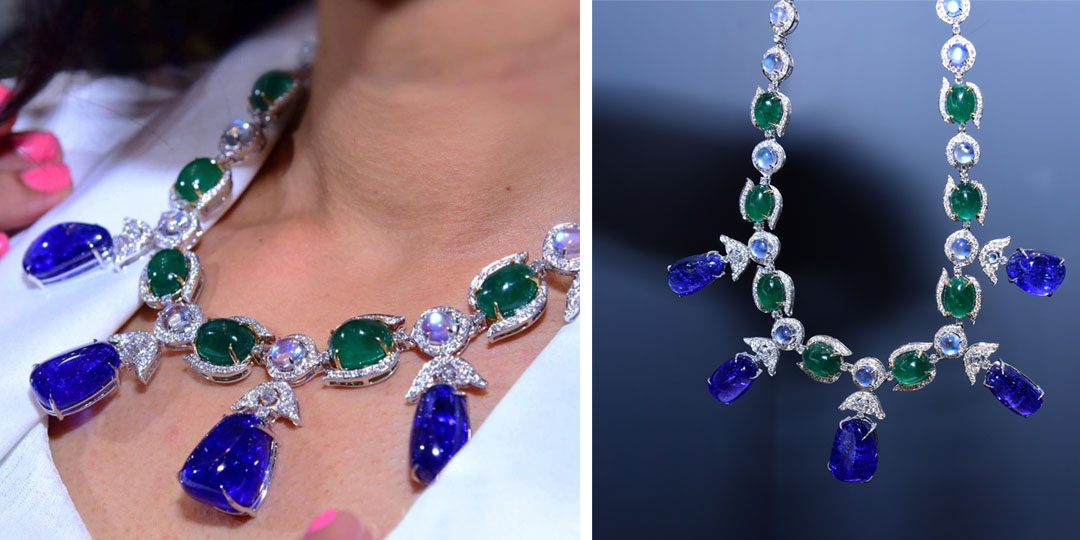 I couldn't stop admiring the gorgeous necklace embedded with the elegance of Tanzanite, Emeralds, Moonstone and Rose cut diamonds
Besides discovering exceptional Gems and Jewellery from the show, I was extremely delighted to have witnessed LIVE Jewellery Showcase powered by INDOLOGY, which is India's largest curated Jewellery and Style destination.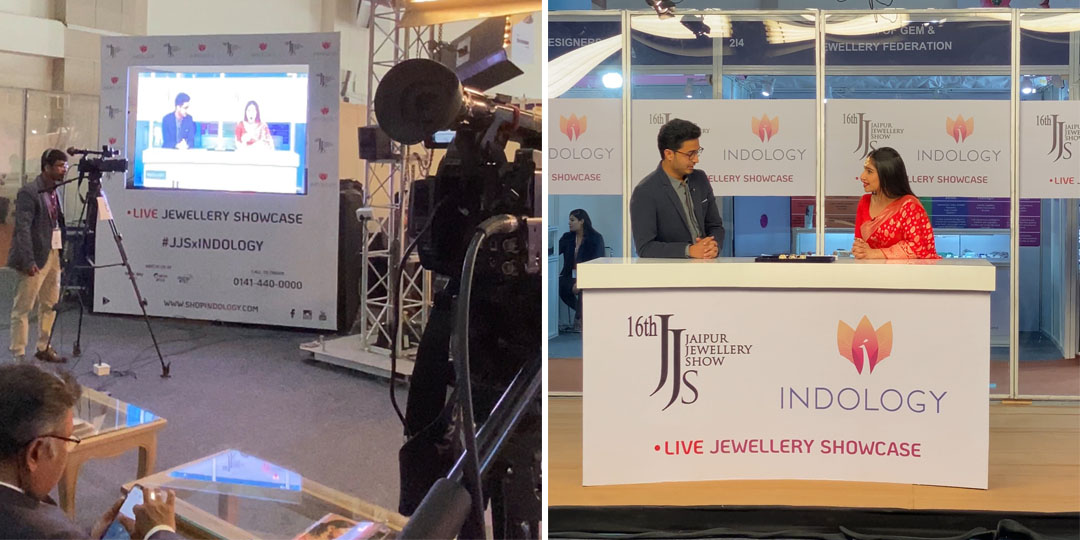 A new concept at the recently concluded Jaipur Jewellery Show, that has created history in generating sales by reaching out to 50 million homes across the country, engaging more than 200,000 women, by being LIVE on FB, Instagram, Youtube, thus giving the audience a direct sale opportunity, with a 30 minutes showcase slot per Exhibitor to showcase their jewels for sale.
There is an engaging audience on television, social media and nationwide reach, with adds going LIVE on TV on various channels.
In this digital world today, one can simply sit back at the comfort of their homes and SHOP LIVE!
DAY 2
After an enriching day 1, I was ready and all set for day 2.
New Years and wedding celebrations being around the corner, day 2 was all about finding my Party wear and wedding essentials.
The rich heritage and culture of Jaipur are beautifully infused into the traditional Jadau jewellery which is very popularly adorned for a wedding celebration.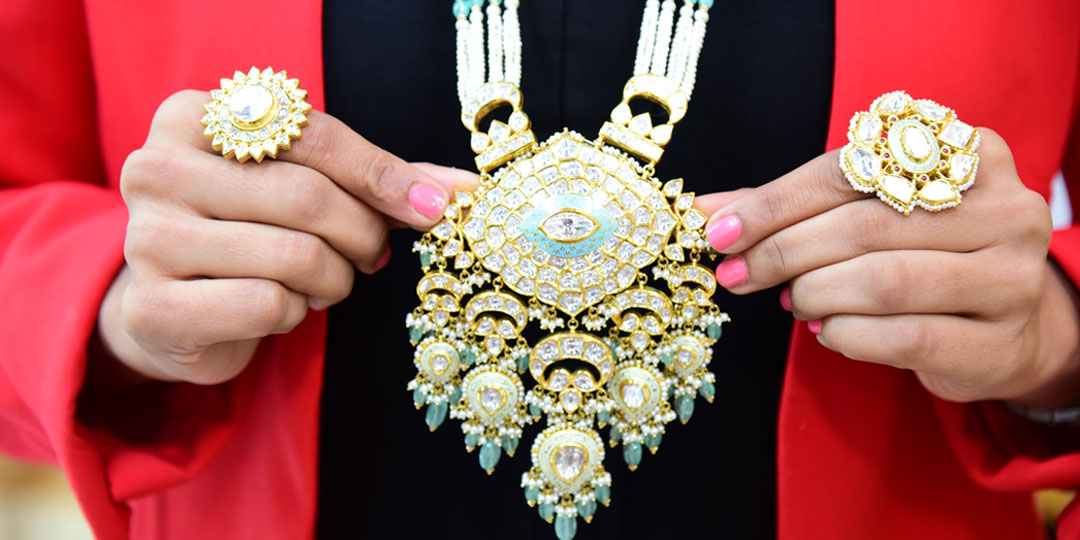 I was delighted to discover uncut diamond necklace, handcrafted with great detailing and versatility by Shree G K Chudiwalas, which I can wear it, on western as well as Indian attires, accessorising on a formal pantsuit as well as a saree!
My next stop was at Amaira Jewels.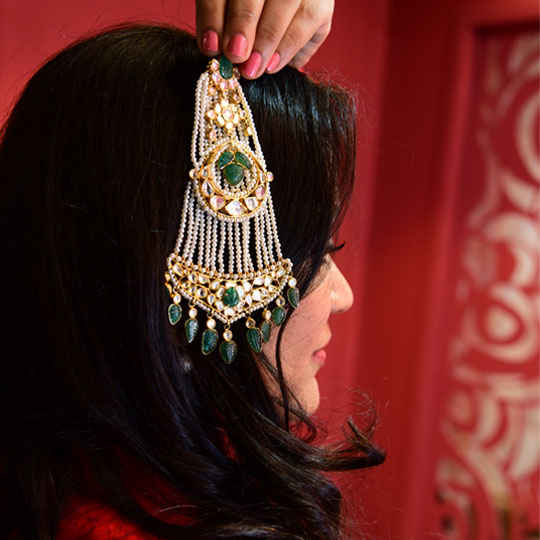 Featured above is gracious Passa, also known as Jhoomar, a bridal head ornament, which is an essential part of a Muslim bride's jewellery, giving her a very rich and royal look.
With the party season just around the corner, I had been on a lookout for a versatile, chic, daily wear, and multi-functional jewellery that I can wear from my business meets to an evening occasion. Little did I know that Raniwala 1881's new Ready-To-Wear jewellery collection has it all!!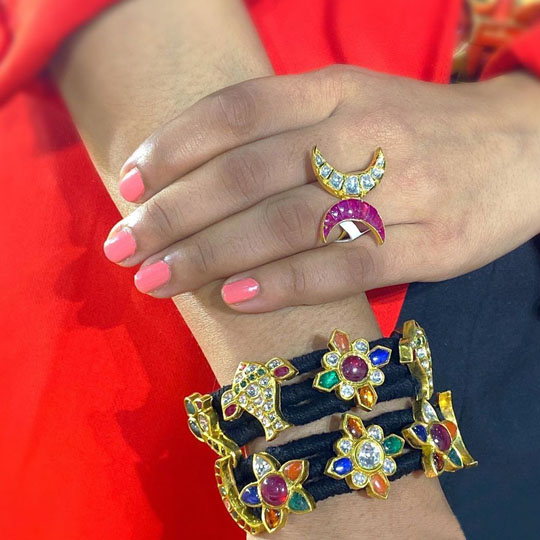 It draws inspiration from bold Art Deco styles, alongside traditional motifs such as the crescent, peacock, lotus, paisley and star, as featured in the bracelet above in the richness jadau, flat-cut polki diamonds, blue sapphires, corals and emeralds, amongst others.
Day 3
Day 3 was full of surprise as I discovered an interesting Emerald Necklace.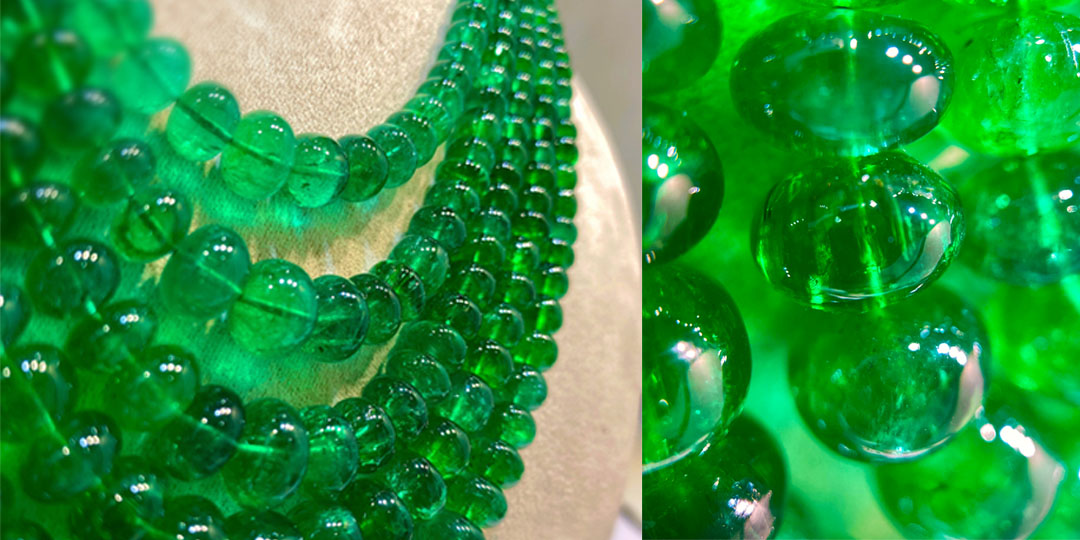 I was delighted to see one of a kind 5 line Emerald beads necklace layout made of finest quality of Panjshir emeralds, at Gemstonelane booth, an initiative by renowned Paras Gottam.
It was my absolute honour to be part of a very interesting and informative seminar with other panels of Bloggers. The topic on focus was – "The composite impact of Fashion and Social Media on the Jewellery Industry"

It was a great experience to hear the inputs from other panels. Sharing a few thoughts I shared at the seminar in the video below.
I am happy to share the article about the seminar published in the Jaipur Dainik Bhaskar newspaper.

Day 4
Jaipur is known for its gemstones! And my last day of the show was all about my gemstone discoveries!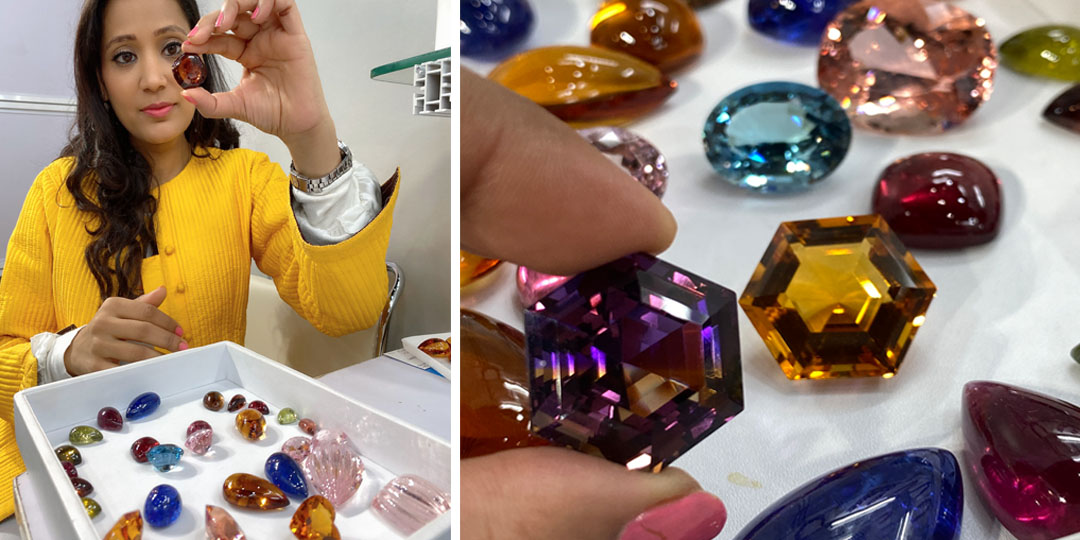 The child within me couldn't stop playing with these gorgeous Gems, I found by Colourful Gems booth. Each one is so unique and beautifully hand-cut by their expert team.

Another discovery on day 4 were Multi Sapphire Polished rocks, given the shape of a necklace weighing a total of 3 kgs!!

Carved gemstones add an exquisite dimension to high jewellery collections worldwide. In Jaipur, carving by skilled artisans is done taking inspiration from various Mughal monuments.
Featured above a Rubellite carving and Leaf carving in Emerald, Sapphire and Ruby by
Mangal gems.
A great art of carving in a glass on Russian emerald by P.C. TotuKas & Sons
Jaipur Jewellery show had a great display of Uncut Diamond Jewellery, Gemstones Jewellery, Rough stones, silver and diamond jewellery and artefacts displayed by the best brands from in and around Jaipur.
Sharing with you a glimpse of the 4 Days journey in a video below.
JJS 2019 was truly a great experience, I will be back yet again to discover some more precious finds of jewellery from my hometown!