With immense pride, I am delighted to talk about the most powerful, elegant, stylish, outspoken, bold, compassionate, independent and modern royal QUEEN of INDIA, RajMata Shri Maharani Gayatri Devi Ji, born on May 23, 1919, in London. She was the third Maharani of Sawai Man Singh II Bahadur, from 1940-1949. HH MGD was "People's Princess"; fondly called "Ayesha" by her friends.
In my article, I will be taking you through the highlights of her life and the multiple roles of a wife, social worker, and politician HH MGD played; and shared images of jewellery which I have researched on multiple websites. It gives me immense pride to talk and share the legacy of my home town, JAIPUR!
**Disclaimer**: "The jewellery images in the article are based on the research, with references to the image of the exact same piece of jewels adorned by the Maharani. Pieces shown may or may not have been part of her collection and are shown as examples to illustrate these styles."
HH MGD was the princess of Cooch Behar; it was from her mother Maharani Indira Devi, who was one of the most popular socialites of her time, HH MGD inherited her fondness and love for jewels. She had high jewellery brands like Cartier, Boucheron, Faberge, and Van Cleef & Arpels create exquisite pieces of jewellery for her.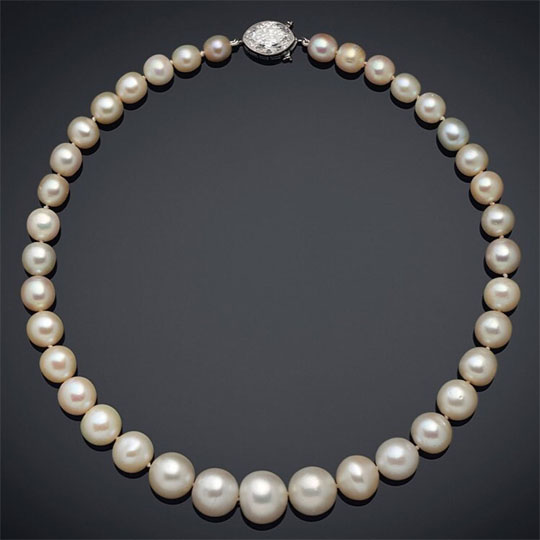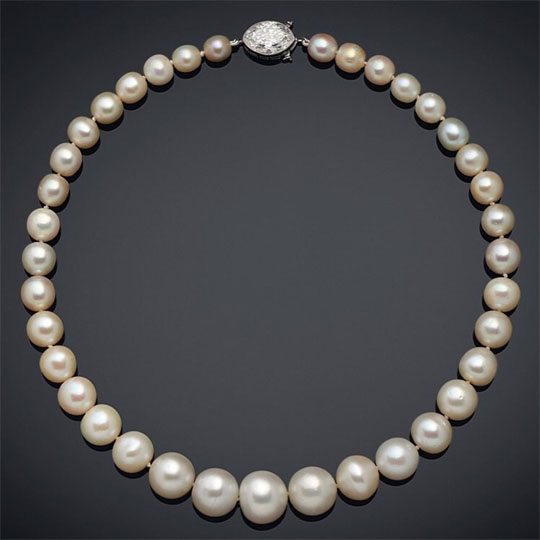 Although she had several beautiful diamond jewellery, PEARLS were her favourite, having almost every outfit beautifully matched with her Pearl Necklace. Featured above is a beautiful string of Natural pearls and Diamond Necklace by Cartier, with a thirty-seven round to oval natural pearls which fetched millions at Christie's Jewels auction.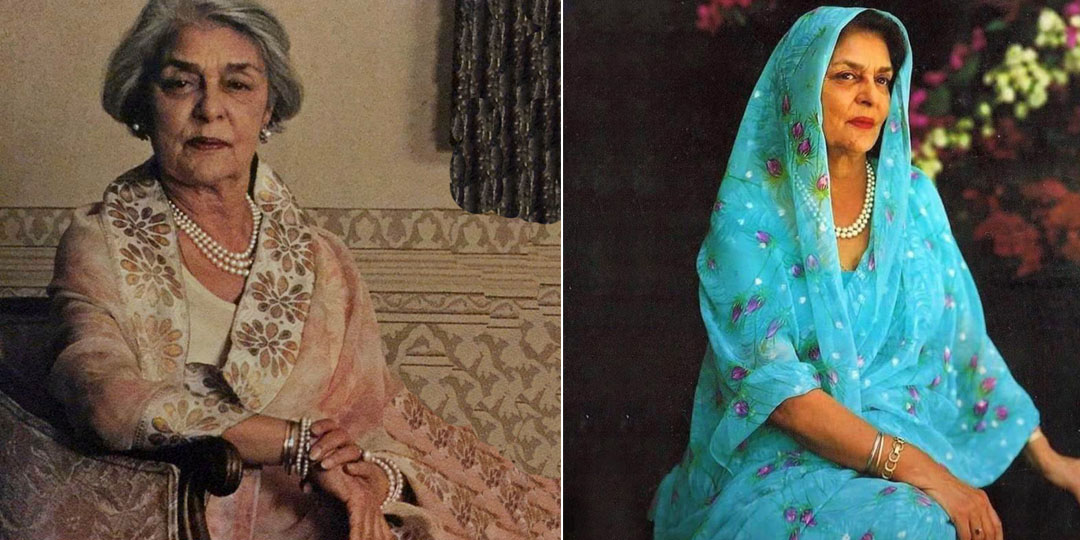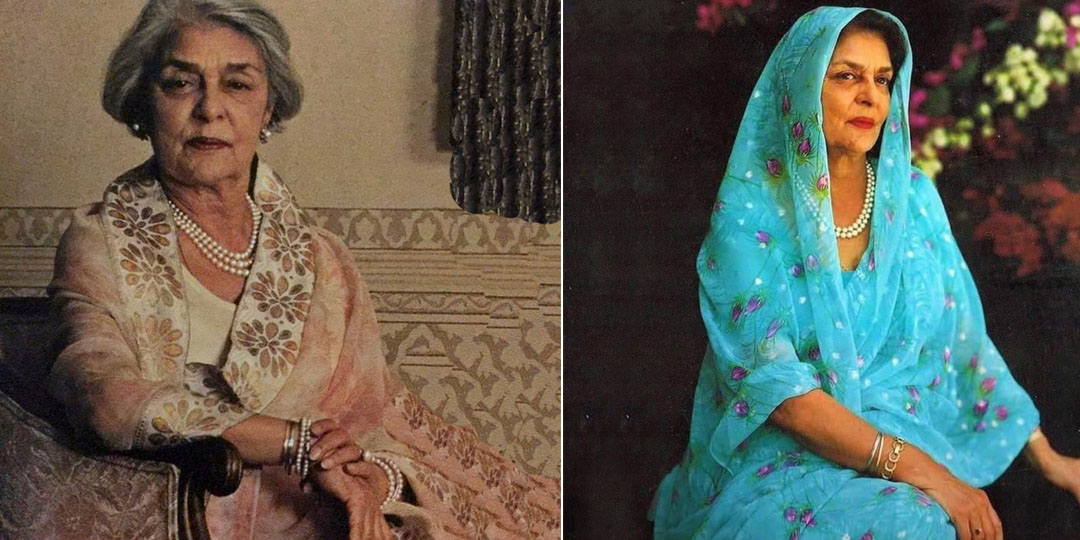 HH MGD played an important role in making the saree culture globally known. Her sarees featured floral prints, pastel colours, golden zari handlooms, gota work; made thousands of women fall in love with her style. She was seen wearing handloom sarees on many special occasions and parties, pairing each of her exclusive jewels and a pallu draped around her head in a typical Maharani style.

Featured above is 18th-19th century, platinum necklace and earrings, set with cabochon emeralds; inlaid with ruby and diamond flowers, and a reference image of MGD wearing the exact same necklace. The front part of the necklace forms a tasselled rope which loops into a double strand of diamonds round the back; the clasp is formed by a large circular encrusted emerald. Maker's marks, contained in original fitted red leather Cartier case, production date 1930s.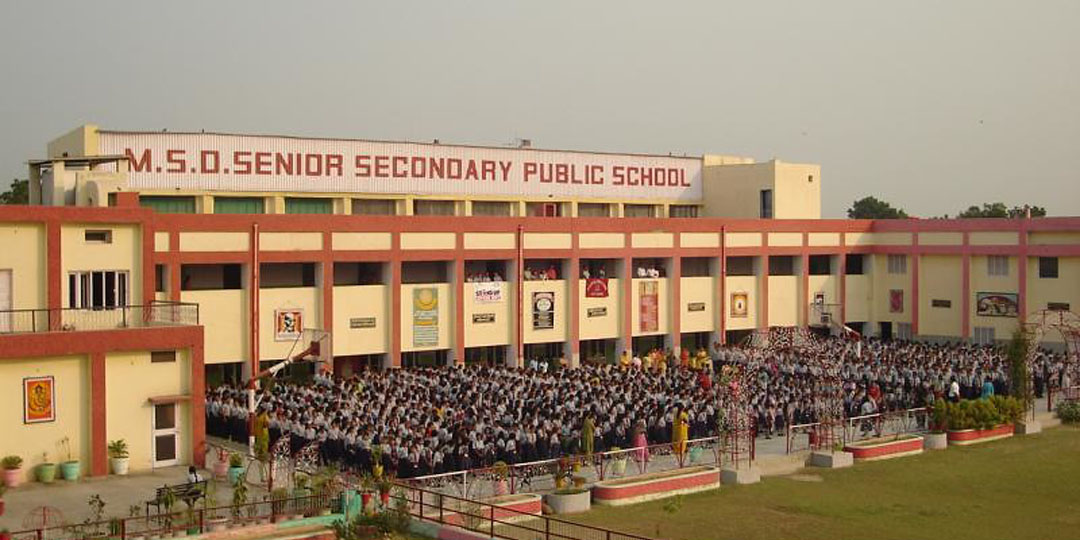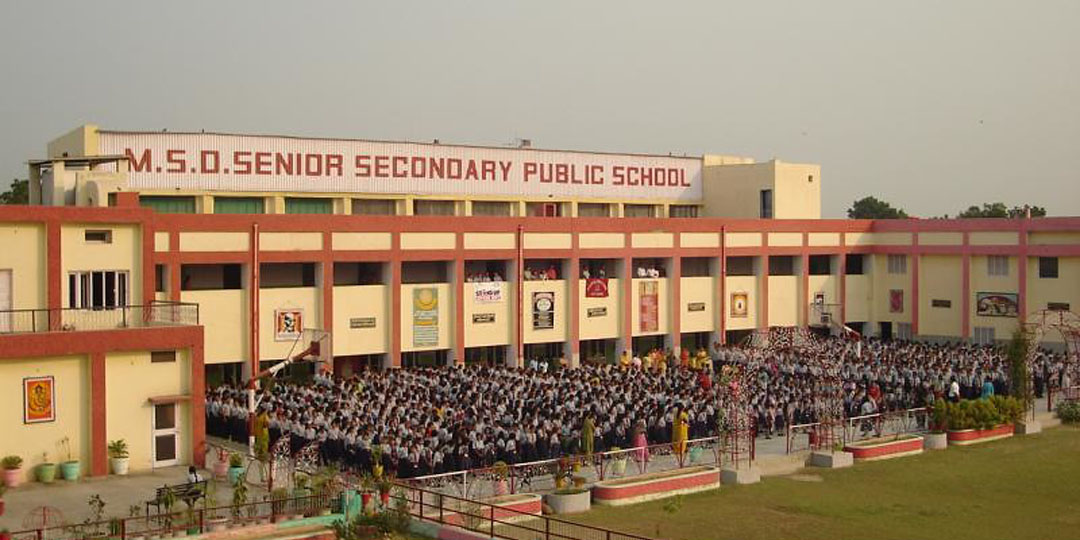 HH MGD, was an Indian Queen who had gained popularity amongst the mass She dedicated her whole life to revolutionizing the society and bringing changes for the betterment of Indian women, especially for the eradication of the "purdah" system. HH MGD, opened Maharani Gayatri Devi Girls' School- MGD for Girls with 40 students and an English teacher, in 1943. It turned out to be the first all-girls school in Rajasthan and became known as one of the finest schools in India. HH MGD funded and supervised a lot of charitable project for the poor, and worked towards the upliftment of women and children, making them self-reliant. She also promoted and revived the art of "Blue Potter".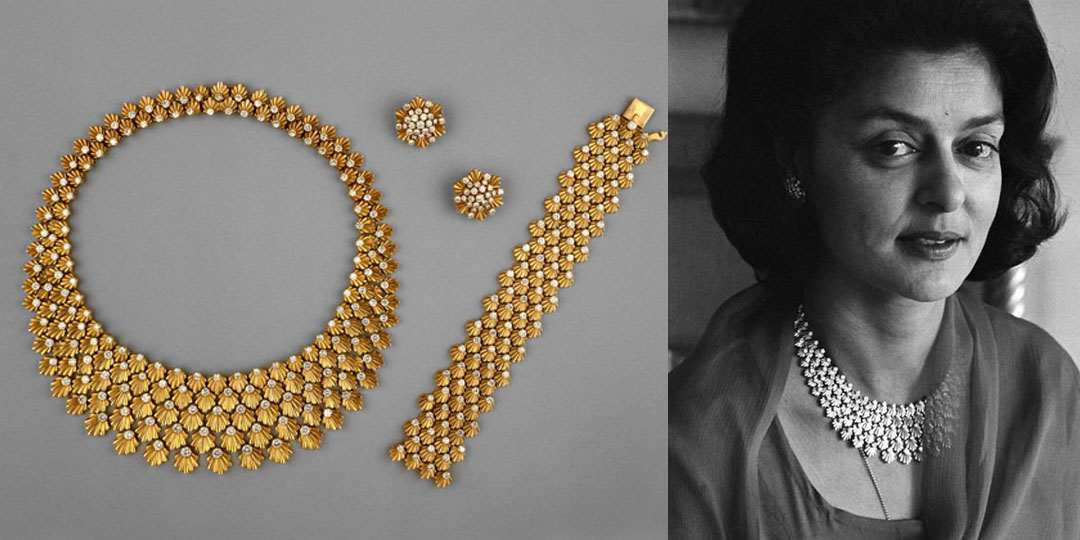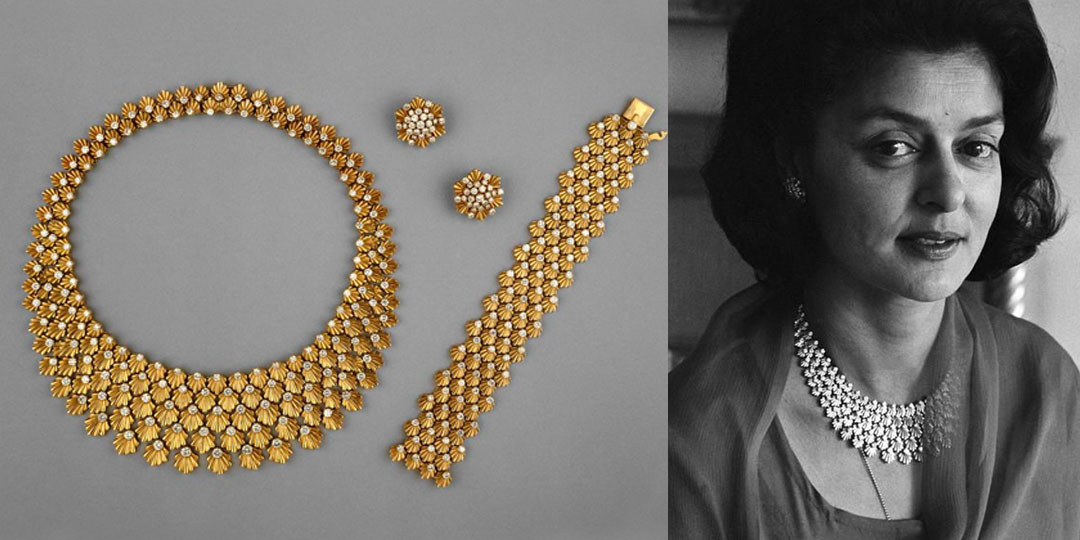 Featured above is a Gold and Diamond Necklace in the British Museum and reference image of MGD wearing the exact same necklace.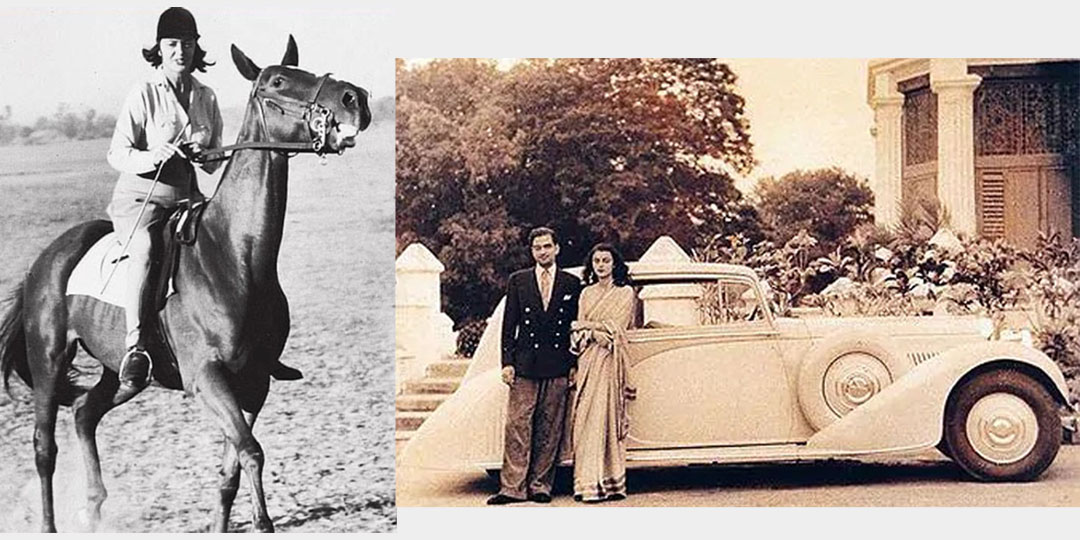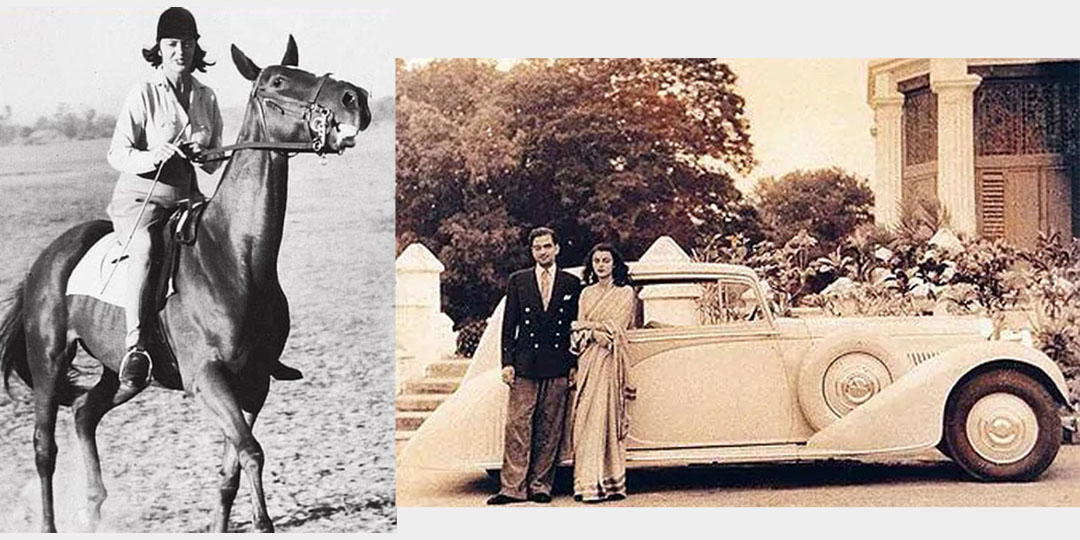 HH MGD was a brilliant rider and a Polo player. She used to go hunting with Maharaja Sawai Man Singh II, but eventually stopped the same, because of compassion for the animals. She also loved driving and flying, and her possession of several Rolls Royces and an aircraft is proof. In fact, the first Mercedes-Benz W126, a 500 SEL was first imported to India by them!


Featured above is a Diamonds and a double row of rubies in asymmetrical platinum setting 19th century, bangle, and reference image of HH MGD wearing the exact same bracelet.
The central floral motif is set with cabochon rubies and diamonds in gold; the back is enamelled in the white, green, red a characteristic of Jaipur work. The rubies in the central gold motif are all teardrop shaped and face inwards, except for one, at the side, which faces outwards, presumably to make them fit around the central egg-shaped ruby, set in the 'Kundan' setting by Cartier, in 1937.


After independence, Jaipur was merged with other princely states, which is today known as the Rajasthan State. HH MGD made her first public speech and contested her first election in 1962, and won the same along with winning a place in The Guinness Book of Records by receiving a majority votes. She held the position in 1967 and 1971 as a member of the Swatantra Party. In May 1970, the government introduced a bill to abolish the princely order, and the Maharaja and Maharani flew to England. HH Man Singh Ji, passed away a month later while umpiring a polo match in Cirencester.


Featured above is Stiff collars Ruby and Diamond necklace, earrings set and a reference image of HH MGD wearing the exact same necklace. The central element of the necklace detaches to be worn as a clip brooch. The pointed clasp with its fancy-cut diamond is an integral part of the collar, made by Cartier, contained in original fitted green leather Cartier case. The earrings are different in style from the necklace, which may have been made at a different time and were not designed to match. They are unmarked.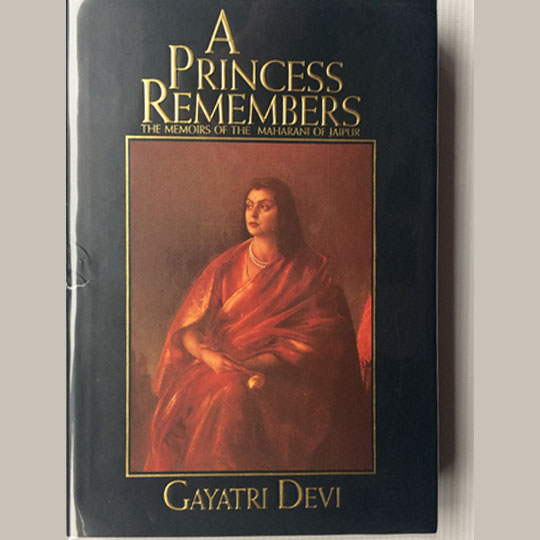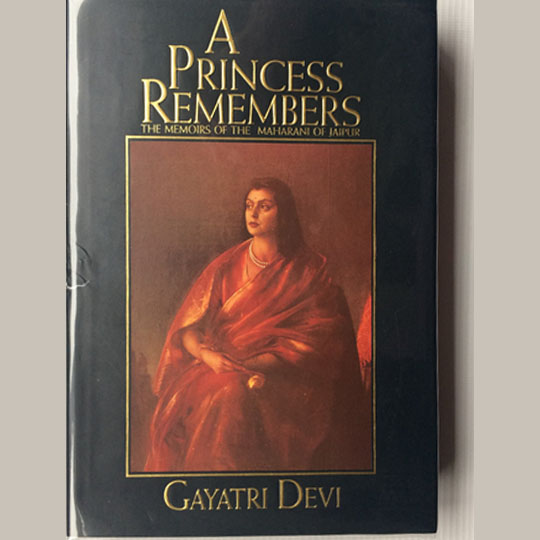 After retiring from politics, HH MGD immersed herself in social work and well being of her people and published her biography, "A Princess Remembers" in the year 1976. In her book "A Princess Remembers- The Memoirs of the Maharani of Jaipur", she quotes her grandmother; who was the Maharani of Baroda and wife of Maharaja Sayajirao Gaekwad III: "Never wear emeralds with a green sari…they look so much better with pink." HH MGD's taste and personality were simply the results of the strong influence of the women in her family.
On developing a gastric problem, HH MGD's health began to deteriorate, and she made several visits to hospitals. On July 29 2009, HH MGD passed away due to lung failure at the age of 90. She was a courageous politician whose affluent background rendered her the confidence to step up and make a mark among the masses.


Featured above is a Gold necklace with pearls, rubies, diamonds and teardrop emerald pendant, from India, made in the year 1800-1950, and a reference image of HH MGD wearing the exact same necklace. The Pearls strung along edges of diamonds are continued in five rows at the clasp along with rubies and emeralds. The gems are set in Kundan setting along with Enamel floral patterns on the reverse, made in Jaipur.
HH MGD was known for her beauty and elegance, and she was also listed by Vogue as one of the world's 10 most beautiful women. Since her pre-marital days as the Princess of Cooch Behar, she had been groomed as a socially conscious Royal with empathy for the people. Till today, people of Jaipur and Cooch Behar are proud to call her as their own; for she would always remain one of the most adored Royals of India and a style icon forever.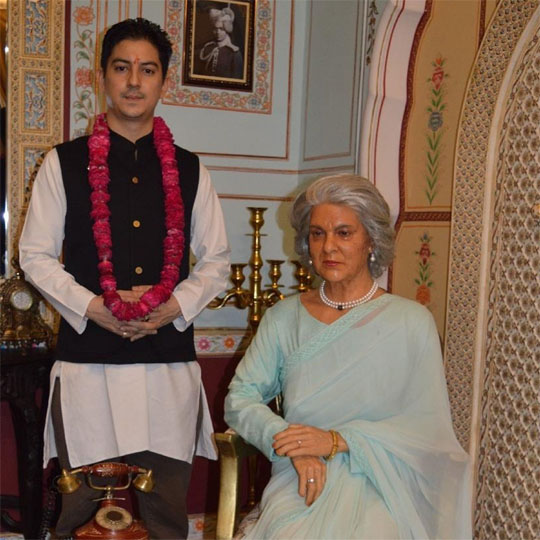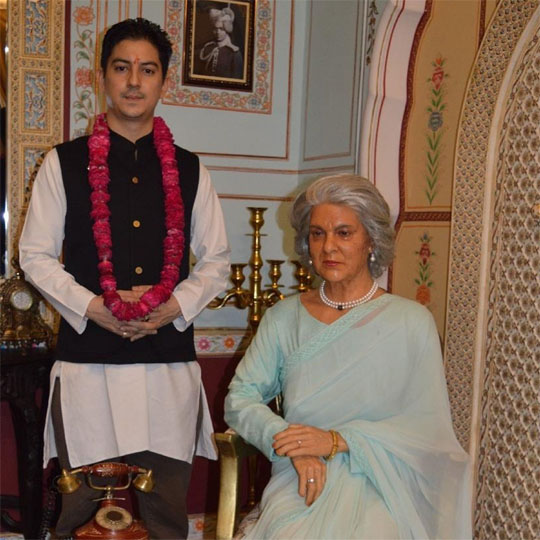 HH MGD had the following titles:
*1919–1940: Her Highness Princess Gayatri Devi of Cooch Behar.
*1940–1949: Her Highness The Maharani of Jaipur.
*1949–1970: Her Highness Maharani Gayatri Devi.
*1970–2009: Her Highness Rajmata of Jaipur. Following Sawai Man Singh II signature for the Jaipur State to become part of the Union of India and her step-son's assumption of the title in 1970, she was known as Maharani Gayatri Devi, Rajmata of Jaipur.
*In June 2019, Rajmata Gayatri Devi's wax figurine was unveiled at Jaipur Wax Museum, Nahargarh Fort by her Grandson H. Dev Raj Singh Ji.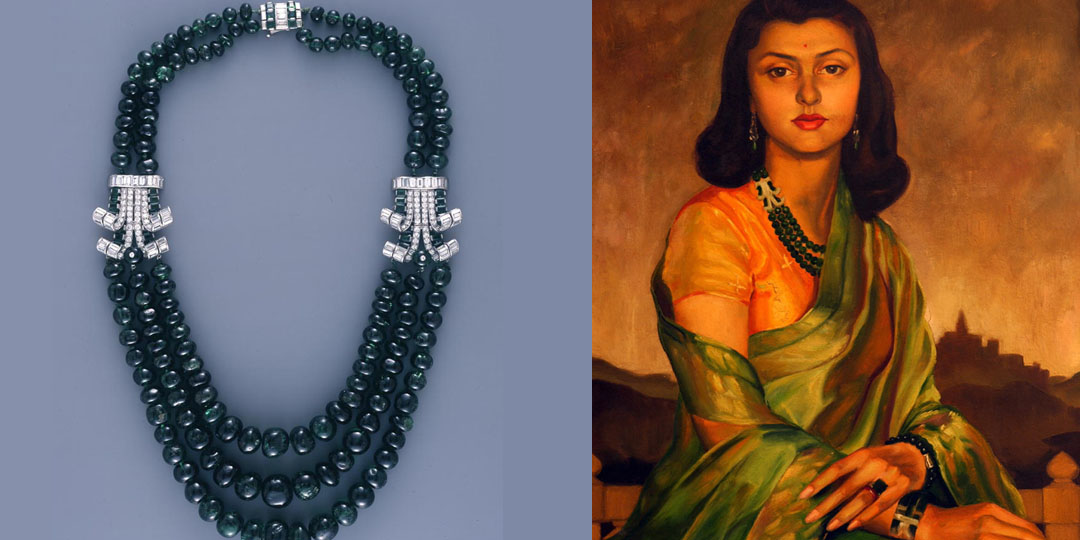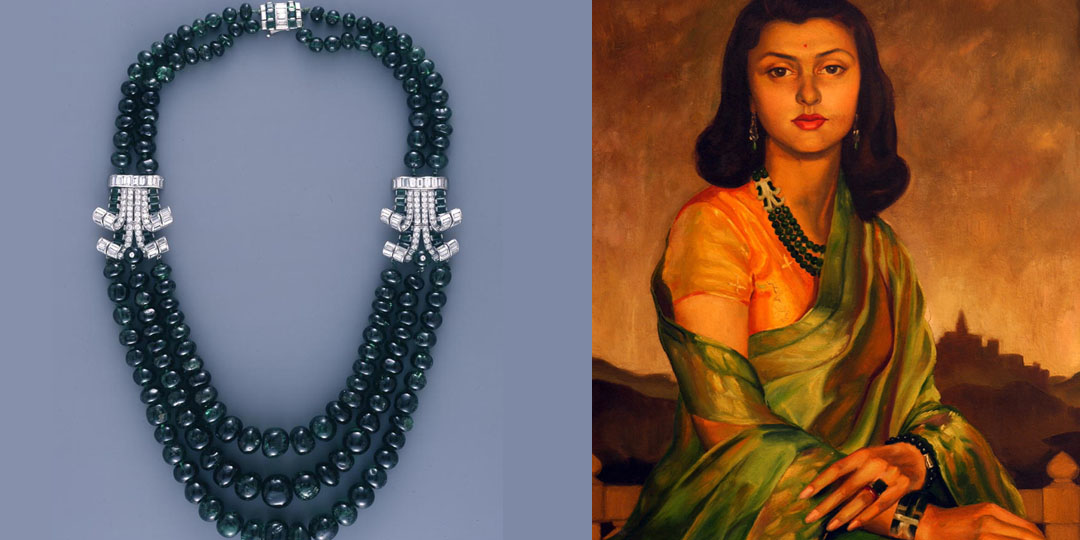 Featured above is 3 graduating string of Emerald beads(18-19 century), diamond Necklace, set in platinum and a reference image of HH MGD wearing the exact same necklace. It's secured with a pair of diamond and emerald-set elements at each side and a barrel-shaped clasp at the back. Made by Cartier. Production date 1937
HH MGD's style reflected her fierce nature and her royalness. She carried herself with elegance and poise, which have been a testament to her confidence and sophistication. HH MGD was beautiful inside out and marked her presence wherever she went. It was a pleasure curating and learning about the empowering personality of HH Maharani Gayatri Devi who has inspired millions of women and changed their lives. HH Maharani Gayatri Devi lives in our hearts forever!
**Disclaimer**: "The jewellery images in the article are based on the research, with references to the image of the exact same piece of jewels adorned by the Maharani. Pieces shown may or may not have been part of her collection and are shown as examples to illustrate these styles."
Credit: Wikipedia, Khinkhwad blog, Sudhir Kasliwal, Vogue India, British Museum