The India Gem & Jewellery Show (GJS) #HumaraApnaShow; organised by All India Gem and Jewellery Domestic Council (GJC) and supported by Micro, Small & Medium Enterprises and World Gold Council took place at the Jio World Convention Centre from 30th September to 3rd October. After attending the GJS Show in October 2022 I was thrilled to be part of the October Diwali edition.

The Diwali edition of India Gem & Jewellery Show (GJS) #HumaraApnaShow;
designed to fulfil jewellers' quests for trend-setting jewellery pieces for retailers, wholesalers, and consumers ahead of the festive and wedding seasons was inaugurated by the Honourable Governor of Maharashtra, Ramesh Bais.

Besides sharing the dazzling array of stunning, innovative, and exquisite jewellery pieces I attended the GJS Fashion Nite on the 30th of September and on October 1st; I attended the 12th National Jewellery Awards, an excellent platform for all aspiring jewellers, that covers all segments of the jewellery industry starting from students, designers, jewellery awards, store awards, and women entrepreneurs.
And now let me share a few of my discoveries.

Bangles are more than just accessories for Indian women, for they are symbols of good health, and fortune and are worn by women across the country! At SK Seth Jewellers one of the premium jewellery connoisseurs, I discovered handcrafted gold bangles made with meticulous attention to detail, that will compliment every festive look.

How many of us believe that horses are auspicious and bring good luck? While scouting for exclusive festive shopping jewels, I was instantly drawn by this incredible Flying horse silver decorative by Takshvvi. Now, allow me to narrate a few facts:
The idea of a flying horse is often associated with the Pegasus from Greece. Since ancient times they have been depicted in art, literature, and stories; for it is believed that the image of a flying horse is extremely powerful and stimulates the human imagination and encourages them to think beyond the ordinary, and dream big!
This flying horse showpiece is a strong reminder to give wings to our dreams and fly high; isn't it?!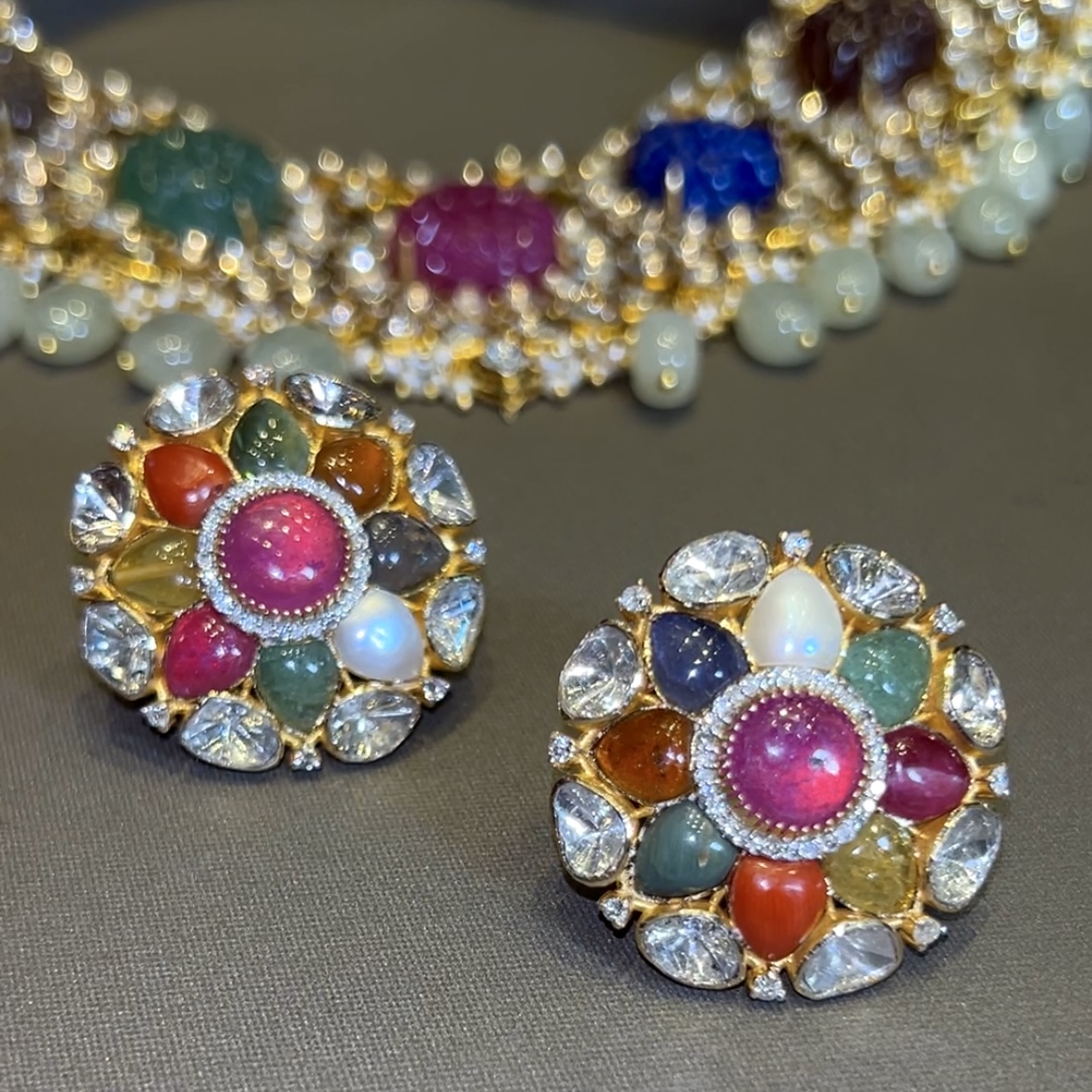 The Magic of NavratnaJewellery! One of the most important and highly valued jewellery worn by women across India for its vibrant and colourful appearance and which also holds great meaning in the Hindu astrology and belief systems is the Navratna jewellery!
Navratna, which means "Nine Gems" in Sanskrit, consists of a combination of nine precious and semi-precious gemstones, that resonate with the 9 planets of the solar system. It is often believed that Navratna jewellery brings good luck, health and prosperity to the wearer.
The 9 Gems used in Navratna jewellery are:
💎Diamond
❤️Ruby
💙Blue sapphire
🤍Natural Pearl
💚Emerald
💛Yellow Sapphire
🧡Coral
💚Cats eyes
🧡Hessonite Garnet

India is one of the largest consumers of gold in the world, and the demand for gold Jewellery remains consistently high, as Gold is considered a symbol of wealth and prosperity and is traditionally worn during weddings, festivals, and special occasions.
Did you know: Gold jewellery is often sold and bought based on its weight in grams, and the purity of the gold is indicated as a percentage (22-karat gold, 18-karat gold). When calculating the value of your gold jewellery one must consider both the weight in grams and the purity of the gold, in addition to any other factors that contribute to its overall value.
Featured above are Gold Jewellery that ranges from 50 grams to 320 grams made in 22 KT of Gold

My next discovery was PIE-CUT DIAMOND!
Pie-cut Diamonds are smaller fancy-cut diamonds carefully matched and polished to shape together to give the illusion of a larger solitaire fancy-cut diamond. Common diamond shapes in Pie-Cut Diamond are round brilliant, princess, emerald, marquise, pear, and oval to name a few. Each of these shapes has a unique cutting process to achieve a distinctive appearance.
Did you know that Pie-cut diamonds are economical compared to other diamond cuts as they make efficient use of the rough diamond material, resulting in less wastage? For example, the value of an entire Pie-cut diamond necklace layout featured above is almost equivalent to the price of a single solitaire diamond.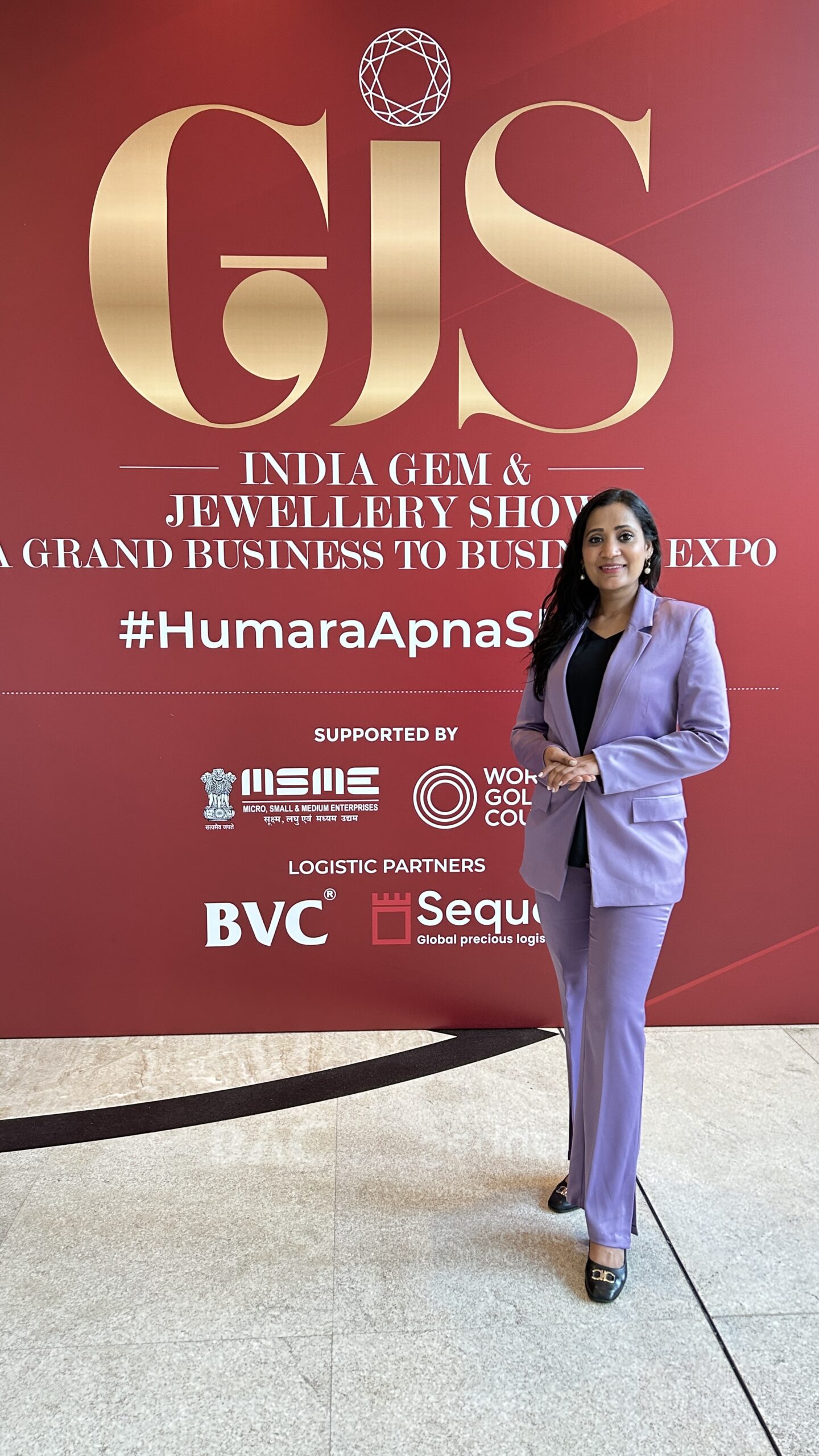 It was a wonderful experience being a part of the India Gem & Jewellery Show (GJS) #HumaraApnaShow and discovering new designs and trends for the upcoming festive season!