Birdhichand Ghanshyamdas Jewellers a Jaipur-based jewelry brand, having mastered the Rajasthani form of craftsmanship over the years. Each of their collection is dripping in grandeur, often inspired by the legacy of India's royal families, a pioneer in Bridal jewelry. Their collection celebrates Indian brides who prefer wearing traditional jewelry in their own unique ways.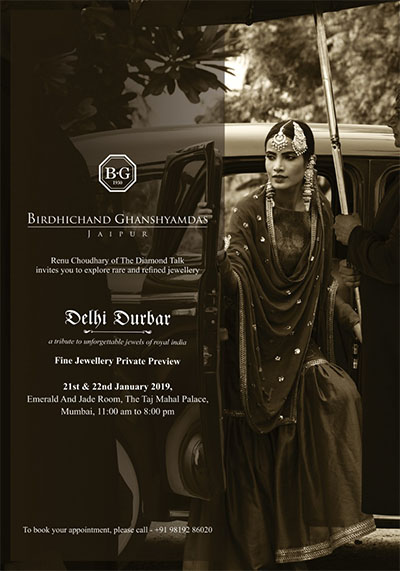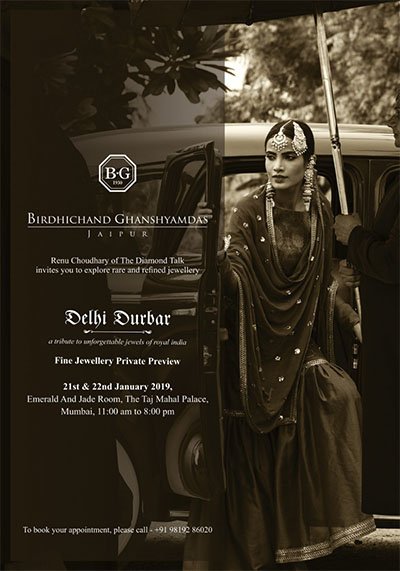 It gives me great pleasure to collaborate with Birdhichand Ghanshyamdas Jewellers on their exclusive private preview at Taj Mahal Hotel, Colaba showcasing their Delhi Durbar collection and to aid their clientele with Jewelry Styling.
Delhi Durbar features uncut diamonds and precious stones layered into intricate statement one-of-its-kind pieces of jewelry. Made for brides who want to embrace tradition and grandeur.
Here is a glimpse of window display of their Delhi Durbar collection.


It was a great honor to meet Mr. Yash Agarwal, the creative force behind Birdhichand Ghanshyamdas Jewellers, who was kind enough to take me through the craftsmanship of this show stopper necklace.
The necklace is an amalgamation of Art deco style and peacock motifs inspired from Mughal era. They come together in the centre with a heaxgon shape motif which is inspired from the art deco style made with step cut triangle diamonds (which are equally rare), and all triangles fitting into each other like a match made in heaven. The emeralds are the finest quality, Columbian emeralds along with marquise diamonds and the border is created using Pansher emerald and Basra pearls.
Truly a treat to the eye!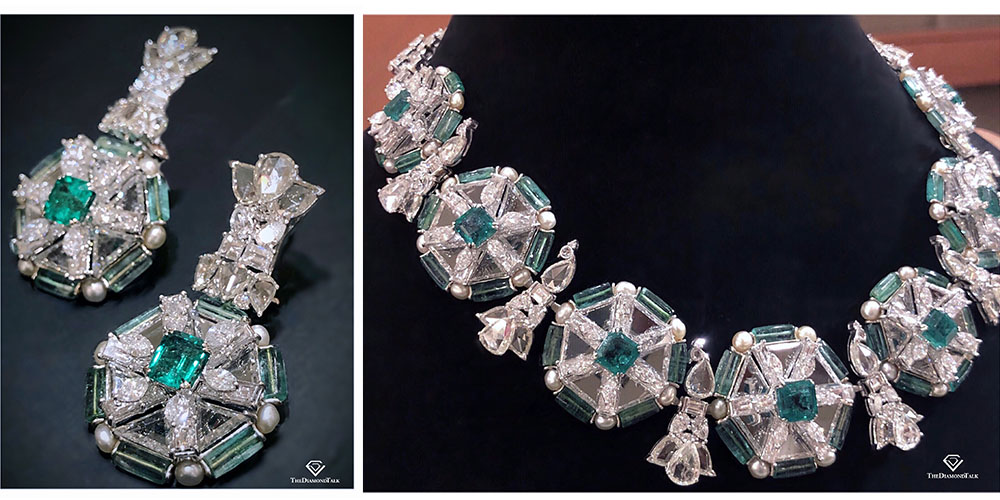 Here are my style tips for the bride to be:
Experimental and lightweight Jewelry pieces, like choker, long chain necklace, cocktail rings set in uncut diamond along with Gemstones are in trend
Art Deco jewelry is a new trendsetter amongst the millennials.
Fusion of uncut diamonds (polki), gemstones and polished diamonds are combined to create a one of a kind unique jewelry.
The jewels were adorned at the fashion show supported by the Sahachari Foundation.
It was indeed a great pride to collaborate with one of the oldest & the most reputed jewelry manufacturers of India!
Stay tuned for more!!