BLUE! the colour of trust, loyalty, dependability and honesty is the Pantone colour of 2020. Taking inspiration from it, I will be talking about the NATURAL BLUE DIAMOND.
They are not only beautiful and exceptionally precious but, also the rarest shades of Fancy coloured diamonds. Less than 0.1% of fancy coloured diamonds found types IIB Blue.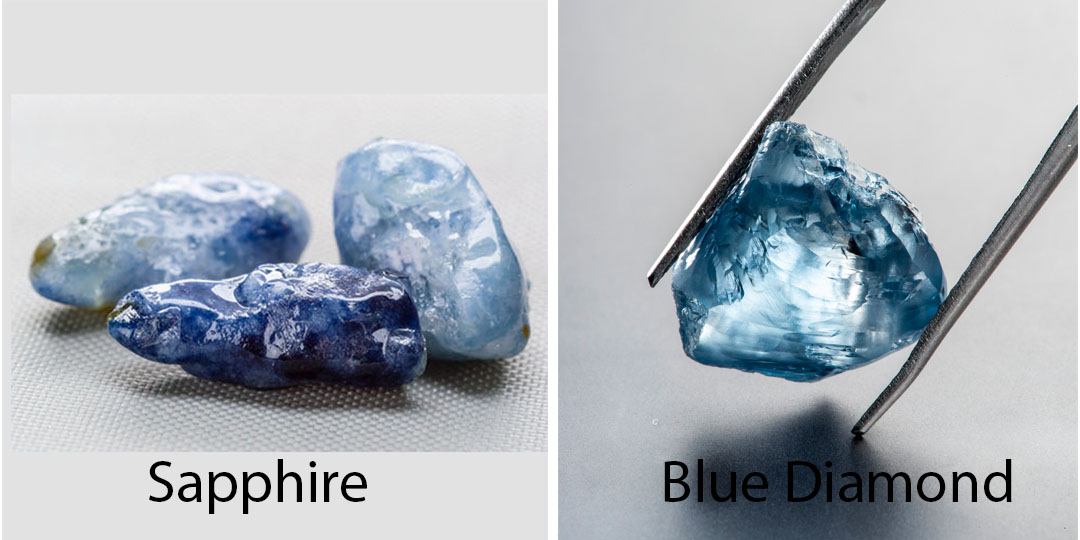 Image Source: Petra Diamonds
Difference between Sapphire and Natural Blue Diamond:
Composition: Blue Diamonds are composed entirely of pure carbon whereas Blue Sapphires are made of corundum or aluminium oxide. Rarity and Price: Blue Diamonds are exceptionally rare, becoming increasingly difficult to find, hence achieving record prices at auction in recent years, as compared to Sapphire.
Durability: Diamonds are the hardest mineral known to man and they cannot be as easily scratched or abraded. Whereas, Sapphires need re-polishing than Blue diamonds.
Fire: Diamonds refract more light than sapphires. The fire in Sapphire can't quite compare due to inferior refraction of light. When Sapphire gets dirty, they may look slightly clouded and their brilliance can become hampered.

Natural Blue Diamonds are found in the Cullinan mine near Pretoria, South Africa, which is the main source of Blue Diamond, producing some of history's greatest diamonds. They are also found in the Karowe mine in Botswana, Letseng mine in Lesotho and the Golconda mine in India. The Argyle mine has also produced some beautiful Blue Diamonds but to a lesser extent.

Featured above is Hope Diamond, also known as "Le Bijou Du Roi," one of the most popular jewels in the world. It's "The King's Jewel", dating back almost four centuries with its origin in India, Kollur mine, an antique cushion cut diamond, weighing 45.52cts, awash in a dark grey-blue colour. The Hope Diamond was unveiled and displayed at the Smith Sonian Institution in a temporary newly designed necklace called "Embracing Hope", created by the Harry Winston firm.
Coloured diamonds get their magnificent colour from either chemical impurities or lattice defects. Likewise, in blue diamonds the chemical impurity that is responsible for their beautiful colour is BORON.
Boron is a metalloid element with a similar size to that of carbon, having only 3 electrons. It is due to this free electron that the diamond is able to absorb red light, allowing only blue light to escape it. More the boron, the deeper the blue hue us.
Hydrogen is typically the cause of a greyish or more violet-blue hue in diamonds, while greenish-blue diamonds usually contain nitrogen impurities.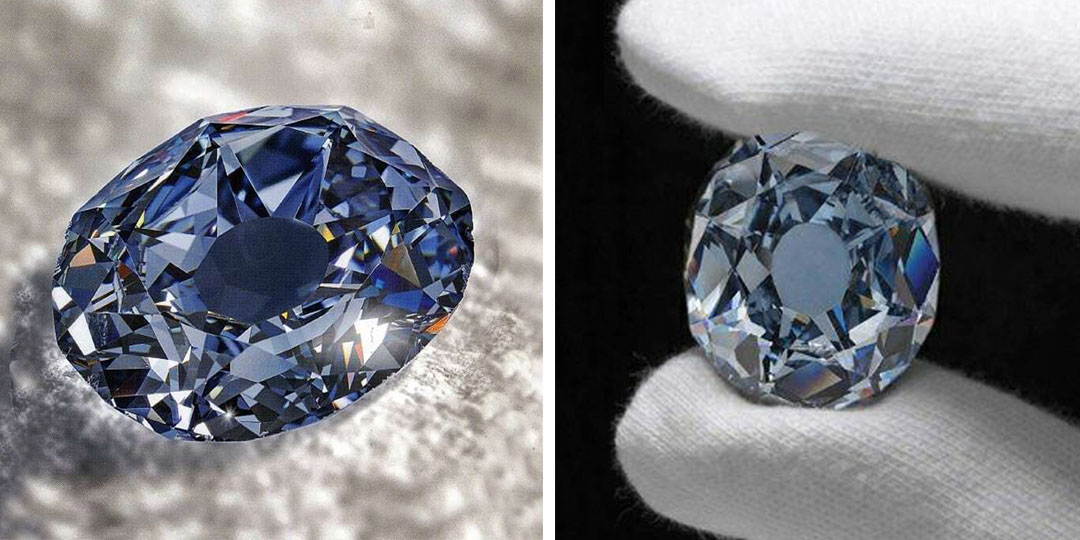 Featured above is Wittelsbach Diamond, also known as Der Blaue Wittelsbacher, which was originally 35.56cts Fancy Deep greyish-blue diamond with VS2 clarity.
Laurence Graff purchased the Wittelsbach Diamond recut to 31.06cts and was renamed the Wittelsbach-Graff Diamond, graded Fancy Deep blue IF according to GIA's coloured diamond colour grading system.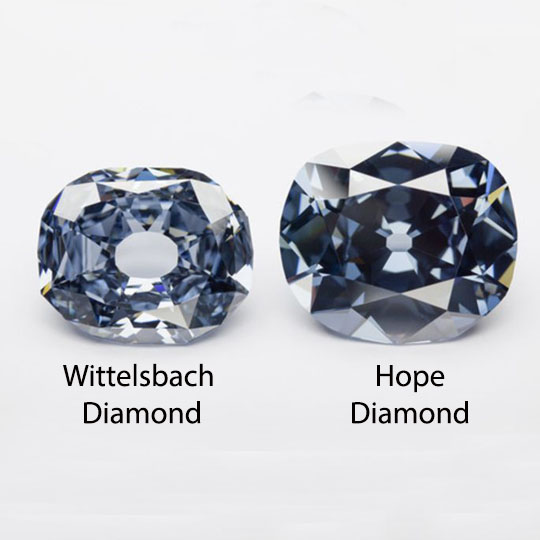 The colour and clarity had been compared to the Hope Diamond.
A diamond's colour is officially determined by professional gemological institutes according to three main parameters, Hue, Tone and Saturation.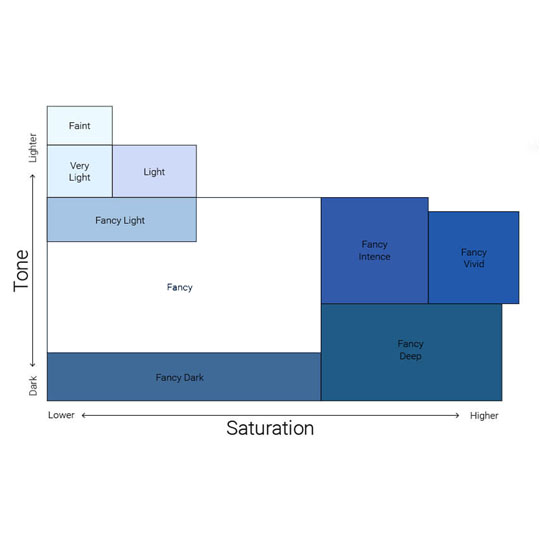 Hue: Represents the diamond's primary and dominant colour, Blue in this case.
Tone: Represents the penetration of light into the fancy coloured diamond and its effect on the primary hue. The levels of tone are divided as Very light, Light, Medium-light, Medium, Medium Dark, Dark and Very dark. Blue diamonds reach the highest saturation level in a medium to dark tones.
Saturation: Represents the colour's strength and intensity. The stronger and more vivid the colour, the rarer the diamond, and the price goes up accordingly.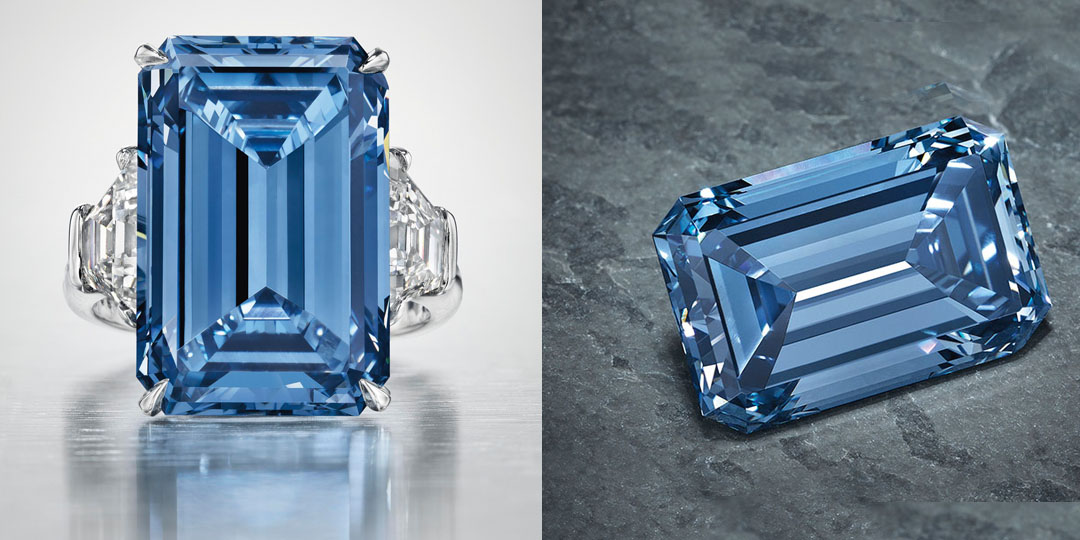 Featured above is The Oppenheimer Blue a 'legendary' diamond set to be the largest Vivid Blue diamond ever to appear at auction. The exceptional diamond is classified as a Vivid Blue, emphasised by its classical Emerald cut. The Oppenheimer Blue can only be described as one of the rarest gems in the world, it is the "GEM of Gems".
The demand for blue diamonds has seen a significant increase during the last decades. The same, however, cannot be said about supply, the reason being the Cullinan mine completes its expansion operations, resulting in the diminishing of the supply of these precious stones, undoubtedly leading to a significant value increase.
The factor which creates competition and ultimately leads to extreme rises in prices, is the Rarity of Natural Blue Diamond, making them a good investment opportunity!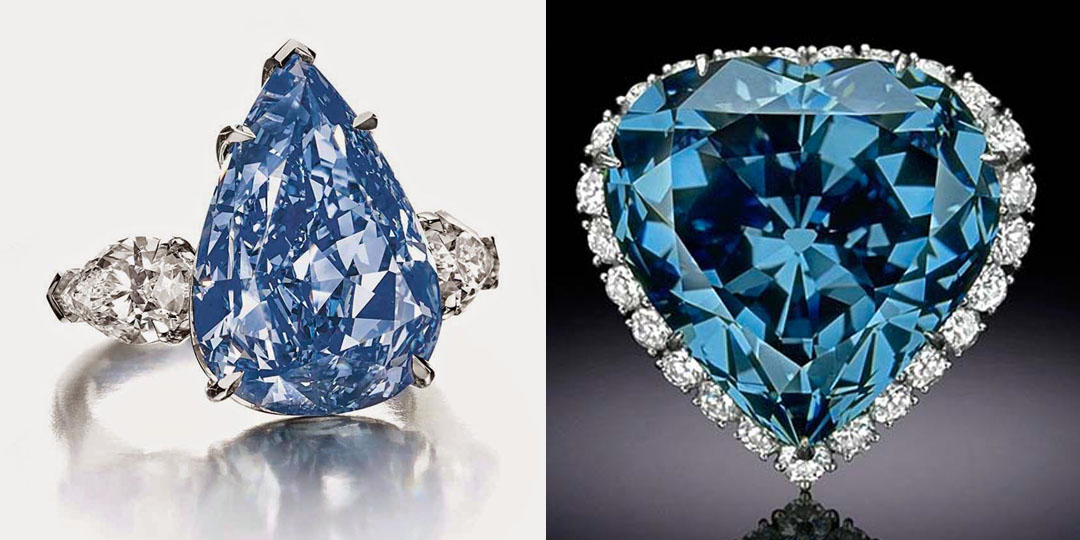 Featured above are: 'The Blue' diamond, a 13.22cts the world's largest flawless Vivid Blue diamond, which was bought by Harry Winston, in Geneva on 14 May 2014 and named The Winston Blue.
The Blue Heart Diamond, a 30.62cts, heart-shaped natural Fancy Deep-Blue diamond, with a clarity grade of VS2 set in a platinum ring surrounded by 25 white diamonds. Harry Winston had sold it to Marjorie Merriweather Post who further donated the Blue Heart to the Smithsonian Institution in Washington D.C. in 1964, where it remains.
With this, I conclude my article on Natural Blue Diamond. Be NATURAL! Be RARE! Be REAL ! and always Keep Shining BRIGHT !!