It was a pleasure to be a part of the VICENZAORO Show; the largest European Exhibition dedicated to Goldsmith and Jewellery from September 9-13 in Vicenza; and view high-end jewellery brands, precious gemstones, the latest innovative solutions for packaging, visual merchandising, machinery and a lot more ALL AT ONCE!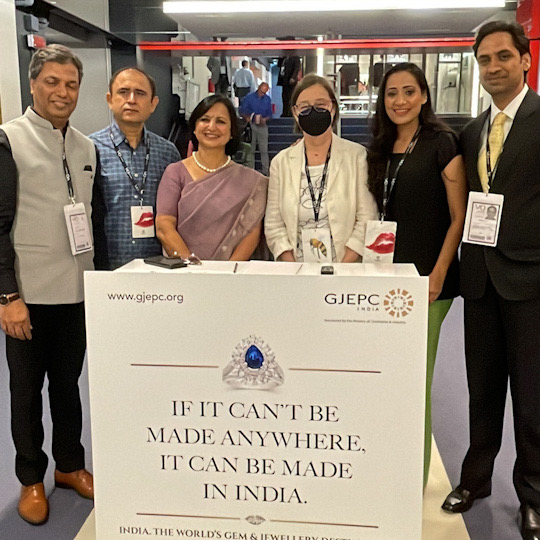 It was my honour to meet Her Excellency, Dr Neena Malhotra; Ambassador of India to the Republic of Italy, San Marino & UN Organisations in Rome. The bilateral trade between India and Italy; has flourished over the years and as a Jewellery consultant, it was a proud moment for me to highlight and share the key jewellery trends with Her Excellency from the Vicenza show!!
Let me take you through a few of my discoveries!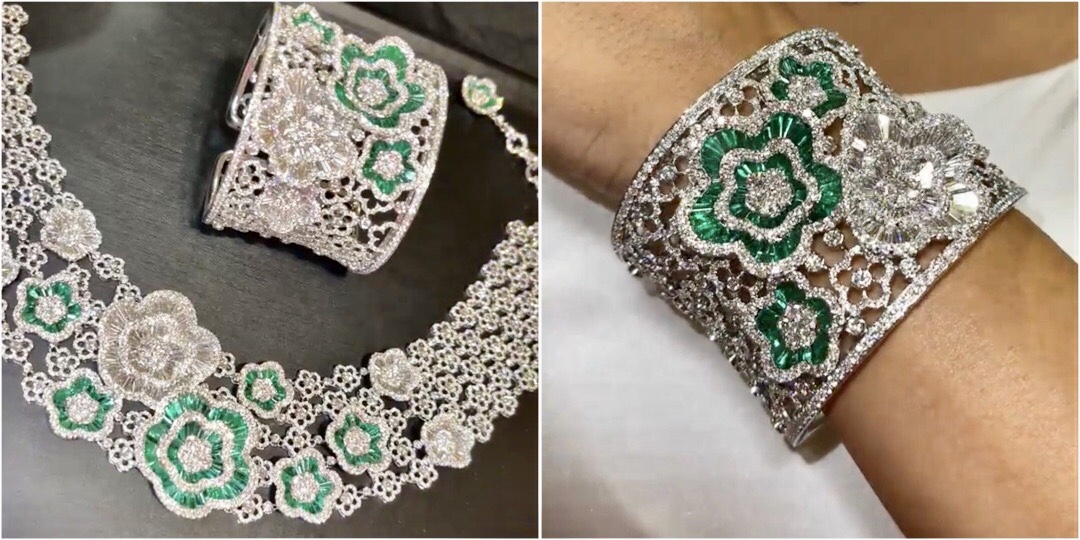 Let's begin our Vicenzaoro discoveries with this exquisite work of art crafted in emeralds and diamonds by Schreiner Fine Jewellery. The intricately woven flower motifs add their own layer of beauty to it.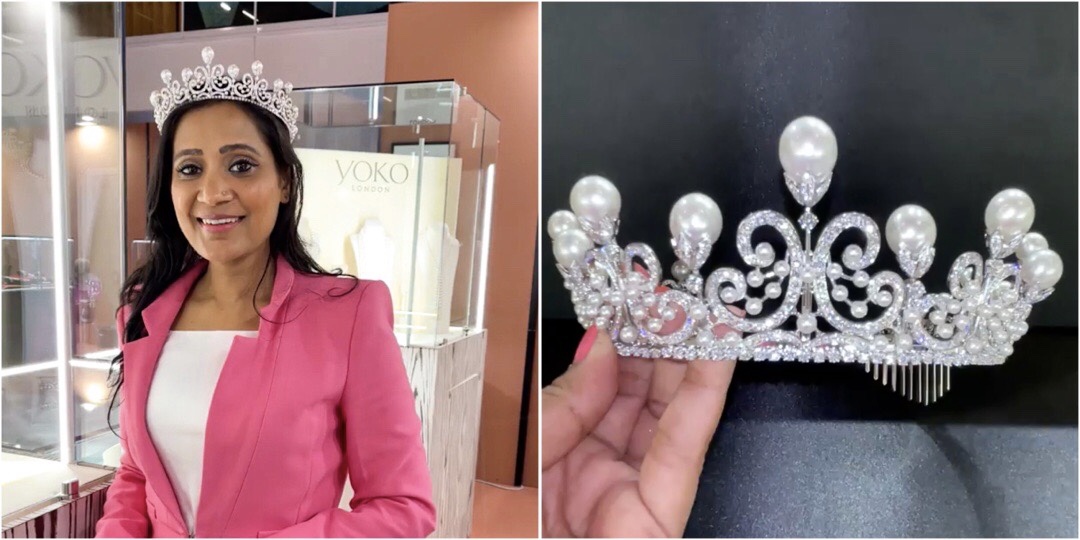 I have been a great admirer of pearl jewels, and at Yoko Pearls, I saw this beautiful diamond and pearl tiara that also converts into a necklace. After all, "The Pearl Is The Queen Of Gems And The Gem Of Queens" and I couldn't stop myself from trying it on!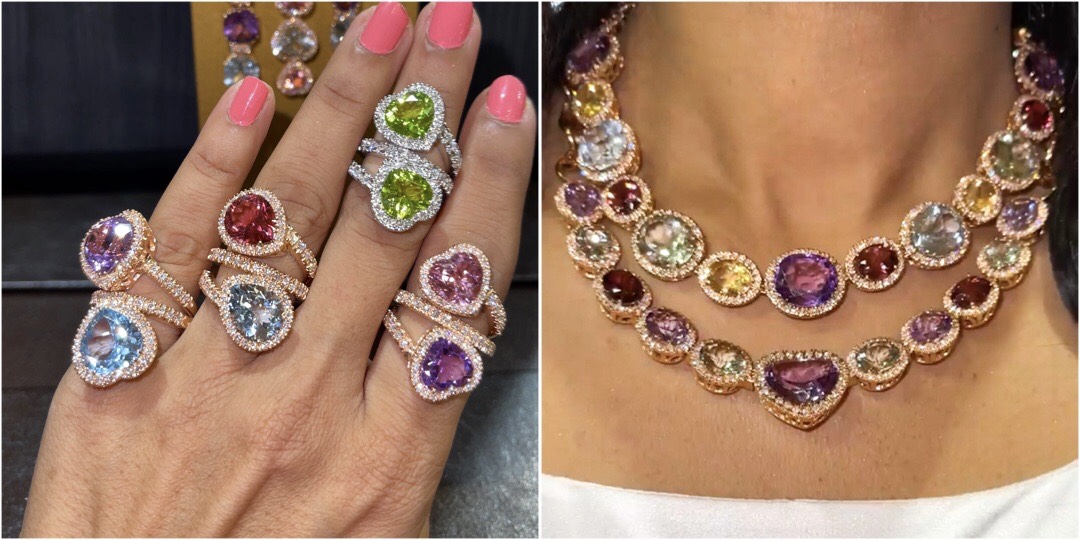 A colourful odyssey! Presenting a colourful array of semi-precious rings made in diamonds, aquamarine, peridot, tourmaline, amethyst, citrine and rubellite crafted by; De'Lazzari OroAddosso from Valencia district known all over the world for its centenary goldsmith tradition. Let me know which is your favourite colour gemstone ring!!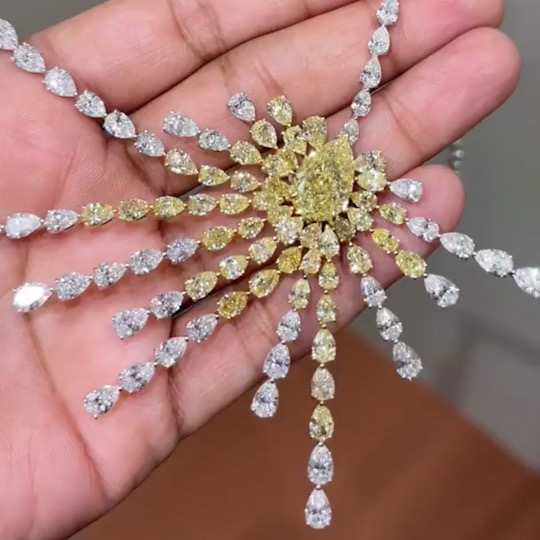 During the recently concluded Couture Show, Gismondi accepted a Design Award for his one-of-a-kind necklace. This award-winning Raggio di Sole inspired by the early morning sun was a piece de resistant. Talking about his award-winning Massimo Gismondi shared, "For me, this 'Raggio di sole' represented a magical rebirth of life and the importance of restarting every day with love and passion for both people we love and lost. It has been an incredibly intricate process to create this special jewel." Well, the effort definitely shows!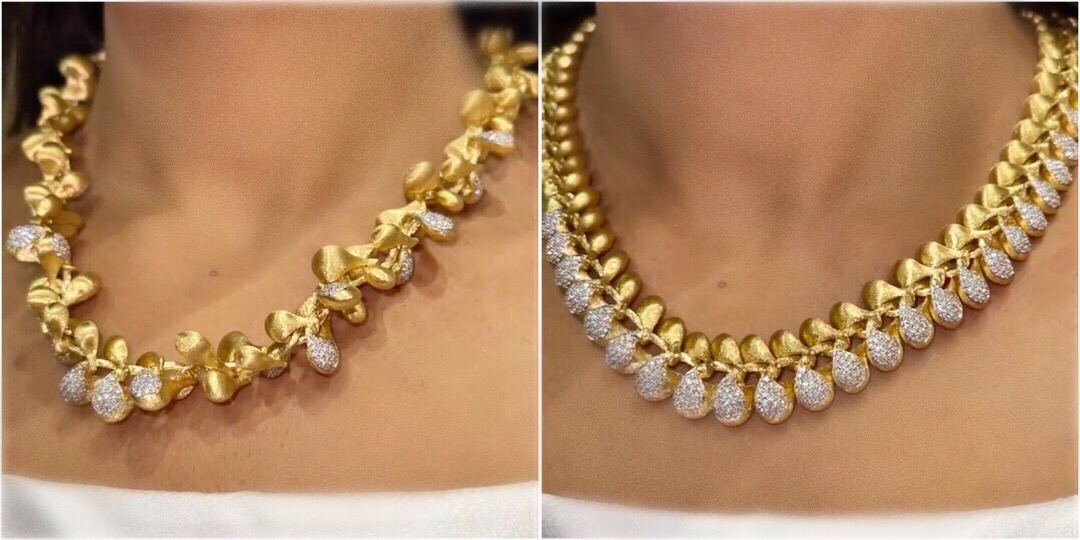 The Italian goldsmiths are known for their unique and artful approach to handcrafting masterpieces by combining classic style with contemporary design. Did you know; that two-thirds of all the gold jewellery produced in Europe comes from Italy, and Vicenza is the world capital of gold jewellery making? One of the brands I discovered during my visit to the March Vicenzaoro Show was Nanis Jewels and it was a pleasure to revisit them at the September Edition and view their magnificent handcrafted necklace that can be worn in 2 versions:
1. Flat version
2. Twisted version
The surfaces of Nani's jewels are made unique thanks to a special, and very ancient, artisanal workmanship: the hand engraving made with a burin tool. With this instrument, and with a great experience capable of combining strength and delicacy at the same time, the engravers draw deep grooves, giving them a soft appearance, similar to that of silk, and extraordinarily brilliant. Let me which how would you style the necklace.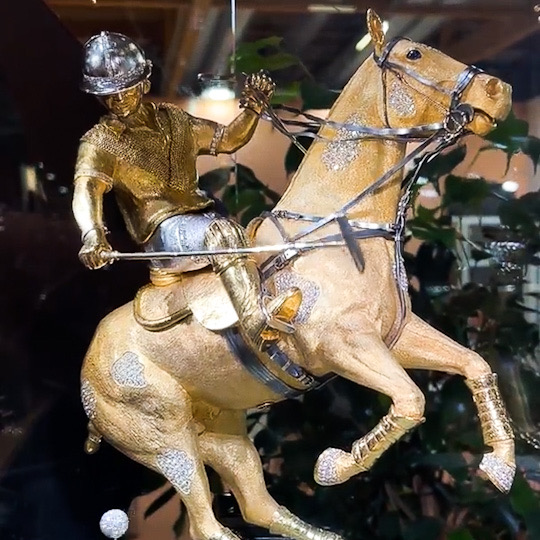 For all POLO admirers! A handcrafted horse made in Italy by RCM Gioielli.

It was a delight to view 2.2 million dollars; The Dragon Egg, which was created to commemorate the 10th anniversary of The Game of Thrones.This work of art is co-designed by Designer, Liisa Tallgren and Michele Clapton, the Emmy®️ and BAFTA®️ winning costume designer from HBO®️'s Game of Thrones.
• Weighing about 2.3 pounds, the Mother of Dragons-worthy egg is adorned with 2,160 round brilliant-cut white diamonds, 696 round faceted sapphires in three shades of pink; 547 round faceted rubies and 85 pear-and marquise-shaped Mozambique rubies and all fit for the First of Her Name, Breaker of Chains and Queen of the Andals and the First Men.
• The shell is moulded from sheets of 18-karat white gold, and the egg's pattern are drawn free-form and then engraved directly onto the material. The sparkling guilloche enamel scales were made from crushed light blue, grey, mauve and violet glass that was made into a paste, then layered, fired and re-polished.
• An 18-karat white gold dragon tail wraps around the base, which is adorned with white diamonds and moonstones and contains a twisting mechanism of moving joints and linkages that required a "time-consuming" design process.
• The objet opens to reveal yet another egg made of three 18-karat gold blades that each represent Drogon, Rhaegal and Viserion. The interior egg's inner shells are finished with pear and marquise-shaped rubies, all surrounded by a pavé of hundreds of pink sapphires and white diamonds.
• The heart of the egg is a pear-cut ruby that sits atop a removable white gold crown, which can be removed and attached as a pendant.
Incredible work of art isnt!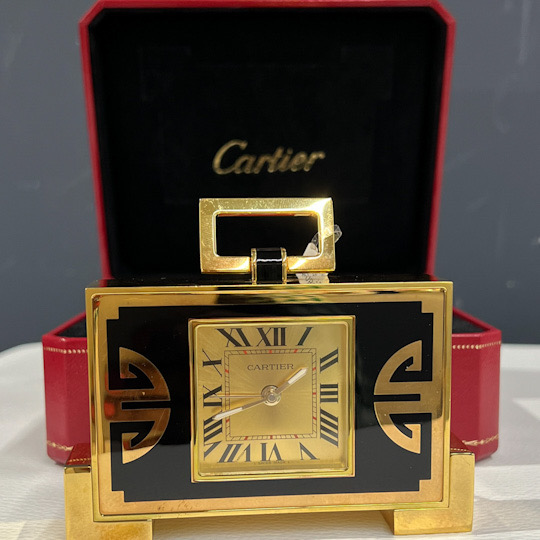 Presentation of a Limited Edition Cartier Panther table clock seen at Vo Vintage by MDA Watches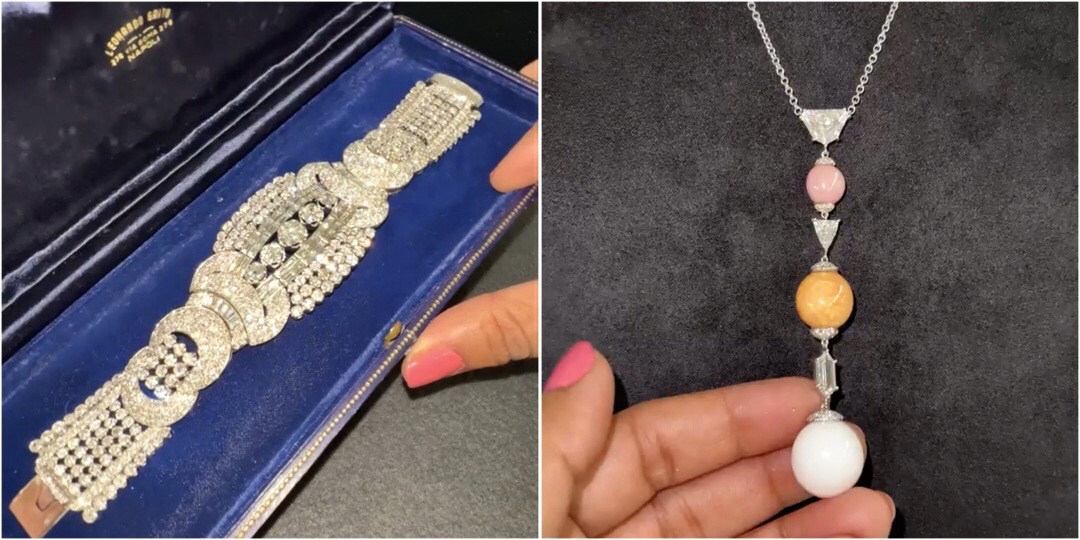 I have always been enamoured by vintage jewellery as these have a special and unique charm of their own. Featured above is a diamond-studded and intricately designed exquisite bracelet that made me fall in love with it and one of the most precious and rare natural pearl pendant made in Conch Pearl, Melo Pearl and Clam Pearl.

Besides showcasing the best of Gems and Jewels from a show, I also love to focus on the other important elements such as machinery and packaging. Featured are best Made In Italy packaging by To Be Packaging.
It was a pleasure being at the VO show, and I look forward to being reunited #AllAtOnce and discovering new collections and trends from the Vicenzaoro Show!