INHORGENTA MUNICH 2023, Europe's leading trade fair for jewellery, watches and gemstones, was scheduled from February 24 to 27 in Messe München. After a successful INHORGENTA MUNICH 2022, I am thrilled to share my discoveries!


Six exhibitions were dedicated to jewellery, watches and gemstones, to glamorous craftsmanship from renowned brands and innovative designers. More than 800 exhibitors displayed their one-of-a-kind jewellery and works of art!
Let me take you through a few of my discoveries from the show.


It's always a pleasure to visit dearest Yana Nesper and admire her elegant pearl jewels handcrafted in 18K gold with great attention to detail. Yana has been designing fun modern pearl jewellery collections under the Yana Nesper since 2010 by combining the pearl experience of the company founded in 1970 with a modern lifestyle philosophy. Each of Yana's creations put pearls into the limelight in a simple, elegant and impressive way and celebrates the unique softness, femininity and preciousness of the pearl!


Yana Nesper's creations are also featured in the most popular Netflix/ Emily in Paris( season 3) and are graciously worn by the main characters Emily and Sylvie. This pearl bounty is something you cannot afford to miss!


My next discovery is Leo Wittwer, a family-owned German luxury jewellery brand since 1920; that is world-renowned for outstanding quality and craftsmanship in jewellery making. Keeping up with its philosophy of having even the most exclusive Jewellery in the wearable category, the expert team at Leo Wittwer blends in creative designs that stage large stones in a modern way that can be used in everyday life and uses fascinating colours of the natural gemstones to its optimum. I had the pleasure of viewing their extraordinary work of art and it's a privilege to share them with you'll!
Indeed, when passion meets perfection, the result is jewellery that gives joie de vivre at every sight and every piece of jewelry that comes from Leo Wittwer's manufactory in Pforzheim is as unique as its owner!

At the Italian company Damiani, it was a delight to see the Damiani Belle Epoque collection and Bloody Mary necklace created by the team of master goldsmiths in Valenza. Mary Tudor inspired this regal collier, which recalls the ancient collars of princely clothes. The woven effect is achieved through the chromatic variation of the burnished gold and yellow gold and the setting of diamonds. Handcrafted workmanship shaped the gold in form of a wave in which the gem is set!


"Kind of Magic" with Jörg Heinz! I was stunned by the magical craftsmanship in combination with the high-tech production created by Jörg Heinz. Founded in 1968 in Pforzheim as a studio for pearl jewellery, Jörg Heinz is renowned as one of the most modern and innovative manufacturers in Europe and for crafting precious jewels with classy clasps and magical quick-change faces. Featured above is the Magic Pendant; the attractive outer shell of the Magic Pendant hides a precious interior, revealed by a gentle twist and Swing "Pure" rings that has its focus entirely on the freely moving diamonds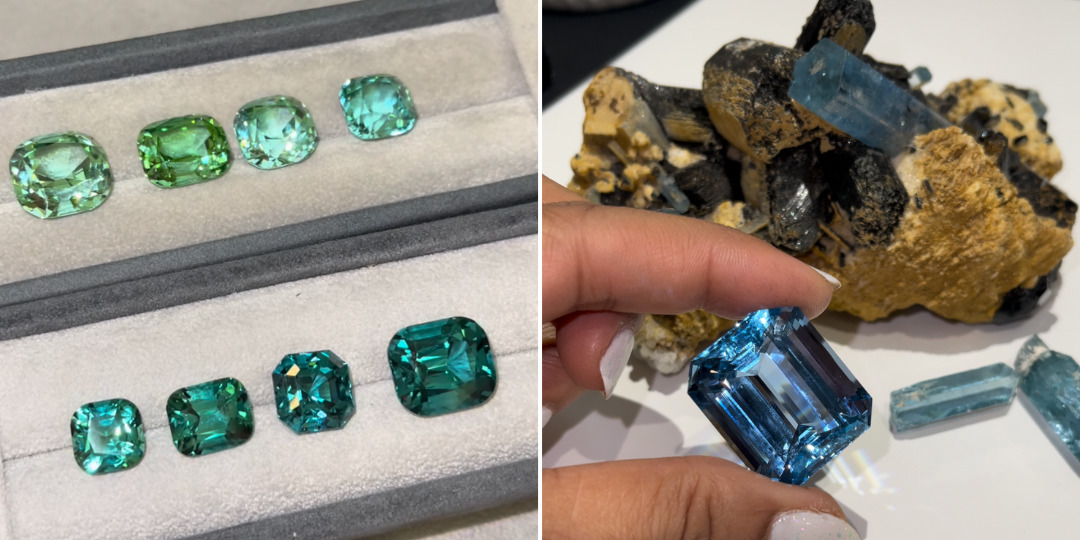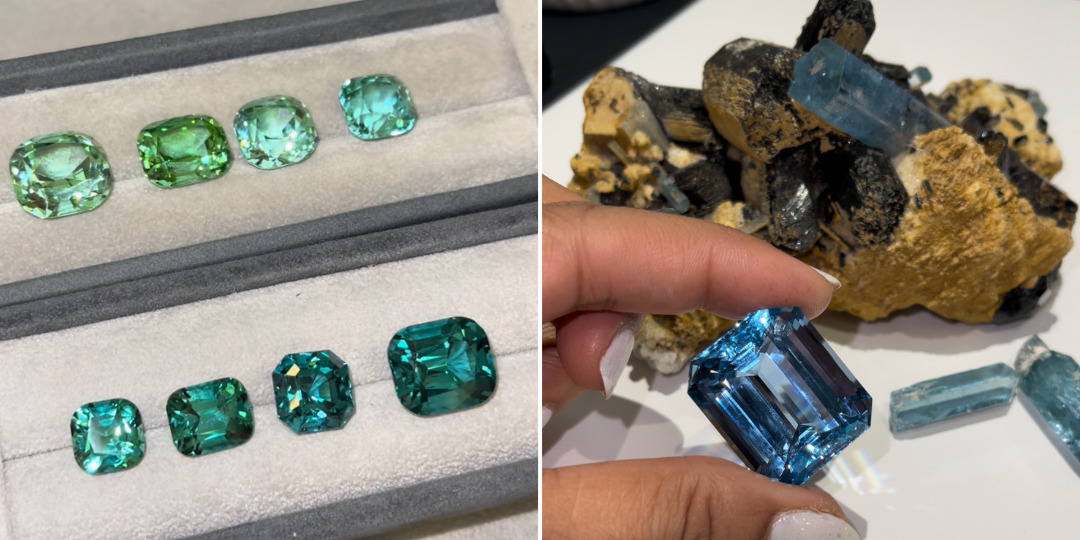 Along with jewels I also discovered some exclusive gemstones.
The art of gemstone cutting is known as lapidary. With expert skill, the lapidarist can turn a rough mineral into a valuable gem. The techniques used in gemstone cutting have developed over many centuries and these skills when combined with innovative techniques produce the best result. Featured above are Aqauamrine by HC Arnoli, a traditional gem lapidary and gem trading company from Idar-Oberstein and rare shades of Afghanistan Tourmalines seen at Kark Faller. The mining of tourmaline in Afghanistan can be traced to the 1970s or possibly before by the locals and are extremely popular among collectors.

It was a sparkling celebration of outstanding creations and their creators from the international jewellery, watch and gemstone industries—the INHORGENTA AWARD ceremony. Well-known jurors presented the coveted trophy to the winners of ten categories. Traditionally, the gala evening is the glamorous highlight of INHORGENTA MUNICH.
It was an incredible experience being a part of the INHORGENTA MUNICH, Europe's leading trade fair for jewelry, watches and gemstones, from February 24 to 27 in Messe München and the Inhorgenta Awards! Looking forward to the 2024 edition!