JAIPUR is known for its traditional handicrafts and as leading Gemstone and Jadau jewellery manufacturing centre. Jaipur has become a jewellery manufacturing centre as well as a Gemstone cutting centre. The journey of Gemstone manufacturing began with a handful of artisans working on unpolished precious stones, which today, has turned into the largest industry, with more than 100 factories cutting coloured gemstone.
During my recent trip to the city, during Diwali festivities, I had a great privilege visiting the museums and Gemstone manufacturing factory.
Sharing my Jaipur Diaries with you!
RMC Gems India Ltd in Sitapura
My first visit was at RMC Gems India LTD.
I have always been interested in knowing the procedure of a gemstone manufacturing, and during my recent trip to Jaipur, during Diwali, I did remove some time to plan a factory visit to the RMC Gems India Ltd in Sitapura.
The company was established in 2001 in Jaipur and marked many golden milestones at a global level in the trade of gems and jewellery. They are the biggest suppliers of precious & semi-precious stones and one of the few manufacturers of Blue Topaz in the world!
The detail explanation is as follows:
1) Rough Assorting
The first and the foremost step is the Assortment of Rough, this is a process, of checking the rough gemstone and identifying it piece by piece, to understand the best shape and size to be polished. Planning is done carefully, to achieve the best output to minimize waste and maximize the yield of the rough stone. This is a very important department, as a gemstone begins its journey of being transformed from a rough to a polished stone from here onwards.
2) Slicing
Getting rid of the unwanted inclusions by sawing through them.
3) Preforming
Here the Gemstone is given an overall shape by hand, making sure to grind more on the bad parts while saving the good parts of it.
4) Calibration
This process involves giving the semi-shaped piece a proper shape.
5) Faceting
This process involves making facets in the stone with an assisted factoring machine with fixed indexes for each facet, great care has to be taken of each angle to make sure the stone shows maximum brilliance. This step makes sure that the stones are at its best before being set into jewellery.

Learning never exhausts the mind!
I had a great experience, learning and understanding the procedure of Gemstone Manufacturing.
It was a pleasure to sit amongst the artisans, who work passionately with dedication and render these beautiful gemstones.
Gyan Museum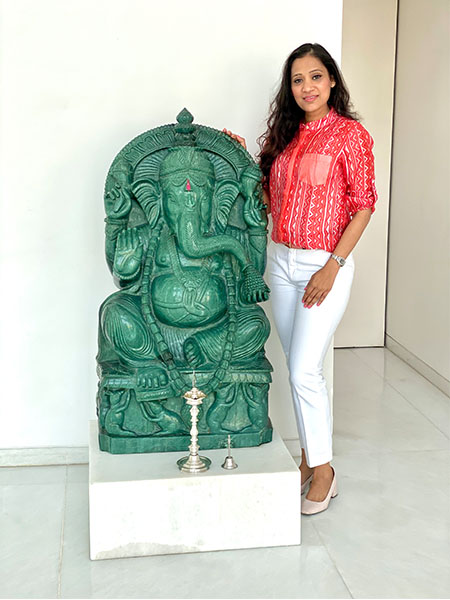 My next visit was at Gyan Museum,
It is a tribute to Late Mr Gyan Chand ji Dhaddha (1940-2004), by his sons, Suresh and Arun Dhaddha, The museum offers a rare insight into history and the objects collected by Late Mr Gyan Chand ji Dhaddha, who believed that the most beautiful relationship one can have with objects is to own them.
At the entrance of the museum, is a carving of Lord Ganesha, from a single gemstone JADE originally weighing 1500kgs, into beautiful 4 feet tall idol now weighing 300 kgs.

The museum houses over 1,000 treasured pieces, from as early as the 17th century, almost dating back to over 3,000 years, which he collected during his lifetime including textiles, paintings, antique jewellery, vintage spectacles, rare inscriptions, and objet d'art from around the world.
Jewels saw at the Gyan Musem.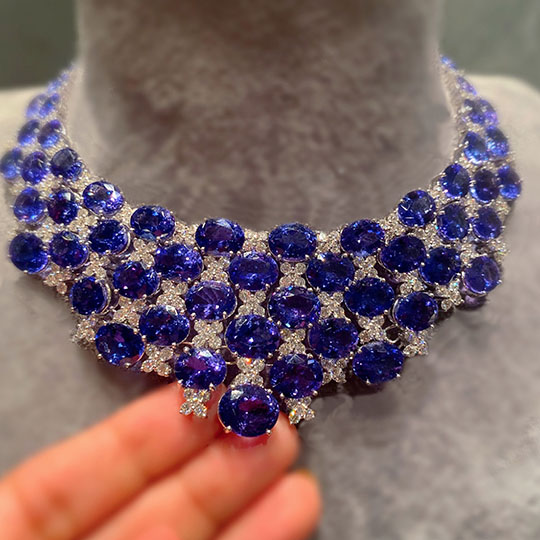 A one of a kind Tanzanite Necklace, each Tanzanite has been picked with precision while the flexible links of the necklace are made to sit with grace on your neck.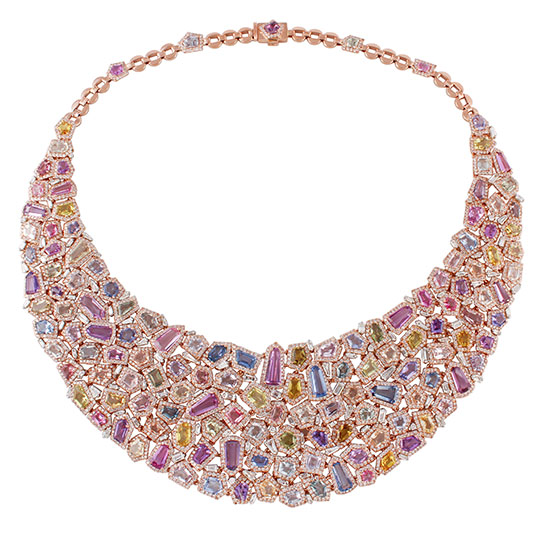 Multicolor Sapphires Rose gold necklace, each piece of sapphire has been cut at the factory, keeping the design and the aesthetic of the necklace in mind. It took almost 15 weeks, right from sourcing the stones to the final layout to be ready. Its flexible mechanism makes it easy to be adorned by everyone.
Trust the team at Gyan Jaipur, that knows how to add the right amount of colour in jewellery!
Museum of Gem and Jewellery
A trip to Jaipur is not complete without visiting the famous Museum of Gem and Jewellery established in 2017. This place is a candy land to any jewellery & gemstone lover. This was my second visit to the museum and regal new addition to the collection at the museum that had my attention throughout was the Tanjore Jewellery.
Tanjore jewellery is made using the concept of Tanjore painting, an important form of South Indian painting from Tanjore in Tamil Nadu which evolved in the 9th century.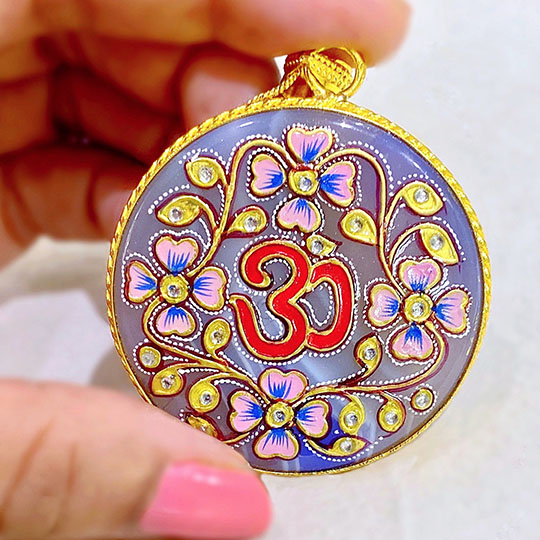 These paintings are known for their elegance, rich colour, and attention to detailing. This form of paintings is distinguished by the use of gold, gemstones, pearls, glass beads and pearls to accentuate the design. Here, each painting tells a story, usually revolving around Hindu gods, goddess and saints.
Gold foils along with pure gold dust are used in the painting, making their shine last up to 80-100 years. This is what makes them so treasurable!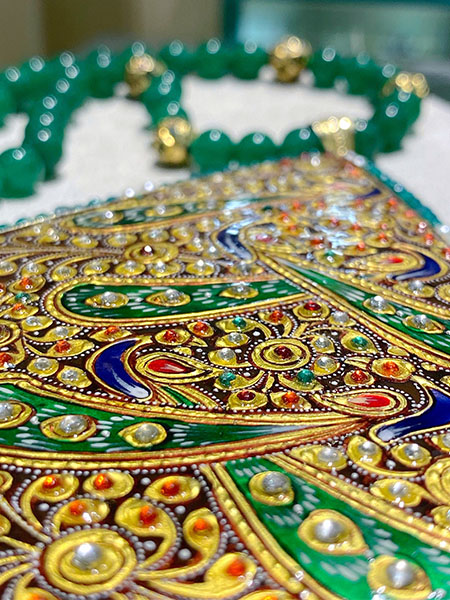 If a visit to Jaipur is on your calendar, don't forget to plan a trip to the Museum of Gems and jewellery of Jaipur, a unique museum in India, completely dedicated to gems & jewellery!
Green International
Jaipur is one of the leading emerald cutting and trading centres in the world! It's emerald cutting industry sources these stones primarily from Zambia through Gemfields auctions, who have significantly changed Jaipur's emerald industry.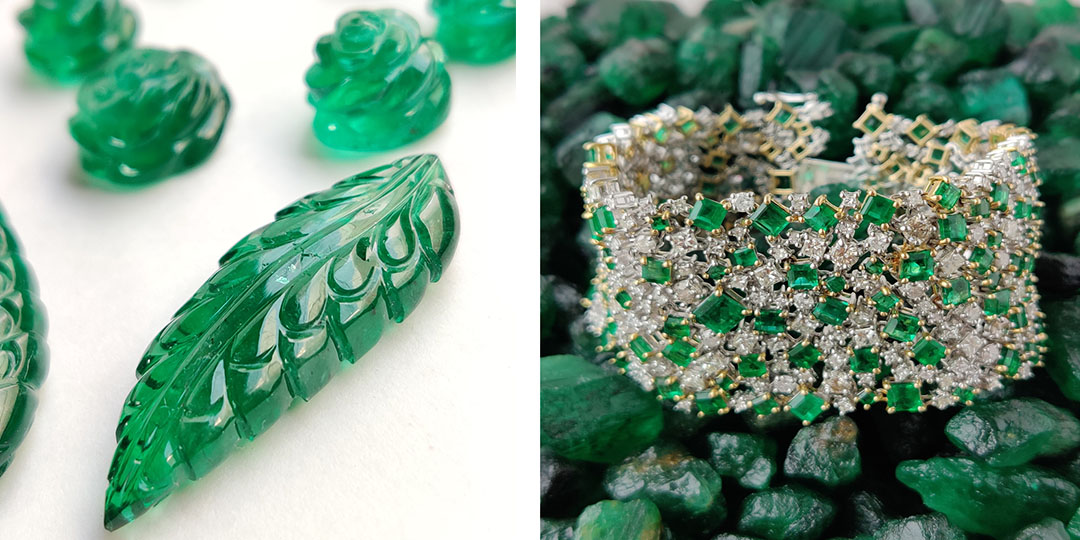 I visited Green International, the official auction partners of Gemfields, sourcing ethically mined high quality graded rough emeralds. What fascinates me the most about these gems is that they can be given any shape that one can imagine, and I had the opportunity to witness the process of carving at their workshop. It is a handmade process done by skilled artisans that requires precision, effort and time.
Hope you all enjoyed me taking you through the Jaipur Diaries as much as I did while documenting it!
I can't wait to explore more gems and jewels from my home time, until my next visit, stay tuned!