I had the privilege of attending the Jewellery Arabia Bahrain Show in 2021 and it was an honour to be back for the 30th edition in 2022.

Jewellery Arabia 2022, under the Patronage of His Royal Highness Prince Salman bin Hamad Al Khalifa, Crown Prince and Prime Minister of the Kingdom of Bahrain; is Middle East's premier jewellery and watch event. This year marked the 30th anniversary of the show at the new state-of-the-art venue in Exhibition World Bahrain in Sakhir which gave visitors access to a broader range of renowned exhibitors from highly coveted regional and international brands. This highly anticipated event included a traditional Bahraini 'Gold Souq', dedicated zones for watches, pearls and new talented designers!

The majority of Bahrain's population was involved in pearling in the 1920s. The Kingdom of Bahrain is known as the hub for natural pearls; as merchants from across the world would travel to the island and acquire the precious gems from the lush sea beds. As a reflection of Bahrain's ancient pearling history and the strong desire to protect this heritage, DANAT was established as the guardian of global gemological excellence.
• DANAT plays a vital role in ensuring, protecting and enhancing public trust in pearls, gemstones and jewellery.
• DANAT is an authority on industry standards, scientific knowledge and education, and is committed to maintaining the highest standards of professional and personal ethics.
• It is dedicated to developing the local and regional pearl & gemstone industry; and offers training programmes to gemmologists both in Bahrain and in the Region.
DANAT the number 1 pearl laboratory in the world; and the only laboratory in the region at the Jewellery Arabia show, offered Testing Services to visitors, of getting their pearls, gemstone and jewellery verified with quick E-assessments sent on the phone in 30 mins!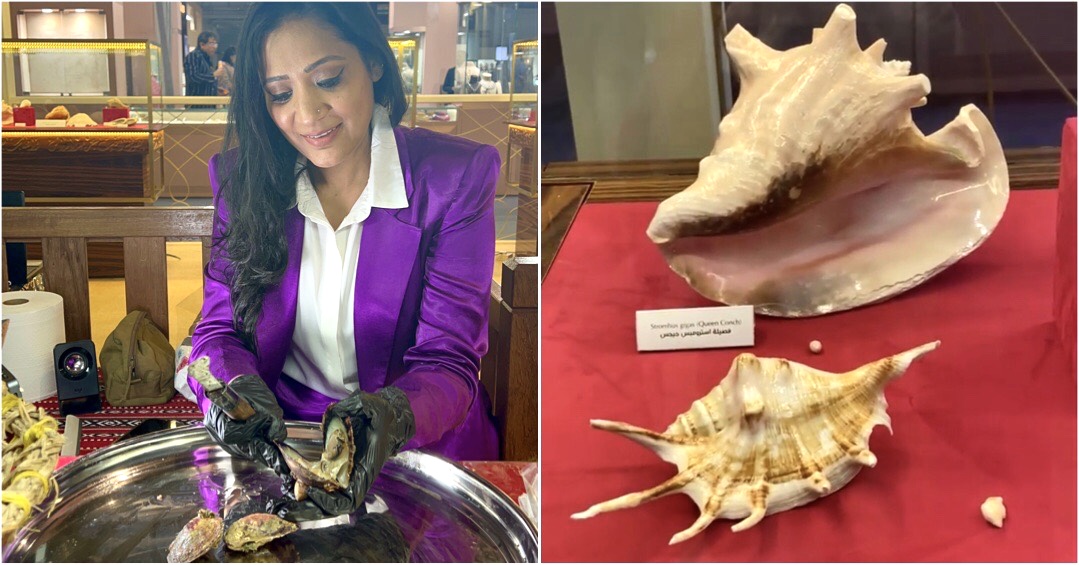 At a specially curated Pearl & Shell Exhibition, I saw different varieties of pearls, shells and traditional diving equipment used by the pearl divers. I also had a great experience with oyster shucking and it was a lucky day for me as I found a few pearls!
Did you know: In the early century, divers hunted for pearls; using basic equipment like a nose plug, leather finger gloves for protection against the sharp coral, a bag around their necks, and a rope and placed a heavy stone between their feet that accelerated their descent into the deep. The divers went on a traditional boat, to collect as many oysters as they could.
I had a great opportunity to go Pearl Hunting in Bahrain waters with DANAT and a Tour of their laboratory in 2021.
Besides pearls, now let me take you through a few of my discoveries from the Jewellery Arabia Show 2022.

My first stop was at Alok Lodha Jewels, a heritage high jewellery house founded in 1968.
embraces a key presence in Kuwait & Gulf for the last 35 years. The legacy, of almost six decades, is driven by a passion for rare gems and outstanding craftsmanship nurtured through three generations of an intimate family-run jewellery house. Featured above are a few of their collection. Presently the house has its roots in New Delhi.

At Jewel Dubai booth, a trusted Gold & Diamond Jewelry Brand since 1991, I witnessed a wide collection of jewellery creations; from dainty, modern, minimalistic jewels to bold, heavy and high jewellery.

Kaamya Jewels is born out of passion, perseverance, and the constant need to create innovative designs by the talented duo Sandip Shah and Jinesh Mehta; who have 25 years of experience in Fine Jewellery making. Each of their distinctive design is first conceptualised on paper and brought to life by their in-house team of artisans. At kKaamya I discovered bold, trendy, multifunctional and bespoke designs.

It's my pleasure to introduce Antoine Walid Salamoun a family-owned jewellery house from Lebanon.
Established in 1907, as a quaint boutique in the historic old souk of Beirut, Antoine Walid Salamoun is renowned for handcrafting exquisite and trend-setting designs with expert craftsmanship and refined sophistication using unique and best gemstones in a flawless finishing.
Over the years, Antoine Walid Salamoun has expanded throughout Lebanon and around the globe, especially in the GCC countries. I had a great time meeting the Salamoun family who passionately shared their exquisite collection with me.

Qannati Objet d'Art is a multidisciplinary niche luxury French Bahraini brand, created by visionary entrepreneur Mahmood Qannati in partnership with France's most talented experts in the field of luxury. The brand engages in art, jewellery and horology, depicting the perfect marriage of history, mythology, technology, luxury and design. One of the masterpieces which caught my attention is the Gulf Eternity Bracelet which celebrates the Gulf's rich history of pearling.
Some mesmerising details about this creation:
• Handcrafted in 920 days
• It comes as a pair with a Quantum timepiece
• Made with the Gulf's highest quality natural saltwater pearls and its mother of pearl
• The Gulf water is crafted of larimar stone and the coast of yellow gold
• A gemstone (zodiac or birthstone) of the client's choosing will be set on the case back
What do you think about this masterpiece? Let us know in the comments.
Each country has its unique tradition, and heritage that makes them a source of inspiration to creative designers. One such inspiration is the jewellery inspired by Arab Culture with L'atelier Nawbar.
1. Layli nhari; Day and Night: Arabs are renowned for their hospitality to guests and visitors during the day or night. They greet them with the expression "بيتي بايتك" / "bayti baytek" which means "My home is your home".
2. Sun and Moon carry an enormous amount of significance as symbols. They bring an abundance of prosperity to the wearer. Moon ( known as Hilal) plays a significant role in Islam as the entire faith centres around the use of a lunar calendar, it defines the start and end of Islamic months. Sun, has been a central object in culture and religion since prehistory.
3. Evil eye amulet is known to protect the wearer from negative energy and bring an abundance of luck. This symbol has been widely used across various cultures.
4. Arabesque jewels have been one of the most popular elements since the early Islamic period. They are a form of artistic decoration consisting of surface decorations based on rhythmic linear patterns of scrolling and interlacing foliage, tendrils or plain lines, often combined with other elements.
5. Verses of Quran inscriptions.
For centuries, gold jewellery has been renowned for its beauty, dazzling design and intricate craftsmanship. And it was no different in Bahrain. I came across Traditional Bahraini handcrafted gold jewellery in 21 K gold. Let me take you through a few of the important jewellery pieces worn here!
1. Niqab: A face veil.
2. Merta'sha: Is derived from the word "Yerta'ish", meaning "to shake". This bold necklace is inspired by the shaking movements of dancers. This is reflected in the design, as the hanging elements shake with movement.
3. Glass Banjeri (Glass bangle): The shape is inspired by the glass; it is narrow near the wrist and gradually becomes broader.
4. Al Tasha (Gub Gub): This is a headpiece which is delicately strung together with chains that dangle from the crown. This magnificent head ornament is reserved for the grandest occasion.
5. Khatem (Rings):
6. Small Merta'sha: This is a choker with shaking elements.
7. Hilal Tarachi (Moon earring): Earrings inspired by the crescent moon.
8. Hiyal Abu Shook (Thorny bracelet): Believed to bear resemblance to the protective form of many desert plants.
9. Hilal necklace ( Moon long necklace)
10. Al Kaf: An Arabic for Palm. This bracelet is worn around the wrist and connected by chains to rings on the wearer's fingers.
When it comes to jewellery, gold is simply irreplaceable.

At MJ by Mayyan Jaffar a brand based in Bahrain in the Asia Jewellers pavilion I saw unique and seeks wearable collections for every woman. Her collections break the norms of fashion thus creating statement jewellery that reflects an individual's personality.

At the Bahrain Jewellery Centre I saw the best high jewellery collection.

The long-time relationship between the Maison Cartier and the Gulf began in 1912, when Jacques Cartier, travelled to the Gulf in quest of the world`s most precious and exquisite pearls. Exactly 110 years after her great-grandfather's historic visit to Bahrain in 1912, Francesca Cartier Brickell revisited Bahrain and shared incredible stories about her great-grandfather Jacques Cartier, Bahrain and Natural Pearls!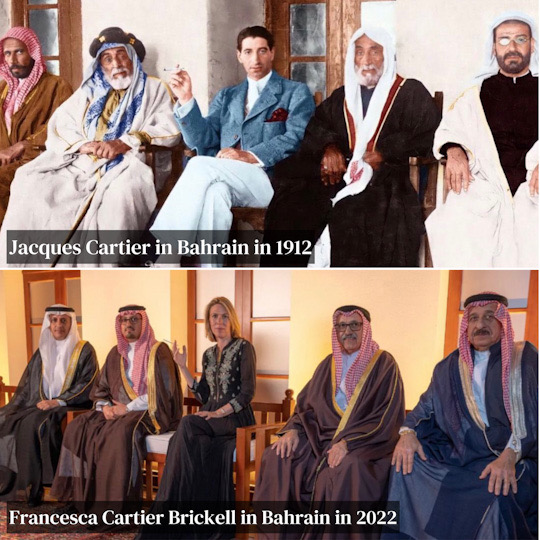 Under the coordination of DANAT and on the occasion of the historic visit, Francesca recreated the memorial photo in the same position in which her grandfather, Mr Cartier, sat during his visit to Bahrain in 1912.
📷In the old photo dating back to 1912, from right to left, we see Yousif bin Ahmed Kanoo, Salman bin Hussain Mattar, Jacques Cartier, Muqbel bin Abdulrahman Al Thakir, and Abdulrahman Al Ibrahim.
📷In the year 2022, the picture of the grandchildren, from right to left, shows Fawzi bin Ahmed Kanoo, Ibrahim bin Khalifa Mattar, Francesca Cartier, Muqbel bin Salman Al-Thukair and Omar bin Yousif Al-Thukair (grandson of Al Ibrahim family)
It was a wonderful experience being at the 30th edition of Jewellery Arabia in Bahrain and I look forward to the 31st edition!