After a successful 4th edition of GemGenève, it was an absolute pleasure being a part of the 5th edition of GemGenève which took place from 3rd to 6th November 2022 at Palexpo; Geneva; where over 160 exhibitors across the continents showcased exclusive gemstones and jewellery; bringing the past, present and future under one roof!

Created by exhibitors for exhibitors, GemGenève offered a platform for expression and exchange that encompasses passion, expertise, education and represented a unique hub where jewellery designers, dealers in precious stones, retailers, collectors, connoisseurs and buyers both professional and private gathered for networking and business opportunities.


In the 5th edition of GemGenève, we celebrated the 40th anniversary of the Igor Carl Fabergé Foundation. Although most popular knowledge about Fabergé focuses on the creation of the Imperial Easter Eggs, commissioned by the Russian Imperial Family, the Fondation Igor Carl Fabergé exhibited more than 120 pieces from private collections (more than 60% of which were produced by C. Fabergé's workshops), offering us a precious insight into the richness and versatility of the Fabergé workshops in St Petersburg and Moscow and their influence on their contemporaries.


Let's begin our discoveries with emerging talents at the GemGenève Show.
Under the leadership of Nadège Totah, nine talented designers were welcomed to display their designs which gave their work greater exposure. Their creations offered a fascinating glimpse into a very different universe of ideas and inspirations, a world of innovation and ingenuity, highlighting the creator's individuality! Featured above are designs by Youra Jewelry, Riyadh; Wallis Hong, Spain; Toji Jewelry, Thailand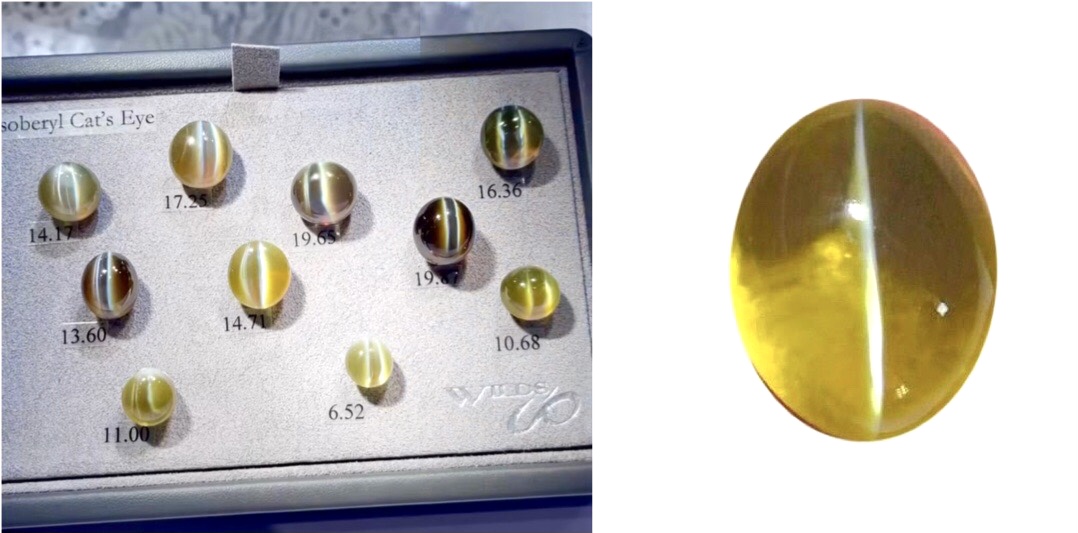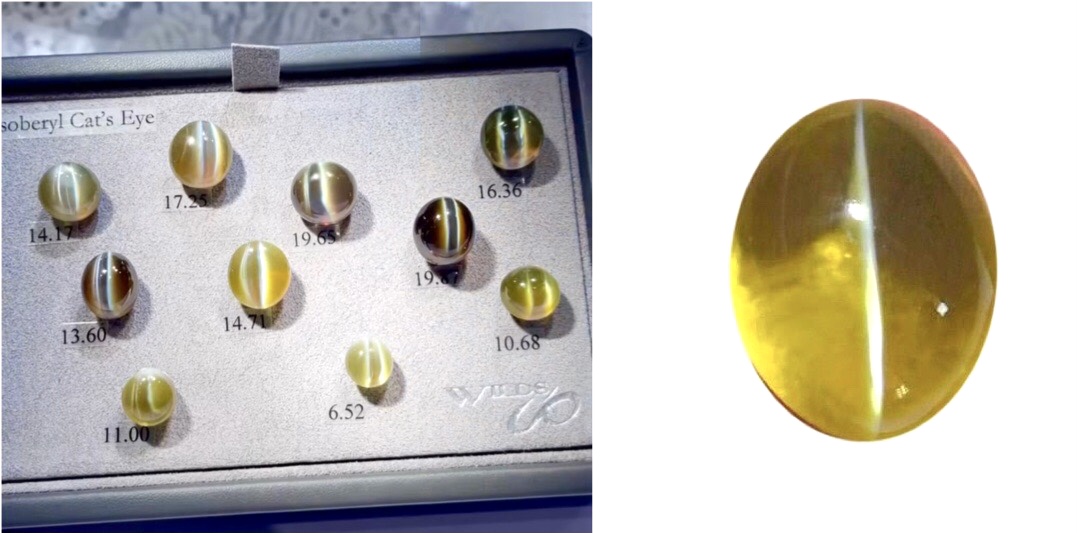 It's always a delight to discover rare and exclusive gemstone and share it with all of you. Featured above is Chrysoberyl Cat's eye; a highly sought-after gem variety of the Chrysoberyl mineral family; that exhibits a strong Cats Eye effect by Wilds Company Limited.
Chrysoberyl Cat's eye is a gemstone-quality variety of beryllium aluminium oxide which exhibits a rare optical trait known as 'chatoyancy'. Chatoyancy is the unique ability to reflect light in a way that resembles the slit eye of a cat, hence the name 'cat's eye'. This gemstone exhibits very sharp and distinct eyes under almost any kind of light, which makes it extremely attractive and desirable, especially combined with its superior level of hardness and durability!


At Horovitz and Totah I discovered the best of the best rare gemstones:
1. Burma Ruby
2. Kashmir Sapphire
3. Natural Pearl
Burma Ruby are known for their beautiful colour and are called "pigeon's blood". At Veerasak Gems, the Ruby House with over 40 years of expertise, I saw the world's best Burma Ruby collection. The expert team at Veerasak Gems brings out the best potential in gemstones; transforming beautiful rough minerals into exquisite, lustrous treasures; under the guidance of Mr Veerasak Trirotanan, who began his career as a goldsmith and later entered the coloured gems industry. Presenting an elegantly crafted and beautifully designed ruby and diamond necklace, bracelet and ring to accentuate your look!
Revisit my article on Burma Ruby to know more about these rare gemstones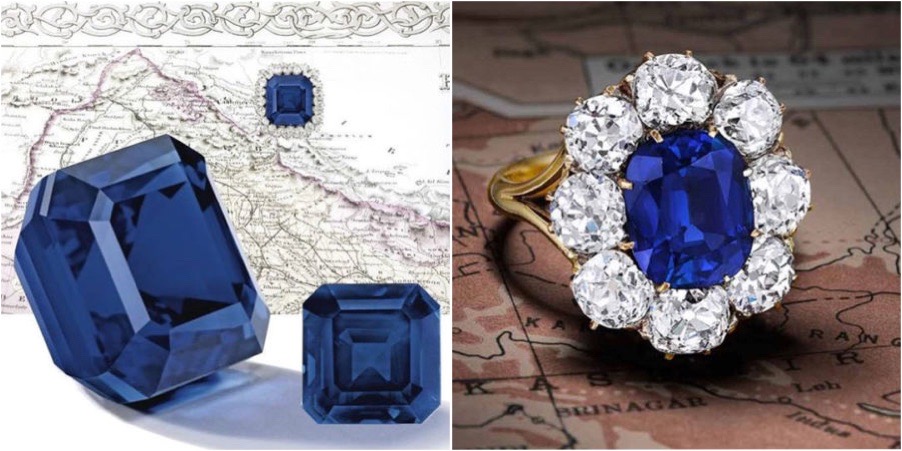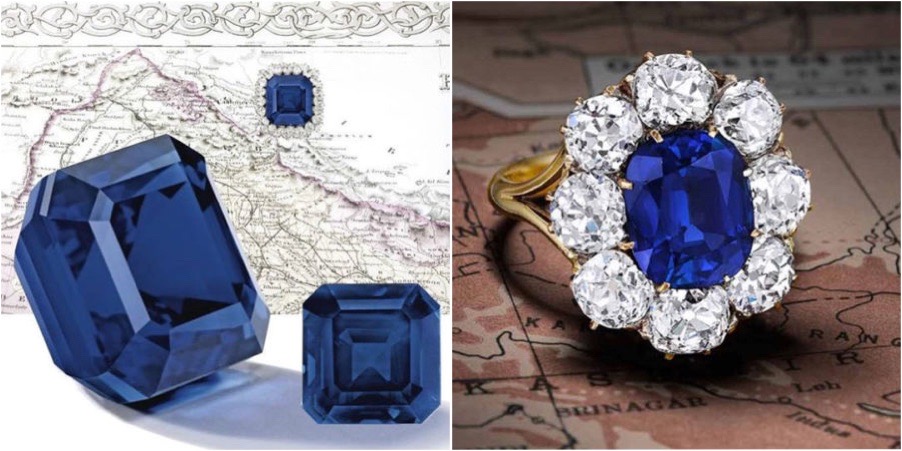 Kashmir Sapphire: Are renowned for their 'velvety' appearance: a softness that comes from light bouncing off silk-like rutile inclusions within the crystals. They are also prized for their vivid colour, ranging from deep royal blue to a rich, cornflower hue.
Revisit my article on Kashmir Sapphire to know more about these rare gemstones


Natural Pearl: These are a true miracle of nature and are the only gems that show off their natural beauty without further enhancement. Symbols of love, beauty and power, they have been adored and admired by Emperors, Kings and Queens alike, throughout history and across continents and cultures.
Revisit my article on Natural Pearl hunting in Bahrain to know more about these rare gemstones


Diamond Cut does not refer to shape (cushion, marquise etc ), but the symmetry, proportion and polish of a diamond. The cut of a diamond greatly affects the diamond's brilliance, this means if it is cut poorly, it will be less luminous and will look dark and dull. A diamond cut constitutes, a symmetrical arrangement of facets, which together modify the shape and appearance of a diamond crystal.
The cut of a natural diamond has evolved from Ancient History – Middle Ages (800 BC – 1499) until The Round Brilliant was invented by Marcel Tolkowsky in 1919. The different diamond cut through the centuries are:
💎Point Cut Diamond: 13-14 century
💎Old Single Cut Damond: 15th century
💎Mazarin Cut Diamond: Mid-1600s
💎Rose Cut Diamond: 16th and 18th century.
💎Old Mine Cut: 18-19 century
💎European Cut: 19 century
💎Brilliant cut!
Revisit my article on the Evolution of Diamonds, to know more about the antique diamond cut.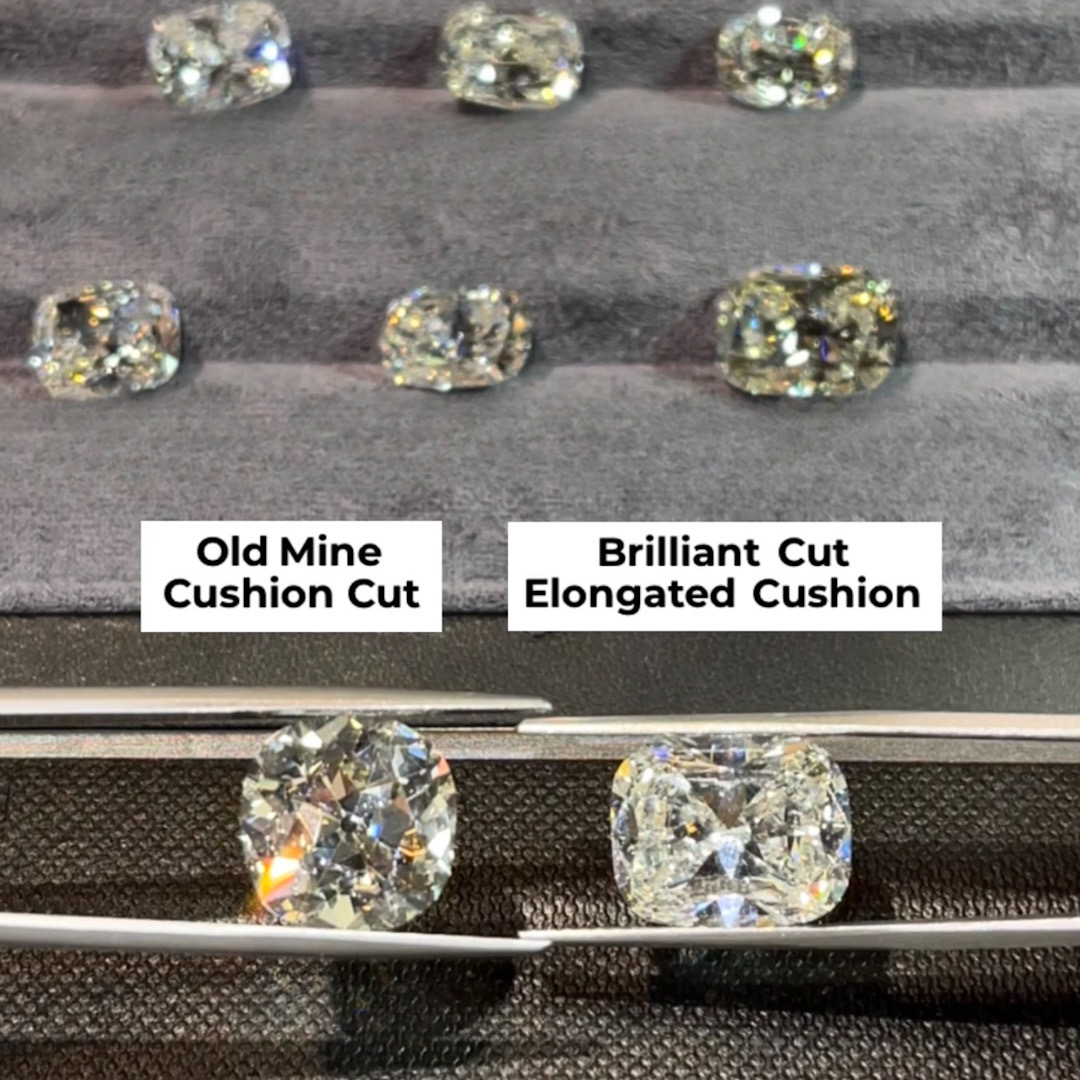 I would briefly like to highlight 2 different diamond cuts seen at Eshed Gemstar.
Old mine cut Cushion:
– 19 century
– Big culet
– High crown
– Less facet
Brilliant cut elongated cushion:
– 20 century
– No culet
– Lower crown
– More facet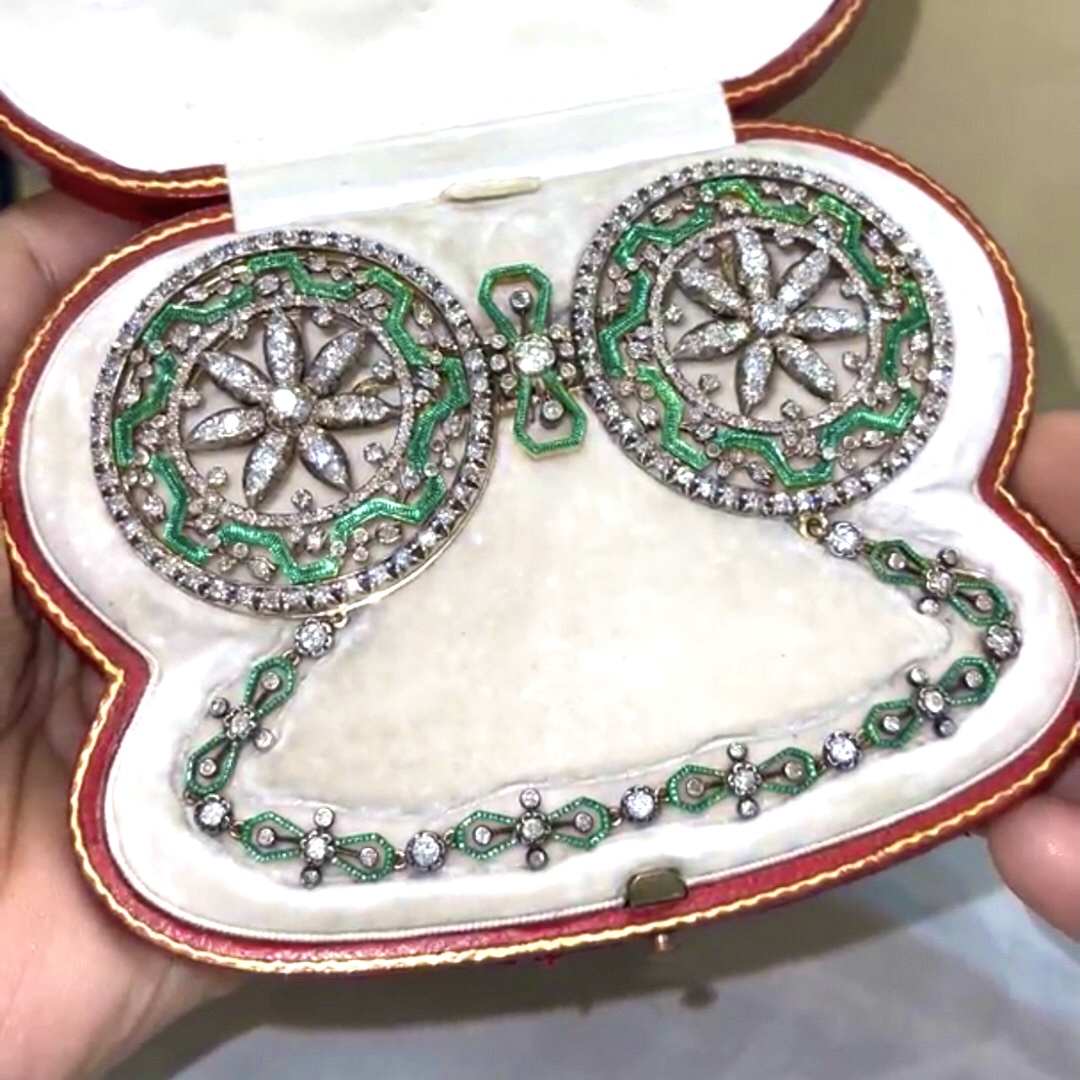 Presenting a Detachable Russian diamond and enamel cloak clasp, circa 1890 by Faerber Collection; the brand renowned for having the world's most outstanding antique jewellery for over 50 years.
This exquisite work of art is believed to be by Fabergé, Maître-Joaillier Henrik Wigstrom, circa 1890 (Georgian revival). Designed as two large open-work buttons, each centring a diamond flower head within an interlaced green guilloché enamel and the diamond foliate border. Mounted in silver and gold, with detachable fittings, it can be worn as a single brooch or two separate brooches; and later modified to be worn as pair of earnings. Let me know how would you style it!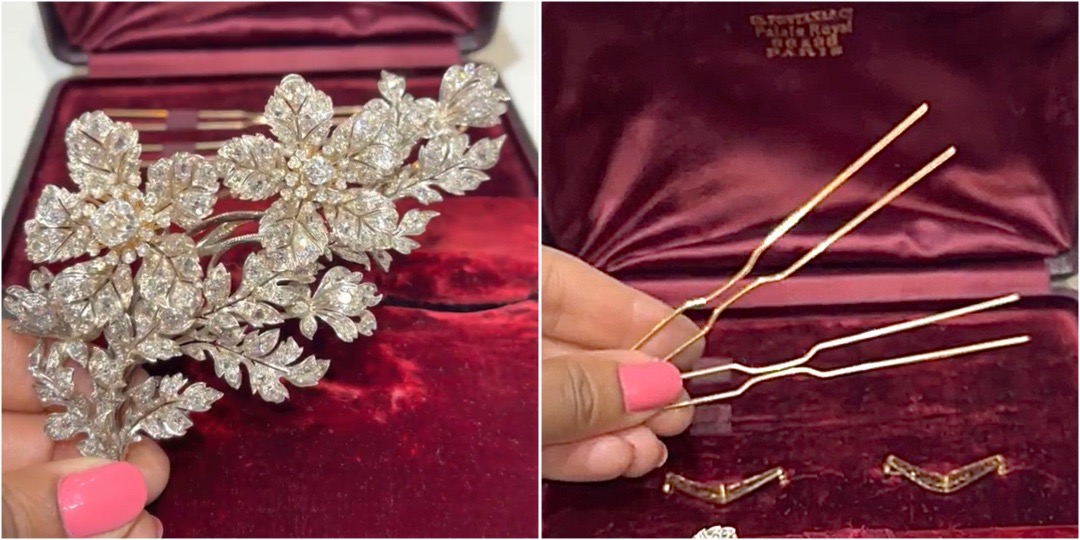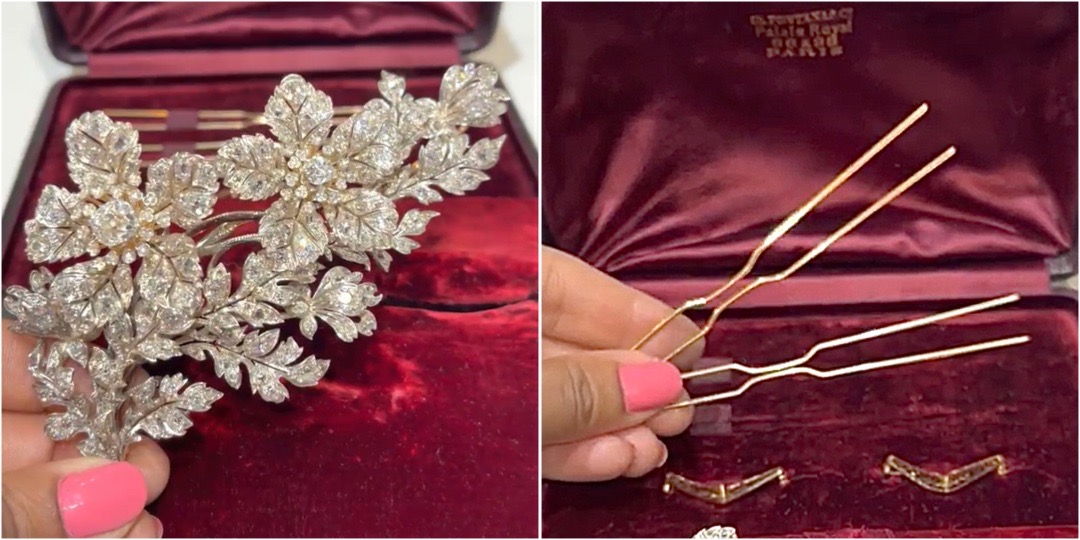 It was a pleasure visiting Alex Rieunier jewels, a Paris-based passionate jewellery dealer and hearing incredible stories about his rare collection! One of the pieces that caught my attention was the trembling brooch made by Fontana; a Parisian jewellery firm founded in 1840 by Thomas Fontana, who was one of the most famous jewellery houses in Paris in the late 19th and early 20th century; and amongst the very few top suppliers for The Imperial House of France; Napoleon III and his wife Empress Eugenie.
Featured above is a 15cm long trembling brooch handcrafted in the 19th century with extraordinary craftsmanship and fabulous delicacy in rose gold and silver. Unlike most brooches of the 19th century which were set in rose cut diamonds or 8*8 small diamonds; this brooch is set with cushion cut diamonds, which brings the rarity and value to a very high level. The brooch comes with a fitting in pink gold and can be unscrewed and worn as an individual brooch or hairpin.


Let me highlight one of the most popular jewellery periods:ART DECO ERA (1920 – 1945).
Art Deco Jewels emerged after the conclusion of World War I, it took its name, short for "Arts Décoratifs" from the Exposition Internationale des arts décoratifs et Industriels Modernes (International Exhibition of Modern Decorative and Industrial Arts) held in Paris in 1925. It combined modernist styles with fine craftsmanship and rich materials.
Features of the Art Deco Jewels are:
● Platinum was the primary metal.
● Geometry was suddenly the "in" word. Not just on the drawing boards of architects, but also of jewellery designers, triangles, squares, polygons, and even more complex shapes were used in jewellery of all types, with contrasting colours such as black and white.
● Lines are usually everywhere in the design.
● The use of diamonds, sapphire, rubies, onyx, and emeralds helped assert the bold and prominent aesthetics of the Art Deco period.
Revisit my article on the Evolution of Jewellery to know more about the jewellery trends in different periods!


At Yafa Signed Jewel I saw a rare and exclusive collection of vintage Cartier, VCA, Harry Winston, David Webb, Bulgari, Hermes, Graff, and rare Diamonds!
So what are SIGNED JEWELS?
Signed jewels are jewels that bear a signature in full or a maker's mark from the jeweller that made them. The marks are often very small and engraved or stamped on inconspicuous areas of the metal, usually on the sides or back of the jewel. Sometimes, they also have an engraved inventory number which can be traced back in the archive of the jeweller that made them, revealing the exact date they were made, the client they were made for and the numbers and carat weights of the gems incorporated into the jewel.
Revisit my article on "Signed jewels" to know more!


It was a pleasure meeting my friends from the industry at the fifth edition of the Geneva International Gem & Jewellery Show and I look forward to the next edition of GemGenève from May 11 to May 14, 2023! Stay tuned!