"The soul is placed in the body like a rough diamond, and must be polished, or the lustre of it will never appear." "A diamond doesn't come out polished and shining from the mine, with enough pressure and time, becomes spectacular!!
I would like to take you through a brief guide how Diamonds cuts have evolved from the Ancient History – Middle Ages (800 BC – 1499) until The Round Brilliant or Ideal cut invented by Marcel Tolkowsky in 1919.
Diamond-Cut does not refer to shape (pear, oval etc ), but the symmetry, proportion and polish of a diamond. The cut of a diamond greatly affects a diamond's brilliance, this means if it is cut poorly, it will be less luminous and will look dark and dull. A diamond-cut constitutes, symmetrical arrangement of facets, which together modify the shape and appearance of a diamond crystal.

Around the 14thcentury, cleaving was the only known method for shaping rough Diamonds. Diamonds in their rough form were used as embellishments for jewellery adornments.
As cleaving continued to evolve it soon became possible to split and divide rough Diamonds along with its plane directions.
Few of the different Diamond Cut evolved are:
POINT CUT DIAMOND:

Point Cut Diamond refers to diamonds in their naturally found octahedral (eight-sided) shape that has been polished, not cut. Natural diamonds look like two pyramids glued together at the bottoms. Diamonds were used in this form until practical tools to cut them were invented in Asia in the 13th century and in Europe in the14th century. The Point Cut diamonds looked dark and dull.
TABLE CUT DIAMOND:

By the mid 15th century, the Point Cut began to be improved upon, a little less than one half of the octahedron would be sawn off, creating the Table Cut Diamond, this was the first widely recognized diamond cut.
OLD SINGLE CUT DIAMOND:

It wasn't until the 15th century when a cutting wheel was being used to improve the faceted cuts. New facets were being cut to optically enhance the Table Cut. The four corners of a square Table Cut are grinded and replaced by facets creating a stone with 9 facets on its crown and 9 on its pavilion.
Dispersion of light being very dull, the diamonds during the era were valued chiefly for its adamantine lustre and superlative hardness, and unable to reveal the value of the stone. For this reason, coloured gemstones such as ruby and sapphire were far more popular in jewellery of the era.
MAZARIN CUT DIAMOND: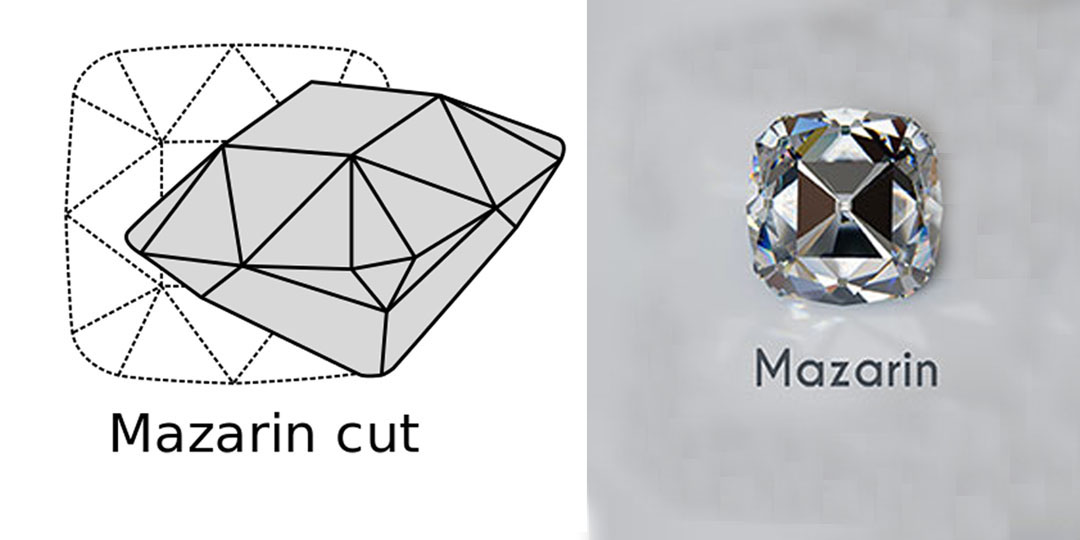 The Mazarin Cut was conceived by the gem loving French Cardinal Mazarin in the mid-1600s. It evolved from the Single Cut and was the first True Brilliant-cut or Double-Cut brilliant with 17 crown facets. With the increase in facets, diamonds were starting to sparkle in the light!
However Mazarin Cut lacked the symmetry and precision of modern diamond cutting. They are modified squares, rather than rounds as the modern bruting process had not yet been developed.
ROSE CUT DIAMOND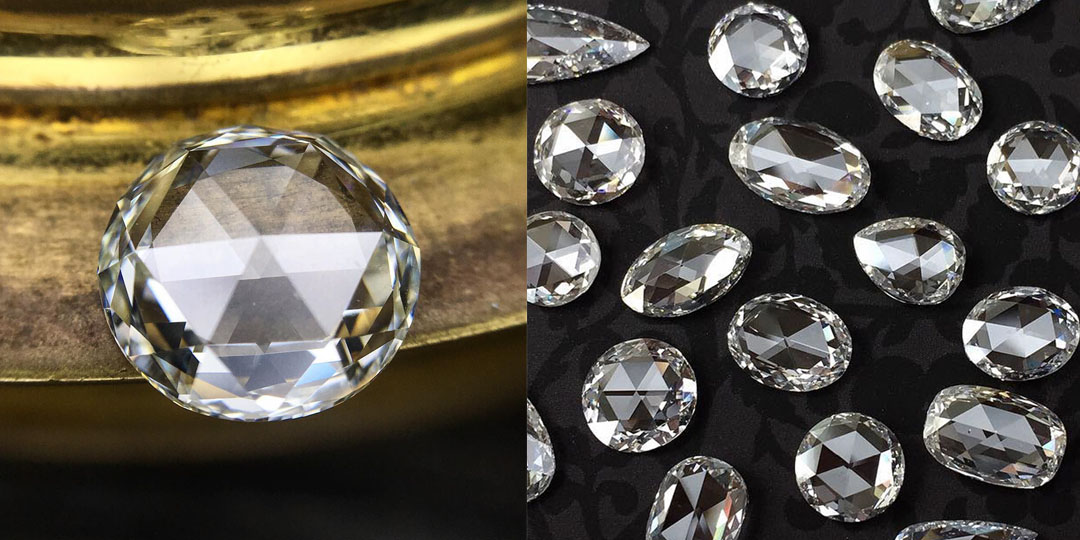 The rose cut diamond was believed to have been introduced in European cities in 1520, although it is also believed to be originated in India in around 1400.
As the name suggests the Rose cut diamond resembles a tightly-packed rosebud petal, with notable flat and domed top consisting of many facets, typically triangular, meeting at a point in the centre, and a completely flat base, with no pavilion.
Despite having been one of the cuts of choice between the 16th and 18th centuries the rose cut diamond experienced a decline in the 20th century, as most of the diamonds in the olden times were cut more to maximize carat weight, using simpler tools resulting in less fire, whereas in the 20th century, with the evolution of advanced cutting techniques, diamonds were cut to bring out their full sparkle, "brilliance" and "fire".  This led to faceting of Rose cut diamonds into brilliants using modern technology which resulted in their scarcity.

Now, after 100 years of obscurity, the rose cut is experiencing a 21st-century revival led by master stone cutters in India. The rarity of rose-cut diamonds is resulting in higher demands. The last 30 years have seen a huge rise in the popularity of antique diamond rings, displaying rose-cut stones.
OLD MINE CUT DIAMOND
The next evolution in the diamond cut is the Old Mine Cut, also known as the Peruzzi Cut, Triple Cut Brilliant or Threefold Cut, and the stones are sometimes referred to affectionately as "Old Miners".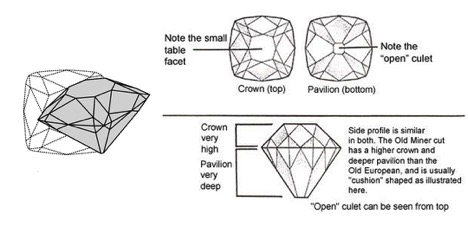 The cut dates to 1681 and has been attributed to Vincent Peruzzi, a polisher from Venice who increased the number of facets in the crown of the Mazarin from 17 to 33 – increasing the total number to 58. This had the effect of significantly increasing the brilliance and fire of the stones. Old mine cut diamonds were more "stubby" or "lumpy" in appearance, with very high crowns, much smaller table, deep pavilions. and a much larger culet.
Like the Mazarin Cut, the Peruzzi Cut was cushion-shaped, rather than round, as they were performed before ideal cutting proportions, bruting, or high technology had evolved.

Diamond cutting in old times was often performed with greater concern for retaining more of the original material than for optimization of light performance characteristics. For the above reasons, genuine antique old mine cut diamonds may have poor symmetry by modern standards – yet having a charm of their own.
EUROPEAN CUT DIAMOND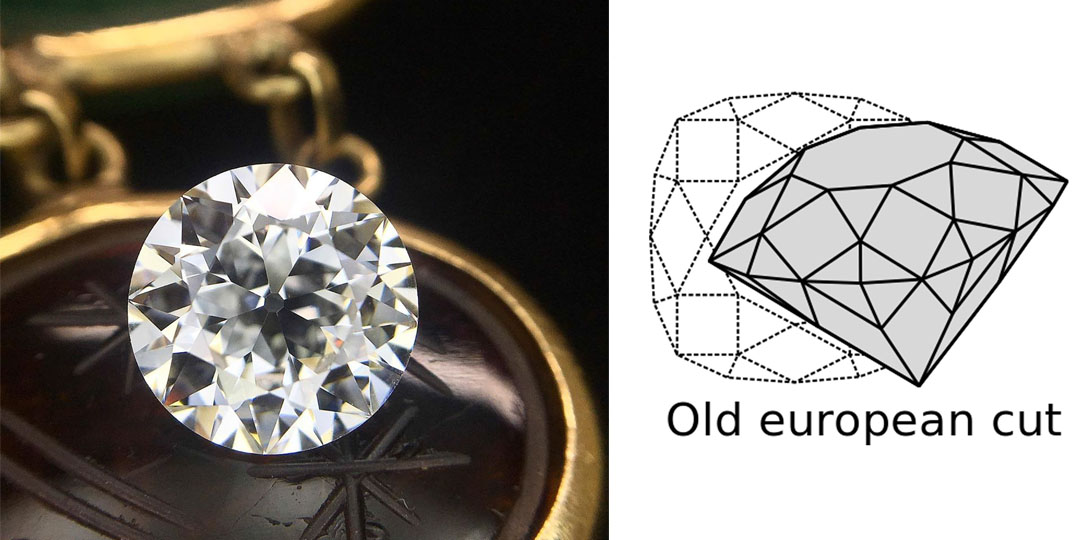 Taking forward from the Old Mine Cut the next diamond cut is the European Cut or Old European Cut, this cut is considered the predecessor of the modern Round Brilliant Cut diamond.
The European Cut diamond was developed in the 19th century an era when diamonds were cut with greater regard to weight retention than to brilliance, the diamonds were originally hand-faceted as the cut was developed before modern diamond cutting technology, such as diamond saws and jewellery lathes came of age. The European Cut had 58 facets, small tables, heavy crowns, open culets and deep pavilions.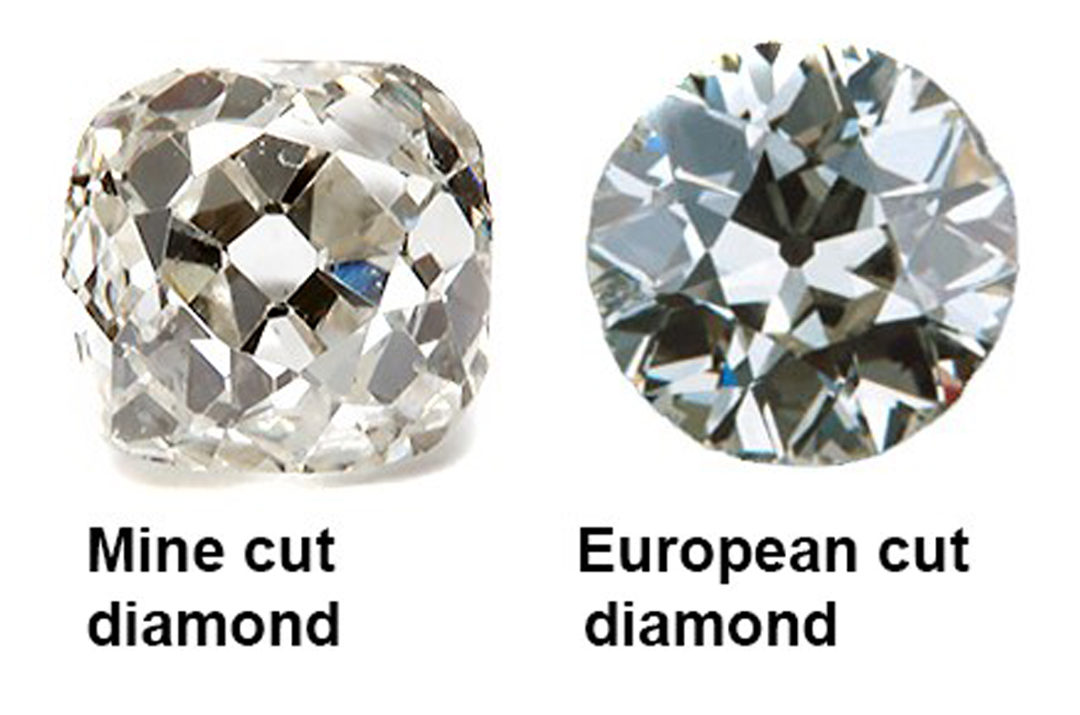 How does Old European Cut diamond differ from Old mine Cut diamond?
European Cut had a more rounded (or oval) shape and shallower pavilion than the Old Mine Cut, but they did not have the perfected proportions and subsequent sparkle of modern rounds, though the diamonds were considered to have great old-world charm, unique beauty and a strong personality; and a greater scintillation than the diamonds seen still older times. It remained popular until the 1930s.

Featured above are the jewels by Eragem embellished in European Cut Diamond.
ROUND BRILLIANT CUT DIAMOND
Brilliance Achieved!!
The Round Brilliant or Ideal Cut was developed by Marcel Tolkowsky a Belgian mathematician in 1919. The diamond has 57 or 58 facets depending on whether the diamond has a culet facet.

Marcel Tolkowsky Marcel Tolkowsky developed his original "Ideal Cut" also known as the "American Standard" based on complex calculations of the light behaviour within a diamond, with the intention of causing the maximum possible return in both overall amount and beauty of white and coloured light to the observer.
Tolkowsky's work revolutionized the diamond industry and the round brilliant has since then been widely agreed to be the "most brilliant of all diamond cuts".

Let's understand the difference between Old Cut Diamonds and RBC?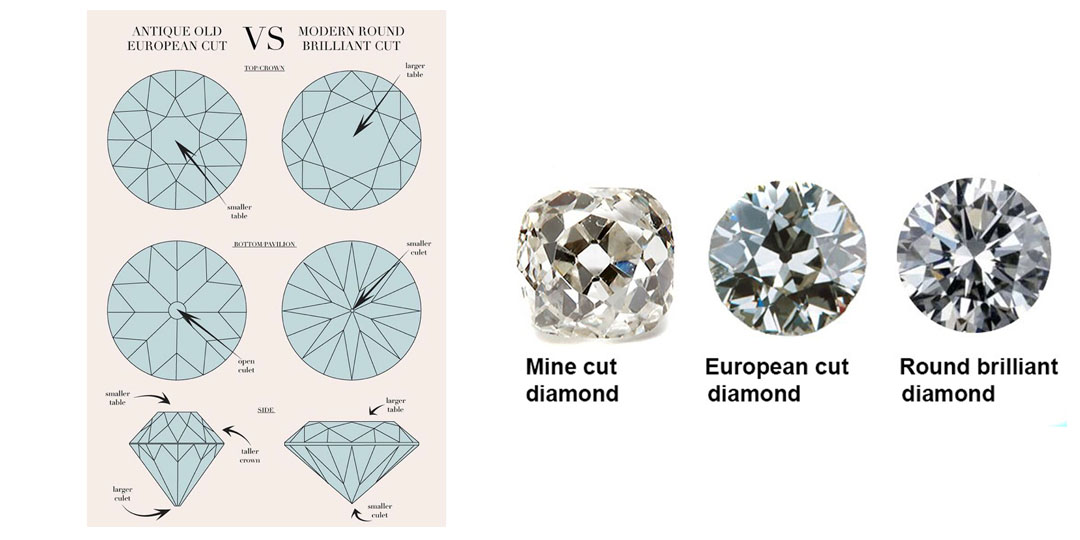 1) Cut: Old cut diamonds usually have a smaller table, taller crown, deep Pavillion as compared to RBC. Old cut diamonds were cut to maximize their size and enhance their colour and clarity.
RBC are cut to maximize their brilliance i.e the amount of white light that's reflected internally and externally from the stone.
2) Facets: Old cut diamonds, were cut by hand, with 58 bigger and less uniform facets, as compared to RBC which are cut with advanced technology and machines, with 57 facets and a pointed culet.
3) Symmetry: old cut diamonds had poor symmetrical as compared to RBC.
Featured above is a brief guide on Evolution of Diamond Cut, however, modern diamond designers have realised that with highly accurate design, cutting and polishing, symmetry and angles in a diamond can be controlled very precisely; and not only can light performance be more predictably "tuned" and maximized but also that striking optical symmetry and kaleidoscopic-like patterns can be created within the stone, leading to creation of many enhanced Round cuts in recent years – such as the Hearts and Arrows, Eighternity and Gabrielle cuts.
I would like to conclude with a little guide!
Choosing diamonds can be highly complex, several manufacturers claiming their diamonds have the best brilliance, fire and scintillation.
Well, all I will say the purchaser should do their homework, compare a number of stones and choose the one that wins their heart!!
Until then KEEP SHINING BRIGHT !!