Indian royal families are known to have massive wealth including breathtaking forts, palaces, and possession of some incredible jewellery.
Let's pay tribute to the Royal Maharani aka "Great Queen" who played a role within a social and historical context and were patrons of great royal jewels. Their grandeur and legacy have left an impact on generations to come.
Source: TheDiamondTalk
Maharani Gayatri Devi is the third Maharani Consort of Jaipur, she was a style icon in the royal world. Considered as one of the most elegant, independent and modern of the royals, she was also known for her beauty.
Source: TheDiamondTalk
Her incredible collection of Mogul art deco jewels by Cartier is now part of the permanent collection at The British Museum in London.
Source: TheDiamondTalk
The awe-inspiring brooch was mounted by Cartier at the end of 1930, it is a wonderful piece of jewellery with rubies set in gold on both sides of the emerald.
The ruby and diamond necklace, as the queen recollects was given to her by her husband as a wedding gift after a few years. However, she wore the earrings on her wedding day. The necklace itself was created by Cartier in classical Art Deco style in the 1940s.
Keeping the queen and her memories alive through her jewels. An ode to one of the greatest Queen of India.
Source: TheDiamondTalk
Maharani Sita Devi Sahib of Baroda: She was an epitome of class and regality. Known as the 'Indian Wallis Simpson', Sita Devi was an infamous lady who led an extravagant life for over 40 years. She had a reputation of being an enchantress and a passionate collector of great jewels. She was also a member of the International Jet Set.
Source: TheDiamondTalk
The original Guache design for the stunning emerald and diamond bib necklace shown in the picture was designed by Van Cleef & Arpel for their Emerald and Diamond Parure Collection in the year 1950. Taken from Maharani Sita Devi's collection, it was sold at christie's in 2002.
Source: TheDiamondTalk
A Cartier Natural Pearl and Diamond Bracelet from circa 1950. It was one of the prized possession of her jewel box, which was sold at Christie's in Geneva in 2012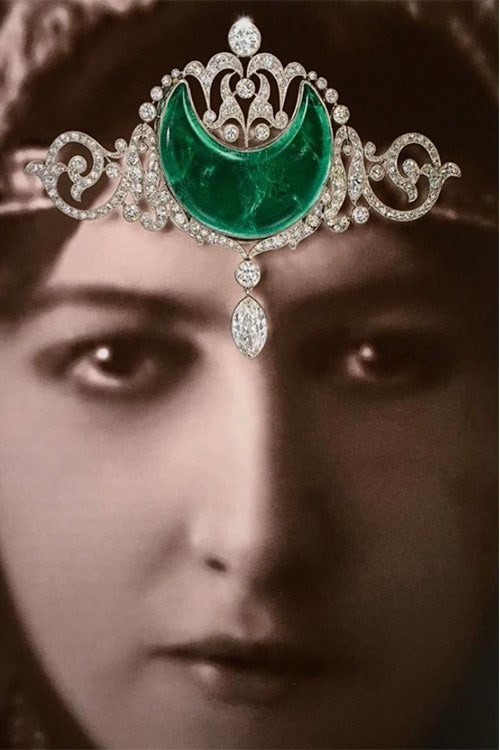 Maharani of Kapurthala, Prem Kaur: She was the fifth wife of Maharaja Jagajit Singh. Famously known for her background as a Spanish dancer who the Maharaja apparently fell in love with in Madrid, Prem Kaur had a signature jewel.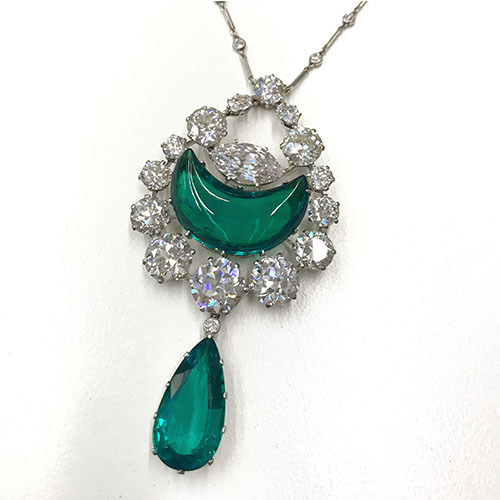 The crescent-shaped emerald across her forehead was a gift from the Maharaja on the occasion of her 19th birthday. The emerald and diamond ornament was sold at Christie's along with some of her other jewels in 2007 and is now a part of the Al Thani Collection.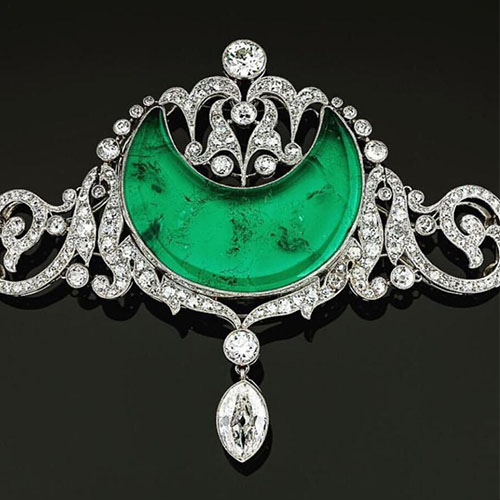 The Belle Epoque brooch-pendant has worn by the Maharani as a tiara was made in the year 1920-30 by the British Jeweller Hennell. The double-sided cabochon emerald crescent is taken from a Mughal Jewel and illustrates the European fascination with India and its fashion of modern Indian inspired jewels rooted in antiquity.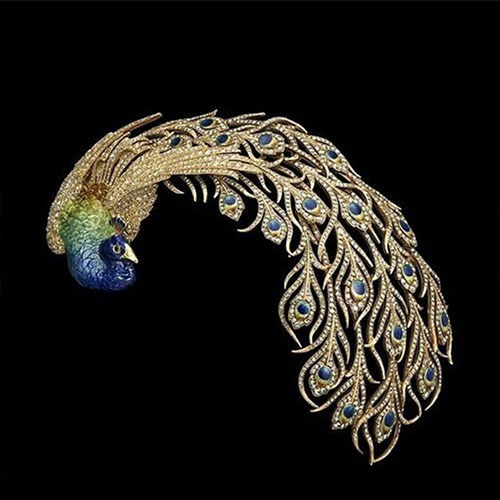 In a new exhibit of Legion Of Honor Museum in San Francisco, is gorgeous aigrette made by Mellerio Joailler, worn by Maharani from The Al Thani Collection?
Maharani Indira Devi of Cooch Behar:
Source: TheDiamondTalk
Moved the royal world with her impeccable style. A princess of Baroda, she married the Maharaja of Cooch Behar, known for her finesse and tasteful fashion sense, she is the one who should be duly credited for making chiffon silk sarees a royal statement.
Source: TheDiamondTalk
Her jewels, like the Necklace La Loche, were incredible style statements, made in the year 1927, a custom piece designed especially for her. It is an original design for a nine drop cabochon ruby diamond necklace for the Maharani of Cooch Behar.
Source: TheDiamondTalk
Ladies, we all know how we all love shoes and the Maharani was no exception. In the 20th century, she got the Italian shoemaker Salvatore Ferragamo to make 100 pairs of shoes for her and some of them were studded with diamonds. She was among the first Indian woman to get her footwear customized.
From the North to the South, the royalties were obsessed with Jewels!
Well, Indian royalty definitely lived in opulence!