A trend that has been there for decades and still runs in vogue, is none other than Enamelled Jewellery, also known as Meenakari Jewellery!
Meenakari work is all about colours and motifs. The craft itself entails coating metal with vibrant colours. Commonly used colours are red, green and blue on silver, gold or other metals.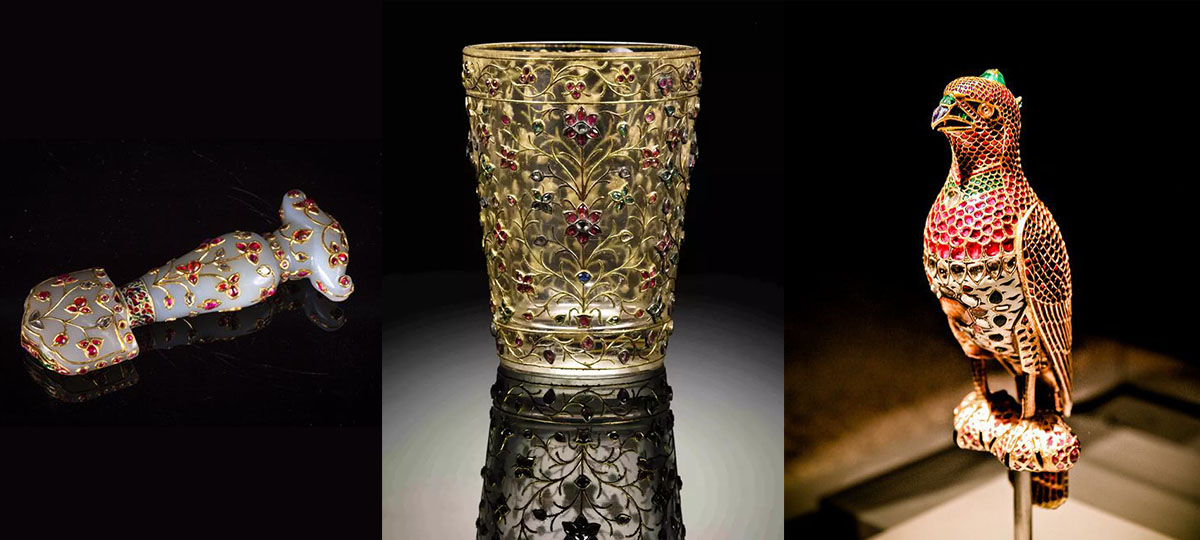 The art of Meenakari enamelling originated in the Mughal period, where it was initially used to enamour the Mughal palaces, and later incorporated into jewellery designs.
The beauty of this art lies in the intensity of technical skills required for its creation which gives perfection to the ornaments with intricate designs.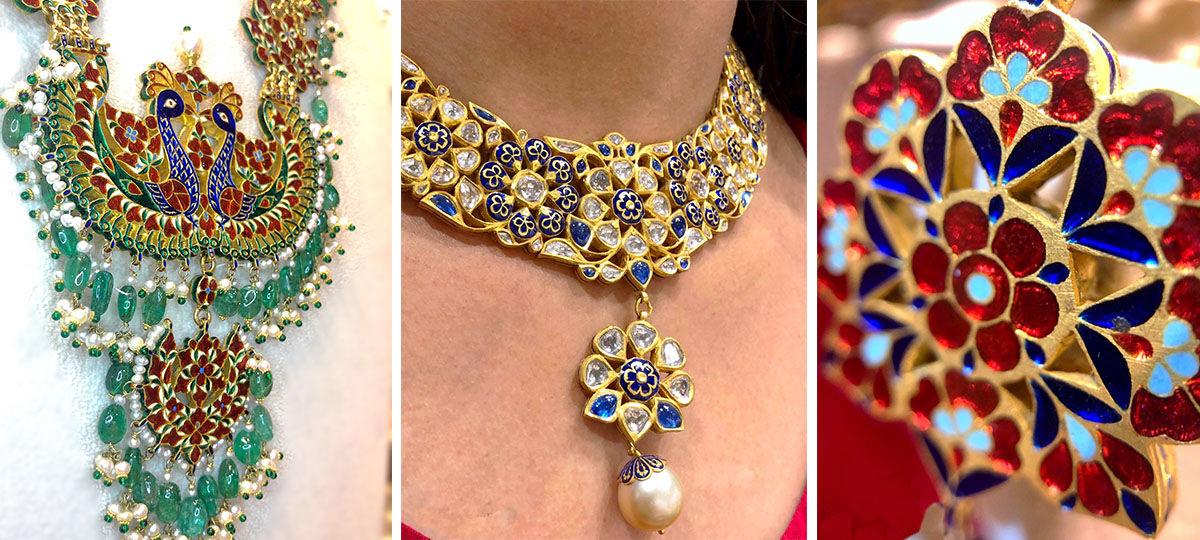 Practised in many centres in India and each region specialised in its own variation of style and technique, enamelling work has greatly influenced the bridal jewellery collection of India, however the millennials are now opting for offbeat pastel colors like Powder Blue, Mint Green, Blush Pink along with some new patterns for their wedding ensembles, adding a dash of contemporary to their traditional wedding looks.
Sharing with you different shades of Meenakari colour.
1) A hot favourite amongst most girls is PINK.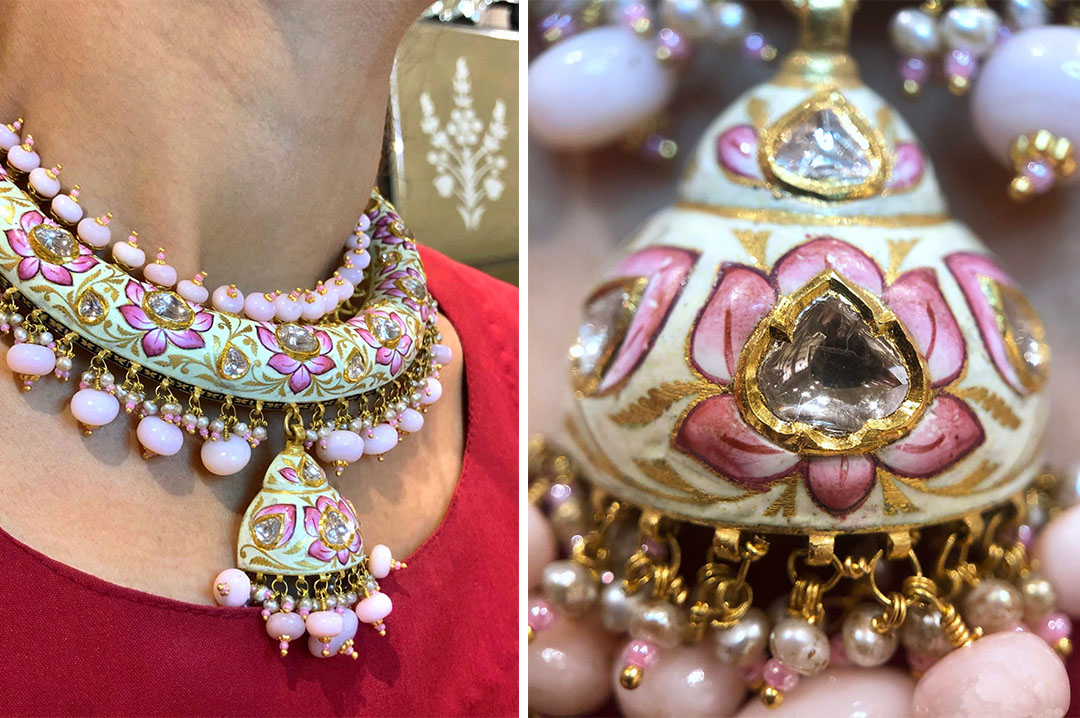 A stunning necklace with floral enamelling in Pink, beige and gold entrusted with Polki diamonds.
2) A big runaway trend this season is TURQUOISE BLUE, a colour associated with feminism and sophistication.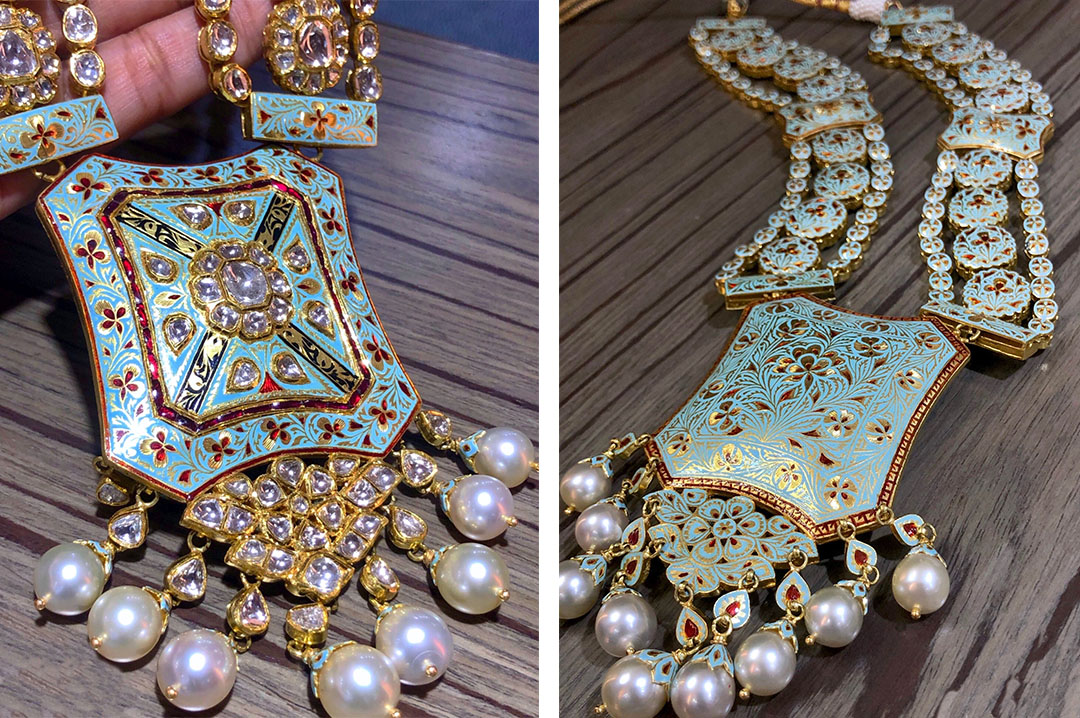 Featured above is a blend of baby blue, turquoise and blood-red enamel, complimenting one another gracefully along with the uncut diamonds and pearls.
3) The magic of PASTEL colour.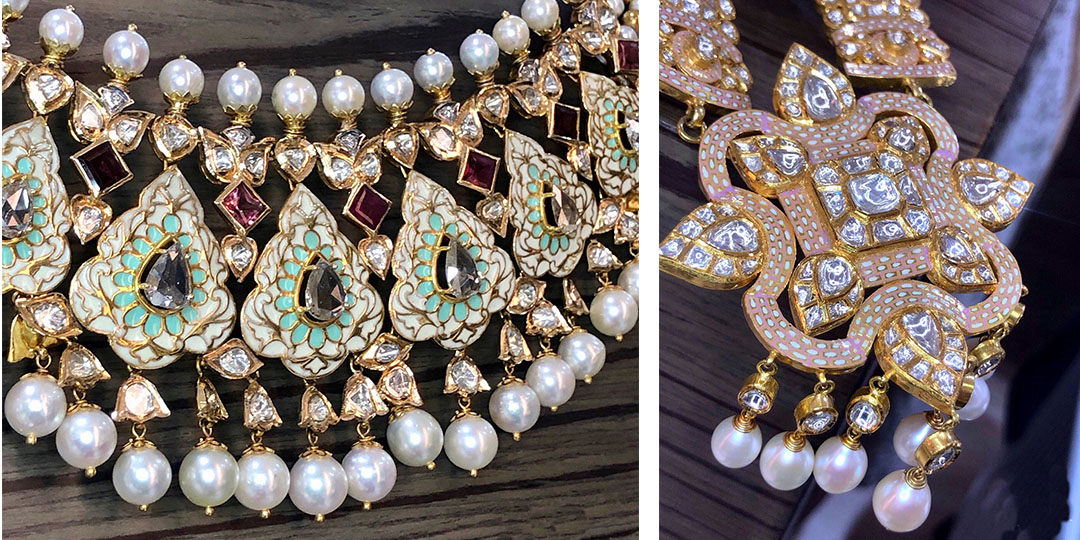 The fine design detailing and subtle Pastel enamel colour, gives a traditional and a modern look to the jewellery, making it suitable to be adorned for a day-time as well as an evening celebration. Safe to say, the current pastel trend is taking over wedding jewels this season!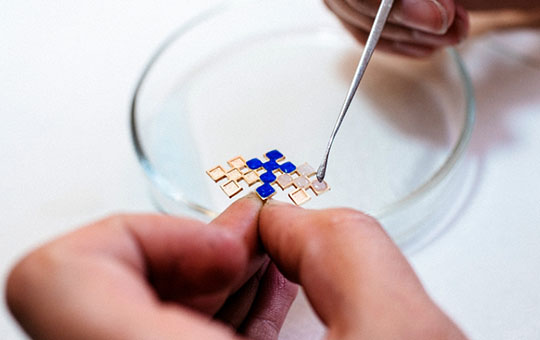 As meenakari work continues to remain a popular gifting option and collectable, the craftsmen are slowly experimenting with newer motifs, colour combinations, trends, for a more contemporary appeal, maintaining the essence of traditional meenakari work.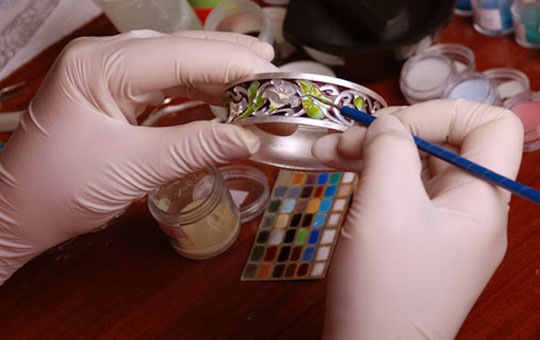 The process of enamelling remains the same as it was 500 years ago! Even today, a Meenakari artefact goes through the same assembly line of craftsmen as it used to go through hundreds of years ago. The process starts with the designer (naquash), then goes to the goldsmith (sonar), further passed on to the engraver (kalamkar), who engraves the design. Then the enamelist (meenakar) applies the colour, the artefact goes to the polisher (ghotnawala) and the stone-setter (jadia), finally going to the stringer (patua) for the final touches.
After going through the above procedure, a beautiful enamelled jewellery is finally ready to be adorned. Looks like the making of an enamelled jewellery is just as beautiful as the final piece!