My first visit to the COUTURE Show was in 2019' and it was a pleasure being at 2022 edition of The Couture Show at Wynn Hotel in Las Vegas from June 8-12.
Couture is the most exclusive and intimate destination for the designer fine jewellery and luxury timepiece market; the show is the premier event where the jewellery industry gathers to connect, collaborate and conduct business.
Sharing a few of my discoveries from The Couture Show.


I have been a great admirer of Pearl jewellery; and at Assael Pearls, I was in love with their innovative and trendy jewellery collection! The necklace featured above is made with Japanese Akoya Pearl and Aquamarine drop in the centre. The uniqueness of the necklace lies in the fact, that it can be styled in 3 different ways, making it very versatile and interesting.
How would you like to style this necklace? Let me know in the comments!


At The Couture Show; I discovered many new brands, and it's my absolute pleasure to introduce these brands to you and share their innovative work of art!
Let's begin with the first-generation Ukrainian-American, Equestrian Jeweler Karina Brez; a former Miss Florida USA in 2012. Karina Brez's signature style celebrates the connection between human and horse. She is internationally renowned within the riding world for her timeless designs, constructing fine gold accessories to inspire, both on and off the circuit.
Regarding her inspiration, Karina Brez says, "The beautiful horses I'm surrounded by every day at the showgrounds inspire my designs. With powerful jumps and eloquent landings, they give so much unconditional love to their rider, and the bond between the two is what I try to infuse into my jewelry, which is made with love."
Isn't it a very interesting collection!


My next discovery was Yataghan Jewellery; an iconic global brand that represents a unique style of jewellery for every woman. Sarah Abudawood, established the brand in 2008 and has pioneered the online retail movement in the Kingdom of Saudi Arabia. My favourite is the Chakra collection which harnesses the power and celebrates the beauty of gemstones that have magically captivated us for centuries!! I enjoyed matching jewellery pieces and layering them as per my choice.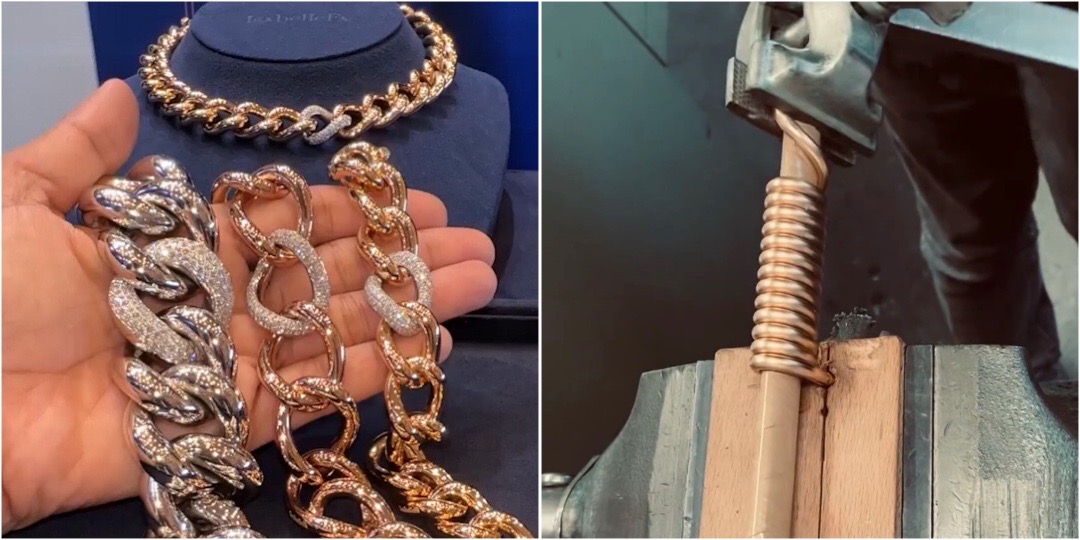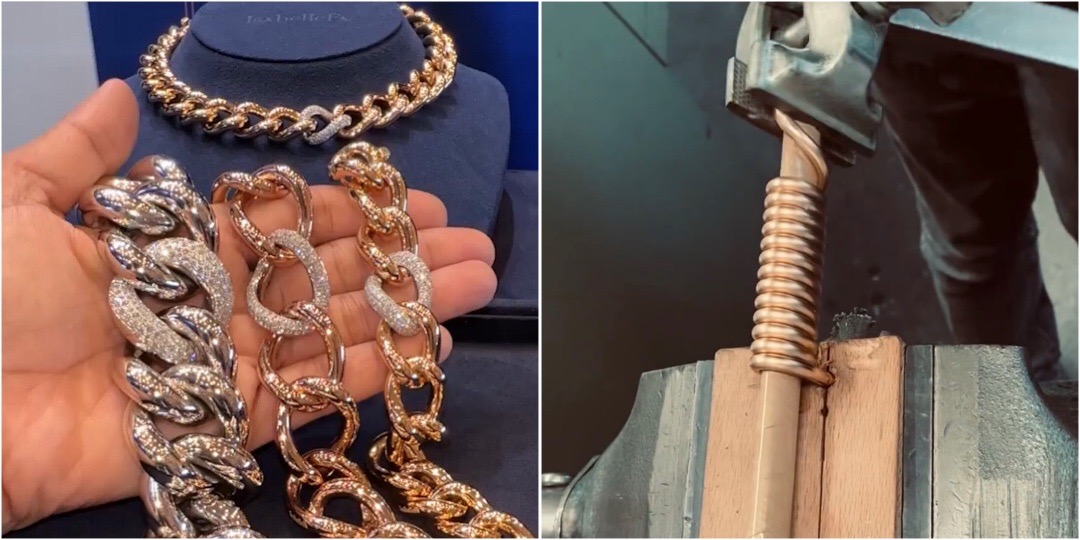 Old is gold! In this day and age when machine-made jewellery is fast replacing handmade jewellery, it was a delight to meet the team at Isabellefa; one of the last manufacturers preserving the craft of traditional chain making.
The origin of these techniques and know-how can be found in the Middle Ages. These pieces take several weeks, at times even months to be ready. As a result, only a few hundred pieces are made every year. The expert team at Isabellefa handcrafts every piece in Eisingen, Germany. The winding by hand is one of the key indicators for handmade chains. This is how each single chain link is originally made.


It's been 5000 years since the metal gold was first discovered and since then it has been worn by men and women as a symbol of immortality and power. I would like to highlight hand-carved textured gold jewellery by Vendorafa officials that have been conceived, created, designed and made in Italy since 1951. Each Vendorafa Lombardi jewels are characterized by manual processes such as hammering, engraving and embossing and are contemporary jewellery at its best!


Sunita Nahata Fine Design founder, Sunita Nahata is an empowering female that perfectly reflects the brand's bold spirit and forward-thinking. Being exposed to the world of coloured gemstones since her early days; and following her passion for designing and creativity, she started making unique pieces under her brand name, Sunita Nahata Fine Design in 2017.
Sunita's artistic skills combined with her vast knowledge and experience with gemstones, allow her to play with colour in jewellery; bringing a contemporary twist to classical style. Each of Sunita's creations reflects the brand's bold and playful spirit crafted with the finest quality of gemstones that resonates with the women of today, who want to be classic, unique and trendsetter!
Featured above are the finest and the best quality Emerald, Spinel, Burma Ruby, Paraiba Tourmaline and Aquamarine set in a ring and a tanzanite pendant!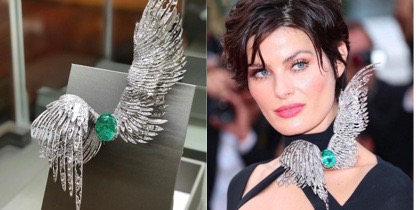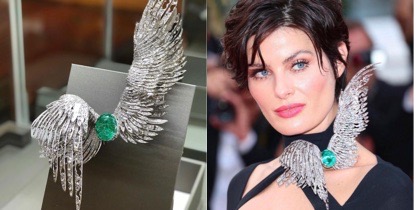 It's been a treat to discover brands from around the world and the Couture Show. And, lastly, I would like to introduce Hong Kong-based Contemporary jewellery artist, Elsa Jin.
Elsa Jin has 17 years of experience in high-end jewellery customization. She perfectly blends the beauty of oriental femininity and Chinese artistry in her design collections and incorporates the imagery of ancient art into her jewellery designs. Featured above is the brooch from 'Life 2022' with a 71.93 cts emerald that belongs to the series of 4 feathers inspired brooches with different statement gems. This brooch was recently worn by Brazilian model Isabeli Fontana at the Cannes Film Festival. Elsa Jin won the Haute Couture category of the Couture Design Awards. The winning piece was the 3rd brooch from the series titled LIFE with a beautiful Padparadscha sapphire.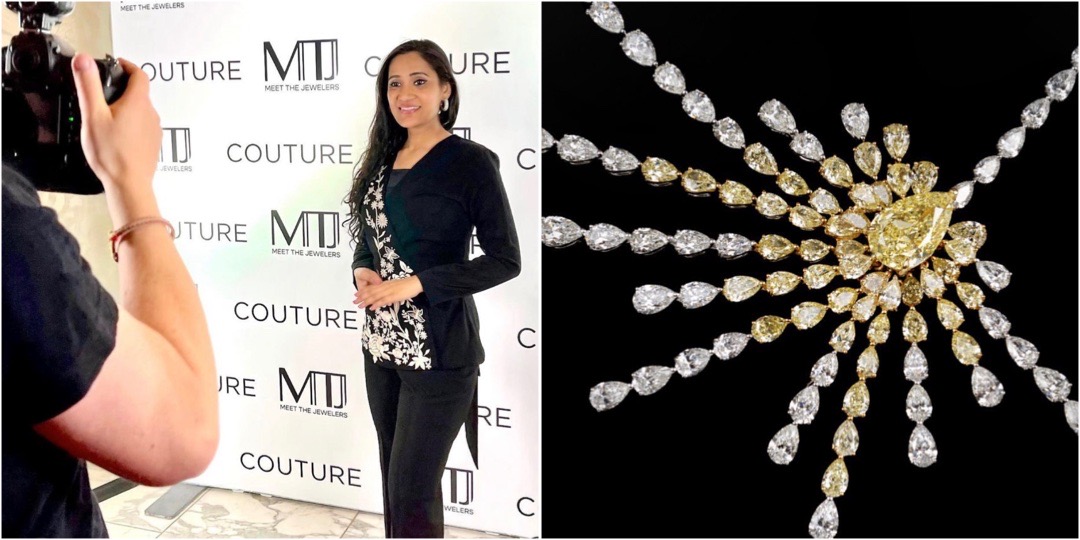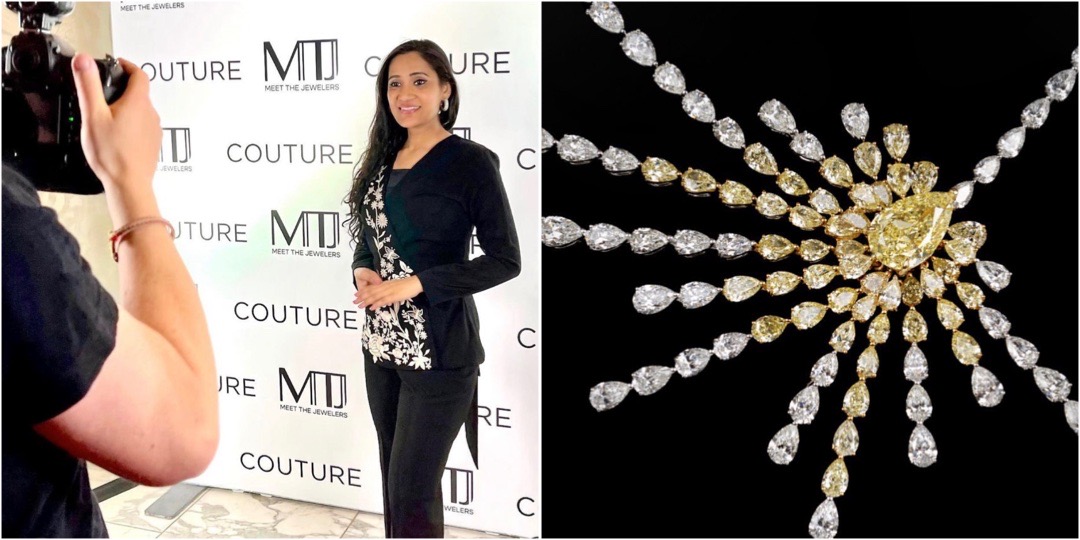 And before I wrap the article, I would briefly like to mention The COUTURE Design Awards event; a celebratory showcase of the best in designer fine jewellery. The judges selected their top picks in 13 categories, with Editors' Choice determined by attending media, and People's Choice decided via text vote live from the event. One of my favourite winning pieces in the Best In Diamonds above $20,000 category; is the Raggio di Sole necklace by Gismondi.
I look forward to sharing more discoveries and the next edition of Couture 2023!
And lastly here's a brief glimpse of my visit to Las Vegas in 2022! I had a great time visiting the JCK and Luxury Show 2022 and The Las Vegas Antique Jewelry & Watch Show. I look forward to the 2023 edition!