JAIPUR has been a hub of jewellery manufacturing and trading for 300 years and is globally renowned for its quality gemstones. JAS is an initiative taken by ´The Jewellers Association, Jaipur´ with an idea to promote the growth of Gems and Jewellery Trade of Jaipur
It was indeed an honour, to be invited as one of the influencers at the 13th Jas '19. With great enthusiasm, I headed back to my hometown Jaipur to cover JAS '19. The feeling of showcasing the talent that my birthplace offers and the opportunities that lie ahead was unparalleled.
Day one at JAS 2019, began with an elaborate opening ceremony, a sign to kick-start the festival in full vigour.
First stop for the day was at Kalajee Jewellery. The brand is known for its statement earrings, I had an opportunity to meet Mr. Naman Kala and understand the detailing of the earrings, and see the full range of earrings at the display.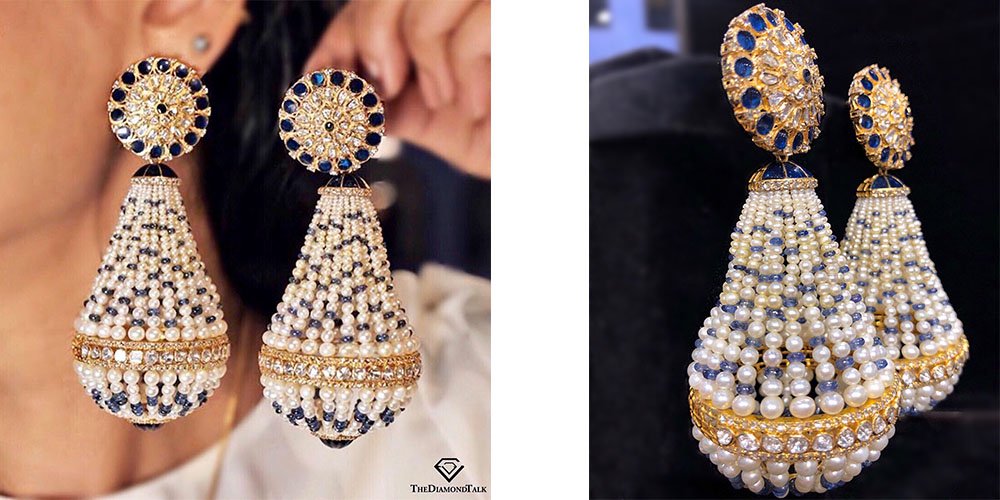 My pick from the booth was sparkling danglers earrings, from their Jhumki Collection, made with Uncut Diamonds, pearls, and blue sapphires.
My second half of day1 was at Valentine Jewels booth.
The warmth and hospitality of the entire team are always heartwarming. Their forte is coloured stone jewellery at an affordable price range. From gems to jewels, uncut diamonds, fusion to diamond studded, they have a spectacular range for everything.
Their one of a kind necklace got me stunned. A forfeit amalgamation of uncut diamonds, diamonds, and gemstones, the lovely peacock motif were very artistically.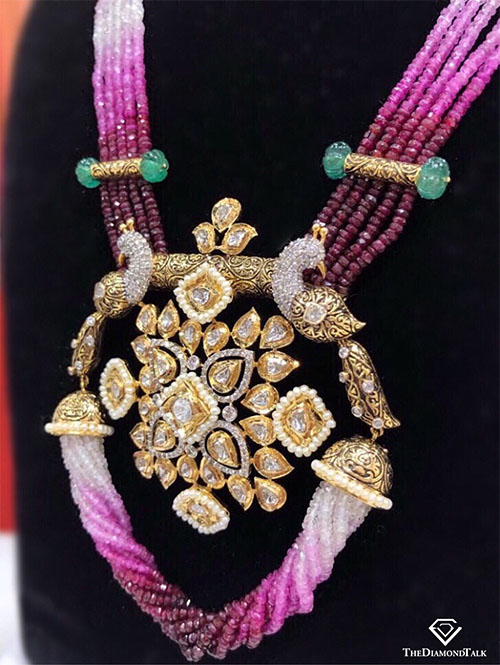 After an enriching day one, I was ready and all set for day two. My biggest finds for the day where Rambhajos Jewellery known for its heritage Jadau and Bridal jewellery.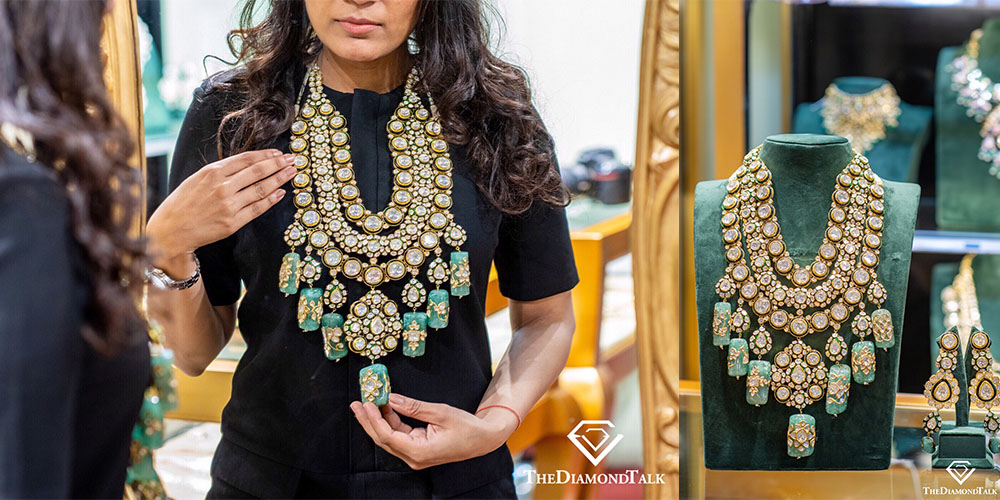 I now know why the Maharanis are so fond of their jewels and are a connoisseur of incredible jewels. I felt like royalty myself when I saw this striking Necklace that is made with such fine detailing and suaveness by Rambhajos. Embedded with approx 600 carats of Russian Emeralds, Uncut Diamonds and an example of great craftsmanship, this Necklace is truly a wonder!
Jaipur is known as the hub of gemstone manufacturing, so it's no surprise on the day I explored the gemstones!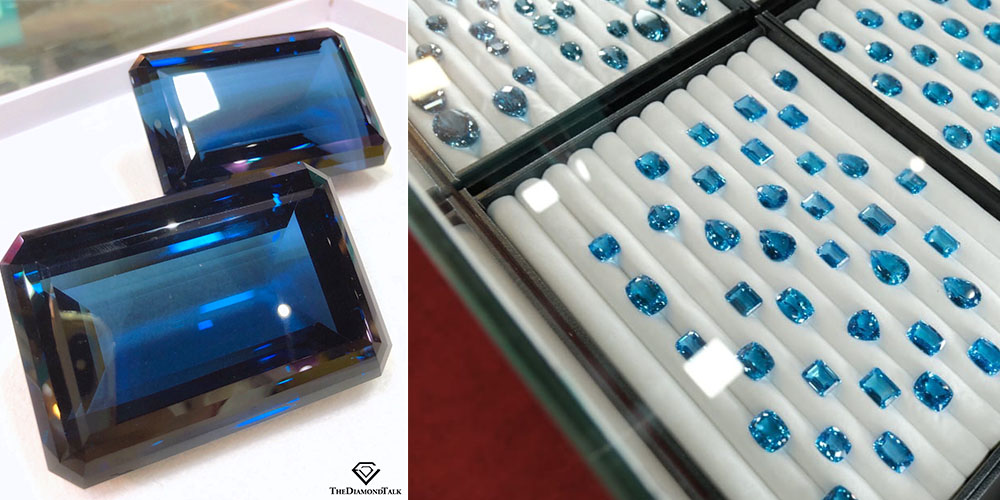 I was awestruck seeing one of a kind superb quality Blue Topaz which weighed more than 500 carats; I spotted this marvel of Mother Nature at the RMC Booth, where I even had a great time, looking at the wide range of gems at the window display by their booth.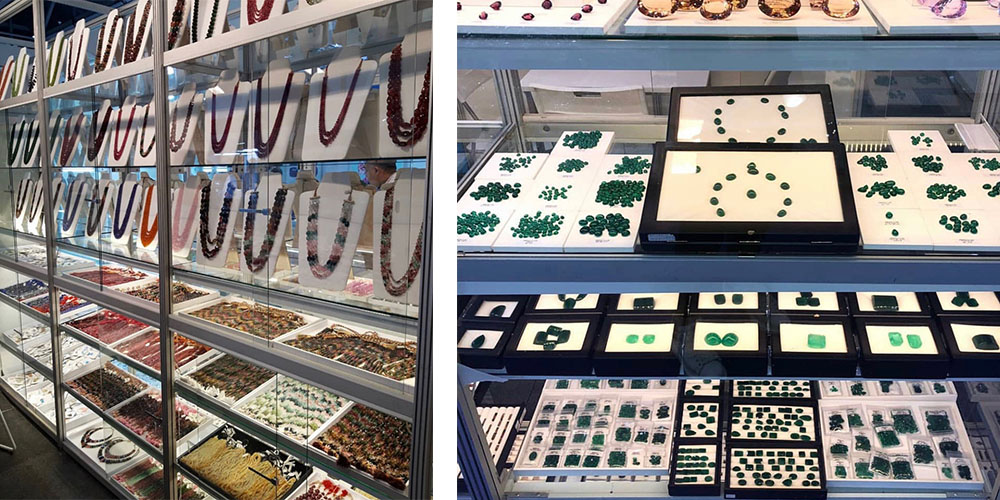 It was love, at first sight, to discover this beautiful Ethiopian Opals necklace layout by Hit&Fit Gems, and a multicolour one of a kind sapphire necklace by ShreeNath Gems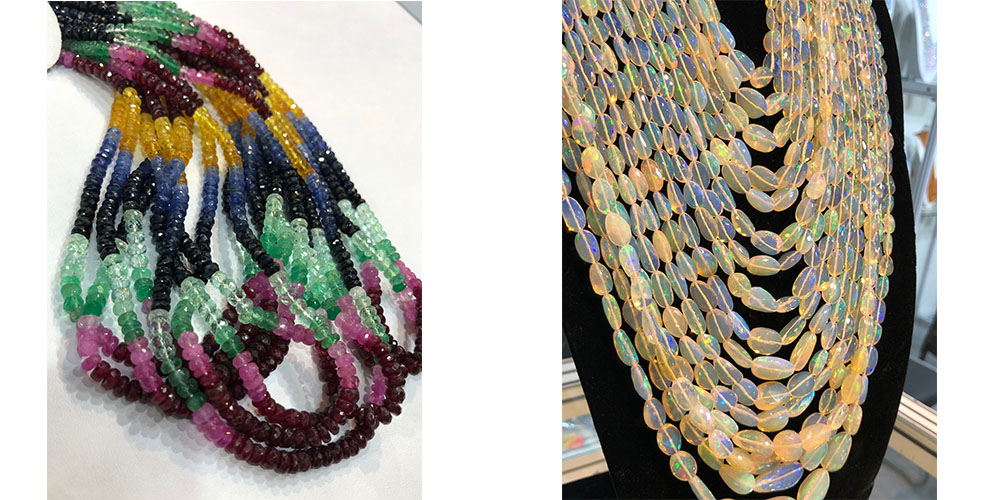 Classy Girls wear PEARLS!
I had a great time exploring different kinds of pearls such as Basra Pearls also known as Bahrain Pearls, Pink Fresh Water Pearls, South Sea Pearls, Tahitian Pearls. Kishore Motiwala Booth. Love the elegance and the sheer class that these gems exude.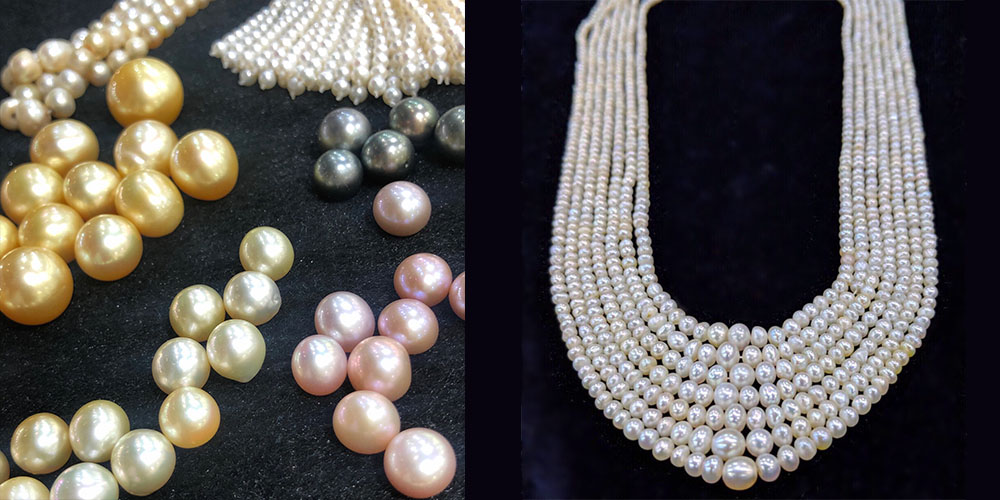 I was happy to see the impeccable carving of bird sculptures and other artistic creations in gemstones. These products of ace craftsmanship caught my attention made by Minerals & Stones Enterprises and Satyug Gems & Jewellery.
Jaipur has always been known for its vintage-inspired yet exquisite style of jewellery across the world. The association has taken the Jaipur Jewellery to newer heights. The four-day exhibition observed a remarkable footfall. It held a magnificent collection of Kundan, Polki, and Jadau Jewellery. Also, the booths exhibiting rough and finished stones attracted the visitors with their spectacular gleam. Emeralds were the main focus of the gemstone merchants, and they manifested a wide variety of this precious stone.
My experience turned very amazing!